File this under "The Joys of Owning a 15-Year-Old Vehicle"
Yesterday was a weird day. I mean, when you are me most days are weird, but yesterday was especially so.
To kick off the festivities, I forgot my work badge and had a meeting in a special super secure location. It was okay, I simply had to run the security gauntlet which included one security guard keeping a sharp eye on me while the other spoke in low tones to the Human Resources Department.
Turns out I'm still an employee so they grudgingly let me through.
After the meeting, I went back to my building and because I didn't have my badge, I couldn't get into the garage. The alternative was to park on the street outside.
After parallel parking, I gave my car a visual sweep because this neighborhood has a pretty bad smash and grab problem. Satisfied that there was nothing of any value in the Jeep, I headed inside.
At the end of the day, weary from a long day of solving other people's problems and fighting fires, I walked to my car to discover that during the course of the day someone had smacked hard into the back bumper of my beloved hoopty. Someone in a white car by the looks of the stripe now tattooed into my black bumper.
Joke is on them, under that bumper is a solid steel towing package that is attached to the frame of my treasured Jeep. My bumper is a bit dented but they caught the worst of it, that is for certain.
With a sigh and a shrug, I got into the driver's seat and I thought "something looks different." My tired eyes roved around the Jeep, heart sinking, expecting something bad.
That's when I saw my rearview mirror wedged between the passenger seat and the floor.
They smacked my bumper so damn hard it knocked the mirror off my windshield! Sonovabiscuit!
Let's be fair, at fifteen years of age that mirror likely wasn't very strong in it's moorings anyway. But kind of a nuisance to see it laying on the floor.
You don't know what you've got until it's gone. I never really realized how often I look in the rearview mirror when I drive. It's a lot. Which I suppose is good.
On the plus side, with no mirror in my line of view it was a lot easier to see the crazy college kids who rabbit out from between cars in my neighborhood. Next week is their Spring Break so they are especially hoppy lately. (nothing compared to finals week though, oh my)
So yeah, my tired old Jeep is a little worse for the wear. I will call in an insurance claim because parking around here is so weird that this isn't first smacking the bumper has taken.
The insurance claim is a crapshoot, the cost to fix it may be more than the vehicle is worth. We'll see. Maybe they can factor in how much the vehicle means to ME? Anyone? Huh?
Ah well, I have the side mirrors to guide me home and some sort of made up inspirational quote about not looking too much in the rearview.
Or something.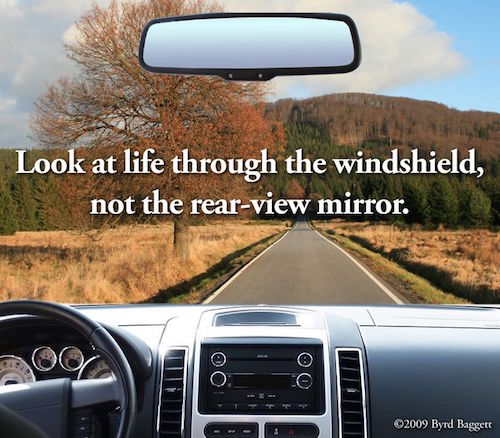 And I thought happiness was Lubbock, Texas in my rearview mirror.

Image found on Pinterest, attribution included on the image.

With Thai Basil Tofu, potstickers and spicy eggplant simmering in my tum, I excitedly reached for my fortune cookie, ready to crack it open and read my fate.
I have a mild obsession with fortune cookies and the wise and occasionally silly words inside. I have several of the small slips of paper tucked into my wallet. A few are taped to my work monitor. Some just drift around in my writing workspace like tumbleweeds of clever words intended to poke and prod at my mind.
So it was on this day, celebrating the birth of the kind and patient woman who gave birth to The Good Man, that I cracked open a fortune cookie and found…
Well, this: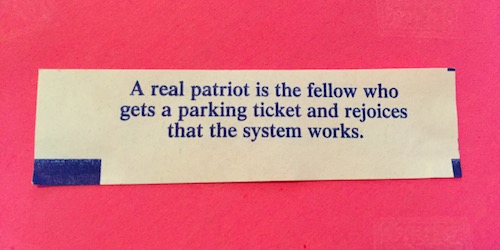 "A real patriot is the fellow who gets a parking ticket and rejoices that the system works."

Okay, okay, now wait just a second here. This is not fortune. This is propaganda.
Believe you me I've never, not once, rejoiced in a parking ticket. And living where I do, parking tickets are something that find their way into my life more often than I appreciate.
One short Google search later I discovered this happens to be a quote attributed to a man named Bill Vaughan.
Fine, okay. Who in the hell is this Bill Vaughan?
According to Wikipedia, he's an American columnist who wrote a syndicated column for the Kansas City Star from 1946 to 1977.
******
We break here for the requisite Roger Miller sing along.
I drive a big old Cadillac with wire wheels, got rhinestones on the spokes
I got credit down at the grocery store
And my barber tells me jokes
I'm the number one attraction every supermarket parkin' lot
I'm the king of Kansas City, no thanks, Omaha, thanks a lot

Kansas City star, that's what I are
Yodel-deedle ay-hee, you oughta see my car

Aaaaand we're back.
******
So I read the rest of the Wikipedia page trying to understand if this Vaughan guy is a communist or what. Because that quote, ooh damn. That runs a bit into a political spectrum that I'm not sure I run toward.
Turns out Mr. Bill Vaughan was sort of a quippy guy. Here's some others attributed to him:

"A citizen of America will cross the ocean to fight for democracy, but won't cross the street to vote in a national election."
"Suburbia is where the developer bulldozes out the trees, then names the streets after them."
"The groundhog is like most prophets; it delivers its prediction then disappears."
"If there is anything the nonconformist hates worse than a conformist, it's another nonconformist who doesn't conform to the prevailing standard of nonconformity."
Ok, I might be warming up to this guy. Still not sure what he's doing in my fortune cookie, though.
Maybe the business of fortune cookies has gone from slight puns and fake Confucius quotes to smart, scholarly, and thoughtful fortunes.
To that I say: Harumph
I may be a bit a traditionalist when it comes to the fortune cookie. I guess I'll just have to keep going to the kind of restaurants where they can be found in order to do additional (delicious) research.
While we're on the topic, here's one of my all time favorite fortune cookies. I got it almost a decade ago but it still rings true:


Birds are entangled by their feet and men by their tongues


Now that one is a thinker! And a little more fortune cookie-eque. With all due respect to Mr. Bill Vaughan.

Both cookie fortune photos ©2016 Karen Fayeth. Taken with an iPhone6, questionable light, questionable photographer and a song in my heart. Subject to the Creative Commons license in the right column of this page.

I don't know what to write I don't know what to write I don't know what to write.
Oh, I know, I'll try my old trick of using a random word generator.
Okay here goes. *click*
The word is: carnival.
Ooh a juicy word. Yes. Okay. Great. Here we go.
Heeeere we go.
Ok…now.
Ugh.
My mind is like a carnival?
Nah. It's like a carnival that's left town. Quiet. Dead. Bits of trash floating around.
That was almost lyrical and then it wasn't.
So goes the ongoing wrestling match with my demons. Well, not demons. That's an unfair characterization. My Muse is not a demon and my demons are not Muses.
Both are an essential part of the creative process.
In seeking advice from my mentors for my utter Jornada del Muerto** of creativity, I was reminded of the old advice: Just start writing. Anything. Just write.
And so I am. Writing. Something and nothing. I know if I can keep writing something and nothing it soon becomes a something about something and the wind fills my sails and I glide along that literary ocean, making progress. (metaphor much?)
But until that happens, I am thirsty and hungry and yearn for pretty words and meaty thoughts and the satiation I can only feel after feasting on a good turn of phrase.
Until then I wander the Jornada del Muerto of my mind. Am I off the trail? Am I still headed west? Will there be water soon?
I make the journey to find the story that flows from the word carnival. I'll carry it around in my virtual backpack until I figure out where it goes. Somehow. Somewhere.
My carnival awaits.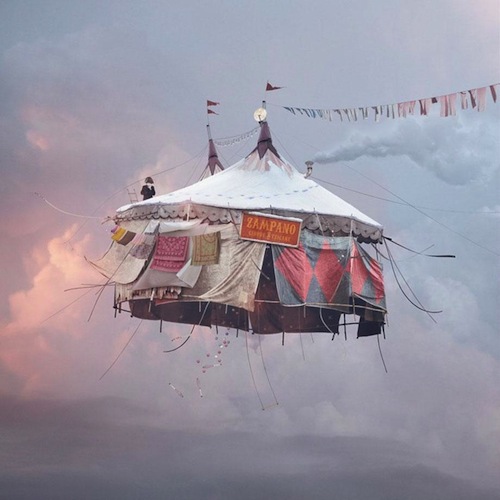 The copyright on this amazing photo belongs to Laurent Chehere who is a profoundly creative artist.

_____________

**With a nod to fellow New Mexicans. For the non New Mexicans, the Jornada del Muerto is a really long stretch of fairly bleak desert in New Mexico that contains no sources of water. It was not such a nice place for Conquistadors and settlers back in the day. Many legendary tales are told of travelers suffering the journey.

Last month I found myself in Chicago attending a writer's conference. The event was sponsored by a large publishing house and I went to learn more about the publishing industry. Boy did I.
Part of the weekend also had us working on some writing exercises. We were given a topic and told to write about it for ten minutes.
I'm pretty good at these off the cuff wind sprints, so I was sailing along nicely creating the words and feeling all of those blocks melt away.
That was until we got to the prompt: "What's the one thing you won't write about?"
Ugh. Well. The snarky voice in my head kicked in, saying things like "well if it's something I won't write about, why would I write about it here? In this uncomfortable chair. With 500 of my closest friends in attendance?"
Bah.
Then I started thinking, what really IS the one thing I won't write about?
I know what it is, but I'm still not ready to write about it.
It's grief. My overwhelming grief is the one thing I just can't write about. Not yet.
Both December and January ushered in tremendous losses for me, one after the other, and though I'm told I have to "just grieve" and "get it out" and "go through the stages" I find myself a bit at sea. There are times it shows up inappropriately and I cry so hard I wonder how I will ever stop crying.
When I do finally stop, I become near catatonic for the rest of the day.
There are times I know it's sneaking up on me and instead of trying to head it off, I am able to find a way to hide in the bathroom or outside or in my car and let it happen. A little.
And sometimes I simply have to tell the freight train that no, it doesn't get to run me over today. When I head it off, push it down, it only means the grief builds up a bigger head of steam for the next time.
It is a demon and I am wrestling with it. And no, I'm not ready to write about the details. It's too tender, too fresh, too painful.
One might argue that since writing is my thing, I should be writing about it. I should be writing it all out furiously and fast and working through all of those darn steps, up and down the ladder until I'm free.
As if one can ever really be free of grief. Actually, that's part of the problem. This fresh and overpowering grief has ripped the lids off of the many other losses I have experienced so I get to go through all of that again. As if it's new and present and today.
So yeah, letting it all out, that's probably what I should be doing.
But I can't. Not yet.
And it remains the one thing I won't write about.
But I will write about it. Someday.
Maybe this post is just one small step in the right direction.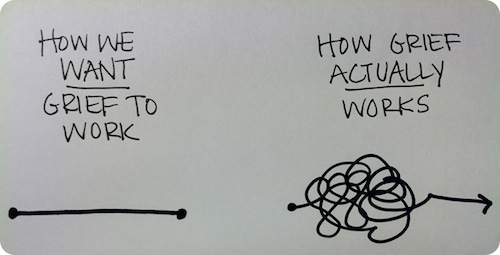 Image found here.

Welcome to the sixth day of the year 2015 but only my second day back at the ol' place of work.
While technically the first of January is the first day of the New Year, it doesn't really feel like the New Year has begun until I go back to work, i.e. get back into the "real world."
My employer is ever so kind in that they shut down operations from December 24 through January 1. That means with a little planning and a little curation of vacation hours, I can eek out full two glorious weeks away from the office.
I look forward to this two-week break from work all year long.
All. Year. Long.
In my career, I've rarely taken two weeks of regular vacation time, so these two weeks at the end of the year feel beautifully indulgent.
My first priority for the break time is to sleep. Nap. Sleep more. Rest and then do nothing too taxing on brain and body. That usually lasts about three days then I'm rested and raring to go.
The rest of the break time is spent with family, exploring the world with The Good Man, cleaning up my home office/studio and working on creative projects.
I find I'm able to fully and completely forget about work and live the dream of a creative life. Sleep until my body is rested, rise and work on creative projects, fill my head with creative inspiration and plan forward for the projects I want to work on in the coming year.
It's a beautiful place to be, a place I'd live all year round if those darn lottery numbers would just break my way. It feels solid and satisfying and clean and pure.
And then sixteen days of being my own boss pass too quickly and Monday, January 5 arrives. I have to figure out how to get back into the flow of "regular" life. I have to metaphorically merge into speeding traffic with no running room and only two of four cylinders in working order.
Yesterday was that day. Yesterday I woke up with the help of an alarm clock (bleah, sixteen days of no chirping alarm was REALLY nice) and sat up in my comfy bed, bleary eyed and lost.
I tried hard to find the muscle memory to rise, to make some breakfast, to put on some clothes, where is my work badge?, move out the door and get to work on time.
When I arrived at the office it was all too familiar and all too unfamiliar.
It felt like I had changed. I was a different (and better) person as I swiped my badge and entered the office. Then I realized that work had not changed.
I came to my own little gray cubicle and there was all of my same stuff I'd left behind, but it looked alien.
The laptop machine asked me for a password and I had to think very hard about it. Took a couple tries at it and finally remembered.
Have you ever seen baby ducks when they are following their Mama Duck into the water? It often looks like this: Mama slides effortlessly into the water and her eight to ten ducklings slip, slide, belly flop, and unceremoniously plop themselves with a splash behind her.
For a moment, the water crests over the top of their head, then the ducklings one by one pop to the surface like popcorn and start swimming.
It was very much like that yesterday. I fell uncoordinated and perilously off the vacation ledge into the bracingly cold pool of work. I grasped for stability for a little while and then I found my feet and began to paddle. By the afternoon I was moving more or less in a forward manner.
So that's the New Year. A little bit new, a lotta bit old. I suppose all of the inspirational quotes are true. It's up to me to make 2015 a really awesome year.
Forward into battle! *splash*cough*splutter* Okay. Now, here we go.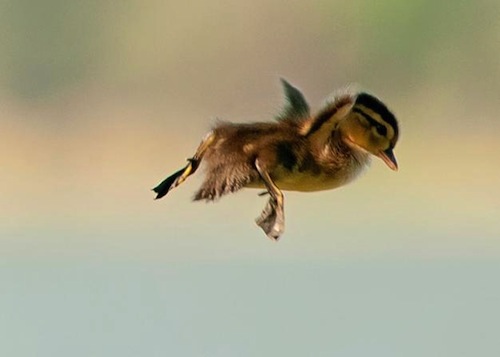 "Hoooooly craaaaap"

Image found here.