The photography club I attend monthly has been going through a lot of flux over the past year. A few of the main members have left (retired, mostly) and new folks have joined. We have a new leader and he's got a lot of ideas. It's a lot of change. For the good, I'm sure, but change anyway.
I've talked a bit about this group. It's made up of both scientists and engineers and is overwhelmingly male. These guys are very much tech head photographers who are all about gear and photographic perfection. Their photos are technically precise but in my opinion lack emotion…which suits them just fine.
It's a debate we have a lot in the meetings. Art vs Technical. Let's just say, my storytelling approach to photographs is in the way, way minority. I can often actually *hear* eyes rolling as one of my photos rolls across the screen during critiques.
I have learned a lot from this group. I work hard to make my photos better. To improve. To get technically cleaner. That said, in some ways, I also like to goad them. Poke the tiger with a stick.
One of the things we seem to struggle with as a group is our monthly theme. It's hard to come up with jazzy ideas every thirty days. This year's themes are some good and some weird. All are great in my opinion. I love being challenged.
A few of the more rigid photographers aren't having as much fun with the themes as I am.
For March, our theme was "wood." Seems easy, doesn't it? But it's harder than you'd think to come up with a good, unique, and well crafted photo of wood. It's almost too broad.
We get two entries each month. I did one that was a bit more "clean" though it still could use some technical work. And I did one storytelling photo.
Neither were very well received.
Presented for your perusal:

Palm, Pine, Maple, and Telephone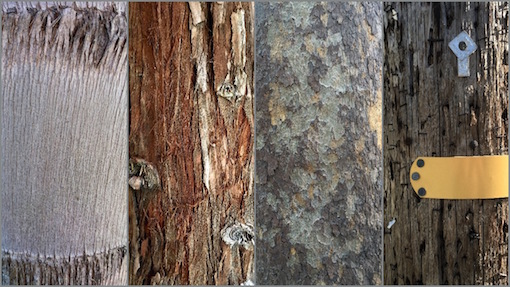 Copyright ©2016, Karen Fayeth

I presented this as a study of the wood types found in my neighborhood, each pattern more interesting than the last.
Ok, the image has a joke there at the end. And with the title I was yanking their chains, as these nature photographers get quite sniffy about the precise genus and species of flora and fauna they photograph.
This photo garnered four votes in our monthly contest. Not terrible, but not close to winning either.
Here is my other shot. I very much enjoy the story in this one. It got one vote. (At least it got one?)

Log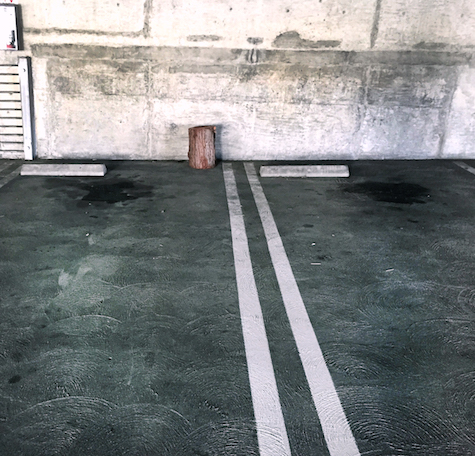 Copyright ©2016, Karen Fayeth

When faced with the conundrum of properly conveying the feeling of "random log in parking garage," I chose to go with moody.
This photograph was not subjected to Instagram filters. A color photo of this wooden beauty was lightly desaturated then pulled into Photoshop for burn and dodge to bring out those beautiful loggy highlights.
The squarish shape is due to cropping out surrounding cars.
I really love this photo. I mean…why the hell is there a log in the parking garage at work?
Also, could this BE any more perfect for the theme of wood? Nailed it!
One vote. At least one other photography club member gets it. It's something to build on.
Both photos are Copyright ©2016, Karen Lingua. All taken with an iPhone6 and the Camera+ app. First photo also utilized the free photojoiner.net site to combine the photos. Subject to the Creative Commons license in the right column of this page.

Back there in June, which seems like a lifetime ago, recall I had the fun chance to visit Amsterdam on a work trip? Yay!
While there, I made use of my company credit card because that's the best way to go when it comes to pesky expense reports.
However, there are a few things that the company says no-no to on expense reports. For example, booze. I mean, how can one have a nice dinner in Amsterdam and not sample the local beer?
One doesn't and this one didn't. I sampled. Oh did I sample. No, I didn't sample Amsterdam's other claims to fame. I was on a work trip ferchrissakes! But light brown beer was a delightful dinner companion.
So what I did was expense the expensable parts and the not expensable parts I would pay personally to the credit card company. No problem, right?
Upon my return to the States, in the midst of chaos and twelve to fourteen hour days and working nights and weekends on this massive project (the whole reason I went to Amsterdam and Ireland) I managed to knock out my expense report.
Then I knew I would get a bill for about $110 US dollars for the "not allowable" stuff. The beer, mostly. Not gonna lie.
About a week and a half ago, I got a snippy notice from the credit card company. "Second notice", they said and "we'll shut off your card in five days unless payment is received."
I also noticed that they had transposed two numbers in my mailing address.
Well, I got a bit high handed about this. First of all, I didn't receive a first notice! Second of all, my address is wrong. Third of all, pfft! Or something like that.
I'm still working a lot of hours and so I dashed off a check but didn't send it. I wanted to talk to my friend who runs the travel program. I needed to know if I could change my mailing address for the card or if she had to. She said I could do it or she could. No matter.
Great! Then life and my insane job intervened and quite a few more than five days passed. Ugh. Over the weekend when I had a few minutes to breathe, I picked up the ol' phone and called the credit card folks. I knew I needed to take care of this problem like a grownup.
Imagine my surprise when I got a recorded message saying that a payment had been received and my balance was zero.
"Uh oh," I told the Good Man. "The company paid my bill. Crap. Now I have to figure out how to pay them back. Or will they take it out of my paycheck? Gah. What a mess."
The next day, I went back to my friend in Travel to figure this out.
"Honey, we don't pay people's credit cards. And if we did, just keep quiet about it." She laughed.
But she looked up my account. "Hmm…" she said, rolling her mouse over the screen. "I can't tell where this payment came from. Did you do another expense report?"
"No."
"Hmm. Are you sure you didn't pay it?"
"Yes."
"Really sure?"
I thought back to the dates from May 1 through August 15, my head down working this project. The lack of sleep. The stress. The long days and working weekends and not having a single day off in all of that time. The disconnected feeling. The lack of awareness about pretty much everything around me.
"Well. I'll check my bank account but I really don't think so."
I walked back to my desk, logged into my bank and searched for the amount. By golly, there was a payment.
That means that 1) I had indeed received a "first notice" from the credit card company and didn't remember it and 2) had set up the credit card company as an auto pay from my account and didn't remember it and 3) actually paid the bill and didn't remember it.
So that means that when I was wandering around in a zombie-like intense work state, forgetting to eat meals and forgetting to sleep and often forgetting to change clothes and frequently forgetting to even brush my teeth in the morning, I managed to be fiscally responsible enough to pay my credit card bill?
Um. What?
I'm certainly glad that zombie Karen cares enough to pay normal Karen's bills. I wonder what else I did when I wasn't even on the planet.
I can hardly wait to find out.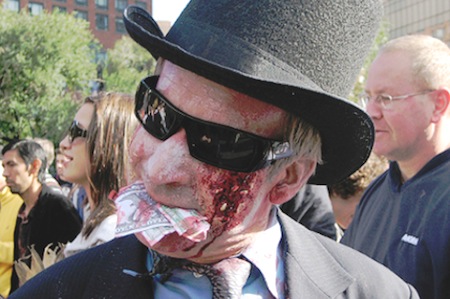 Image found here.

Over past few years of my life I have been fortunate enough to engage in some international travel. I have truly visited some of the great cities of the world.
Traveling outside of the borders of the United States has made me a better person in many ways, not the least of which is that I have come to appreciate my own country more by not being in it for a few days at a time.
I recall spending Fourth of July in England, gazing over the Thames while pondering that the Fourth of July is about so much more than hot dogs and sparklers. It really made the summer holiday mean something to me.
The other thing that international travel has done is give me a front row seat on gaining perspective of just how large this big blue marble really is. Gigantic. And how people are different and yet people are the same.
One aspect that I have experienced on each of my overseas trips has been a small moment of humanity, a connection, finding a shared place with another person even as I feel the dislocation of being in another country.
It happened in Dublin, and is such a fond memory. It also happened in Amsterdam, and I guess it's taken a little while for the beauty of the interaction to sink in.
Let me tell the tale:
I arrived in Amsterdam on Sunday at about 7:30am. Schiphol airport was quiet and calm in the early morning hours.
My fellow passengers and I came off our flight from Newark and walked into the airport, quickly cleared customs and stood by the baggage return waiting.
And waiting.
You see, in Europe, things don't always move on the timescale that Americans are used to. It's just how it is.
I hadn't slept in something like eighteen hours and I was wobbly on my pins, but resolved. Finally after the eternity of a half hour, the bags started rolling through the baggage return. Hooray!
People scurried to get their luggage and wandered off into the Amsterdam day. I kept watching bags go by that were not mine.
Finally the flow of luggage slowed to a trickle and I knew, I just knew. My bag didn't make it.
I had a very tight transfer time in Newark, less than an hour, and I had flat out ran to get between gates and onto the plane, so I was just certain my bag didn't make it as fast as I had.
Shoot. That was the word foremost in my mind. Only not the word with the two o's in the middle. The other word. I just kept saying that word over and over and over.
I looked around and saw I wasn't alone. There were about eight of us standing there with no luggage.
We all looked at each other, shrugged and walked in unison over to the United Baggage customer service desk.
I was toward the back of the line so I struck up a conversation with a dude standing in line with a guitar slung over his shoulder.
He told me that he and his wife had come from Cleveland and that they were in Amsterdam to see their son, who is in a band, play a show. They were going to follow him on a couple tour stops.
Then he pointed to his guitar and said, "I'm going to try to do a little busking while I am here. The quality of the people I've seen busking in Amsterdam is pretty low, so I know I can do better than that."
I spent too many years in the company of musicians to do anything other than laugh and agree. And I said, "That's cool. When I get some Euros, if I see you playing, I will throw some your way." He laughed and said thanks.
About that time the United customer service person said that the baggage handlers had failed to look in the "basement" of the plane, and our bags should be along directly. Lo and behold, my stuff showed up. I whipped it off the baggage return and stumbled my way out into the beautiful Amsterdam morning.
And then I settled into my little Amsterdam life, walking the canals, eating stroopwafels, visiting the Van Gogh museum, and work. Oh yeah, this was not a vacation but a work trip, and the work meetings were two full days (day and night) and massively intense.
On Tuesday evening, I stumbled out of the offices with my brain dead and my body exhausted. We had been through an intense day and were on a short one-hour break before meeting back at the offices to go to dinner.
I strolled along the Singel, which is the center of Amsterdam. I was so tired and concentrating on not turning my ankles on the cobblestones near the flower market. My hotel was only a few blocks from there.
As I walked, feeling out of my mind and brain dead, I heard someone playing guitar and singing. I remembered the guy I had met at the airport and wondered what had become of him.
As I rounded a curve, I saw a man in shorts and a porkpie hat busking at the end of an alleyway and in front of a closed store. He was putting a lot of gusto into the song, "Santeria" and had his backed turned to me.
I walked past and looked. Sure enough, it was my fellow passenger.
I pulled out my wallet and looked to see what I had to give. I found a five Euro bill, then walked up and said, "I promised I'd give you some Euros" and dropped the bill into his guitar case.
He looked puzzled and said, "Thanks. Are you an American?"
He didn't recognize me, so I said, "We've met. Remember at baggage claim in Sunday?"
His eyes went wide, "Heeey! How cool is this?" He pointed out his wife who was shopping one of the stores a bit down the path. He told me he had seen his son play the night before and that he and his wife were off to Brussels in the morning for his son's next show.
We chatted for a few moments, then I said, "I just had to stop and I'm so sorry for interrupting your song, that is rude of me."
"No, no! Here, let me give you something! Here, take one of our CDs."
So I did, and I thanked him and headed off with a smile on my face and a little more bounce in my step.
I get that Amsterdam is a small city and that the flower market is a popular place to be, but that one moment of humanity made this great big gigantic overwhelming world seem just a little bit smaller.
That felt pretty good to a little tired American girl wandering the canals of Amsterdam.
With a cheers from San Francisco to the fine city of Cleveland.
Here's the band if you are inclined to check them out: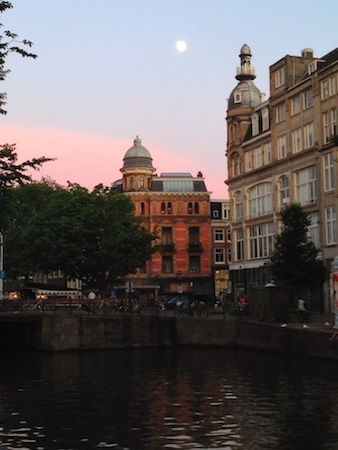 Copyright © 2014 Karen Fayeth

I took this photo later that same night with a couple of Dutch beers under my belt and a song in my heart. I call this one "Amsterdam Moon" for the The Mavericks song of the same name.

Photo Copyright © 2014, Karen Fayeth, and subject to the Creative Commons license in the right column of this page. Taken with an iPhone5 and the Camera+ app. Post processed with Snapseed.

When I travel internationally (or even in the US) I know I have to find many ways to distract my monkey brain. Sitting still in a seat for flights that last anywhere from six hours to sixteen hours means I have to bring a lot of toys and distractions on an airplane to keep me sane.
Lately the best and easiest distraction for me is to load my iPad with movies. Good long movies that will help me while away the hours.
On this recent round trip to Ireland, I had four movies on my iPad and watched two more on the plane. Six movies, all told, have been absorbed into the ol' brain pan.
They were: "American Hustle" (awesome movie!), "Don John" (far better than I had expected), "The Great Gastby" (far worse than I had expected), "The Secret Life of Walter Mitty" (way better than expected as I expected to fully hate it), "August: Osage County" (was a little hard to watch, hits too close to home and is rather depressing), and "The Wolf of Wallstreet" (eh, I was lukewarm).
So as I found myself locked and loaded and flying the skies, it was kind of funny to stumble across not one but two references to my fair New Mexico in these movies. A little "hello" from my homestate as I flew thousands of miles away.
The first was in American Hustle. (spoiler alert!) The character Sydney (Amy Adams) has been affecting a British accent and a faked up backstory of being a British aristocrat and finally has to come clean. She and Irving (Christian Bale) are fighting and she admits not only is she not British with ties to banking and business in England, she's actually just a girl from Albuquerque, New Mexico.
This made me pause. What am I to take from this? She's not a big time global force, but a simple girl from New Mexico?
Or do I infer that she learned her hustle in New Mexico? Hell, I don't know and really it doesn't matter, but it was a little startling to hear the name Albuquerque casually tossed about. However, I was a happy for the name check of my hometown in a big time movie. The Sydney character is pretty cool.
The other reference came along in "The Great Gatsby" when Tom is riding in a car with Jordan and speaking ill of Gatsby, as they have just had an unpleasant encounter in a hotel room in New York City. Tom is apoplectic and the dialogue goes something like this (parentheses added by me to make the speaker clear):
"An Oxford man!" He was incredulous. "Like hell he is! He wears a pink suit." (said Tom)
"Nevertheless he's an Oxford man." (said Jordan)
"Oxford, New Mexico," snorted Tom contemptuously, "or something like that."
From that exchange I certainly could infer what was being said. Oxford, New Mexico said contemptuously. As though New Mexico is the most backwater place a rich man from East Egg can think of.
That one made me wince a little, even as I was pleasantly startled to hear New Mexico called out again, in another movie.
A little research showed me that this dialogue is in the actual book by F. Scott Fitzgerald, which I read a thousand years ago and didn't remember this.
But there it was, in a blockbuster movie!
I'm not entirely sure why New Mexico is in the zeitgeist these days, maybe it's chalked up to "Breaking Bad" or maybe it's something else, but hey here we are in the big time.
Not sure how I feel about that, really. Sometimes it's best to keep our something very nice as something very secret.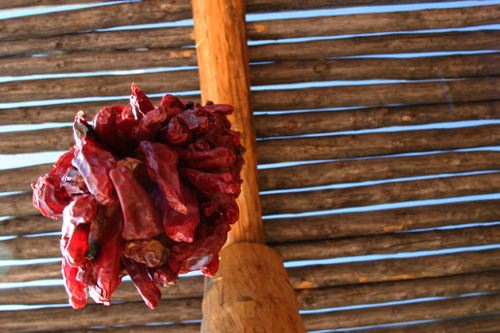 Went back to the very first post on this blog to snag this photo, one of mine. It just seemed right.

Photo of ristra Copyright © 2007, Karen Fayeth, and subject to the Creative Commons license in the far right column of this page.

These days I live in a fairly urban area and I also live near a major university, so this means driving around here proves to be quite a challenge.
I see a lot of people both young and old riding the roads on their bicycles or scooters and of course walking. There is even the occasional Segway. Though the most popular mode of transport by far seems to be bicycles.
Fundamentally, I don't have an issue with people riding their bicycles. It's exercise, it's efficient, and it's environmental. Plus it leaves more parking spots for me. Great!
The issue I do have, however, is some bicyclist's complete and flagrant disregard for traffic laws. You know, running stop signs, not yielding to a yield sign, flowing with cars when they feel like and acting like pedestrians when they feel like.
My commute to and from work is pretty short, but can be frustrating as I traverse many busy streets with lots of crosswalks and stop signs and long lights. In addition to bicycles, I often have to tangle with students walking around with eyes glued to their smartphones darting out from between parked cars.
I really hate it most when I have the green light and as I start to roll a bicyclist runs the red light the other way and sails through the intersection with nary a care in the world.
The other day that big wheel of karma ticked about two and a half degrees to the right and I saw something so ironic it made me laugh and shake my head.
Ok, here's the scenario:
I am driving up a busy two lane and mostly residential street. Traffic is moving, albeit at a fairly slow pace. I'd estimate I was doing something like 25mph.
I was hugging the yellow line because to my right were two guys decked out in stretchy shorts and tip-tap-clompy biking shoes riding on very fancy bicycles.
We were all cool. I saw them, they saw me. I made space and we traveled casually along, moving straight ahead on the road.
As we three came to an intersection some hipster chick on a pink bicycle with a plastic basket on the front does not slow for the stop sign on the cross street. She glides at full speed right into the intersection.
This causes the car coming the opposite way to screech to a halt. I slammed on my brakes too and the two bicycle guys next to me just kept going.
Because I guess bicyclists do that. When everyone around is braking, they just keep rolling because why not.
One of the guys finally saw Miss Hipster and locked up his very expensive racing bicycle brakes. The other wasn't as quick on the brakes. As he came to a stop he ended up tapping her back wheel.
Hipster chick was totally oblivious. She wobbled a bit and just kept rolling on through.
Now dos Stretchy Pants are mad. They start shouting and screaming and arm waving at her about obeying stop signs and right of way and what the bleep was she doing.
So indignant these bicyclists got about obeying traffic laws. So, so righteous.
Hmm. Interesting.
Ironically so.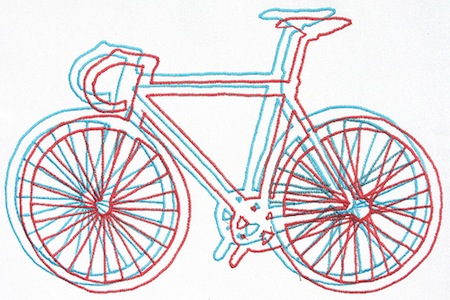 Image found here.