The other day at the ol' place of employment, I had an early meeting at another site and then came back to my particular office building, which meant parking on the top level of the parking garage. Ugh.
Early on with this parking garage, I made myself promise that no matter where I parked, I would take the stairs to get to my car. No elevators. Just a little extra exercise in the day. So when I get here early, I have one flight of stairs. When I get here late, I have five. That's how the ol' cookie crumbles.
So after starting really early in the day at an off site meeting and then running like my hair was on fire in the office all day long (gigantic project brewing with very hard deadlines and a press conference to announce it coming up too!) I was pretty dead tired at the end of the day.
I stood at the bottom up the steps looking up mournfully. Five flights? After the day I had? I was determined to keep my promise to myself and I lifted heavy legs up and up and up the stairs.
Around the fourth floor I started feeling gassed. Each step felt harder than the last. It felt like gravity was actively defying me with every lift of my knees. Finally, exhausted and sucking oxygen I made it to the top floor, stumbled to my car and flopped inside.
That last flight really got to me. As I stepped, I had the kind of pondering thoughts that my brain often makes to keep me entertained. Were those last steps so difficult because my leg muscles were wearing out over the sum total of steps? Or does it become harder to slip the surly bonds of gravity with each flight? Or some combination of both?
And that struggle, that last mile difficulty, well, it started to feel like a metaphor. For my job. I am (to use yet another metaphor) rounding third base on this gigantic project and certainly headed for home plate, but this last leg of the journey is proving to be the most difficult.
Here's another metaphor. I can see the summit of this mountain, but the last 1,000 steps are straight uphill with no room or time to rest. Each day feels a little harder. Each moment is fraught with worry.
In about two weeks I will summit this sumnabitch and I will be glad I did. In a few months I will look back and it won't seem all that bad. But right now, looking up, knowing I am so close but knowing all that I have to endure to get to the other side, it feels daunting.
It feels like gravity actively puling me down, down, further toward the ground. Yeah, climbing five flights of steps feels like a metaphor, and not a bad metaphor at that.
But what good is the metaphor? I still have to climb the steps. I still have to complete the journey. And I have not get so focused on the pain and agony and effort of each step that I forget to remember home and the loving arms of The Good Man wait on the other side.
It's worth climbing those steps if only because it means I'm one step closer to him. What is a difficult journey without a meaningful destination?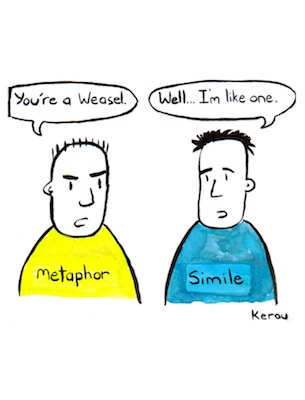 Image found here.

These days I live in a fairly urban area and I also live near a major university, so this means driving around here proves to be quite a challenge.
I see a lot of people both young and old riding the roads on their bicycles or scooters and of course walking. There is even the occasional Segway. Though the most popular mode of transport by far seems to be bicycles.
Fundamentally, I don't have an issue with people riding their bicycles. It's exercise, it's efficient, and it's environmental. Plus it leaves more parking spots for me. Great!
The issue I do have, however, is some bicyclist's complete and flagrant disregard for traffic laws. You know, running stop signs, not yielding to a yield sign, flowing with cars when they feel like and acting like pedestrians when they feel like.
My commute to and from work is pretty short, but can be frustrating as I traverse many busy streets with lots of crosswalks and stop signs and long lights. In addition to bicycles, I often have to tangle with students walking around with eyes glued to their smartphones darting out from between parked cars.
I really hate it most when I have the green light and as I start to roll a bicyclist runs the red light the other way and sails through the intersection with nary a care in the world.
The other day that big wheel of karma ticked about two and a half degrees to the right and I saw something so ironic it made me laugh and shake my head.
Ok, here's the scenario:
I am driving up a busy two lane and mostly residential street. Traffic is moving, albeit at a fairly slow pace. I'd estimate I was doing something like 25mph.
I was hugging the yellow line because to my right were two guys decked out in stretchy shorts and tip-tap-clompy biking shoes riding on very fancy bicycles.
We were all cool. I saw them, they saw me. I made space and we traveled casually along, moving straight ahead on the road.
As we three came to an intersection some hipster chick on a pink bicycle with a plastic basket on the front does not slow for the stop sign on the cross street. She glides at full speed right into the intersection.
This causes the car coming the opposite way to screech to a halt. I slammed on my brakes too and the two bicycle guys next to me just kept going.
Because I guess bicyclists do that. When everyone around is braking, they just keep rolling because why not.
One of the guys finally saw Miss Hipster and locked up his very expensive racing bicycle brakes. The other wasn't as quick on the brakes. As he came to a stop he ended up tapping her back wheel.
Hipster chick was totally oblivious. She wobbled a bit and just kept rolling on through.
Now dos Stretchy Pants are mad. They start shouting and screaming and arm waving at her about obeying stop signs and right of way and what the bleep was she doing.
So indignant these bicyclists got about obeying traffic laws. So, so righteous.
Hmm. Interesting.
Ironically so.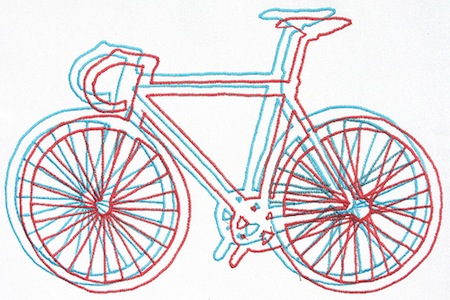 Image found here.

I've mentioned several times in these pages that during the course of my life, I spent quite a few years in the company of a blues musician. By spending a little time with him, I also spent time around a lot of different blues musicians.
Men and women with a deep vein of soul and history and rhythm.
When you are around blues people, you hear a lot of stories. Telling stories is pretty much the foundation of being able to play the blues. As a storyteller in my own right, I used to soak in these stories, letting them enter my pores and fill my soul and tap my DNA on the shoulder and ask it to dance.
The stories are in me. Not all of them are true. Few of them are pretty.
All of this is a long winded lead up to a particular story I have in mind.
It goes something like this:
Back in the 1950's in a small suburb of Dallas, Texas, two talented brothers grew up together.
Both had music in their bones and talent for playing the guitar. The world knows a little bit more about Stevie Ray Vaughan because of his breathtaking musical style and early death, but Jimmie Vaughan has also seen a fair bit of success with his music.
If you listen to each of their music, you can hear their very different styles. Stevie's music was intense, complicated and at times frenetic. Jimmie likes to play a bit slower and wider and easier.
Legend has it that back in the day in Oak Cliff, Texas both boys not only liked guitars but they liked cars.
Stevie, unsurprisingly, liked real fast hot shit cars that he could jump in and race around town. Stevie used to vex the local police who couldn't slow him down.
Jimmie on the other hand liked to cruise. He liked big, heavily finned, tuck and roll upholstered, Buick with a "smile" kind of cars. He'd put his girlfriend beside him on the bench seat and slowly roll through town, vexing the local police who wanted him to speed up.
I think of this story pretty frequently in relation to my own roll through life. My approach is more Jimmie than Stevie, though I admire the hell out of Stevie.
Perhaps this owes to the slow "land of mañana" pace of where I grew up. We don't move with alacrity in New Mexico and tend to be suspicious of those who do. When I still lived in the state and traveled to San Francisco or Boston for work, I was always comforted to come home, get off the plane, and visually see how slow people moved. Then I would match my pace to theirs and know I was home.
There is a great comfort in moving at a calm pace.
I find, however, that is not how the world thinks one should move.
Let's take for example, New York City. In New York, you are supposed to walk fast. Very fast. Head straight, eyes forward, and walk.
Despite how much I love Manhattan, I have one hell of a time keeping up. The Good Man was born in Brooklyn so moving at that pace comes natural. It does not come natural for me. I prefer to toddle along close to the buildings with the elderly and infirm and let the people pass me by on the outside of the sidewalk.
I am the person that New Yorkers yell at for walking too slow.
This all came back to mind this past week. It is New York Fashion week and I follow Nina Garcia, Marie Claire magazine's Creative Director, on various social networking sites.
She has been posting photos from all of the various designer shows and I have been lapping them up like at kitten at a bowl of milk.
I may not have a figure for fashion, but I love it. I love seeing how textiles and stitches and notions come together to create something fantastic or ugly or offbeat. Yes, I dig it!
So a couple of days ago, Ms. Garcia posted a photo of a sign she saw backstage at the Michael Kors Spring show. Oh my, I am a huge fan of Mr. Kors.
Here is the photo:
I read the words and my heart sank a little. I am happily romantic, strong and my own version of gorgeous.
But I don't walk fast and with energy.
I would love to kill them with chic, but instead I must maintain my killer sense of humor.
For some reason, this really got under my skin and whispered to those demons in my head who heckled me and said that if I can't walk fast and with energy, I am a nobody. They said I don't measure up, don't belong, don't matter because I can't keep up.
And that's when I remembered the story about the Vaughan brothers.
I don't need to race up and down the streets of New York. There are plenty of people who have that covered. I want to cruise the Manhattan blocks and tip my head upward to wonder at the buildings and smile and give my lungs room to breathe.
Slow though I walk, I always get where I'm going. Pink cheeked, a little sweaty and smiling.
Perhaps I am taking this hand written sign a little too close to heart. I'm sure this was simply a note of encouragement for the models walking the runway, reminding them to keep it peppy and light.
Perhaps it just hit me on a bad day when the demons were a little closer to the open door than I would like. I let them out to play awhile, really let them run, then I whistled and corralled them back into the pen.
And I remembered that a strong, courageous New Mexican doesn't have to walk fast unless she wants to. That is true both when walking the Bosque or NYC's Broadway.

A girl should be two things: classy and fabulous.

–Coco Chanel



Thankfully, I am both.

–Karen Fayeth
Photo from the Instagram feed of Nina Garcia. All rights belong to her.

So of course, I'm the jerk.
Friday afternoon after a long week at work and dealing with more than the average load of dung, I was ready for the weekend.
The Good Man was working in a town quite a bit farther away and we had plans to have dinner with friends. Because we live in a place that has too damn many people, managing commute time traffic is "a thing". This means that I eschewed my car and instead got my shoes on. Late Friday afternoon I found myself walking to the nearest BART station about a mile away.
I had been too lazy about getting ready and was up against it in terms of time, so I walked at a pretty fast clip. I was keeping up a good pace so I could catch my train.
Now, sideline comment here, I haaaate when I'm out walking on trails and tracks and as someone approaches from the opposite direction, they don't get over. So then I'm run off into the weeds in my haste to make room. Me, always me. So few OTHER people make room.
I also hate clueless people who don't move over on sidewalks. Who stop dead center in front of the door into a business. Who stand in the middle of the aisle at the supermarket. It's all about lack of awareness of surroundings and lack of caring about what is going on in the world.
My folks taught me to be polite and taught me to be considerate. This lesson is strong in me and I can see other parents didn't value this quite as much as mine did.
So of course, as I walked down a long sidewalk past many shops and restaurants, I was already steaming a bit about the lack of consideration from fellow mankind. I had already been run off of the sidewalk and out into the very busy street by a group of "ladies who lunch" who refused to move from dead center of the sidewalk. By a youngish guy riding his bike on the sidewalk straight at me who wouldn't move over or into the street. By a guy with two huge dogs who could not have given less of a damn. By a lady with two toddlers who are clearly fine unattended on a very busy sidewalk.
So I was steamed. I just wanted to get to the freaking BART station. And to see my husband.
Finally I found a stretch of clear sidewalk and I kicked in what tiny afterburners I have and picked up my pace.
It was about this time that a pretty little goldilocked girl, aged maybe twelve or thirteen, came toddling out of a building. Her friends followed behind. Clueless, of course. She walked right in front of me then stopped. My big ship does not veer that fast, especially at speed. I tried to avoid her but instead I glanced into her shoulder. As I passed, I said a rather stern "excuse me!!!" and kept walking.
Except…I heard the notebook that she had been carrying under her arm hit the pavement. I'd jolted her so hard she dropped her book. I wanted to keep walking. Screw it! I thought. She had stepped in front of me. Cut me off! Not my fault!
But I realized analysis of any outsider (and certainly her helicopter parents, had they been present) would say that I am the asshole in that situation. I am the jerk. I am the grown up and precious little curly blonde sunshine teenager is the in the right.
Even if I am right, I am wrong. The court of public opinion says "think of the children! It's all about the children!" even though special snowflake was clueless and in the wrong. Nope, I'm still the wrong one.
So I stopped. I turned around. I saw three little shocked wide eyed little girls with bow lipped mouths registering disdain. I leaned over to pick up her notebook, but one of her friends already got it. I said, "I'm sorry, darlin', I didn't mean to run into you. Are you ok?"
She said, "I'm fine." And I said, "Ok, again, I'm sorry," and she said "It's ok" then I turned around and walked off quickly, now later than ever for my train.
As I walked I now felt sheepish and mad in equal parts. Sheepish for slamming into a little girl so hard she dropped her notebook. Mad because what the hell!? Get out of the way!
Argh!
When I was a kid the world did not revolve around me, but now as a childless by choice adult I have to revolve around other people's ill mannered kids.
Not something I can solve. Just wanted to air it out. Thanks for the group therapy.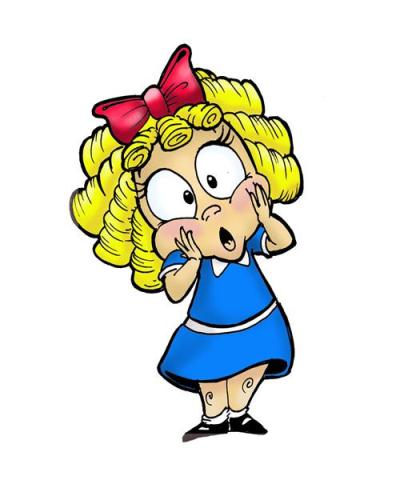 Image found here.

While wandering the streets and pathways in another country, I always keep my eyes out for street signs.
Sometimes simple graphic depictions say things words cannot.
But this one has me stumped.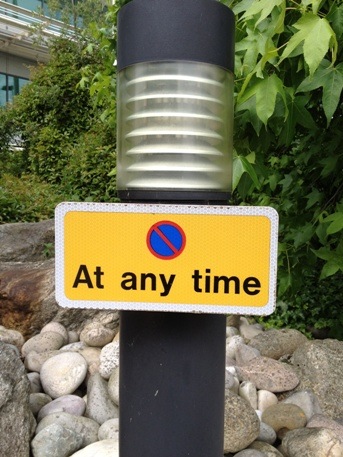 No blue dots?
No blues?
No blue color a'tall?
No blue marbles?
No bluing in my laundry?
No blue skying (for those marketing types)?
What?! What do the Brits got against the color blue?
Gah!
I showed this to The Good Man who is seriously a lot smarter than me and he told me it means no stopping (this sign is near a roadway).
How in the utter hell am I supposed to get no stopping from a blue dot with a red slash through it?
Now that I know what it is supposed to mean, this damn sign torments me.
I have to see it every day. It's located on the path that leads to the bus stop where I catch a public shuttle bus. Every morning and evening I commute with the locals on the bus.
It's a popular route and most of the time I can't get a seat, so I stand and hang on to a hand strap.
This isn't much of a problem, the trip only takes about fifteen minutes.
However.
These traffic roundabouts that British civil engineers seem to liberally scatter about make standing on a bus pretty challenging.
I am a rather sturdy girl but even I am not immune to powerful centrifugal forces. The bus drivers hit the multitude of roundabouts at considerable speed.
On the plus side, I'm building muscles in my upper body as I cling to the hand strap for dear life. My feet keep leaving the ground like Gilligan in a hurricane.
Whoooooaaaa!
Thus ends today's "things that are weird about England" lecture.
I hope we've all learned something.
Photo Copyright 2012, Karen Fayeth, and subject to the Creative Commons license found in the right column of this page. Photo taken with an iPhone4s and the Camera+ app.