My parents were pretty strict when I was growing up, but I'm not here to complain about that. I think my brother, sister and I turned out pretty well, overall. Well, my brother and sister did, jury is still out on me.
But it's true, my folks were a bit old fashioned and handed down strict discipline. They kept us in line.
One thing my Dad was all about was his kids answering "yes, sir" or "yes, ma'am" when addressed by an adult. It's ingrained in me, automatic. It's a show of respect for elders, along with respect for a person's position.
And so when either of my parents would call out "hey Karen?" I would automatically drop a "yes, sir" or "yes, ma'am" without hesitation.
It's carried into my adult life and usually has served me well. On a recent visit with one of my favorite Aunties in Michigan, she at one point called out my name and I dutifully replied "yes, ma'am," and I knew it was right. I felt like a good kid.
As the digits in my age advance, however, I also notice that I get ma'amed here and there. At first I didn't like it, but then I began to appreciate that for those younger than me, their parents raised them with that same value. Yes sir!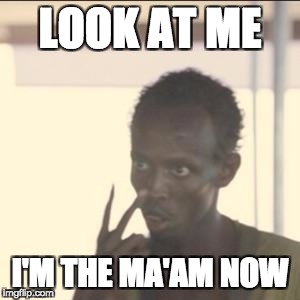 Here's where it gets weird: My new boss at work? She's my same age. In fact maybe a year or two younger. She was my peer for the past several years and was recently made the acting manager. It's also very likely that she will soon be the permanent manager. And I'm okay with that.
I have nothing but respect for her and we're working out the bounds of going from peers to boss and employee.
Yesterday, she came wheeling into my office, fresh off one of her many meetings each day and with something on her mind. "Hey Karen?" she said sharply.
"Yes ma'am!" I replied.
And she looked at me kind of strangely.
And I looked at her kind of sheepishly.
"Ahem. What can I do for you?" I revised.
It made me think maybe I need to change up the ma'am/sir thing. I mean, it still fits in many cases. For example, if I come across any of the distinguished scientists that I work with, I'm sure as heck going to ma'am or sir them, regardless of age. Or any dignitary.
But maybe I have to realize that I am the grown up now. I am the one to receive the ma'am treatment. I suppose it is time to finally own my own mildly elder status. Right?
It's just so weeeird! And will take a while to reprogram my brain.

Subtitled: An Open and Passive Aggressive Letter To A Jerk
Dear Festering Canker on the Butt Crack of Society,
On the weekend after the American Thanksgiving holiday I see that you managed to find yourself, and maybe a few of your slackjawed mouth breathing friends, in my neighborhood.
I can't blame you because I live in an awesome neighborhood. Those houses that line the block are old, pristine and outrageously expensive.
It's a neighborhood so nice I can't afford to live here. Well, I mean own here. My economic status is evidenced by the nearly fifteen-year-old vehicle that I have to park on the street in front of the building that houses my teeny tiny apartment.
One of my neighbors who also lives in a small but well appointed apartment had parked her nearly decade old Volvo behind me on that fateful day. I know her, she knows me. We park near each other a lot.
So yeah, there are some really rich people who live on my block, but my neighbor and I are not among them. We managed to slip our middle class selves unnoticed into this nice neighborhood and enjoy the benefits of tree lined quiet streets and a walking score of an outrageously high 93.
I can see how you might show up in this neighborhood and see the opulence and think to yourself, "I need to mess some sh– up."
And so you started with my neighbor's Volvo. About eight months ago this same very nice person had a different Volvo, but a drunk college brat came careening through our street and bounced of her car and several others (thankfully I had parked across the street from her on that night) thus totaling her beloved old Volvo. That thing was a classic. She was heartbroken.
But her insurance kicked in and she lovingly replaced it with this used but in good shape model. You decided to be "cool" and rip the side mirror off of her new/used car. Ripped it clean off and left it dangling by the electrical cords. Aren't you so clever?
Then you set your sights on my Jeep. You popped the passenger side mirror out and folded it over. It's an SUV so it's okay to do that. It's a tough offroad vehicle and I've moved past bendy Willow branches that were stronger than your weak sauce.
It appears you wrestled with it a little bit because the case is cracked but your underdeveloped arms weren't strong enough to twist it off of my Jeep.
Pause here, hand to heart in honor of my Jeep people.


So, since you weren't able to complete your impotent act of vandalism, you then moved to my radio antenna. Yes, my Jeep is so old it still has an old fashioned non-retracting antenna that stands tall, reaching far into the universe to pull down radio waves and send them to the interior of my vehicle.
I have listened to hundreds and maybe thousands of baseball games on that radio using that antenna. Jon Miller's voice so deep and bassy that it vibrates the cheap factory installed speakers in the doors. Well, speaker and door, singular. The driver's side speaker hasn't worked since 2005 and I never bothered to get it fixed.
But that's not the point.
You got your giggles satisfied by ripping the antenna off my car. I can see from the clean spot in the dirt on my Jeep you had to lean in a little to get that done. I hope my antenna gave you a valiant fight. I hope you tore some skin when you ripped the metal and then carried it off.
You know, I grew up in the kind of place where there was really nothing to do on a weekend when school was out. My friends and I did some seriously stupid shit, too.
The quest to steal lawn ornamentation comes to mind. As young bucks we'd get a little sloshy and then go on the hunt for lawn ornaments. The people and culture of New Mexico tend to lend themselves to neighborhoods littered with plastic and clay items purchased over the border and brought home then proudly displayed on patchy grass and dirt lawns.
So yeah, we took stuff, but we always treated it nicely and often we'd go out on another night to return the things we took. Not always to the same lawns, granted, but the intentions were good.
All that by way of saying that I get it, the need to be young and dumb and act like an idiot.
But for eff's sakes! There is A LOT to do in this town. We live in a hotbed of unique things to do, and not even all of them cost money.
Nah, you wanted to leave your little limpy mark on the world by destructing the property of some people who value our tired old hoopties the most.
Congratulations. You win. You got me.
I will rebuild. I will eventually have my antenna replaced. For now I listen to either scratchy FM stations or I pop in a CD. Yes, my car is so freaking old it still had a CD player.
And as the Christmas seasons dawns merry and bright, my wish for you, dear vandalist, is that Santa Claus takes a giant squat in your stocking while smashing your favorite ornament to bits.
And that someone takes something that you value very much and vandalizes it.
Happy Holidays!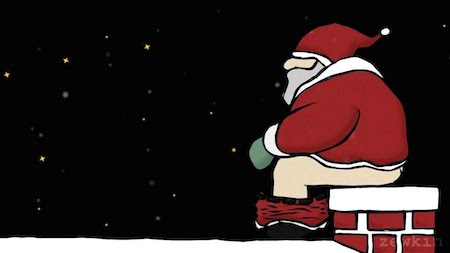 Image found here.

So of course, I'm the jerk.
Friday afternoon after a long week at work and dealing with more than the average load of dung, I was ready for the weekend.
The Good Man was working in a town quite a bit farther away and we had plans to have dinner with friends. Because we live in a place that has too damn many people, managing commute time traffic is "a thing". This means that I eschewed my car and instead got my shoes on. Late Friday afternoon I found myself walking to the nearest BART station about a mile away.
I had been too lazy about getting ready and was up against it in terms of time, so I walked at a pretty fast clip. I was keeping up a good pace so I could catch my train.
Now, sideline comment here, I haaaate when I'm out walking on trails and tracks and as someone approaches from the opposite direction, they don't get over. So then I'm run off into the weeds in my haste to make room. Me, always me. So few OTHER people make room.
I also hate clueless people who don't move over on sidewalks. Who stop dead center in front of the door into a business. Who stand in the middle of the aisle at the supermarket. It's all about lack of awareness of surroundings and lack of caring about what is going on in the world.
My folks taught me to be polite and taught me to be considerate. This lesson is strong in me and I can see other parents didn't value this quite as much as mine did.
So of course, as I walked down a long sidewalk past many shops and restaurants, I was already steaming a bit about the lack of consideration from fellow mankind. I had already been run off of the sidewalk and out into the very busy street by a group of "ladies who lunch" who refused to move from dead center of the sidewalk. By a youngish guy riding his bike on the sidewalk straight at me who wouldn't move over or into the street. By a guy with two huge dogs who could not have given less of a damn. By a lady with two toddlers who are clearly fine unattended on a very busy sidewalk.
So I was steamed. I just wanted to get to the freaking BART station. And to see my husband.
Finally I found a stretch of clear sidewalk and I kicked in what tiny afterburners I have and picked up my pace.
It was about this time that a pretty little goldilocked girl, aged maybe twelve or thirteen, came toddling out of a building. Her friends followed behind. Clueless, of course. She walked right in front of me then stopped. My big ship does not veer that fast, especially at speed. I tried to avoid her but instead I glanced into her shoulder. As I passed, I said a rather stern "excuse me!!!" and kept walking.
Except…I heard the notebook that she had been carrying under her arm hit the pavement. I'd jolted her so hard she dropped her book. I wanted to keep walking. Screw it! I thought. She had stepped in front of me. Cut me off! Not my fault!
But I realized analysis of any outsider (and certainly her helicopter parents, had they been present) would say that I am the asshole in that situation. I am the jerk. I am the grown up and precious little curly blonde sunshine teenager is the in the right.
Even if I am right, I am wrong. The court of public opinion says "think of the children! It's all about the children!" even though special snowflake was clueless and in the wrong. Nope, I'm still the wrong one.
So I stopped. I turned around. I saw three little shocked wide eyed little girls with bow lipped mouths registering disdain. I leaned over to pick up her notebook, but one of her friends already got it. I said, "I'm sorry, darlin', I didn't mean to run into you. Are you ok?"
She said, "I'm fine." And I said, "Ok, again, I'm sorry," and she said "It's ok" then I turned around and walked off quickly, now later than ever for my train.
As I walked I now felt sheepish and mad in equal parts. Sheepish for slamming into a little girl so hard she dropped her notebook. Mad because what the hell!? Get out of the way!
Argh!
When I was a kid the world did not revolve around me, but now as a childless by choice adult I have to revolve around other people's ill mannered kids.
Not something I can solve. Just wanted to air it out. Thanks for the group therapy.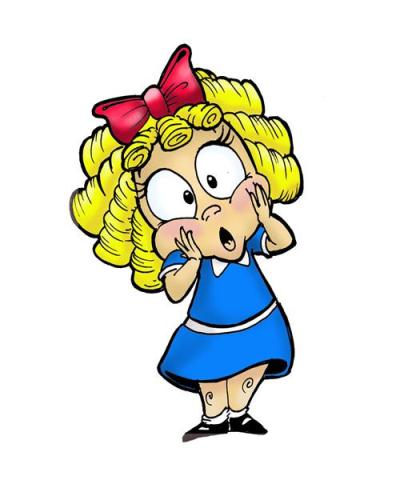 Image found here.

Yes, it's that time of year again….

Originally posted January 12, 2011

Today, I'm going to pander to the keyword search.
Oh yes I am…pander a go-go.
You know, it's an odd thing to look at the visitor stats for my little ol' blog and see what exactly brings folks around.
I'll have you know, the NUMBER ONE reason people visit my blog is because of a single post I did on the geometric wonder known as the trapezoid.
I'm not even kidding. "Trapezoid" is the number one most searched keyword for Oh Fair New Mexico.
I think I may have helped schoolchildren around the globe by posting a photograph of a trapezoid in real life, my former office building.
Here it is:
There is she is, folks! A trapezoid! In real life! Right there!
Trapezoid, trapezoid, trapezoid (<- Now I'm just baiting the search engines....) What is a trapezoid? (< - still baiting) In case you don't know what a trapezoid looks like, I have something for you: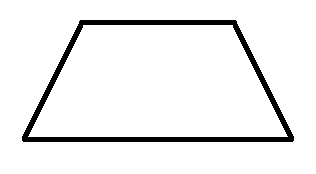 Ain't she a beauty! An isosceles trapezoid! That's HOT!
Why all the pandering? Well, I recently noticed via an image search that some kindergarten class in Washington DC has robbed me of my trapezoid-based SEO.
Oh hell no!
I'm taking back the trapezoid.
Love the trapezoid! Embrace the trapezoid!
If you're a Brit, enjoy the trapezium!
There…that should do it.

There I am, a random sunny weekend day in suburban Northern California, with a bag of groceries in my arms and holding hands with my husband.
We're headed to the car in the parking lot when a low, slow Honda Civic rolls by. The car has been lowered, the wheels are miniscule and from inside the car comes some techno music. Not the multilayered computer-mixed techno of this modern era, but a thin synth-pushed techno that was quite reminiscent of the dance club music of the late 1980's.
And suddenly I am no longer on a grassy knoll outside of Whole Foods in suburban California, but I'm wandering over the Paseo del Norte bridge and stumbling down Avenida de Juarez.
And I am inside Alive, a bar just over the border in Juarez, Mexico. If I listen hard enough, I can hear the sound of tequila slammers hitting the bar, syncopating with the terrible music blaring from the terrible sound system.
Alive, a venue located underground (the irony was not lost on me) with a tan blown-foam covering on the walls and a trip-worthy ramp leading to the bowels of the nightclub. I'd remind myself as often as possible not to touch anything and mind my own business.
But a bucket of Coronitas and a few slammers later and hey, let's dance!
And me with my walnut sized bladder begging myself to hold it because the bathrooms at Alive were awful. Just…frightening.
But who cares! I was young! I was invincible! I was the only responsible person in a group of very irresponsible college kids. We were having fun. In another country. With no parents in sight! Freeeedom!
Yes, I was young and in my prime and not something like 43 and worried about jobs and money and is that cereal I just bought gluten free because wheat gives me tummy rumbles and oh yeah, did I get hemp milk because by god I'm lactose intolerant too. And can you read the label on this box because the print is too tiny and I sure as hell can't read it.
It was a fleeting memory and I told it all to The Good Man. He replied "You and I had very different lives."
And I suppose that's true, we did.
But I can't shake the memory. It's not that partying in Juarez was a particularly good time. I was always the "good kid" and worried to death about all my friends and how to get them all back home safe and intact. I worried that one of the guys would get in a fight and we wouldn't have enough money to pay the Federales to let him go. I worried my pockets would be picked clean by the kids (I had fended off more than a few). I worried that if the time came to run that I would be the one not running fast enough.
None of that really sounds like fun.
Those times are long past, something of stories and fairy tales as I wouldn't go near Juarez for all the tequila in the world now.
I guess that memory on that sunny California day was something like fond reminiscence? I think it is more my youth that I miss than the crappy bars like Alive and Spanky's and The Tequila Derby.
While searching for photos of Alive, I found this story on CNN. The author perfectly describes what it was like then and what it's like now and does a much better job than I did.

Juarez was fun – before it was dangerous.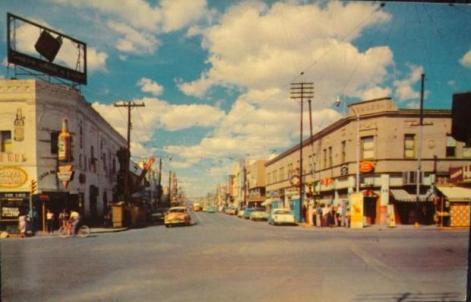 This 1950's (or maybe 1960's) era postcard, oddly, comes closest to my memories of Avenida de Juarez. In the late 1980's that big bottle over the liquor store on the corner (left side of the photo) was still there.

Image from an eBay posting selling the original postcard.