My employer is weird. This is known. And one of the weird things they like is to have portraits done of all of us minions every couple years.
The employer has a professional, award-winning photographer on staff and in addition to his amazing photos of amazing science, the poor guy also has to sit in a conference room while a parade of geeks, nerds, scientists, engineers, and dorks like me clomp through.
Last time I had a work photo taken, it was two years ago. It was a humid day. I had to walk up a steep hill to get to the place where the photos were being done. I was running late because I couldn't find a parking spot.
I'd sweated my makeup off and my hair frizzed to cotton candy status. Then I sat down and had my photo taken. It's awful. And it's published on my department's website for all to see.
We're encouraged to use that photo as our email avatar. Nope.
Today is the day when new company photos are being taken. Argh. I have been, to put it mildly, obsessed about this. I want my new professional work photo to be something I am willing to look at.
Yesterday I carefully examined all of the photos of my coworkers in the photo archive to assess what works and what doesn't. This morning I curled my hair. I put on makeup. I fussed.
At about twenty minutes before my appointment time, I sat at my desk fretting. I decided to open Photobooth on my Mac to get a real look at how things were working and what needed fixing.
I gazed into my laptop camera and took a couple shots. I evaluated the smile, the hair, the lipstick then I went back in to try again.
I was staring the camera dead on, trying to smize when in my peripheral vision I see one of the auditors come walking down the aisle. The very serious big 4 outside auditors here doing serious stuff like auditing financials. And here I am, a manager, supposed professional, at my desk selfie'ing.
So I tried to play it off real quick. I looked away and was acting all like "no, no selfies here." And "Yeah it's cool, ain't no thing."
And then the Photobooth "flash" popped (it flashes a blank white screen). Busted.
Yeah. Um.
Anyhow, I took that photo of my shame, cropped it, sent it through an Instagram filter and now it's arty. Thoughtful. Meditative.
Nah, it's just me trying to look cool and failing miserably. Welcome to Dorkville, population me.
I sure hope my professional photo turns out a lot better.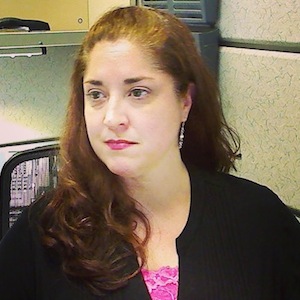 Thinking so hard right now.

Photo Copyright ©2015 Karen Fayeth and subject to the Creative Commons in the right column of this page. Please don't use this photo elsewere. I'm asking nice. Photo made with Photobooth, Instagram and my special brand of genetic dorkiness.

It's been said before that I'm a little "different" from your average employee. The streetcar of my brain runs a little off the beaten path. I use words and phrases in unusual ways. Occasionally only words in Spanish can convey my sense of the sentiment and my coworkers don't always understand that.
With each job I've had in my life and each place I work, there always seems to be a breaking in period. A timeframe whereby things evolve from "what did she just say?" to "oh, that's just Karen."
I think today was turning point at my current place of employment. I just celebrated two years here and they are finally coming around to my unique way of looking at the world.
This group was a little more resistant than my last few employers, but I finally succeeded in breaking them down.
Here's how I know. Below is a real and genuine account of events that happened just moments ago:
Scene: The office breakroom. Several of my rock star employees and I are gathered around the new vending machine. The selections are different from what the old machine offered and we are discussing the merits of each.
At the moment where we tune into the scene, my employees and I are quite racously discussing the positives and negatives of sour gummy worms. And we are laughing…a lot (we tend to do that on my team).
A one level up management-type person (not my direct boss, but a bossish kind of person) and a rather serious sort walks into the room. My employees all go still and their eyes drop.
She says, "What are you all doing in here?"
Without missing a heartbeat I match her serious tone and reply, "We're negotiating with the vending machine."
She pauses. Says, "Oh." Then she spins around and walks out. I'm pretty sure she had a reason to come into the breakroom but I derailed her mental train. It was awesome.
Oh yeah, I'm going to be running this place soon. That kind of think of your feet, can-do attitude going to take me far.
Also, it's important to know that the sour gummy worms were delicious.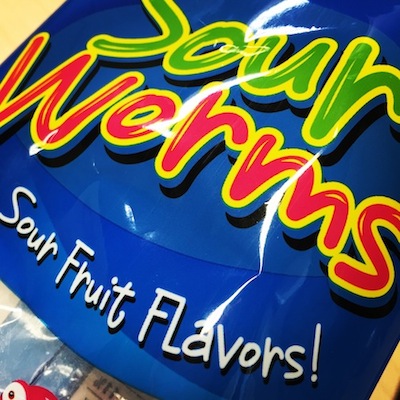 That there is my photo, Copyrighted by me in the year of 2015. © Karen Fayeth. Don't steal, though I don't know why you'd want to rip off a photo of an empty gummy worm bag. If you do want to appropriate my work, do pay attention to the Creative Commons license in the far right corner of this page. Taken with a iPhone6 and the Camera+ app.

That moment when you are sitting at stoplight as a pedestrian crosses with the light in front of your headlights and you notice that the morning sun is giving this gentleman a solid backlighting. As he is directly in front of your view, you notice that the hairs that extend well past his nostrils are beautifully set to glowing by the golden California sun.
And you think to yourself, "Oh wow. That's…well that's something." And you laugh alone in your car because why not. You can sing in there so why can't you cackle like a dyspeptic hen in there?
And as you turn the corner and head into the parking garage you think to yourself. "Don't laugh, sparky. There but for the grace of a nose hair trimmer go you."
So then you surreptitiously check both barrels of your own breathing device to see if the protective filtering is tidy and in place.
And you realize that, you know, you could use a little trim yourself.
So you sit in the car and in the morning light of a California sunrise and you use the scissors from your small Swiss Army Knife to give a quick clip, just enough to let your sanity rest during the day that lies ahead. Because no one should have to worry all day long about the nostril streamers that suddenly seem to grow with less control than they once did.
And when done, you feel both satisfied and mildly crazy and kind of blind because why didn't you notice a trim was in order when you looked at your tired face in the mirror this morning?
But alas, you did not. Then you vow to take care of this problem more fully later tonight. And you should probably put on your reading glasses and give the eyebrows a check too because I bet those are out of control.
And then you get out of your car and walk into the office and enter this crazy day in a crazy way with crazy hair growing in crazy places.
Did you ever have a day like that? Yeah, um, me neither.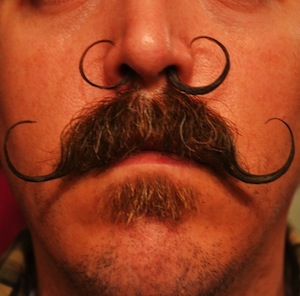 Image found here.

Subtitled: An Open and Passive Aggressive Letter To A Jerk
Dear Festering Canker on the Butt Crack of Society,
On the weekend after the American Thanksgiving holiday I see that you managed to find yourself, and maybe a few of your slackjawed mouth breathing friends, in my neighborhood.
I can't blame you because I live in an awesome neighborhood. Those houses that line the block are old, pristine and outrageously expensive.
It's a neighborhood so nice I can't afford to live here. Well, I mean own here. My economic status is evidenced by the nearly fifteen-year-old vehicle that I have to park on the street in front of the building that houses my teeny tiny apartment.
One of my neighbors who also lives in a small but well appointed apartment had parked her nearly decade old Volvo behind me on that fateful day. I know her, she knows me. We park near each other a lot.
So yeah, there are some really rich people who live on my block, but my neighbor and I are not among them. We managed to slip our middle class selves unnoticed into this nice neighborhood and enjoy the benefits of tree lined quiet streets and a walking score of an outrageously high 93.
I can see how you might show up in this neighborhood and see the opulence and think to yourself, "I need to mess some sh– up."
And so you started with my neighbor's Volvo. About eight months ago this same very nice person had a different Volvo, but a drunk college brat came careening through our street and bounced of her car and several others (thankfully I had parked across the street from her on that night) thus totaling her beloved old Volvo. That thing was a classic. She was heartbroken.
But her insurance kicked in and she lovingly replaced it with this used but in good shape model. You decided to be "cool" and rip the side mirror off of her new/used car. Ripped it clean off and left it dangling by the electrical cords. Aren't you so clever?
Then you set your sights on my Jeep. You popped the passenger side mirror out and folded it over. It's an SUV so it's okay to do that. It's a tough offroad vehicle and I've moved past bendy Willow branches that were stronger than your weak sauce.
It appears you wrestled with it a little bit because the case is cracked but your underdeveloped arms weren't strong enough to twist it off of my Jeep.
Pause here, hand to heart in honor of my Jeep people.


So, since you weren't able to complete your impotent act of vandalism, you then moved to my radio antenna. Yes, my Jeep is so old it still has an old fashioned non-retracting antenna that stands tall, reaching far into the universe to pull down radio waves and send them to the interior of my vehicle.
I have listened to hundreds and maybe thousands of baseball games on that radio using that antenna. Jon Miller's voice so deep and bassy that it vibrates the cheap factory installed speakers in the doors. Well, speaker and door, singular. The driver's side speaker hasn't worked since 2005 and I never bothered to get it fixed.
But that's not the point.
You got your giggles satisfied by ripping the antenna off my car. I can see from the clean spot in the dirt on my Jeep you had to lean in a little to get that done. I hope my antenna gave you a valiant fight. I hope you tore some skin when you ripped the metal and then carried it off.
You know, I grew up in the kind of place where there was really nothing to do on a weekend when school was out. My friends and I did some seriously stupid shit, too.
The quest to steal lawn ornamentation comes to mind. As young bucks we'd get a little sloshy and then go on the hunt for lawn ornaments. The people and culture of New Mexico tend to lend themselves to neighborhoods littered with plastic and clay items purchased over the border and brought home then proudly displayed on patchy grass and dirt lawns.
So yeah, we took stuff, but we always treated it nicely and often we'd go out on another night to return the things we took. Not always to the same lawns, granted, but the intentions were good.
All that by way of saying that I get it, the need to be young and dumb and act like an idiot.
But for eff's sakes! There is A LOT to do in this town. We live in a hotbed of unique things to do, and not even all of them cost money.
Nah, you wanted to leave your little limpy mark on the world by destructing the property of some people who value our tired old hoopties the most.
Congratulations. You win. You got me.
I will rebuild. I will eventually have my antenna replaced. For now I listen to either scratchy FM stations or I pop in a CD. Yes, my car is so freaking old it still had a CD player.
And as the Christmas seasons dawns merry and bright, my wish for you, dear vandalist, is that Santa Claus takes a giant squat in your stocking while smashing your favorite ornament to bits.
And that someone takes something that you value very much and vandalizes it.
Happy Holidays!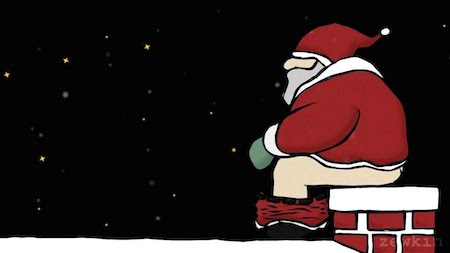 Image found here.

In those heady days of youth when skin was firm, recovery time was fast and the brain still spongy, I remember thinking "pfft, I don't need to use lists to remember things. That's so lame."
Then somewhere in my late twenties I had to make the hard admission that my memory was just never going to be what I wanted it to be. I thought it would always be easy to remember things, and then suddenly it wasn't so easy. Too many seemingly obvious missed items at the grocery store and dammnit, you start to love a real honest to goodness list.
So I started, grudgingly, making lists. Usually only a couple items on a sticky note, words to jog the brain. Over time that just wasn't enough. The random words were no longer enough to evoke memory. I had to put down multiple and specific words. No longer could I trust my brain at ALL. These were dark days, indeed.
Years passed and my eyes got worse and my hair more gray and the little lines at the corners of my eyes were no longer laughs but crows, and I learned to love my Swiss cheese memory.
These days I am all about my to do lists. I write one up, by hand, every few days at work. Hand writing the tasks helps me to have SOME potential for a wispy memory of them.
I get out a shiny orange Sharpie and then I get all of those pesky things I am supposed to remember down onto a big sticky note. Once written, it feels good to let them go. No longer does my brain have to work to keep important tasks retained, nope. I can fill the brain holes with mental cotton candy like the score of last night's Giant's game (don't ask) and the fact that there is going to be a Sharknado 2 (not that I saw the first one).
I love my lists so much that I actually keep some of lists that have all of the tasks marked off. It's a keepsake to show me that busting my butt at work really does matter. A visual and handwritten progress bar that keeps me motivated.
There is a little dopamine blast I get when I check several items off the list. Yeah baby, that is the stuff. Gimme some more.
I even like to use the British colloquialism "tick the box" instead of check mark because "tick the box" is fun to say. It makes things feel official and proper and oh yeah, there's that dopamine rush again. Gimme, gimme, gimme.
Seeing an unticked list doesn't demoralize me, it peps me up. If I work a little harder, stay a little more focused, I can get out the black Sharpie and POW! Mark off the list. That little huff of Sharpie ink. The sound of the pen across the words. The tingles in my spine. The smug satisfaction I feel. Yeah. Love it. Love everything about it.
Even making the little fake list for the end of this post was utterly satisfying…
I should probably get help.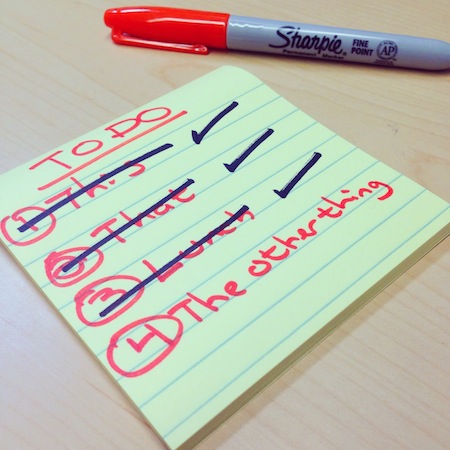 Photo and To Do List © 2014, Karen Fayeth, and subject to the Creative Commons License in the right column of this page. Taken with an iPhone5 and the Camera+ app.