Blame it on Facebook and its algorithms that like to remind me of things from the past. For the better and for the worse.
I re-read this one over the weekend and thought "yeah, that one needs a re-post."
So here we are, when Monday, January 30, 2017 feels a lot like Monday, January 28, 2013

A Treatise On Monday
Originally published January 28, 2013

Written this morning at something like 5:45am


And so we find ourselves back at Monday. Ah Monday, both the beginning and the end.
I have sad, tired, squinting, groundhog eyes as the alarm goes off. I'm begging the world not to pull me from my burrow. Please don't shine that bright light in my face.
But I'm pulled from my burrow anyway and instead of a prediction, the world anticipates my arrival at the train station and my seat on the next ride into the city.
The bright light turns out to be a beautiful ray of light, glimmering off the slowly rising sun.
All possibility is in Monday. Will this be a good week? Will this be a bad week? Will it rain?
Monday is everything and nothing. A blank canvas ready to take the paint.
What will I make of my Monday? What will I achieve? How will I stumble and will I recover gracefully?
It all exists here in these quiet pre-dawn hours. The sun hasn't even said hello yet and here I am, writing. Scribbling the words that want to exit my head.
There is already acrylic paint on my hands from a project that is due Thursday morning. I had to get some early painting done so I can hit that deadline.
In this Monday, all things are possible including finishing a painting that is due in just three days.
Oh my.
I feel strangely happy today. What the hell is this? How unusual for a Monday morning.
The weekend was weird. I was cranky and then he was cranky and then it was Sunday night and another two days of not working were jettisoned to the ether. Monday turned the corner and sat down for a visit.
So here I am again loading a backpack for work, stumbling around to find my badge and my phone and my sense of self-worth.
I look again at my canvas and already I fear I have screwed it up. Don't they say in art there are no mistakes? Just roll with it and incorporate the error. OCD and art are not friends. This major but fixable error must wait until later tonight to find its cloak.
There is a train to catch and a Monday to face. I'd rather stay home in my studio and put gorgeous turquoise paint on a willing canvas. Can I do that for a living?
You know, a girl can dream, and so I will dream as BART gently sways. When I disembark dreams stop so reality can start.
But no matter, I can dream again, later. Dreams don't die easy.
And dreams don't wait for the weekend.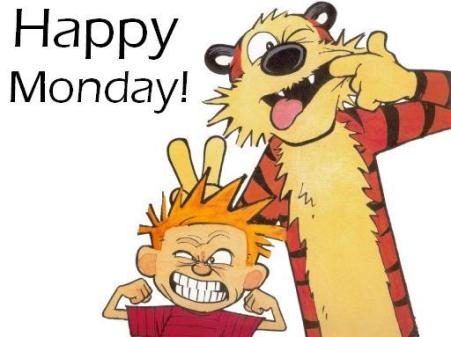 Image from The Miracle Journal.

Recently I've been a little delinquent in spoiling The Good Man. Things have been crazy what with all of the international travel and working long hours and, well, life.
His birthday was last month and although we had a nice quiet celebration, I feel like I failed a bit to make the day something special.
The Good Man is a child of summer and it's easy to understand why his favorite fruit is the peach. Yesterday I found a nice ripe pile of the fuzzy stuff at the grocery store and brought several home.
"Cobbler or pie?" I asked after showing him the peaches. He began muttering the question over and over to himself like a philosopher mulling over the meaning of life.
"Or a crumble?" I followed, then, "Is that too many choices?"
For several hours after he wandered around the house "cobbler or pie…or crumble? Hmm…" This is a very big decision in Good Man Land.
Finally toward the late evening hours, I surveyed the ingredients I had on hand and began consulting cookbooks in preparation for his decision.
It was then I pulled out The Book of Love (dun, dun DUUUUUN!) to begin the search for recipes.
This Very Good Book: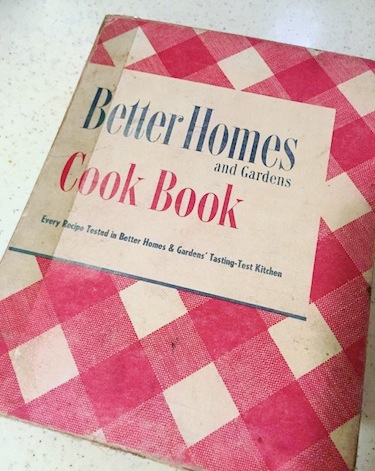 I think every person who likes to cook has a favorite or special cookbook that is the go-to for any circumstance, and this one is mine.

Taking a seat in a nearby chair, I opened the holy tome. I read the inscription inside the front cover. You see, this particular cookbook was a gift from my grandparents to my mother on the occasion of Christmas 1950.
My mom left it behind when she moved out and my grandmother kept updating the recipes inside. The Better Homes & Gardens magazines published recipes that the homemaker could cut out and add to the book, to keep it fresh. I love seeing my grandma's handwriting along with the food spots and spatters in its pages.
Some of the recipes are a little odd or outdated, but I'll tell you this, I've never made a recipe from this book that failed me.
As The Good Man walked by, he said in a voice a little quavery with anticipation, "I love it when you pull out that cookbook."
Oh yeah, he knows. Good things come from that 1950's made with yum cookbook.
Finally, after waiting for his answer and looking at recipes and thinking about my laziness factor, I decided for him. "Good news, you are getting cobbler."
He nodded, relieved the decision had been made and ready for the delivery on my promise.
That happens tonight. Oh yes and oh yum.
Best part about making baked goods for the one I love? I get to have some too!
Welcome to the sixth day of the year 2015 but only my second day back at the ol' place of work.
While technically the first of January is the first day of the New Year, it doesn't really feel like the New Year has begun until I go back to work, i.e. get back into the "real world."
My employer is ever so kind in that they shut down operations from December 24 through January 1. That means with a little planning and a little curation of vacation hours, I can eek out full two glorious weeks away from the office.
I look forward to this two-week break from work all year long.
All. Year. Long.
In my career, I've rarely taken two weeks of regular vacation time, so these two weeks at the end of the year feel beautifully indulgent.
My first priority for the break time is to sleep. Nap. Sleep more. Rest and then do nothing too taxing on brain and body. That usually lasts about three days then I'm rested and raring to go.
The rest of the break time is spent with family, exploring the world with The Good Man, cleaning up my home office/studio and working on creative projects.
I find I'm able to fully and completely forget about work and live the dream of a creative life. Sleep until my body is rested, rise and work on creative projects, fill my head with creative inspiration and plan forward for the projects I want to work on in the coming year.
It's a beautiful place to be, a place I'd live all year round if those darn lottery numbers would just break my way. It feels solid and satisfying and clean and pure.
And then sixteen days of being my own boss pass too quickly and Monday, January 5 arrives. I have to figure out how to get back into the flow of "regular" life. I have to metaphorically merge into speeding traffic with no running room and only two of four cylinders in working order.
Yesterday was that day. Yesterday I woke up with the help of an alarm clock (bleah, sixteen days of no chirping alarm was REALLY nice) and sat up in my comfy bed, bleary eyed and lost.
I tried hard to find the muscle memory to rise, to make some breakfast, to put on some clothes, where is my work badge?, move out the door and get to work on time.
When I arrived at the office it was all too familiar and all too unfamiliar.
It felt like I had changed. I was a different (and better) person as I swiped my badge and entered the office. Then I realized that work had not changed.
I came to my own little gray cubicle and there was all of my same stuff I'd left behind, but it looked alien.
The laptop machine asked me for a password and I had to think very hard about it. Took a couple tries at it and finally remembered.
Have you ever seen baby ducks when they are following their Mama Duck into the water? It often looks like this: Mama slides effortlessly into the water and her eight to ten ducklings slip, slide, belly flop, and unceremoniously plop themselves with a splash behind her.
For a moment, the water crests over the top of their head, then the ducklings one by one pop to the surface like popcorn and start swimming.
It was very much like that yesterday. I fell uncoordinated and perilously off the vacation ledge into the bracingly cold pool of work. I grasped for stability for a little while and then I found my feet and began to paddle. By the afternoon I was moving more or less in a forward manner.
So that's the New Year. A little bit new, a lotta bit old. I suppose all of the inspirational quotes are true. It's up to me to make 2015 a really awesome year.
Forward into battle! *splash*cough*splutter* Okay. Now, here we go.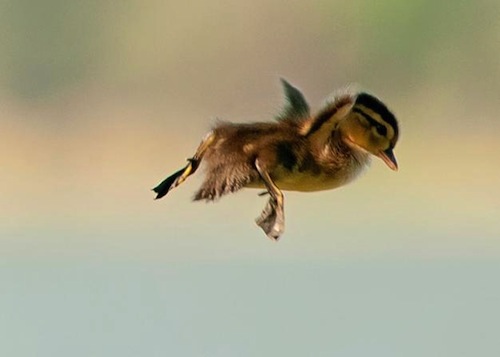 "Hoooooly craaaaap"

Image found here.

Subtitled: An Open and Passive Aggressive Letter To A Jerk
Dear Festering Canker on the Butt Crack of Society,
On the weekend after the American Thanksgiving holiday I see that you managed to find yourself, and maybe a few of your slackjawed mouth breathing friends, in my neighborhood.
I can't blame you because I live in an awesome neighborhood. Those houses that line the block are old, pristine and outrageously expensive.
It's a neighborhood so nice I can't afford to live here. Well, I mean own here. My economic status is evidenced by the nearly fifteen-year-old vehicle that I have to park on the street in front of the building that houses my teeny tiny apartment.
One of my neighbors who also lives in a small but well appointed apartment had parked her nearly decade old Volvo behind me on that fateful day. I know her, she knows me. We park near each other a lot.
So yeah, there are some really rich people who live on my block, but my neighbor and I are not among them. We managed to slip our middle class selves unnoticed into this nice neighborhood and enjoy the benefits of tree lined quiet streets and a walking score of an outrageously high 93.
I can see how you might show up in this neighborhood and see the opulence and think to yourself, "I need to mess some sh– up."
And so you started with my neighbor's Volvo. About eight months ago this same very nice person had a different Volvo, but a drunk college brat came careening through our street and bounced of her car and several others (thankfully I had parked across the street from her on that night) thus totaling her beloved old Volvo. That thing was a classic. She was heartbroken.
But her insurance kicked in and she lovingly replaced it with this used but in good shape model. You decided to be "cool" and rip the side mirror off of her new/used car. Ripped it clean off and left it dangling by the electrical cords. Aren't you so clever?
Then you set your sights on my Jeep. You popped the passenger side mirror out and folded it over. It's an SUV so it's okay to do that. It's a tough offroad vehicle and I've moved past bendy Willow branches that were stronger than your weak sauce.
It appears you wrestled with it a little bit because the case is cracked but your underdeveloped arms weren't strong enough to twist it off of my Jeep.
Pause here, hand to heart in honor of my Jeep people.


So, since you weren't able to complete your impotent act of vandalism, you then moved to my radio antenna. Yes, my Jeep is so old it still has an old fashioned non-retracting antenna that stands tall, reaching far into the universe to pull down radio waves and send them to the interior of my vehicle.
I have listened to hundreds and maybe thousands of baseball games on that radio using that antenna. Jon Miller's voice so deep and bassy that it vibrates the cheap factory installed speakers in the doors. Well, speaker and door, singular. The driver's side speaker hasn't worked since 2005 and I never bothered to get it fixed.
But that's not the point.
You got your giggles satisfied by ripping the antenna off my car. I can see from the clean spot in the dirt on my Jeep you had to lean in a little to get that done. I hope my antenna gave you a valiant fight. I hope you tore some skin when you ripped the metal and then carried it off.
You know, I grew up in the kind of place where there was really nothing to do on a weekend when school was out. My friends and I did some seriously stupid shit, too.
The quest to steal lawn ornamentation comes to mind. As young bucks we'd get a little sloshy and then go on the hunt for lawn ornaments. The people and culture of New Mexico tend to lend themselves to neighborhoods littered with plastic and clay items purchased over the border and brought home then proudly displayed on patchy grass and dirt lawns.
So yeah, we took stuff, but we always treated it nicely and often we'd go out on another night to return the things we took. Not always to the same lawns, granted, but the intentions were good.
All that by way of saying that I get it, the need to be young and dumb and act like an idiot.
But for eff's sakes! There is A LOT to do in this town. We live in a hotbed of unique things to do, and not even all of them cost money.
Nah, you wanted to leave your little limpy mark on the world by destructing the property of some people who value our tired old hoopties the most.
Congratulations. You win. You got me.
I will rebuild. I will eventually have my antenna replaced. For now I listen to either scratchy FM stations or I pop in a CD. Yes, my car is so freaking old it still had a CD player.
And as the Christmas seasons dawns merry and bright, my wish for you, dear vandalist, is that Santa Claus takes a giant squat in your stocking while smashing your favorite ornament to bits.
And that someone takes something that you value very much and vandalizes it.
Happy Holidays!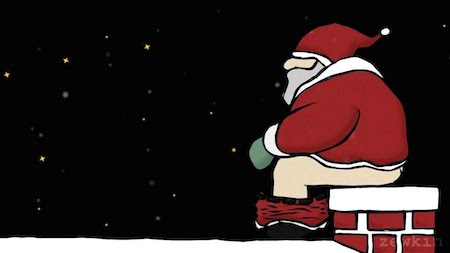 Image found here.

"Practice makes perfect," they say and, "If you do something for 10,000 hours then you will be a master."
Well, horse hockey is my answer to that.
If the delineator for adulthood is the age of 18, then I have put in a solid 236,682 hours at this craft, and I still haven't figure out how to be a master.
In fact, I may be worse at it than ever.
Sure, I get up in the morning and I go to work and I make a paycheck and I pay my taxes and I usually vote and I have insurance and a 401k and even a will. All the trappings of being a grown up.
But I still would rather have cookies for dinner and silly cereal for breakfast. I still throw little tantrums when things don't go my way. I still need naps and need to believe in Santa and I still want to play with toys and fly kites and occasionally I just need to melt down.
I can pay my taxes but the very thought of buying a house terrifies me. I can make decisions that impact millions of dollars at my job and then sometimes can't decide if I want orange or lime flavored candy at the store. Then I buy and eat both and cry because my tummy hurts.
This thing, this adulthood, it doesn't get easier.
And hell, I don't even know where the border lies, the place I can cross safely and know for sure I have arrived into adulthood.
Some might say it happens when you have kids. Fair play, I guess. But I have a lot of friends with kids that I wouldn't call the model citizens for grownup-itude.
When my dad died, that probably was the closest for me in knowing what it means to be an adult. I grew up pretty fast when, for better or worse, that was thrust upon me.
But even that wasn't enough to be the final frontier for me. (mmm, Frontier. I could go for a cinnamon roll right about now)
This past month some things happened with my "lady guts" that signaled the beginning of a long journey. When a woman's life turns from the dog days of summer into Autumn.
Discretion keeps me from going through all of the gory details, no one needs all of that. While I'm far too young for the "main event," my body has let me know that the pre-game show has started and the players are starting to take the field. (nothing like a sports metaphor to describe a lady issue….)
I'm not ready for this. I'm not grown up enough for this. I'm not an adult! I have put in the hours, many hours of long grueling practice and still…still I find myself at this age and at this earthly turning of a season far from being an expert at adulthood. I am jack of many aspects and master of none.
Maybe that is okay. Maybe that is what being an adult is about, the continually wondering if you are "grown upping" correctly. Paying taxes and eating ice cream sundaes with reckless abandon (while popping Lactaid, because that's a mature thing to do).
And on my next bubblegum ice cream sundae, I will be decisive enough to get both nuts AND sprinkles on top.
Because I'm young enough to want them both and old enough to pay for it.
So there. Take that! This is how I'm doing grown up and no one can make me do it differently!
Nanny nanny boo boo on you!
Adults are always asking kids what they want to be when they grow up because they are looking for ideas.

— Paula Poundstone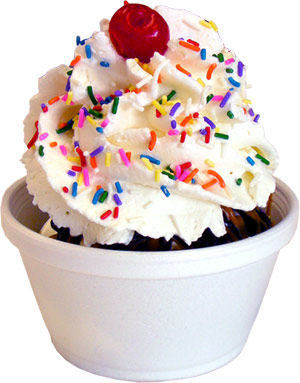 Image found here.