…that we find ourselves on the final day of the year 2017. I'm both a little surprised it is here already, and a little relieved too. It is as though I have been anxiously awaiting the arrival of a delayed guest.
So many people are saying, "Ugh! I can hardly wait for 2017 to be over!" and "Good riddance" and bon mots like that.
Sure, 2017 has been a trying year, but remember when we all bid 2016 goodbye with a gruff hacking noise and an emphatic *patooey*?
I keep reminding folks of that, of how everyone was eager to flush 2016. One very nice lady recently asked me to cease reminding. She didn't want to remember that narrative, I suppose. She was too content to be down in her hacks and patooeys and other rude noises regarding the year 2017.
Recently, the musician Taylor Swift was publicly and roundly lambasted for saying she had a good 2017. I mean, she won a pretty ugly court battle, released an album that sold over a million in one week and spun off several number one hits. I don't particularly care for Ms. Swift's style of music, but all in all, I'd say she had a pretty good year. But no one wants to hear it.
Celebrating what is good from 2017 doesn't fit the hack-patooey narrative. We must all be miserable! Blame the year! Blame the world!
I don't think that is quite fair. 2017 has certainly tried the patience of the most gentle of souls, but there is still good to be found through adversity. Not to get all quoty and stuff, but isn't it through fire that mettle is tested? Isn't that which doesn't kill us makes us stronger?
And don't we win by remembering the good even through dark skies?
There are a lot of horrible things to recount from the year. Fires, floods, earthquakes, famine, Congress, hunger, poverty and people treating their fellow humans horribly. I'm sure many a news source will remind us of all of this and more in bright Technicolor photos and videos.
But what if…and bear with me here…what if on the eve of the new year dawning, instead of remembering what was bad, we celebrate what was good? What worked for us in our own lives?
I mean, I'll start. In 2017 I had five short stories published. FIVE. This is the most success my writing has seen in any year. I was boggled as the acceptances rolled in. In 2016 guess how many of my stories were published? I won't make you wait, it was zero. I received zero acceptances of my work in 2016. And I kept on writing. Kept on hustling. And 2017 rewarded my hard work.
By the by, all five are linked in the right column of this page, in case you missed any of them.
In 2017 I completed one of the most intricate and challenging projects in my work life. It was a slog, and I had very little support and help from coworkers or direct management. But I did have a lot of expectations from senior leadership that I'd get it done. And on December 21 I did just that.
In 2017 I went to a photographer's retreat where many professional and experienced photographers looked at a portfolio of my work and congratulated me, gave me good and honest feedback, and began to treat me as one of their own. I went from dabbler to serious photographer in the span of twelve photographs. I was utterly terrified to present in front of that group, but I did it and it was incredibly inspiring. I'm working that much harder on my photography now because I took that chance.
In 2017 I celebrated nine years married (and twelve years total) to The Good Man. Nine years is both not that much and a whole lot. Every day that I wake up and he still loves me and I still love him is a victory.
In 2017 I accompanied my eighty-three year old mother on a tour of the Midwest to visit family. I was scared that something would happen, that I would break the Mom, that it would be a terrible trip, that all of my plans would go awry. Instead we had a fantastic and utterly memorable trip. I both grew closer to many of my cousins and felt so happy to have that time with my mom.
In 2017 I opened my eyes every day and got out of bed and went out in the world with the thought and the wish that today might be another good day in my life. And the vast majority of them were.
And so while it's unpopular to celebrate the year of 2017, I am going to swim against the tide and say Thank You 2017, for giving life, for the journey, for the trials and tribulations. I won't send you off with a hack-patooey, I will instead say, thank you for the lessons, the gifts, the challenges and for showing me that I am much tougher than I give myself credit for.
Thank you, 2017. Rest easy old friend. 2018 just rolled around the corner and will be here in a minute. I'm going to be all right.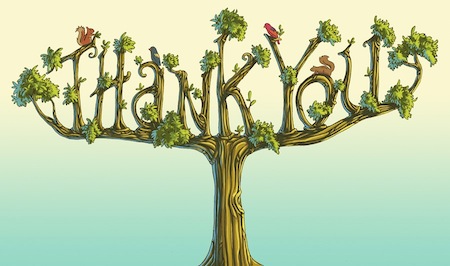 Fabulous image by tsugami on Deviant Art, which allows downloading of images. I believe in giving artists credit for their incredible work, and this image is deeply inspiring to me. Thank you, tsugami.

This has been a weird year, right? I don't think anyone will disagree. As I came sliding butt first into December, I was already disorganized and suddenly bowled over by work. By all measures, we did triple the volume of work we usually do and it was no small bit of effort to simply make it through December. But make it through we did.
In the smoldering ashes of 2016, I am working hard to get some order back to the chaos of my life. I firmly believe that being a little bit stronger, quite a bit more disciplined (and organized) and filled with more optimism will carry me through the slings and arrows of 2017.
To that end, I have returned to Morning Pages. If you have read The Artist's Way, you are familiar with Morning Pages. The idea, according to Julia Cameron, is to prime the pump. Write three pages of stream of consciousness words every morning to get into the creative flow.
Instead of handwriting pages as suggested by Cameron, I use an online tool called 750words. That tool works a bit differently than the Artist's Way describes, but that is okay too.
So as I sit here now on my fourth day of vacation, hallelujah, I am working on today's words. I have fallen out of my writing discipline and I can tell I am rusty. Lots on my mind. It's good to get back into the habit.
The best part of the 750words is that every once in a while, while priming the pump and working through the silt to get back into the flow, some solid words, some bon mots, some worthy thoughts come through.
Wanted to share these, because they may become my motto for the new year (Warning: there is some salty language, it that offends, look away):

…doubt is a persistent little bitch. Hope slides off like you are made of teflon, but doubt sticks like tar, or used up chewing gum or one of those gluey mocos you can't quite get off your finger no matter how hard you shake. Patience and discipline, that is the kleenex to your glue moco and allows you to fly once more. The sturdy facial tissue that brings back hope.

Yeah, I have no idea what any of that means, but it made me feel good to write it. Like I was really tapping into something, so I decided to share it.
Hope your end of 2016 and planning for 2017 has better metaphors. I'll keep working on mine.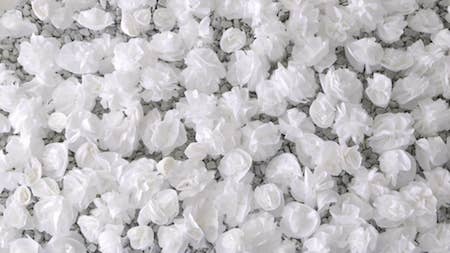 Inspiring flowers made of kleenex. Is that hope I'm feelin'?

Image found here.

Oh yes, I am the rainmaker of ideas here in my place of employ.
The next big thing is what comes tripping off the end of my tongue.
I'm on the cutting edge.
Watch me work:
Yesterday my Boss Lady (who is the Department Big Boss) was in my office. She stopped by to say hi and happy New Year. She was also lying low for a bit as she can barely walk the halls of this place without being pounced on from all directions.
So as we sat and kibitzed, I dropped my next big idea on her.
Me: "So, I saw this info graphic yesterday. It showed that, like, the majority of the country has a ninety percent chance of freezing temperatures."
Boss Lady (BL): "Yeah, I know, isn't that crazy?"
Me: "It is…it is…really crazy. I mean…schools and businesses are closed down because of this crazy weather."
BL: "Really? Wow, I hadn't heard that."
Me: "Yeah, yeah…so don't you think that we should stand in solidarity with the rest of the country and stay home today?"
BL: "…"
Me: "I mean…doing our part as good Americans and all of that."
BL: "Karen."
Me: "Yeah."
BL: "You sit near a window."
Me: "Yeah."
BL: "Look out your window."
Me: "Yeah."
BL: "It's 65 degrees out there."
Me: "Yeah."
BL: "I can't really sell a snow day when it's 65 degrees."
Me: "I see what the problem is here."
BL: "What's that?"
Me: "I need to do a better job of managing my manager."


The best big ideas are the ones that seem weird at the start. The ideas that are easily pooh-poohed.
The crazy ones.
Sometimes the difference is not in the idea, but how you sell it.
Genius comes in many forms.
I shall continue to make my pitch on this topic as I continue to stand in solidarity with all the poor souls who don't have to go to work today.
I should be with you. I really should. Here's hoping my employer can make this right.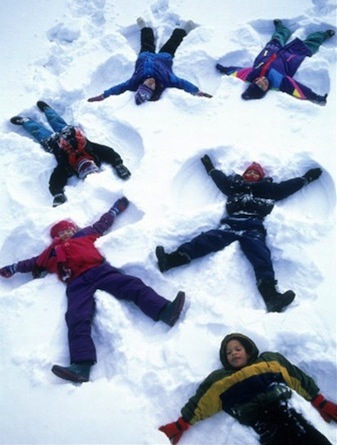 Image found here. Check out that page for one school principal's ritual guaranteed to net you a snow day.

Today's post is a bit jumbled and haphazard. It began as a free form brain dump (actually, a free association exercise). Letting the brain off the leash is always very telling. Anywhoozle, come along for the ride on the crazy train.


Well, here it is. Long awaited, much anticipated, heavily planned for. The year of our lord two thousand and fourteen.
What shall I make of this year?
To kick the year off in high style, I started out in the small hours of today with a massive migraine. Oh, and it is a beaut. I had the joy of not one but two auras at the same time. Like a double rainbow. Wooow. What does it mean? (reference)
Only not pretty as much as terrifying.
I wish I could say the headache is from the high spirits and revelry of my New Year's Eve celebrations, but I am afraid that wouldn't be correct. No. New Year's Eve was a quiet affair in my home, just the way I like it.
Earlier today I watched a video of an MRI while an aura happened in the brain. It scares the bejeebers out of me. No really, it did. It was crazy to see what the hell is going on in my brain when that happens. Like an electrical storm, actually.
That seems…not good. You know?
So my 2014 started of not with a bang but with a headache. Is that a sign of things to come? An inauspicious beginning to what, for all intents and purposes, looks to be an incredibly good year.
I have no idea. I just know right now, today, my fingers seems not to go *quite* where I want them to go. My eyes are a little sore. My neck hurts. My head hurts. And I am just…off.
Back to the start. Here we are at the beginning. Day one. 365 days lay ahead full of promise and ideas and art and creation and joy and angst and agony and defeat and joy again and more promise.
Sometimes when something starts off inauspicious, it actually bodes well. Early inauspicious is sometimes actually auspicious. Perhaps it feels better to succeed when you have had to scale a mountain at the start. Troubles to solve early on.
I don't know, I'm working on a theory here. I have nothing to back it up. No science or data. Simply a gut feeling.
But guts and grue and sudden thoughts that enter my head are the most reliable compass I have these days. Oh certainly, the best guides I have found.
Scientists would laugh at me for these ideas, but they are true and they are worthy and they are mine.
All mine.
My words are my own and my ideas, as far-fetched as they may seem, and my personality are mine, mine, mine. Not to be taken away and never to be impinged upon, even when I am wrong, so wrong, utterly and completely WRONGOLONGY.
Wrongolongy. What a great word. I just made it up. It also belongs to me.
Wrongolongy. Copyright © Me, 2014, all rights reserved.
Heh. It's day one and I've already dropped my copyright on something. I'm on a roll.
Oh sheet. I just googled it and someone else seems to have used that word before me.
Blast it!
(edit: Just looked, it turns out that someone used wrongology but not wrongolongy. That N means my © is intact! Yes, yes, yes!! In your face Google. **sashay, shante**)
So I claim my copyright anyway, on these pages. Any reproductions or representations cannot be made without the express written consent of the Office of the Commissioner of the Karen.
Ay god, is this really how I am starting my 2014? By lawyering?
That's perhaps more inauspicious than a migraine.
Ok. Let's start again.
Happy First Day of 2014. May every one of the 365 that lie ahead be useful, cheery, meaningful and worth every moment of your time.
Salud!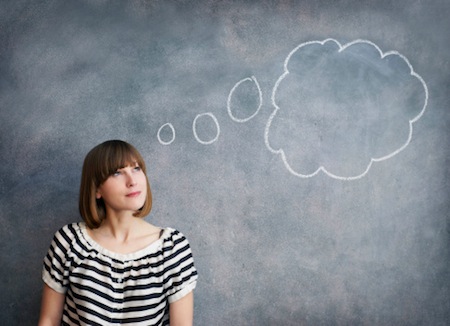 Image found here.

Hello to the last day of 2012. Yes, today is the last dance. It should be a waltz, I think. A symphony of memories in three quarter time.
The past 365 days have been one hell of a ride. As the old saw goes, you tend to remember the bad things and forget the good. Uncharacteristically for me, when I look back on 2012 all I can remember is the good.
I worked my tail off this year, but I also got to make my first, second and third international journeys. I have emerged from those experiences a changed person. Changed for the better, to be sure.
I suffered the worst bout of writer's block I have ever known. I'm still not quite over it, but through this block I learned to appreciate the art and craft of writing so much more. Suddenly I have to work a lot harder for every word I put on the page which makes me love every word that much more.
And after year's worth of rejection letters for my stories and essays (well over 100 emails or paper letters saying "no") I was finally rewarded by having an essay published. I didn't think my essay full of hard words would find a home, but it turns out the editor of literary magazine Wild Violet saw something in it that worked for her and her editorial schedule. Boom, I was in.
I have much gratitude to editor Alyce Wilson for publishing my words. It is a beautiful feeling of satisfaction and it makes me want to work that much harder so I can have this feeling again. My next round of submissions went out just last week. May my words take flight in 2013.
The Good Man and I celebrated four years together and I love him more today than I ever have. In these four years I have learned a lot from him and have laughed a lot with him and have felt very safe and loved. That, my friends, is magic.
Standing on the precipice of 2013 there are some big changes coming up right away. Good changes. Happy changes. I'm scared spitless but isn't that the best way to head into the New Year? Scared and happy and full of enough courage to dive in and not fade away.
I stand tall even if my knees are shaking, just a little.
And so are you by me? Beside me, to guide me, to hold me, to scold me, 'cause when I'm bad I'm so, so bad.
Let's dance this last dance. The last dance, tonight.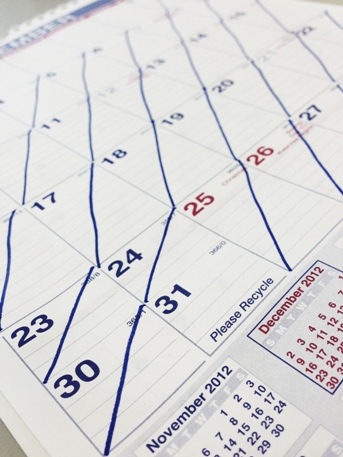 It's Please Recycle day! I think that should be a government holiday. Oh wait…..

Photo Copyright 2012, Karen Fayeth, and subject to the Creative Commons License in the right column of this page. Taken with an iPhone5 and the Camera+ app.