This one goes out to all of us who found ourselves attending New Mexico State University back in 1989. Maybe it was 1990. Memory is funny.
This one is for the Ag College kids. I'm about to drop a memory on you. Come along with me.
I can't really recall what time of year it was, but it was sunny. That much I recall. Then again, it's sunny in Las Cruces an awful lot.
The band Foster & Lloyd were on the radio. Remember them? Back then we were all listening to Foster & Lloyd. A lot. And Dwight Yoakam. And the Mavericks. And more.
So along came the news that Foster & Lloyd were opening for a Los Lobos show at the Pan Am Center. Yeah, I wanted to go to that show real bad. Alas I was a broke college kid and couldn't afford tickets. I heard the ads on KGRT over and over and pined, but knew it wasn't meant to be.
So instead I popped my Faster and Llouder cassette tape into the boom box I carried in the car. Or maybe it was Verision of the Truth. Or maybe first one then the other. And I held my own car concerts as I rolled around Cruces.
Then something unbelievable happened. My best friend called, out of breath and excited, to tell me that Los Lobos had to cancel the show and Foster & Lloyd were going to do a free concert just outside of Corbett Center (the student union building at NMSU) in this little amphitheater area.
We gathered up all of our friends, an armful of blankets and made sure we went to that show. My best friend walked with confidence right to the front of the small stage area and staked out our place. Up close and personal. We sat, we listened, we sang, we were a bunch of kids feeling an awful lot like family on that day.
For a bunch of Ag College kids from NMSU (hands up now, "I believe in the Future of Farming…") having a national act come out and do a show FOR FREE was, well, that was about the coolest thing in the world.
That was a best-day-ever kind of a day. Back then anyway. Sitting here today I do have to admit that my wedding day is my best day ever, hands down. But back then to this New Mexico kid wearing dusty beat up goatskin ropers, that sunny Las Cruces day was really the best day ever.
My best friend and I slip into the Wayback Machine an awful lot when we get together, and that free concert is one we land on quite a bit. What I wouldn't give to have a real Wayback Machine and dial it to back to that day. I might never come back.
Toward the end of the show, Foster & Lloyd were really swinging. We were all riding a sonic high and at one point, Mr. Radney Foster wandered out into the audience and put a hand out to my best friend's little sister. He plucked her from our blanket and spun her around a little bit with the music.
My best friend and I were both elated and jealous as hell. In fact in the now twenty-five years hence, I know for sure that my best friend has never really gotten over it. Neither have I, if I am honest.
My best friend's little sister was and is a beauty. Gorgeous and sweet and funny as hell. She is pure awesome and I love her madly, so of course I can't be upset with her. Just jealous, I guess.
When we were in college, Little Sister was in high school and she'd find her way to Las Cruces and we'd take her out with us. When a cowboy would start to get a little too interested in her, my best friend would wander by and whisper "Um, just thought you should know…she's sixteen." That usually put an end to things.
So we were used to her getting a lot of the attention. On that day after Mr. Radney Foster twirled her under the bright New Mexico sky we laughed and hugged her and loved every second of that show.
It is a beautiful memory. Were you there too?
A few months ago I happened to stumble across Radney Foster's Facebook page and hit "like" so I could see what he was up to. I'd lost track of him after his Del Rio, TX 1959 album.
Then came the fateful day where he posted that he'd be playing a little venue called Freight & Salvage in mid-July. That's not too far from where this New Mexico kid is living these days.
Well, I hopped on those tickets so fast my credit card started smokin'.
And that live show happened just a week ago, July 15.
The Good Man had never heard of no Radney Foster until I showed him a bunch of YouTube clips in the days before the show. Then he was totally onboard. We stood at the front of the line when the doors opened and found second row seats in the general admission venue.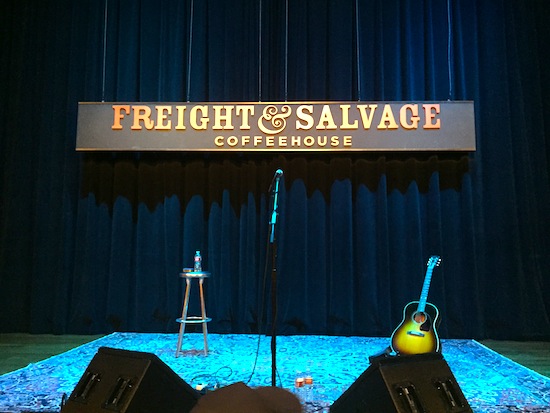 Photo Copyright ©2015 Karen Fayeth

It was just Mr. Foster and his acoustic guitar and he put on one hell of a show. Storytelling, songs, laughter. Man alive, it was really profound. It was like seeing a really dear old friend and picking up right where we left off twenty years ago.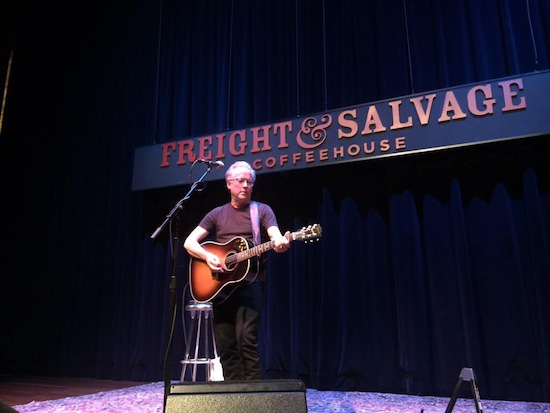 Photo found on @valisaschmidley Twitter stream because I was too gobsmacked to actually take a photo myself during the show.

I almost started crying when he hit the first notes of the first song. It felt so right.
And then…oh and then…
After the show, Mr. Foster came out to the front lobby to sign a few autographs and I jumped in line.
I practiced what I was going to say and when I got there, I let roll the story of that day, 1989 (or was it 1990?) in the grass outside Corbett Center in Las Cruces, New Mexico.
Given the sheer number of shows he has performed in the last 25 years, I was surprised that he actually remembered that one day. But he did.
"Oh yeah, we were rocking that day," he said.
"Yeah you were!" I replied.
Then I thanked him, I told him how much that free show meant to all us New Mexico college kids.
Then I reminded him about coming out into the crowd and dancing with my best friend's little sister. About how my best friend has never quite gotten over it.
Then I held out a copy of his new CD and said "Her name is Kate and you are going to sign this for her."
(The album is titled "Everything I Should Have Said" and it's awesome and you should pick one up. Here is the Amazon link and here is the RadneyFoster.com link ($3 cheaper!) Go on, click one of those links. You know you wanna)
And he did sign that CD. Oh boy did he ever.
Here's what it looks like. In case you can't read it, it says "Kate, You get the next dance."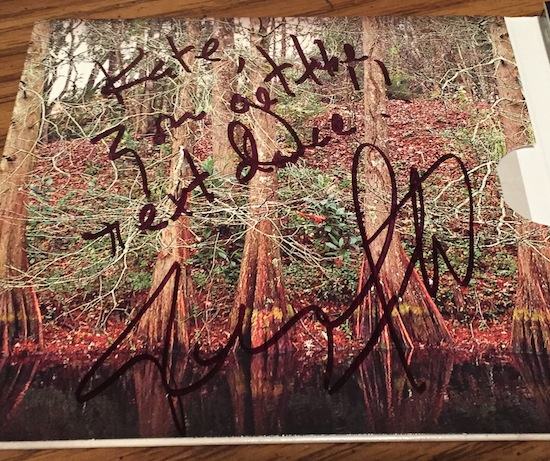 Photo Copyright ©2015 Karen Fayeth

C'mon! How awesome is Radney Foster? The correct answer is amazingly awesome!
I told him that he had just created some healing twenty-five years in the making and he laughed. Then I had that "hey, let's go grab a beer" moment and of course thought better of it. He's just the kind of musician you feel like you know well because he writes the kind of songs that feel personal.
Then I asked him to sign a CD for The Good Man and me, and he did.
I walked out of that venue smiling from ear to ear and remembering and laughing and just at peace with the world.
And so this entire post today and all of these stories are intended to bring all of my NMSU Ag College friends along with me into that Wayback Machine.
Were you there? Do you remember? Wanna reminisce?
This post is also to thank Mr. Radney Foster for helping create another amazing memory.
Whew. Today as I wrote this I listened to The Essential Foster & Lloyd album and it was almost hard to hear. So many memories both beautiful and sad captured in all of those songs.
Well, thanks for staying a while and reading all of these words. I'm serious about you grabbing one of those new albums. Get to clicking! And if you can catch Radney Foster live? Well even better.
____________

P.S. If you have ever wondered how a New Mexico girl could ever live in California, I suggest you obtain a copy of Mr. Foster's new album and listen to the song "California." (I believe it is also on YouTube) Then you will understand. According to the story, that song was inspired by a beautiful Bay Area sunset as viewed from the Oakland Hills. Saaaalute!

Back there in June, which seems like a lifetime ago, recall I had the fun chance to visit Amsterdam on a work trip? Yay!
While there, I made use of my company credit card because that's the best way to go when it comes to pesky expense reports.
However, there are a few things that the company says no-no to on expense reports. For example, booze. I mean, how can one have a nice dinner in Amsterdam and not sample the local beer?
One doesn't and this one didn't. I sampled. Oh did I sample. No, I didn't sample Amsterdam's other claims to fame. I was on a work trip ferchrissakes! But light brown beer was a delightful dinner companion.
So what I did was expense the expensable parts and the not expensable parts I would pay personally to the credit card company. No problem, right?
Upon my return to the States, in the midst of chaos and twelve to fourteen hour days and working nights and weekends on this massive project (the whole reason I went to Amsterdam and Ireland) I managed to knock out my expense report.
Then I knew I would get a bill for about $110 US dollars for the "not allowable" stuff. The beer, mostly. Not gonna lie.
About a week and a half ago, I got a snippy notice from the credit card company. "Second notice", they said and "we'll shut off your card in five days unless payment is received."
I also noticed that they had transposed two numbers in my mailing address.
Well, I got a bit high handed about this. First of all, I didn't receive a first notice! Second of all, my address is wrong. Third of all, pfft! Or something like that.
I'm still working a lot of hours and so I dashed off a check but didn't send it. I wanted to talk to my friend who runs the travel program. I needed to know if I could change my mailing address for the card or if she had to. She said I could do it or she could. No matter.
Great! Then life and my insane job intervened and quite a few more than five days passed. Ugh. Over the weekend when I had a few minutes to breathe, I picked up the ol' phone and called the credit card folks. I knew I needed to take care of this problem like a grownup.
Imagine my surprise when I got a recorded message saying that a payment had been received and my balance was zero.
"Uh oh," I told the Good Man. "The company paid my bill. Crap. Now I have to figure out how to pay them back. Or will they take it out of my paycheck? Gah. What a mess."
The next day, I went back to my friend in Travel to figure this out.
"Honey, we don't pay people's credit cards. And if we did, just keep quiet about it." She laughed.
But she looked up my account. "Hmm…" she said, rolling her mouse over the screen. "I can't tell where this payment came from. Did you do another expense report?"
"No."
"Hmm. Are you sure you didn't pay it?"
"Yes."
"Really sure?"
I thought back to the dates from May 1 through August 15, my head down working this project. The lack of sleep. The stress. The long days and working weekends and not having a single day off in all of that time. The disconnected feeling. The lack of awareness about pretty much everything around me.
"Well. I'll check my bank account but I really don't think so."
I walked back to my desk, logged into my bank and searched for the amount. By golly, there was a payment.
That means that 1) I had indeed received a "first notice" from the credit card company and didn't remember it and 2) had set up the credit card company as an auto pay from my account and didn't remember it and 3) actually paid the bill and didn't remember it.
So that means that when I was wandering around in a zombie-like intense work state, forgetting to eat meals and forgetting to sleep and often forgetting to change clothes and frequently forgetting to even brush my teeth in the morning, I managed to be fiscally responsible enough to pay my credit card bill?
Um. What?
I'm certainly glad that zombie Karen cares enough to pay normal Karen's bills. I wonder what else I did when I wasn't even on the planet.
I can hardly wait to find out.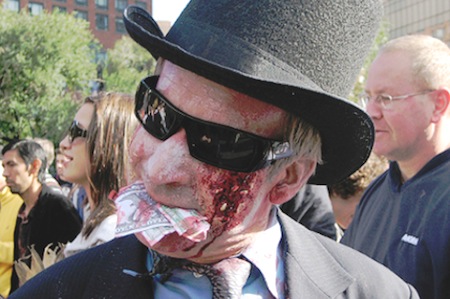 Image found here.

Sheesh. Grownups sometimes. They get so worked up about stuff. Little stuff. I mean, gawd.
: rolleyes :
So whatever, last week I got this piece of paper left on my windshield. It seems that this one guy with a uniform thinks he's all important and stuff and he says that my car didn't have enough adornment. He said I needed to have this orange thing on my car instead of the pretty blue one that was already there.
And I have to give him some money, too.
My car was just sitting at the Bart station minding its own business! Ffft! What a bunch of baloney.
And because this is all a big game of hide and go seek, they don't make it easy for me to get the orange sticker since I wasn't in line the first time they were giving them out.
It's like everyone gets a giggle by how frustrated I get running around asking everyone for a stupid orange sticker. I don't even want the thing! I like the blue one better!
But fine. I played their game and I ran around until I got dizzy and my head hurt and it wasn't funny anymore.
Then I had to write out a piece of paper that means money in their game and sign it and give it to them.
For that big amount of money I wrote down on the thing called a check, they gave me a little orange sticker so I can be one of the cool kids, too.
It's not even that nice a sticker. Plain really. Just has 2013 printed on it and some other numbers. Big whoop. No rhinestones or glitter or gold leaf or anything.
But I guess you are supposed to stand in line when they tell you to so you can pay the money and get one of the stickers. When you move and don't get the message that you are supposed to stand in line and pay your money, then you whiff it by three months everyone gets really mean about it.
Buncha bullies.
Anyhow, here, see for yourself. It's not that nice. The blue one was prettier.
Whatever.
Well played, DMV, well played. Maybe that almost $200 I just gave you can go toward some sensitivity training for your employees. Just sayin'.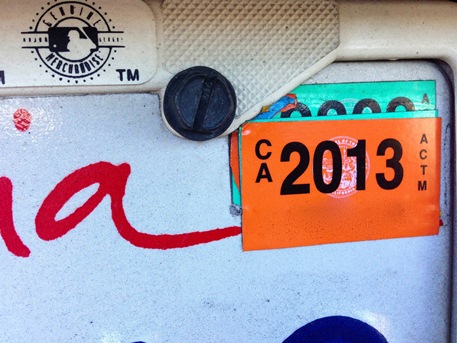 Ok, so I blurred the serial number because this is the internet and who knows where this stuff ends up.

——————

Photo by Karen Fayeth, Copyright 2013, and subject to the Creative Commons license in the right column of this page. Taken with an iPhone5 and the Camera+ app.

Ok, I have another totally hot photo gadget product review to share. I was not compensated in any way for this. In fact I paid these good people for the right to be one of the first to try this out.
It is no secret that I love photography. That much is clear if you've been hanging around this blog for a while.
While I was trained to take photos using a DSLR, I have become more and more enamored of taking photos with my iPhone. I think that Flickr reports the number one camera used by its members is the iPhone.
It's great to have an always ready to use camera that also makes great shots. So to that end I am also enamored of many of the gadgets out there to help make iPhone photos that much more cool.
There are a lot of little lenses out there, most come in a package of one fisheye, one wide angle and one macro lens. The form factor on these isn't always great. I have a set that sort of sticks on with a gummy ring and the lens is a magnet to the sticky ring. Ugh. A *nightmare* if I'm outside where it is dusty (hello? New Mexico?). Plus the ring is pretty tiny and hard to use. There are some that are a kind of jelly stick on lenses that are in one piece but offer up the same sort of issues.
Along came the Olloclip and I loved it. The clip slipped onto the phone and voila, the three lenses were all attached and it was good to go. The Olloclip is pretty spendy at $70. The wide angle and macro lenses were great but to be honest, I don't really like the look of fisheye photos so that lens never got used.
But the Olloclip and I got along great. I used the wide and the macro quite a bit on my iPhone4s. Photography life was fabulous.
Until I got an iPhone5. Then the Olloclip didn't fit anymore. I was not really in the mood to blow another $70 so I figured I'd make do with what I already had in my kit (i.e. the sticky lenses, ugh).
Then I heard some rumors on Twitter about a company working on a lens kit that was like a clip or a clamp which meant it could be used on any make or model of phone, regardless of size, shape and thickness and if I desired could even be used on a thin point and shoot.
Well sign me up! Only…the product, called Mobi-Lens, wasn't available yet.
Images could be found on the company's Kickstarter page. I had not yet taken a foray into the world of funding a Kickstarter, so I thought I'd give it a chance. For just $40 I was able to choose a red clip that came with wide angle and macro. The fisheye lens is a separate clip so no need to order that.
So here we go, the cost is more reasonable, I don't have an extra fisheye lens lying around I will never use, and this clip will work on generations to come of whatever phone I choose to have.
Yes, please!
The Good Man warned me that one of people's biggest complaints about Kickstarter is that even if the project gets funded, oftentimes investors never see results from their investment. The product or project just never comes to fruition.
I read the Kickstarter page carefully and I watched the videos and I felt like these were decent people who had a great idea. They already had some finished test product and they just needed money to go into production.
SO…yes…I took a gamble with forty of my hard earned dollars. This was back in October.
A few weeks ago, my gamble paid off when this little beauty arrived: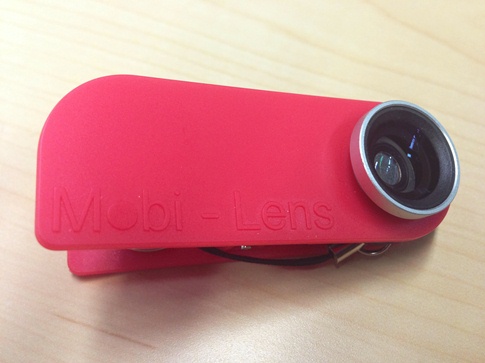 It's so pretty! It's red! It has really nice glass lenses!
It is very easy to use and I've only begun experimenting with it.
So far I think this is the best macro cell phone lens of all the brands I've tried (and I've tried a lot!).
Here is a test shot of my work keyboard: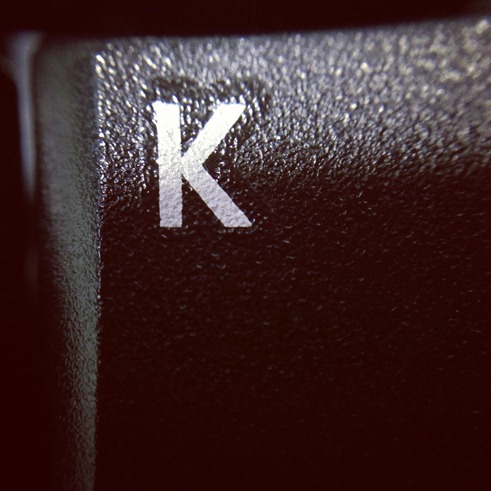 Pretty great!
I have much left to explore with my little Mobi-Lens but so far I am totally hooked and totally in love. I am happy with my lens and I hope this company continues to blossom.
They gave me an awesome lens and made me a believer in the power of a good project on Kickstarter. Win!

———————-

Image of Mobi-Lens Copyright 2013, Karen Fayeth and taken with an iPhone5 and the Camera+ app.
Image of keyboard K Copyright 2013 Karen Fayeth and taken with an iPhone5, the Camera+ app and the macro Mobi-Lens.
Both are subject to the Creative Commons license found in the right column of this page.


Yesterday as I was writing up a post about whether or not to take the brand new laptop allocated to my new employee and give him my old machine, I got a ping on interoffice chat from my employee in Costa Rica.
She and I had spoken earlier in the week and she told me some sad news. Seems that she and her husband have to sell their car because her aunt has demanded immediate repayment of a debt. They have worked and tried to find a way to get the money to pay it, but cannot.
The car has to go.
When I was in Costa Rica with this fabulous lady in May, I was impressed by how much she and her husband loved their car. It is a ten year old Kia and they had lovingly detailed it, put on nice wheels, kept the paint clean, reupholstered the inside and doted on the car.
They even told me how important this car was to them. It got them back and forth to work. It helped my friend take her sick mom to regular doctor appointments. It gave them freedom to get out of stuffy, overcrowded San Jose and to the ocean.
She was crying as she told me the news.
They had found a buyer who gave them quick cash and they re-paid their debt, which means that both she and her husband need to ride public transit, such that it is, to get to work every day.
I've been on the buses in San Jose, Costa Rica. It's not that bad, just very crowded. My friend has to walk about a mile from her home to the bus stop on roads with no sidewalks (or "walk sides" as she calls them) in the oppressive heat and tropical rain and at night.
She assured me it would be ok. She and her husband were looking into getting a loan for another car. They both have good jobs and it seems likely the bank will approve.
So yesterday, when she pinged me, she was apologetic. "I was late to work today, I'm so sorry."
This is quite unlike her, she's very prompt and quite businesslike.
"That's ok, are you all right?"
Seems there is an ongoing protest in Costa Rica and while she was able to get on the bus, ultimately the route was blocked by protesters and traffic so everyone had to get off the bus. She walked five kilometers to work (about three miles) in her work clothes and heels.
She was spitting mad and drenched with sweat and just really, really sad.
"Do you mind if I leave a little early today? I have to go to the government office to get a report to take to the bank so they can see if we can have a loan for a car."
"No problem," I responded. "Take care of yourself."
I'd tell her she could work from home for a few days until this is sorted out, but they can't get internet to their house. The infrastructure just doesn't exist yet in her neighborhood.
Whatta world, whatta world.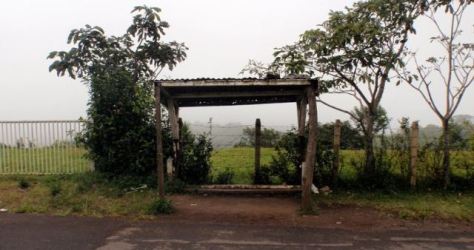 A Costa Rican bus stop, and this is a nice one. In the hills, bus stops are little more than a bench carved into jungle overgrowth.

Image from You're Not From Around Here and that post is totally worth reading. I suggest a click.