Sense memory is a funny thing. Seemingly insignificant things are ingrained early in your cells and pop up at the darndest times.

***

Earlier this week, after a long day at work and in a post-dinner stupor, I emptied the dishwasher and put away our clean dishes.
No big deal, right? Common, unremarkable.
After I'd put away the dishes, I looked at the cabinet where our glassware is kept and laughed, because I had done something that harkens back to an earlier time.
When The Good Man and I first moved in together more than ten years ago, there was a lot of negotiation. To be expected, I'd been living alone an awfully long time, was a bit set in my ways, and I was no spring chicken either.
So having this dude move into my space was, well, weird. I honestly had some difficulties, which we were able to work through bit by bit.
One such negotiation had to do with the orientation of drinkware on the shelves. You'd think this wouldn't be a big deal, but it became one of many lessons in "things you do because of where your from."
You see, I grew up in dry ol' New Mexico. We loaded our glasses rim down so the dust doesn't get in ya drink.
The Good Man grew up in Brooklyn. They loaded their glasses rim upward because god knows what crawled across the shelves and it's gross to drink from a rim that's been in the yuck. "That's why my mom puts new shelf paper down in every place she lives," he explained.
Ah. Well. Sure. That actually made sense. So I relented and agreed our home would be a rims up sort of space.
Besides, I knew that picking battles was going to be the key to success. We still had to settle if our home was going to load toilet paper over the top or from below. (Over the top is the final determination, my preference, The Good Man doesn't care either way)
So this past week, tired of mind and body, doing something I must have done thousands of times in my life by emptying the dishwasher, I loaded the glassed rim down. And laughed.
Then thought about the early days of The Good Man and Me. As we approach our ten-year wedding anniversary, I have been doing that a lot lately.
So did I then turn the glasses back over? Nope. I left them, figuring we'd use all the clean glasses before the next washer run, and then on the next unload one of us would get the right orientation.
This morning, better rested, I unloaded the dishwasher again. Sense memory, I didn't even think about it. I put the clean glasses rims up and walked away.
Here is a true and accurate representation of the current state of our cabinet.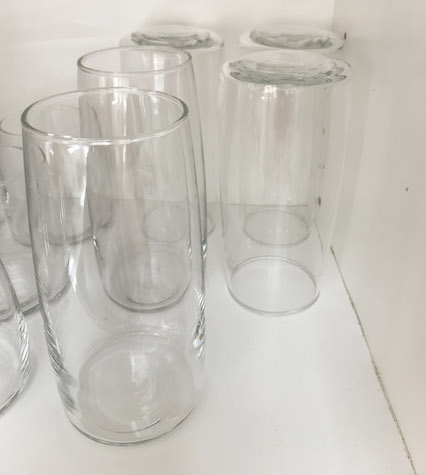 Where avoiding dust and avoiding rat droppings meet


I wonder how long it will be before my rather obsessive need for uniformity will get the better of me….can't blame that on New Mexico.

Photo taken this morning using the Camera+ app on an iPhone 7. I mean, why would you want to steal a photo of my drinkware? But if you do, please remember it's subject to the Creative Commons in the right column of this page. Attribution, please! :)
Recently, as I perused the pages of Facebook, I came across a Newscastic (read clickbaity) article with a New Mexico topic. I took the bait so you don't have to.
The title of the article is:
Pick A Side: 11 Famous ABQ Rivalries Since The Day You Were Born
They said to pick a side, so I did.
Herewith, the 11 so called rivalries (many of which came well after the day I was born, by the way) and my pick for each.


1) Comanche vs Candelaria


We can all agree not Montgomery, right? My preference always was and will always be Comanche, since it was quite close to the house where I grew up.
Sideline here, I looked up the house where I grew up on Google Street View. Wow, hardly recognize it. Brought a little tear to my eye.
Back in my day Comanche had way less traffic than Candelaria and made it worth taking, even with all of the stoplights. Who knows how it goes today? Maybe my ABQ folks can let me know.


2) Twisters vs Golden Pride


Have I been out of the state so long I don't know what Twisters is? Had to look it up. Established in 1998. Psh! No.
Golden Pride (est 1972) all the way.


3) Sadies vs El Pinto


Isn't the right answer first one then the other?
Okay, okay, look, I grew up in the days when Sadies was located in a bowling alley. That's the kind of clientele they drew. El Pinto was always nice, a little more upscale (and pricey).
So to me it's Sadies if you want casual and El Pinto if you want nice. Even with the lovely Sadies stand-alone restaurant, I stand by that rule of thumb.
Verdict: No pick, love 'em both in different ways


4) Rio Grande vs Alameda


Shrug. No opinion. I was a Northeast Heights girl. Didn't get down either very often. Probably Alameda, based on my limited memories.


5) The Shins vs Brokencyde


Who? I thought this was "rivalries since the day you were born."
Let's go with neither. How about Joe King Carrasco, who is not from ABQ but played the hell out of it back in my day. Yeah.


6) UNM vs New Mexico State


I believe my feelings are this matter are abundantly clear.

And when we win this game, we'll buy a keg of booze, and drink it to the Aggies til we wobble in our shoes.

Best. Fight song. Ever.


7) Eldorado vs La Cueva


Richie rich versus the really Richie rich. Who cares? Not me.
Del Norte for the win.


8) Sandia vs Rock Quarry


For skiing? Sandia. Oh Sandia and your bare dirt patches. Your hard icy spots. Your imperfect but nearby skiing, how I miss you.


9) La Cueva Skatepark vs Los Altos Skatepark


Hey! You children get off my lawn!


10) Scorpions vs Dukes


Those Dukes are comin' up swinging. No contest whatsoever. Love the Dukes. Likely because I am a huge fan of the sport of baseball.
While I love the sport of hockey and have nothing against the Scorpions, it just never seemed…right…to have hockey in the middle of the desert. (Yes, yes, I know about the Coyotes)
Side note, the Dukes used to have dollar dog and dollar draft days. Wow there are some games I can't remember but had fun.


11) Sandhill cranes vs Balloons


Stop it Newscastic, you're drunk. This is a ridiculous question. What, because they both fly?
Here's the answer, hot air balloons in the morning, sandhill cranes at sundown. Owl burgers all day long.
Solved.


Okay, ABQ folks, what are your picks?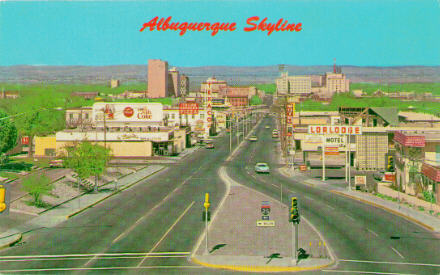 Image found here.

I drove a 1979 Mercury Bobcat. It was a Ford Pinto made by Mercury. Less flammable.
It featured a rigid manual clutch and four speeds on the center console. With a good tail wind and a steep New Mexico hill, I could get some speed in that tin can of a car.
Its vintage meant that it was too new for an 8-track player and too old for a cassette player. Only an AM radio was provided. You'd pull the button out and shove it back in to save your favorite station.
There is a lot of wide open land in New Mexico. So uninhabited that radio signals from faraway populated areas don't always reach. Spin the dial and listen to different kinds of static. Only static.
I grew up in Albuquerque and went to college at New Mexico State in Las Cruces. The same day I moved into my freshman dorm, my parents moved to Carlsbad.
To go from Las Cruces to Carlsbad, you get to the other side of El Paso and face about two hours of nowhere and nothing. No people. No animals. No radio.
The seatbelt on the passenger side fit nicely around my boom box, a Christmas present from my mom. A stack of cassette tapes queued up to take a turn in the dual slots.
The Mavericks, Patsy Cline, Foster and Lloyd, Dwight Yoakum, Buck Owens, Alan Jackson, Keith Whitley, Marty Stuart, Willie Nelson.
Merle Haggard.
And that's the point of telling this story, isn't it?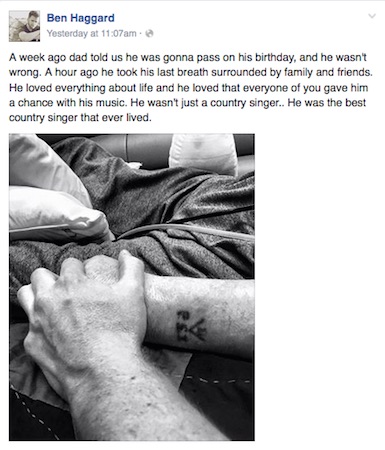 Those voices, those songs, those musicians. Then and now, they are a part of telling my life's story. The music of Merle Haggard lives in my DNA. It's a short hand between friends. An access code for memories, to instantly revisit a time and place.
There was this blue eyed cowboy. He loved to sing. Occasionally he'd even sing to me. There was this dance in Mimbres. The band let him do a song, "Silver Wings." Merle's music and that cowboy's voice. Everyone talked about it for weeks.
I wasn't even there (he and I had parted ways by that point) and it's still a part of my story, the collective story of all of us Ag College kids from that era.
Back then a band or a jukebox or a cassette tape would play a Haggard song and we had to dance, had to sing along.
When I was taking acoustic guitar lessons, I spent a lot of time learning how to play "My Favorite Memory." I never quite got it right.
Merle Haggard told stories. His stories became our stories. His stories became timeless. The opening cords of any number of his songs thrum a string in my soul.
Seventy-nine years is a lot and yet somehow not enough. I had recently been trying to get tickets to a show. He'd rescheduled February and cancelled March. I knew he was having trouble.
Knowing the end is near and the arrival are two very different things.
We last got to see him in December 2014. He came out to the stage looking tired and at half a lung down his voice was a little thin. By the end of the show he had energy and that smooth Merle Haggard sound rang clear, filling the venue and spilling out onto the streets.
We left the show full up to the top with the music of Merle Haggard. Though we've lost the man, his music lives on. In that way, we'll always have Merle.
I'm saddened for his family who lost a husband, father and friend. We lost a good man yesterday. Today seems a little paler for the loss.
Rest easy, Hag.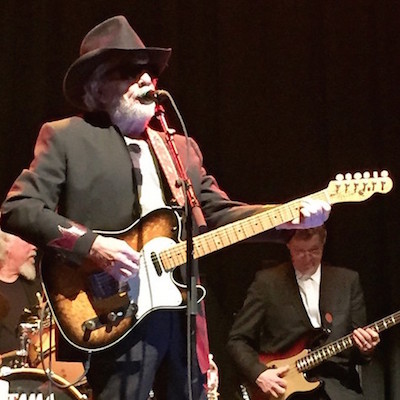 December 2014 at the Uptown Theatre in Napa, CA

Black and white photo from Ben Haggard's Facebook page all rights stay with the originator. Color photo ©2014 Karen Fayeth, taken with an iPhone6 and the Camera+ app and subject to the Creative Commons license in the right column of this page.


A leap day is observed because a complete revolution around the Sun takes slightly longer than 365 days. It compensates for this lag, realigning the calendar with the Earth's position in the solar system; otherwise, seasons would occur in a different time than intended in the calendar year. — Wikipedia


On my way into work today, I was listening to whatever morning radio station was not running commercials and landed on a crew of three djs discussing facts and trivia about today, February 29th. Better known as Leap Day.
Yeah, yeah, yeah, we all know the deal. The Gregorian calendar is nice and all, but doesn't *quite* work. Close only counts in horseshoes and hand grenades, as the saying goes. And, apparently, calendars.
While I have a degree in finance, I am not a finance person. Humorously, the work I do is slotted under the Finance organization, so I can confidently say that in the parlance of the Finance industry, Leap Day is better known as a fudge factor. A plugged number. A "what do you want the numbers to say?" kind of adjustment.
Let's just call it a rounding error.
I work in contracts and we have something similar. It's what one of my first and favorite bosses called "weasel words." This is where the person on the other end of the contract (usually a lawyer) is being petulant and you can't quite give them the language they want. Instead you can appease them with something in the vicinity of what they want. Words like "reasonably attempt" and "in accordance with best practices." Leap words, if you will.
Not to digress, but baseball has something similar. Called a "neighborhood play" it roughly means that the second baseman doesn't have to actually touch the base or runner to get the out as long as they are near to the base and in control of the ball.
Second basemen tend to stay a bit off the bag because lead runners like to come barreling in trying to disrupt a potential double play. The topic of the neighborhood play came to a head during the playoffs last year as a player got seriously injured.
So in this Leap Year, baseball looks to be changing up the rules. Which will likely make for a lot more leaping shortstops trying to stay off the DL.
In the spirit of both Leap Day and my favorite sport of baseball, I present to you my favorite Giants shortstop of all time, Omar Vizquel, doing what he did best.
Happy Leap Day!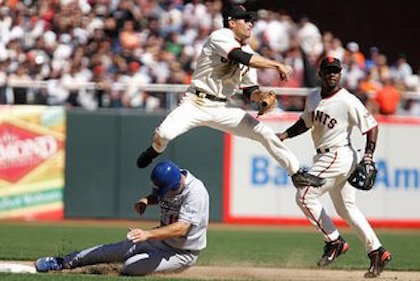 Leaping Omar image found here.

There is a pot of beans burbling on the stove, Hatch chile on the counter, and a song in my heart.
The song sounds a lot like: "Santa Fe, tus fiestas de septiembre": (hear it here: Fiestas del Santa Fe)
Tonight is the annual Burning of Zozobra event. Oh yes it is.
Time to collect all my glooms and watch them burn.
I love that the City of Santa Fe live streams the event so this ex-pat living in California can be there, with my people.
I have only this to say: Burn him!!