I'm incredibly in love with that harbinger of Spring, the yellow daffodil.
Sunshine on a stem.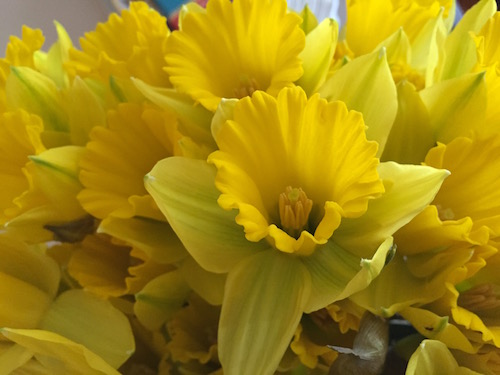 ©2016 Karen Fayeth


I adore going to Trader Joe's to pick up a bunch of tightly closed buds then later at home snipping the ends, placing the stems in water and watching a fireworks display.
Yesterday we sat at the table where this vase is placed and I swear these buds were busting open right before our eyes.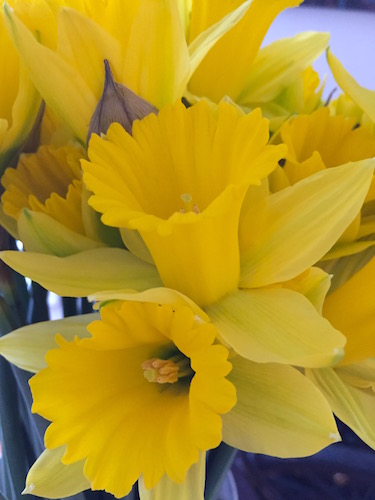 ©2016 Karen Fayeth

I took a big bunch to work today and have enjoyed so many of my coworkers (and my boss) coming by to ooh and aah.
"They are just so sunshiny" is the general consensus.
And they are.
Unless I'm being all moody and arty and stuff and go for the black and white on the desk of my brand new office (yay me!). Then they are regal and proud and still very beautiful.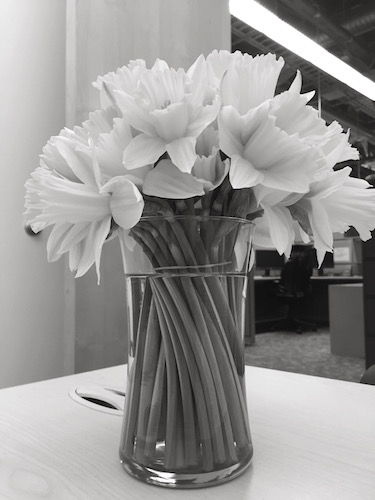 ©2016 Karen Fayeth


And because I'm goofy for the daffydils, here is a Kaleida Cam shot: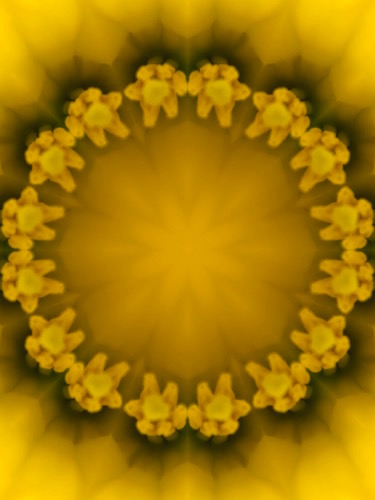 ©2016 Karen Fayeth


Ok, well, I've about exhausted the topic of daffodils. Love 'em!
Don't even get me started on tulips. Oh sigh, how I love Spring.
Even in the middle of this gray rainy Northern California day, I look at tulips and daffodils and feel entirely optimistic.

All photos ©2016 Karen Fayeth, taken with an iPhone6 using the Camera+ app, the Lenka app (for black and white) and the KaleidaCam app. All photos subject to the Creative Commons in the right column of this page.

Hoo boy, back in the saddle again after a weekend trip to my Fair New Mexico. Let me tell you, it's hard to get into the ol' groove after being back in my homestate.
I found myself in southern New Mexico over the past four days for the occasion of my goddaughter's sixteenth birthday. She is amazing, beautiful, smart as a whip, sassy as hell and genuinely caring.
She has been easy to love since the day I first met her tiny little self. She was barely a month old when her mom brought her along and met me as I came off the plane at the El Paso airport. My world has not been the same since.
The occasion of her birthday celebration meant that I also got to see quite a few people I hadn't seen in years.
The thing that really sticks out to me from this past weekend was not just seeing a lot of dear friends who go back quite a few years, but getting to know their kids.
Time has marched along and many of these kids are now teenagers or older. So much more than a fun lump of baby or a capricious toddler. They are getting to the age where you really start to see who these kids are going to be.
What a lot of fun to see what so many of my now grown up and responsible friends have created. Look, back then I would have voted some of my tribe to the sidelines in the game of propagating mankind, and yet, their kids have turned out pretty damn awesome.
As I hear about these kids moving into their adult lives, getting married, graduating college, being responsible members of society, I also had to sit down for a moment and contemplate just how fast time marches on. And on. And on.
So many times I found myself saying "Really? Working a full time job? Getting married? Graduating college? Wow. I remember the day you had that adorable baby. Damn."
One old friend summed it up when she told me she'd just moved her youngest into her own place. "My husband and I looked at each other and said, 'Now what?'"
Now what indeed. Friends who are around my age, kids raised, possibility of retirement on the horizon and a new life awaits.
Wait a minute, aren't we going to a Corbett Dance tonight?
Oh no, Karen, that was twenty-five years ago.
Nina Karen needs to sit down. Bring your Nina a piece of cake, would you dear?
Those old hands on the clock keep pressing forward, ever onward, whether I'm ready or not.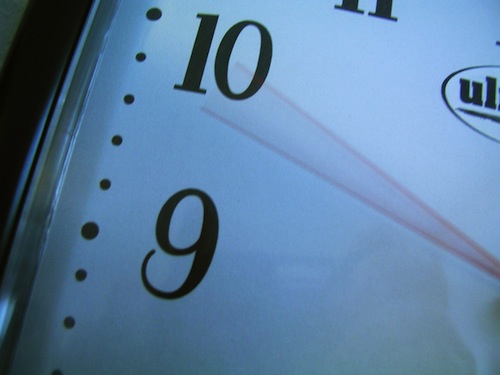 Image found on freeimages.com

Welcome to the sixth day of the year 2015 but only my second day back at the ol' place of work.
While technically the first of January is the first day of the New Year, it doesn't really feel like the New Year has begun until I go back to work, i.e. get back into the "real world."
My employer is ever so kind in that they shut down operations from December 24 through January 1. That means with a little planning and a little curation of vacation hours, I can eek out full two glorious weeks away from the office.
I look forward to this two-week break from work all year long.
All. Year. Long.
In my career, I've rarely taken two weeks of regular vacation time, so these two weeks at the end of the year feel beautifully indulgent.
My first priority for the break time is to sleep. Nap. Sleep more. Rest and then do nothing too taxing on brain and body. That usually lasts about three days then I'm rested and raring to go.
The rest of the break time is spent with family, exploring the world with The Good Man, cleaning up my home office/studio and working on creative projects.
I find I'm able to fully and completely forget about work and live the dream of a creative life. Sleep until my body is rested, rise and work on creative projects, fill my head with creative inspiration and plan forward for the projects I want to work on in the coming year.
It's a beautiful place to be, a place I'd live all year round if those darn lottery numbers would just break my way. It feels solid and satisfying and clean and pure.
And then sixteen days of being my own boss pass too quickly and Monday, January 5 arrives. I have to figure out how to get back into the flow of "regular" life. I have to metaphorically merge into speeding traffic with no running room and only two of four cylinders in working order.
Yesterday was that day. Yesterday I woke up with the help of an alarm clock (bleah, sixteen days of no chirping alarm was REALLY nice) and sat up in my comfy bed, bleary eyed and lost.
I tried hard to find the muscle memory to rise, to make some breakfast, to put on some clothes, where is my work badge?, move out the door and get to work on time.
When I arrived at the office it was all too familiar and all too unfamiliar.
It felt like I had changed. I was a different (and better) person as I swiped my badge and entered the office. Then I realized that work had not changed.
I came to my own little gray cubicle and there was all of my same stuff I'd left behind, but it looked alien.
The laptop machine asked me for a password and I had to think very hard about it. Took a couple tries at it and finally remembered.
Have you ever seen baby ducks when they are following their Mama Duck into the water? It often looks like this: Mama slides effortlessly into the water and her eight to ten ducklings slip, slide, belly flop, and unceremoniously plop themselves with a splash behind her.
For a moment, the water crests over the top of their head, then the ducklings one by one pop to the surface like popcorn and start swimming.
It was very much like that yesterday. I fell uncoordinated and perilously off the vacation ledge into the bracingly cold pool of work. I grasped for stability for a little while and then I found my feet and began to paddle. By the afternoon I was moving more or less in a forward manner.
So that's the New Year. A little bit new, a lotta bit old. I suppose all of the inspirational quotes are true. It's up to me to make 2015 a really awesome year.
Forward into battle! *splash*cough*splutter* Okay. Now, here we go.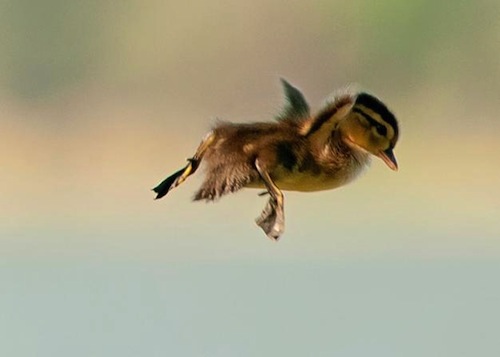 "Hoooooly craaaaap"

Image found here.

I'm a little late in getting this posted, but the sentiment is all the same. This list is an annual tradition here at Oh Fair New Mexico.
As I post this, I'm thinking about making a batch of biscochitos. Only, I couldn't find lard at the grocery yesterday. What the hell kind of place do I live that doesn't sell lard? Just gotta shake my head.
Anyhow, biscochitos or not, I wish happy holidays to you and yours.
Without further ado:

Top ten things I miss about Christmas in New Mexico (in no particular order):

Originally published December 11, 2007

1) An annual shopping trip to Old Town in Albuquerque. This was a longtime mom and me tradition. Every year I'd get to pick out my own ornament that would eventually be mine when I became an adult. I have every one of those ornaments stored in a Thom McAnn shoebox and they go on my tree every year. They are a glitter and glass history of my life. I remember buying each of them and it gives me a beautiful sense of continuity to have them on my tree.


2) Luminarias. I always was the one to make them for the family. Someone would drive me to an empty lot and I'd dig out two buckets worth of good New Mexico dirt, then I'd go home and fold down the tops on brown lunch bags. Each would get a candle inside and then at night I'd light them. It was my holiday job and I loved every folded bag and every bulk buy candle (and every small emergency when a bag caught on fire in the wind). I miss real luminarias.


3) The Bugg House, which, sadly, is no more. My sister lived over on Prospect and we'd go for a walk in the dark on Christmas Eve to take a look at the outstanding display of holiday spirit. On the way to Christmas shop at Winrock Mall, I'd take a detour to the Bugg house to take a look. No one does lights like the Buggs did.


4) Neighbors bringing over a plate of freshly made tamales as a Christmas gift. When there are three generations of Hispanic women in a kitchen with some masa and shredded pork, magic happens. Yum! I also miss that people would bring tamales to work in a battered Igloo cooler and sell them to coworkers. I was always good for a dozen or more.


5) A ristra makes a good Christmas gift. I've given. I've received. I love 'em. They'd become a moldy mess here, and that makes me sad, cuz I'd love to have one.


6) Biscochitos. My love for these is well documented.


7) Sixty-five degrees and warm on Christmas Day. Growin' up, I think one year there was actually snow on the ground for the 25th, but it was melted by the end of the day. Oh Fair New Mexico, how I love your weather.


8) Christmas Eve midnight Mass in Spanish with the overpowering scent of frankincense filling up the overly warm church. Pure torture for a small child, but oh how I'd belt out the carols. And when we came home after, we could pick one present and open it. Gah! The torture of choosing just one!


9) A New Mexico piñon, gappy, scrawny Christmas tree that cost $15 at the Flea Market and was cut from the top of a larger tree just that morning. Look, to my mind, it ain't a tree unless you are using a few low hanging ornaments to fill the obvious empty spots. These overly fluffy trees just ain't my bag. If you aren't turning the bad spot toward the wall, you paid too much for your tree.


10) Green chile stew for Christmas Eve dinner and posole for New Year's, both served with homemade tortillas. My mouth waters. It's weep worthy. I can taste the nice soft potatoes in the stew, the broth flavored just right. And posole to bring you luck with red chile flakes and soft hunks of pork. Yeah……


*sigh* Now I'm homesick.
Which is not to say I don't have happy holidays where I live now…but sometimes I feel melancholy. In a way, that's what the holidays are for, right? To remember.


Finally, in order to just really drive a homesick knife into my heart, I give you this, the beauty of Old Town Albuquerque: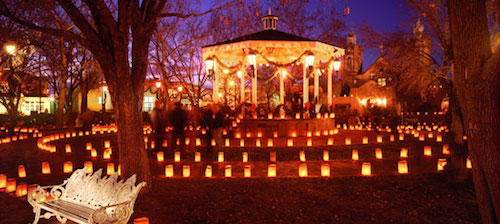 Image via Delta Skymag

I miss my best friend today. Autumnal Equinox makes me think of harvesting hay and Dickerson's dances.

That was a text message I sent to my best friend yesterday afternoon. I was at work and found myself with a few moments of pause. What I felt in that silence was an aching sense of melancholy.
The angle of light has been changing for a while and yesterday the world looked a little different bathed in early Autumn sun.
A beautiful sunny yet hazy day as I found myself at a high elevation gazing across the amazing view, Oakland to my left, Golden Gate center, Albany to my right.
It's hardly original to feel melancholy in the Fall. I will follow the old poetic trope and go there anyway.
Since I know I have a "thing" about Autumn, I started looking back in the archives of my blog and found something that perfectly captures how I feel today. I'm nothing if not consistent.
Autumn is, after all, my favorite season in Oh Fair New Mexico.
So here's a repost to get me through the day. The words still ring true, even as time goes by.
___________________

Get outta the wayback machine!

Originally posted April 15, 2009


It was Fall, had to be. Slight crispness to the evening air. Anticipation thick as the fog of Aqua Net in the sorority house where I lived.
It was 1989, probably. Or somewhere close to that. The campus of New Mexico State University. I was a sophomore, maybe a junior, I can't remember. Doesn't matter.
What does matter is that I was getting ready to go to a dance at Corbett Center on the NMSU campus.
The woman who would become my best friend for what is now over twenty years was the driving force that night, and many just like it. Her parents had met at a Corbett Center dance, so she was especially incentivized to go scoot a boot and see what's doing. Family history.
I nervously pulled on my too shiny, too new, gray goatskin round toe ropers and jeans that didn't really go with the boots, but were at least long enough to be acceptable. "You should buy some Rockies," I was told, and they were right. I would, later, in quantity. But then I had neither the money nor the courage. I wasn't sure what I was going to get into, I just knew I was going to be there come hell or high water.
It wasn't my first Corbett dance. It wouldn't be my last. This story isn't about one actual night, more an amalgam of a lot of great nights.
The gaggle of high-haired women walked out the back door of our home, a sorority house containing twenty-eight women of different backgrounds, and one understanding house mom. What bound us together was our choice of educational institution. A land grant institution. To the uninformed, that means an agricultural college.
It was a short shuffle over to Corbett, up the stairs to the third floor where they had the ballrooms. Pay the entrance fee. Five dollars I think? Maybe less back then. Get a stamp on your hand. Look around, see who is there already. Talk about who you hope shows up.
Hear the opening strains of music. Usually The Delk Band. A group of musicians, brothers, and their dad on fiddle. I went to school with most of the boys. I remember I thought one of the Delks was cute. I remember one of the Delks was the drummer and back then had a tendency to speed up the tempo as a song wore on. Hard to dance to a wildly varying tempo. But we did it. (note of update: Saw the band not that long ago and that is no longer a problem.)
They were our people, and we embraced them. And we danced. Oh did we dance.
The two-step. Not the Texas double up kind, no. The slow kind, keeping time to the music.
And a waltz. My favorite, how I love to waltz. The rhythm of a song set to the beat of a waltz still paces my heart a little differently.
The polka. If done right with the right boy (he had to be tall because I'm tall and otherwise we'd just bump knees) you felt like you were flying, feet hardly touching the ground.
Then of course the Cotton-Eyed Joe (stepped in what?) and the Schottische, played back to back, often enough. Linking six or eight of us, arm in arm, facing forward, laughing our fool heads off.
The ladies, my friends and I, would stand on the sidelines and take a look at the scene. My best friend would always get asked to dance first. She's beautiful and a great dancer. Who could blame the boys for flocking to her blue-eyed, dark haired gorgeousness? Not me, certainly.
As I got better at dancing, I got asked often enough, too. The boys liked the girls who could dance, who liked to dance, who didn't turn up their nose at dirty fingernails and cow sh*t on their boots.
There is something special about dancing with a boy who knows how to dance, a strong lead, who looks you in the eyes. The boys who had the right fold in their hat and smelled faintly of Copenhagen and beer and Polo cologne.
I got to know those folks. All of them, the boys, the girls, the dancers, the musicians, the laughers, the people who liked to swing each other around the dance floor.
They became my family. We traveled in packs, dancing until we were sweaty, then heading outside into the cool air to take a breath, drink a beer, laugh a lot and occasionally find someone to spend a little time with.
Well not me, not then. I was still too awkward and mixed up to attract much in the way of boys at that point. I was more "one of the guys" than one of the girls the guys would chase. Don't feel bad for me though, I eventually figured it out. (cover your eyes, mom)
Over time, we all aged a little, got to be over 21 and started to migrate from dancing at Corbett center to dancing at the local country bar. It was fun but seemed a little more complicated. Add more than a couple beers to the night and weird things happen.
But still we danced. By that time, I'd moved off campus and lived with my friend from TorC. She was crazy and fun and taught me a lot (cover your eyes, mom), and she loved to dance as much as I did. She coined the phrase "big bar hair" and gave me an education on how to get it, and keep it, despite dancing so hard sweat ran down your face.
Then we all aged a bit more, and we graduated and found respectable jobs. My best friend, her husband (a fine dancer, I must say) and I are all actually employed in the same area that's listed on our diplomas. One might scoff at country folks, but all three of us hold a Master's degree in our chosen fields.
Now, on the verge of turning forty well past forty, I find I still miss those days, mightily. I wished I'd enjoyed them more at the time. The stress of school and classes and "what do I want to be when I grow up" cast a pall on my days.
My own fault. A worrier by nature, a tendency that I fight tooth and nail every single day I take a breath.
When I'm having a bad day, when I doubt myself, when I realize I don't fit in at my new place of employment, when I don't feel heard or understood or very well liked, I can always go back to those days in my mind and smile.
I can't get together with my best friend and her husband and NOT talk about those days. Magical. I'm blessed to have been able to have them. Once upon a time, I knew where I belonged.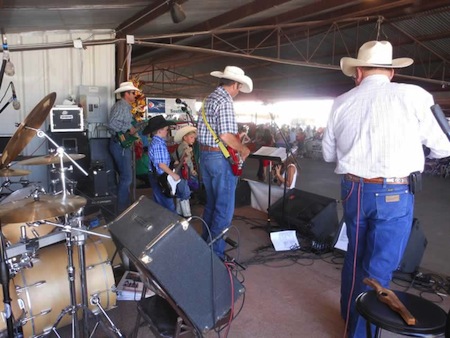 Photo of The Delk Band in action

Image from The Delk Band website and found here.