The job that pays the bills has been especially nutty this month. Around these parts, Santa is saying "Ho, Ho, Hoooooly crap I have a lot of work to do." Thankfully, I managed to get through to the end of the week and now get to enjoy a bit of time off for the holidays.
And so it's best to balance all that work with some fun. Which can also be work, in a way.
This week, my photography takes a turn toward bokeh, the sort of blurry backlights seen in many an Instagram photo. I've seen a LOT of photos with bokeh, it's quite popular. When I see these kinds of photos they always seem fun, and those blurry lights look like they would be so easy to shoot.
Easy was not the case for me. I figured I'd waltz right into some fabulous bokeh photos, but I really, really struggled with this challenge. The photo's subject was photographer's choice, it just needed to have some nice juicy bokeh in the background.
Curse words were uttered. Cameras were called names. Swears in English, Spanish, French and British English (bollocks, bollocks, bollocks!) were all employed in the making of this photo. Finally after several Google searches and articles consumed, I stumbled onto a good suggestion for creating lots of sparkly light, and it worked.
In the end, I'm pretty happy with how this turned out. The photo features a Zuni Pueblo fetish carved by a Native American artisan named Dilbert Gasper. His Butterfly Maiden is carved from black marble and inlaid with turquoise. Since Christmastime is when I miss New Mexico the most, she seemed to be a good subject for my trials and (many) errors in learning a new technique.
I hope I did the little Butterfly Maiden and master artisan Mr. Gasper their justice.
And with that, a hearty Feliz Navidad to all!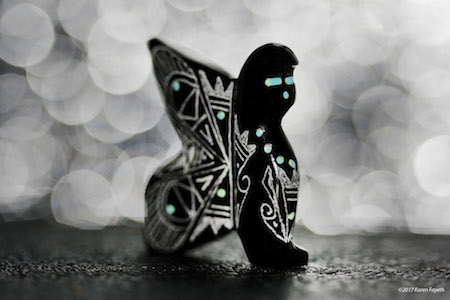 ©2017 Karen Fayeth

The hard work on my Macro Photography skills continues this week with a theme of "lit by candlelight." A week ago when this challenge was announced, I was like "pssh, easy peasy."
Turns out shooting by candlelight has been anything but. Sunday night I did a whole round of photos with a few objects and although candlelight is certainly beautiful, the photos I shot just weren't working. The photos were…dull. Not interesting. They didn't give me that excited feeling to share.
Then The Good Man opened up a bottle of wine and put out some cheese and garlicky crackers. That really seemed to lubricate the creative gears. Half a glass in, I had an inspired idea. I grabbed my copper holiday cookie cutters out of the kitchen (not that I have made any holiday cookies this year, but that's a topic for another time) and got to shooting.
Turns out candlelight casts really great shadows. I'm now pretty happy with the results. The top photo is my entry this week in the Macro Mondays challenge. The black and white was just for fun.
Whew! This is three weeks in a row I've managed to produce a new Macro photo for Monday's event. It's harder than it looks!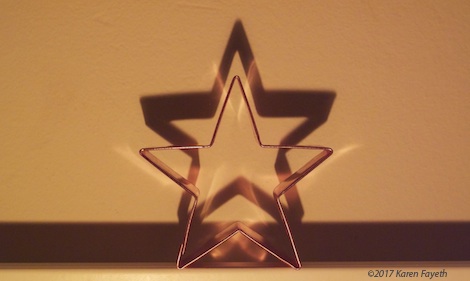 ©2017, Karen Fayeth, all rights reserved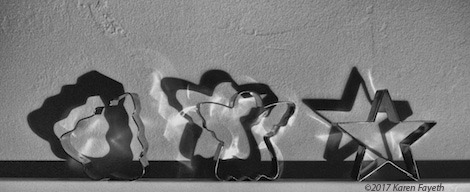 ©2017, Karen Fayeth, all rights reserved

As a sort of minor and mildly entertaining footnote to Tuesday's Congressional election in Alabama, there was a CNN interview where the spokesperson for the Republican candidate made a spirited argument that Muslim politicians should not be allowed in Congress because they'd be required to swear on a Christian bible.
The CNN host went on to utterly decimate the spokesperson's assertion by letting him know that not only is it not required to swear on a bible, if you are swearing an oath of office, you can technically swear on anything.
Something about that pesky separation of church and state, I suppose.
Look, I'm not here to wade into political waters. What I am here for is to wade into this debate:
If you became an elected official, upon which book would you swear your oath of office?
As a lover of books, this question intrigues me. One might suggest that the book used for an oath of office would have some meaning, some gravity. Something that matters to you.
So where to start? I mean, what are the books that made me who I am today? That have, to me anyway, a sacred meaning. Something upon which an oath would really matter?
Okay, I've had a noodle on this, and decided that here would be my top five picks, in no particular order:

Lonesome Dove by Larry McMurtry



This is the book that made me want to be a writer. It's seminal to my creative life and had particular meaning for me years ago to read an author from the west write the west (and not some east coaster's idea of the west, I'm looking at you Cormac). This book is in my DNA and it's the perfect book upon which to swear, because Gus and Call do an awful lot of swearing in the story.

Red Sky at Morning by Richard Bradford



When I was a kid, my mom suggested I read this book and I am so glad she did. I've opined plenty on this book, and it's perfect for swearing an oath because this was the first book to make me feel like it was not only okay, but pretty damn cool, to be a New Mexican. Growing up in the 70's and 80's no one knew where or what New Mexico was, nor cared. Heisenberg putting us in the media spotlight was years away. This book is me and I am this book, I give you my oath on that.

Lamb: The Gospel According to Biff by Christopher Moore



The story of the Son of God, as told by his best friend Biff. It's historical and hysterical. This book will make you laugh right out loud as our man Biff pulls his somewhat clueless friend Jesus out of scrape after scrape. It's outright blasphemy which makes it the most logical choice to swear my oath of office.

Fear and Loathing in Las Vegas by Hunter S. Thompson


As noted before on this blog, Las Vegas is something well woven into the fabric of my life. I got my start in life there and spent an awful lot of time there as a kid. I have a much different view of Vegas than most. It's a strange sort of indescribable thing. This book is on my list because, uh, it's Hunter S. Thompson. What better FU to the whole swearing an oath to the government?

But mainly, it's because of this part:

"A little bit of this town goes a very long way. After five days in Vegas you feel like you've been here for five years. Some people say they like it — but then some people voted for Nixon, too. He would have made a perfect mayor for this town…" — Fear and Loathing in Las Vegas

C'mon! This is the perfect oath of office swearing in book.

Boys of Summer by Roger Kahn, or maybe Shoeless Joe by W.P. Kinsella, or possibly Ball Four by Jim Bouton, or, or, or… It's a long list.



The right choice for swearing in because baseball is my religion.
Okay, now that the book question is sorted, the next item to tackle is what music is going to be played at my swearing in? I'm going to assume I will be elected to a low-level office with no budgets for live acts. So, assume a bumpin' sound system. Who gets to warble under my swearing? Ooooh, that's a good one…..
If you have a mind to, holler at me here or on any of the social medias and tell me what book you want to swear your own oath on. I'd love to cuss and discuss.

———————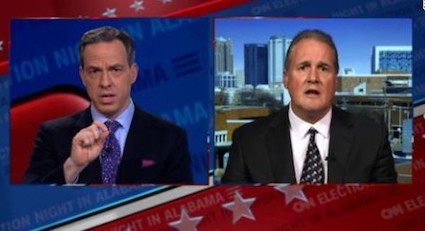 The exact moment where the one on the right realized his whole argument was just verbally punched to the ground

Story source.

My weekly work on macro photography continues. This week, the theme is "stick." I mean…. Stick? This one gave me plenty of pause. How to take a stick and make a photo worth looking at? How to make it fun?
This morning I finally had an idea and dug into the Christmas box of goodies for background inspiration.
Herewith, my pile of cinnamon sticks with a holiday flair. Ya can't mull without 'em!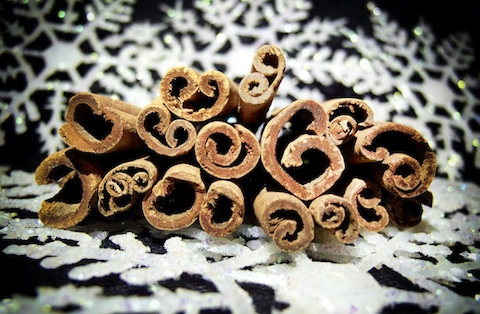 ©2017 Karen Fayeth

As I put in a few extra work hours in this crazy holiday season, I thought I'd reshare this photo I took a couple years ago.
I call it "After the Party" because, you know…I had thoughts of the remnants of a great holiday party, happy people, tree on the floor, ornaments askew.
This photo was so much fun to set up and SUCH a pain to clean up. It remains one of my favorite shots in my portfolio.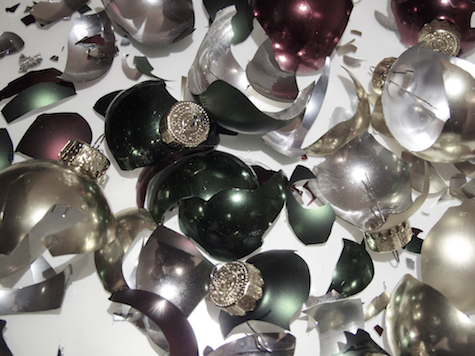 ©Karen Fayeth

See more of my stuff (including another Christmas photo) on my Flickr