Blame it on Facebook and its algorithms that like to remind me of things from the past. For the better and for the worse.
I re-read this one over the weekend and thought "yeah, that one needs a re-post."
So here we are, when Monday, January 30, 2017 feels a lot like Monday, January 28, 2013

A Treatise On Monday
Originally published January 28, 2013

Written this morning at something like 5:45am


And so we find ourselves back at Monday. Ah Monday, both the beginning and the end.
I have sad, tired, squinting, groundhog eyes as the alarm goes off. I'm begging the world not to pull me from my burrow. Please don't shine that bright light in my face.
But I'm pulled from my burrow anyway and instead of a prediction, the world anticipates my arrival at the train station and my seat on the next ride into the city.
The bright light turns out to be a beautiful ray of light, glimmering off the slowly rising sun.
All possibility is in Monday. Will this be a good week? Will this be a bad week? Will it rain?
Monday is everything and nothing. A blank canvas ready to take the paint.
What will I make of my Monday? What will I achieve? How will I stumble and will I recover gracefully?
It all exists here in these quiet pre-dawn hours. The sun hasn't even said hello yet and here I am, writing. Scribbling the words that want to exit my head.
There is already acrylic paint on my hands from a project that is due Thursday morning. I had to get some early painting done so I can hit that deadline.
In this Monday, all things are possible including finishing a painting that is due in just three days.
Oh my.
I feel strangely happy today. What the hell is this? How unusual for a Monday morning.
The weekend was weird. I was cranky and then he was cranky and then it was Sunday night and another two days of not working were jettisoned to the ether. Monday turned the corner and sat down for a visit.
So here I am again loading a backpack for work, stumbling around to find my badge and my phone and my sense of self-worth.
I look again at my canvas and already I fear I have screwed it up. Don't they say in art there are no mistakes? Just roll with it and incorporate the error. OCD and art are not friends. This major but fixable error must wait until later tonight to find its cloak.
There is a train to catch and a Monday to face. I'd rather stay home in my studio and put gorgeous turquoise paint on a willing canvas. Can I do that for a living?
You know, a girl can dream, and so I will dream as BART gently sways. When I disembark dreams stop so reality can start.
But no matter, I can dream again, later. Dreams don't die easy.
And dreams don't wait for the weekend.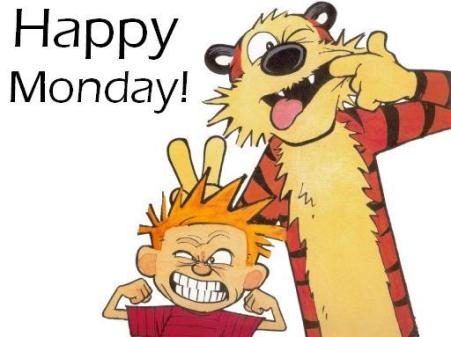 Image from The Miracle Journal.

It's January. The holidays are over. Back to work. Inauguration looms large.
The skies above the Bay Area have turned a familiar shade of mushy gray. Expected for January.
When the marine layer isn't in, it's frosty cold. When the marine layer is in, it's torrential. Standing pools of water soak my socks. Windshield wipers can't keep up. The kind of rain that terrifies a New Mexican until she remembers that Bay Area drainage systems were meant to handle this kind of water. Mostly.
January feels dreary, but there is hope on the horizon. There is a break in the gray.
You see, this past weekend my favorite grocer featured unopened daffodil blooms. I scooped them up and ran home with my trophy.
I love daffodils because they remind me of what's to come.
First come the daffodils with their buttery yellow optimism. Then almond and cherry blossoms create their own snowfall of fragrant petals. Then tulips in every color you can imagine. Finally colors and flowers of every sort jostle for the gentle rays of warm Spring sun.
I am a child of Spring and Spring is on the road, making its way back home to me. It returns with the dogged determination of a lost love.
Within my pile of hope and anticipation bought at the grocery store, there was a special stem. It made me a promise. Silent and steady.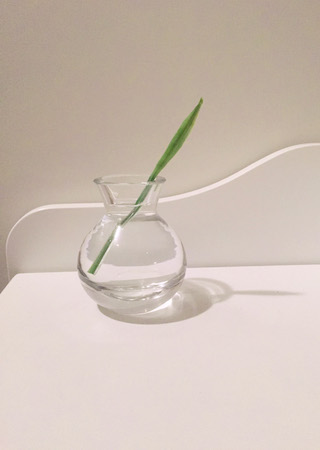 A promise made.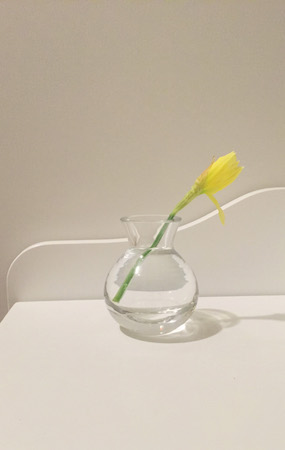 A promise in progress.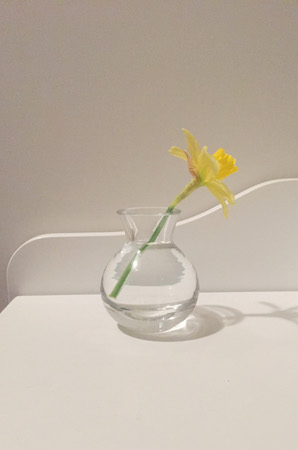 A promise kept.


Now ain't that something to get excited about?

All photos ©Copyright 2017, Karen Fayeth. Taken with an iPhone6, the Camera+ App, patience and anticipation. Subject to the Creative Commons license on the right column of this page.

This has been a weird year, right? I don't think anyone will disagree. As I came sliding butt first into December, I was already disorganized and suddenly bowled over by work. By all measures, we did triple the volume of work we usually do and it was no small bit of effort to simply make it through December. But make it through we did.
In the smoldering ashes of 2016, I am working hard to get some order back to the chaos of my life. I firmly believe that being a little bit stronger, quite a bit more disciplined (and organized) and filled with more optimism will carry me through the slings and arrows of 2017.
To that end, I have returned to Morning Pages. If you have read The Artist's Way, you are familiar with Morning Pages. The idea, according to Julia Cameron, is to prime the pump. Write three pages of stream of consciousness words every morning to get into the creative flow.
Instead of handwriting pages as suggested by Cameron, I use an online tool called 750words. That tool works a bit differently than the Artist's Way describes, but that is okay too.
So as I sit here now on my fourth day of vacation, hallelujah, I am working on today's words. I have fallen out of my writing discipline and I can tell I am rusty. Lots on my mind. It's good to get back into the habit.
The best part of the 750words is that every once in a while, while priming the pump and working through the silt to get back into the flow, some solid words, some bon mots, some worthy thoughts come through.
Wanted to share these, because they may become my motto for the new year (Warning: there is some salty language, it that offends, look away):

…doubt is a persistent little bitch. Hope slides off like you are made of teflon, but doubt sticks like tar, or used up chewing gum or one of those gluey mocos you can't quite get off your finger no matter how hard you shake. Patience and discipline, that is the kleenex to your glue moco and allows you to fly once more. The sturdy facial tissue that brings back hope.

Yeah, I have no idea what any of that means, but it made me feel good to write it. Like I was really tapping into something, so I decided to share it.
Hope your end of 2016 and planning for 2017 has better metaphors. I'll keep working on mine.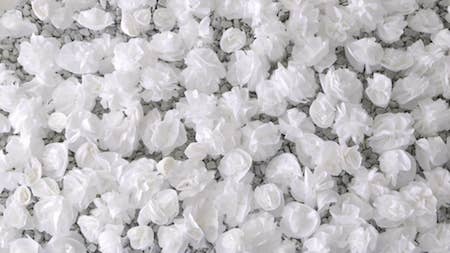 Inspiring flowers made of kleenex. Is that hope I'm feelin'?

Image found here.

I think, sometimes, it must be a bit odd living with me.
On Sunday afternoon, with many things troubling my mind, I went outside and took a nice walk. I also looked at my neighborhood and noticed the way the sunlight is shifting. A cool tinge to the breeze. And I noticed that college kids are starting to move back to this college town.
When I got home I was a bit tired, a little sweaty, and more centered in my mind.
"Oh!" I said, as The Good Man and I talked things over, "I brought something home."
His eyes lit up at the prospect. What could it be? Something freshly baked from our fabulous neighborhood shop? A pound of aromatic fresh ground coffee? A small fun tchotchke from one of the many nearby gifty shops?
Nope. What I brought home to my sweetheart was this: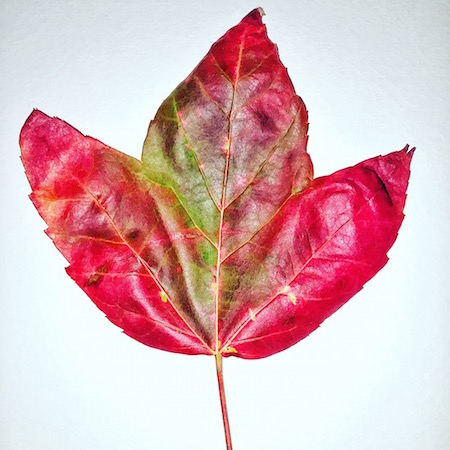 From a Red Maple tree

I brought my love a leaf.
More than a leaf, it was the perfect representation of how restless I was feeling. As summer begins to give way to fall. As youth gives way to middle age. As things are in motion and changing at my place of work.
I was stunned on my walk to notice that leaves are already changing. Trees are starting to turn the bright reds and yellow and oranges of fall. I'm sure our unseasonably cool late summer has been part of the reason, but I was startled to see the change. I was also comforted to know that the restless feelings inside me are in sync with nature.
It is both a green leaf and a red leaf at the same time. Both the joy of spring and the end of summer. Happy and sad. Birth and death.
Transition.
My theme song lately has been Sam Cooke, "A Change Is Gonna Come." I just recently found this song again through the whims of Pandora's algorithms. And as Pandora is want to do, it plays at least once a day during my work days. Occasionally, if the time is right and the office door is closed, I sing along.
It is a sad song. A lament. But also, it's inevitable that change has to happen. Like that leaf, there has to be some core that remains and stays in place to keep you grounded. With that grounding, then other things can change.
Lest you think I have any personal big changes planned, I do not. I consider most of my life to be my rock. But things around me are changing at a rapid clip, and I am feeling that happen.
Seasons are in transition. Things at work are changing fast, and actually have been changing for some time. And the nation is changing too. This election cycle has been nothing short of the lunchroom at an insane asylum. Come November, things are changing for all of us, no matter how the voting goes. Even the world is changing. Both for the good and for the bad.
I'm not always very good with a lot of change. Some people thrive. Me, I get a little worried. It's my way.
But on that sunny Sunday in Northern California, a pretty little leaf became the perfect metaphor for what's going on inside of me.
And The Good Man, he understands that sometimes I need to bring home a leaf to best explain everything that's on my mind.
___________________
Because I can, I ran my leaf photo through the Prism app, which I just adore. My favorite of the conversions was this one.
Thought I'd share it too: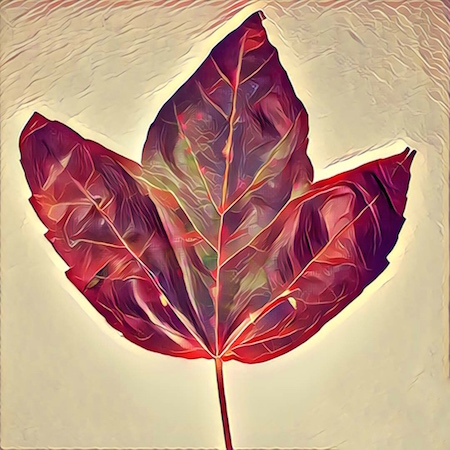 Same leaf, now artified

Leaf photos ©2016, Karen Fayeth, taken with an iPhone6, the Camera+ app, and the Prism app. Subject to the Creative Commons license in the right column of this page.

I have found myself in the city of Prague in the country of Czech Republic for only forty-eight hours. Well, a little less than forty-eight, but let's not quibble.
In forty-eight hours I have learned that the current leadership of the country wants their country to be referred to as Czechia, for reasons I don't fully understand.

"The Terminological Committee of the Czech Office for Surveying, Mapping and Cadaster officially codified Czechia in 1993 in its publication "Names of States and their Territorial Parts". Therefore, Czechia is the grammatically correct short name of the Czech Republic…" – from Go-Czechia.com
I have learned that occasionally I can understand a word or two in Czech, but then the diacritic marks give me doubt.
And I have interacted with Czech citizens, mostly the driver of my airport shuttle, hotel staff, and employees of the mall next door to the hotel. The clerks at the grocery store in the mall are probably the most Czech of the Czechs I have encountered. They have little to no English and can't care that I have no Czech. I admire this.
One habit I have cultivated in my bit of international traveling is that I like to go to grocery stores when I visit other countries. I like to see what everyday people buy and how everyday people procure their comestibles. Also because grocery store clerks are the most representative of the people of the country because they have no enthusiasm for making it easy on tourists. They are just being genuine.
In less than forty-eight hours I have come to appreciate and even feel a deep fondness for the people of Prague. Come with me on this tangent: Over the course of my life I have been fortunate enough to be friends with many Russian people. People from Russia have a very distinct cultural identity. Most Russian people I know can find a way to be unhappy even in the most incredibly happy of times. Not a sadness, but a deep disappointment tinged with world weariness. There is almost an enjoyment in unhappiness.
Obviously, owing to the long history of Czechia (see, I can learn), Russian culture has had a deep impact on the people who live here. I find some of that same slight sadness, irritation and fatigue with life in the people of Prague. At least the people older than say…thirty-five. It's almost kind of endearing.
Here's my best example. I went to the grocery to get some water, some chips and some cookies to stock in my hotel room for snack time. I had just a few items and I approached the register, feeling nervous.
I had learned two days ago that if I want a bag, I have to take one (paper or plastic) from the front of the register, and I have to let the clerk know I am buying the bag, and then I have to bag my own groceries. It's very common in Europe to bag your own groceries. I was proud to have learned the whole bag situation (a nice Czech lady helped me) and was ready to check out. (Czech out? Okay, bad pun.)
My sweet little American self stepped forward when it was my turn, and I held up the bag and pointed and nodded. The clerk sighed and began mumbling in Czech. Then the mumbling took on a ferocity. She riffled through some papers on her table and spoke more loudly, but not to me.
She shouted across the aisle to the clerk at the next checkout station. A conversation ensued. As near as I can decipher, she needed the code for the paper bag I had chosen. The other woman offered a suggestion that didn't work. My checker kept trying until after several attempts, she sorted it out.
She then began to scan the rest of my items, mumbling and gesturing in Czech. Not speaking to me, but clearly unhappy. Occasionally she'd shove at the papers that had let her down.
In my mind, I translated from a language I do not understand, but I think I understood the moment.
"This person wants a paper bag and they tell me I have to charge for it and if I'm supposed to charge you'd think they would at least give me the code on these damn papers," shoves papers, "but no, I have to guess and this goofy looking American is standing here, don't think I don't know you are an American. Just because you haven't said a word doesn't mean I can't smell it on you from a mile away. And of course the American wants a paper bag. Plastic bag, I know the code for that, but no she wants a paper bag and I don't know the code and I don't have the code here," shoves papers, "I have to scan all her stuff and I don't even care, I just am trying to make a living here and I have to charge for paper bags and what is the meaning of life anyway, but to be miserable, forced to charge for a paper bag and never really knowing the correct code."
Or, you know, I could be reading into things…just a teeny bit.
We concluded our transaction and I smiled and said "thank you." She looked at me like I was a developmentally latent child, and I walked away, a few Czech Crowns lighter, a bag of chips water and cookies in hand, and a story that felt like it needed to be told.
Tomorrow brings the most intense day of meetings, the whole reason my employer sent me to Prague. Once that is concluded, I can hardly wait to finally explore more of this beautiful city and learn more about the people and places of Czechia. I can't wait!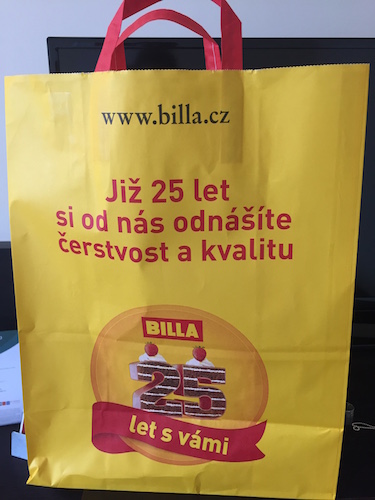 The Google translate app (using the camera, a very cool feature) tells me that this grocery bag says (roughly) "With 25 years, from us you take away freshness and quality." You can see how the last word really could be the word "quality." But beware of thinking you know something now, because you certainly do not. Your Czech is of no kvalitu.

Photo ©2016 Karen Fayeth, taken with an iPhone, the Camera+ app, amusement and jet lag. Subject to the Creative Commons license in the right column of this page.