Here it is, Sunday, January 7th and I'm staring down the barrel of Monday.
It's time to get myself back into gear.
You see, not only does my employer shut down between Christmas and New Year, but I was also able to scrape up enough hours to take this past week off. I've just had seventeen glorious and fun filled days away from work. Days of setting my own agenda. Of not looking at work email. Of working on photography at midnight if that's where the fancy took me because I could sleep in the next day and the next one after that.
Last week I existed in a fabulous sort of limbo land. 2017 no longer, not quite 2018. It suits me.
All good things must come to an end, and so must my extended vacation. Tomorrow, reality slaps me across the chops, as reality is prone to do.
This morning The Good Man and I left our warm and cozy home to venture out into the rainy, wintry cold for Sunday breakfast. Pancakes to bid adieu to vacation and bonjour to 2018.
Through visible breath and rubbing hands together I looked up and saw a bright red maple leaf shellacked to the windshield. "Hey that's pretty," I said and took a quick snap.
Now, I realize that in this simple winter image I somehow exactly captured my mood. No more holly jolly songs and soft Christmas lights. No more Santa and wrapping presents and warm cookies baking in the oven.
It's now winter, plain and straightforward. No more looking forward to the holidays, instead we look to Spring. I have a lot of (needed) California rain to endure this year because that is what the Bay Area does in winter.
This is the long slog, when it's still dark early and foggy mornings and shivery cold.
But soon. Yes soon, the world moves into winter so we can know the spring. Daffodils and cherry blossoms are just around the corner, but for today it's a sodden leaf in cold rainy hazy blue surroundings.
So I won't lose hope. Tomorrow may loom large, but I will pop back to the surface like a bobber and keep swimming. I will have great successes and I will fail a lot too. I will be mad and sad and happy and grumpy and overtired and all the things I was on December 21 when this wild leave from work began.
Okay 2018. I put you off as long as I could, but you are now top of my To Do list and I'm going to tackle you.
Starting tomorrow.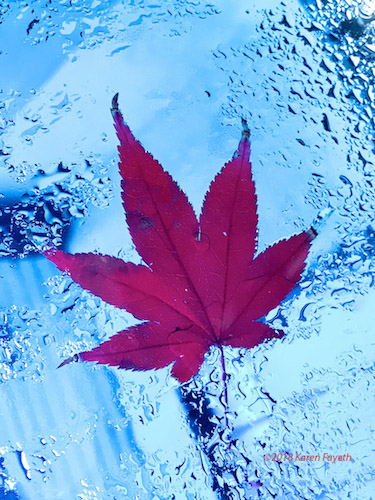 ©2018 Karen Fayeth

The job that pays the bills has been especially nutty this month. Around these parts, Santa is saying "Ho, Ho, Hoooooly crap I have a lot of work to do." Thankfully, I managed to get through to the end of the week and now get to enjoy a bit of time off for the holidays.
And so it's best to balance all that work with some fun. Which can also be work, in a way.
This week, my photography takes a turn toward bokeh, the sort of blurry backlights seen in many an Instagram photo. I've seen a LOT of photos with bokeh, it's quite popular. When I see these kinds of photos they always seem fun, and those blurry lights look like they would be so easy to shoot.
Easy was not the case for me. I figured I'd waltz right into some fabulous bokeh photos, but I really, really struggled with this challenge. The photo's subject was photographer's choice, it just needed to have some nice juicy bokeh in the background.
Curse words were uttered. Cameras were called names. Swears in English, Spanish, French and British English (bollocks, bollocks, bollocks!) were all employed in the making of this photo. Finally after several Google searches and articles consumed, I stumbled onto a good suggestion for creating lots of sparkly light, and it worked.
In the end, I'm pretty happy with how this turned out. The photo features a Zuni Pueblo fetish carved by a Native American artisan named Dilbert Gasper. His Butterfly Maiden is carved from black marble and inlaid with turquoise. Since Christmastime is when I miss New Mexico the most, she seemed to be a good subject for my trials and (many) errors in learning a new technique.
I hope I did the little Butterfly Maiden and master artisan Mr. Gasper their justice.
And with that, a hearty Feliz Navidad to all!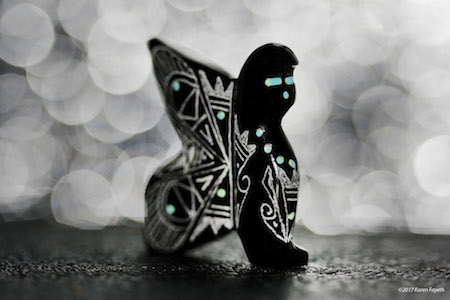 ©2017 Karen Fayeth

As a sort of minor and mildly entertaining footnote to Tuesday's Congressional election in Alabama, there was a CNN interview where the spokesperson for the Republican candidate made a spirited argument that Muslim politicians should not be allowed in Congress because they'd be required to swear on a Christian bible.
The CNN host went on to utterly decimate the spokesperson's assertion by letting him know that not only is it not required to swear on a bible, if you are swearing an oath of office, you can technically swear on anything.
Something about that pesky separation of church and state, I suppose.
Look, I'm not here to wade into political waters. What I am here for is to wade into this debate:
If you became an elected official, upon which book would you swear your oath of office?
As a lover of books, this question intrigues me. One might suggest that the book used for an oath of office would have some meaning, some gravity. Something that matters to you.
So where to start? I mean, what are the books that made me who I am today? That have, to me anyway, a sacred meaning. Something upon which an oath would really matter?
Okay, I've had a noodle on this, and decided that here would be my top five picks, in no particular order:

Lonesome Dove by Larry McMurtry



This is the book that made me want to be a writer. It's seminal to my creative life and had particular meaning for me years ago to read an author from the west write the west (and not some east coaster's idea of the west, I'm looking at you Cormac). This book is in my DNA and it's the perfect book upon which to swear, because Gus and Call do an awful lot of swearing in the story.

Red Sky at Morning by Richard Bradford



When I was a kid, my mom suggested I read this book and I am so glad she did. I've opined plenty on this book, and it's perfect for swearing an oath because this was the first book to make me feel like it was not only okay, but pretty damn cool, to be a New Mexican. Growing up in the 70's and 80's no one knew where or what New Mexico was, nor cared. Heisenberg putting us in the media spotlight was years away. This book is me and I am this book, I give you my oath on that.

Lamb: The Gospel According to Biff by Christopher Moore



The story of the Son of God, as told by his best friend Biff. It's historical and hysterical. This book will make you laugh right out loud as our man Biff pulls his somewhat clueless friend Jesus out of scrape after scrape. It's outright blasphemy which makes it the most logical choice to swear my oath of office.

Fear and Loathing in Las Vegas by Hunter S. Thompson


As noted before on this blog, Las Vegas is something well woven into the fabric of my life. I got my start in life there and spent an awful lot of time there as a kid. I have a much different view of Vegas than most. It's a strange sort of indescribable thing. This book is on my list because, uh, it's Hunter S. Thompson. What better FU to the whole swearing an oath to the government?

But mainly, it's because of this part:

"A little bit of this town goes a very long way. After five days in Vegas you feel like you've been here for five years. Some people say they like it — but then some people voted for Nixon, too. He would have made a perfect mayor for this town…" — Fear and Loathing in Las Vegas

C'mon! This is the perfect oath of office swearing in book.

Boys of Summer by Roger Kahn, or maybe Shoeless Joe by W.P. Kinsella, or possibly Ball Four by Jim Bouton, or, or, or… It's a long list.



The right choice for swearing in because baseball is my religion.
Okay, now that the book question is sorted, the next item to tackle is what music is going to be played at my swearing in? I'm going to assume I will be elected to a low-level office with no budgets for live acts. So, assume a bumpin' sound system. Who gets to warble under my swearing? Ooooh, that's a good one…..
If you have a mind to, holler at me here or on any of the social medias and tell me what book you want to swear your own oath on. I'd love to cuss and discuss.

———————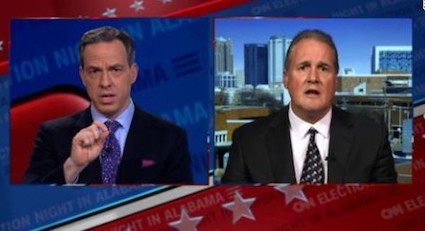 The exact moment where the one on the right realized his whole argument was just verbally punched to the ground

Story source.

As I put in a few extra work hours in this crazy holiday season, I thought I'd reshare this photo I took a couple years ago.
I call it "After the Party" because, you know…I had thoughts of the remnants of a great holiday party, happy people, tree on the floor, ornaments askew.
This photo was so much fun to set up and SUCH a pain to clean up. It remains one of my favorite shots in my portfolio.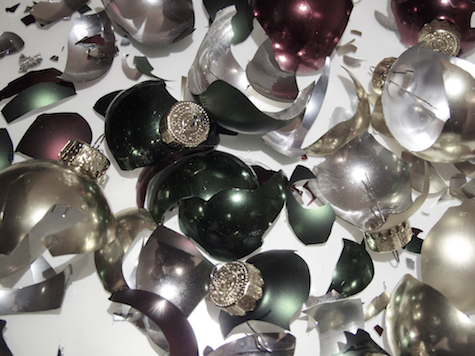 ©Karen Fayeth

See more of my stuff (including another Christmas photo) on my Flickr

My parents were pretty strict when I was growing up, but I'm not here to complain about that. I think my brother, sister and I turned out pretty well, overall. Well, my brother and sister did, jury is still out on me.
But it's true, my folks were a bit old fashioned and handed down strict discipline. They kept us in line.
One thing my Dad was all about was his kids answering "yes, sir" or "yes, ma'am" when addressed by an adult. It's ingrained in me, automatic. It's a show of respect for elders, along with respect for a person's position.
And so when either of my parents would call out "hey Karen?" I would automatically drop a "yes, sir" or "yes, ma'am" without hesitation.
It's carried into my adult life and usually has served me well. On a recent visit with one of my favorite Aunties in Michigan, she at one point called out my name and I dutifully replied "yes, ma'am," and I knew it was right. I felt like a good kid.
As the digits in my age advance, however, I also notice that I get ma'amed here and there. At first I didn't like it, but then I began to appreciate that for those younger than me, their parents raised them with that same value. Yes sir!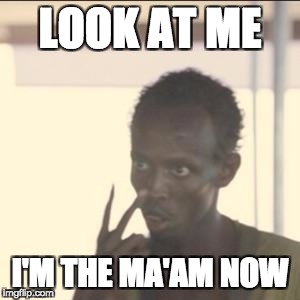 Here's where it gets weird: My new boss at work? She's my same age. In fact maybe a year or two younger. She was my peer for the past several years and was recently made the acting manager. It's also very likely that she will soon be the permanent manager. And I'm okay with that.
I have nothing but respect for her and we're working out the bounds of going from peers to boss and employee.
Yesterday, she came wheeling into my office, fresh off one of her many meetings each day and with something on her mind. "Hey Karen?" she said sharply.
"Yes ma'am!" I replied.
And she looked at me kind of strangely.
And I looked at her kind of sheepishly.
"Ahem. What can I do for you?" I revised.
It made me think maybe I need to change up the ma'am/sir thing. I mean, it still fits in many cases. For example, if I come across any of the distinguished scientists that I work with, I'm sure as heck going to ma'am or sir them, regardless of age. Or any dignitary.
But maybe I have to realize that I am the grown up now. I am the one to receive the ma'am treatment. I suppose it is time to finally own my own mildly elder status. Right?
It's just so weeeird! And will take a while to reprogram my brain.