The holidays are over. Tinsel and paper all swept up and gone. Yesterday the trash men hauled away bones of the Christmas ham.
And Monday, I go back to work. Rather, I drag myself reluctantly back to work.
Here in the heart of winter, there are cold days ahead. And rain. And grim skies to match my grim demeanor.
What's this, then?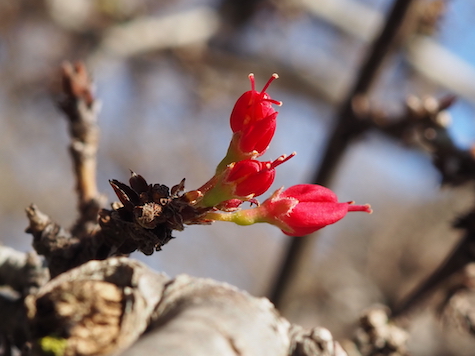 ©2019 Karen Fayeth

A tiny blob of bright pink in my yard that I noticed today when returning from the grocery store, where candy canes and festive platters have given way to "healthy selections" and Valentine hearts.
I stepped closer, peered in between the branches to discover…
A single cherry blossom. Ahead of its time, but ready to be kissed by today's warm California sun. Soon the rest of the tree will follow suit. Soon. But not yet.
And what is that over there?
©2019 Karen Fayeth

A little cocoon, snug in a fur coat, warding off the shiver. A magnolia blossom, in very early stages. What is gray and fuzzy now will soon be creamy pink, fragrant and bold, seemingly overnight. Soon. But not yet.
Oh, and look at that!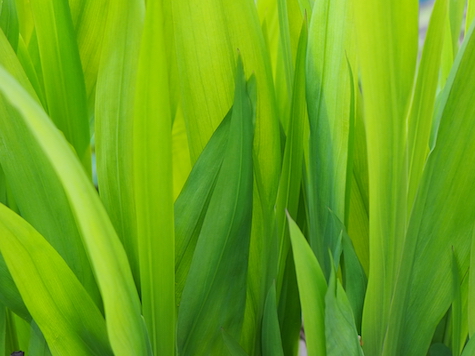 ©2019 Karen Fayeth


In that one corner of the yard, I'd forgotten the daffodils that grow wild. Their leaves have come on bold and green with the promise of emerging stalks soon carrying butter yellow blooms. Soon. But not yet.
I stop and smile. I remember that December 21st was the shortest day of the year, a milestone that now lies in the past. Even though this weekend promises torrential rain (which the California soil will gladly drink up), gray skies, and gloom, the fact of the matter is that Spring is on its way with rush of color and fresh leaves, activity, joy and warmth.
The sunshine of my favorite season will soon come to push back the gloom and cobwebs in my mind and replace it with tulips and lilacs and California poppies.
I will photograph and paint and pick and sniff all of the riotous wildflowers that California has to offer. I will smile when I see them growing in the unlikeliest of places.
Oh so very soon I will bask in the Spring warmth and smile at the clear skies and feel happy as the sun sets later and later each day.
Soon. But not yet.
One of my coworkers brought in oranges from their yard today. Look at this, it is perfect! A supermodel among oranges. Spokesmodel for the State of California. This orange made possible by the sunshine of the Golden State. Gorgeous!

©2018 Karen Fayeth

Photo taken by me, all rights reserved. Taken with an iPhone7, the Camrea+ app, a green folder from the office, and a little bit of goofing off time while at work.

I think, sometimes, it must be a bit odd living with me.
On Sunday afternoon, with many things troubling my mind, I went outside and took a nice walk. I also looked at my neighborhood and noticed the way the sunlight is shifting. A cool tinge to the breeze. And I noticed that college kids are starting to move back to this college town.
When I got home I was a bit tired, a little sweaty, and more centered in my mind.
"Oh!" I said, as The Good Man and I talked things over, "I brought something home."
His eyes lit up at the prospect. What could it be? Something freshly baked from our fabulous neighborhood shop? A pound of aromatic fresh ground coffee? A small fun tchotchke from one of the many nearby gifty shops?
Nope. What I brought home to my sweetheart was this: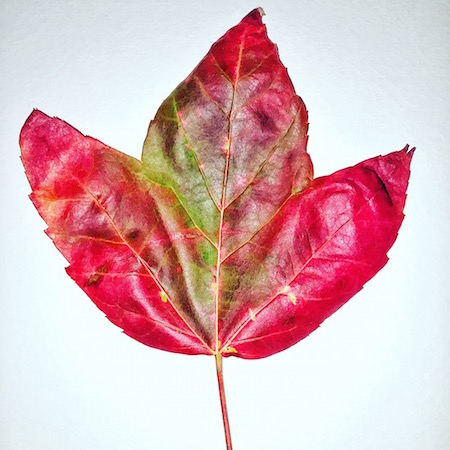 From a Red Maple tree

I brought my love a leaf.
More than a leaf, it was the perfect representation of how restless I was feeling. As summer begins to give way to fall. As youth gives way to middle age. As things are in motion and changing at my place of work.
I was stunned on my walk to notice that leaves are already changing. Trees are starting to turn the bright reds and yellow and oranges of fall. I'm sure our unseasonably cool late summer has been part of the reason, but I was startled to see the change. I was also comforted to know that the restless feelings inside me are in sync with nature.
It is both a green leaf and a red leaf at the same time. Both the joy of spring and the end of summer. Happy and sad. Birth and death.
Transition.
My theme song lately has been Sam Cooke, "A Change Is Gonna Come." I just recently found this song again through the whims of Pandora's algorithms. And as Pandora is want to do, it plays at least once a day during my work days. Occasionally, if the time is right and the office door is closed, I sing along.
It is a sad song. A lament. But also, it's inevitable that change has to happen. Like that leaf, there has to be some core that remains and stays in place to keep you grounded. With that grounding, then other things can change.
Lest you think I have any personal big changes planned, I do not. I consider most of my life to be my rock. But things around me are changing at a rapid clip, and I am feeling that happen.
Seasons are in transition. Things at work are changing fast, and actually have been changing for some time. And the nation is changing too. This election cycle has been nothing short of the lunchroom at an insane asylum. Come November, things are changing for all of us, no matter how the voting goes. Even the world is changing. Both for the good and for the bad.
I'm not always very good with a lot of change. Some people thrive. Me, I get a little worried. It's my way.
But on that sunny Sunday in Northern California, a pretty little leaf became the perfect metaphor for what's going on inside of me.
And The Good Man, he understands that sometimes I need to bring home a leaf to best explain everything that's on my mind.
___________________
Because I can, I ran my leaf photo through the Prism app, which I just adore. My favorite of the conversions was this one.
Thought I'd share it too: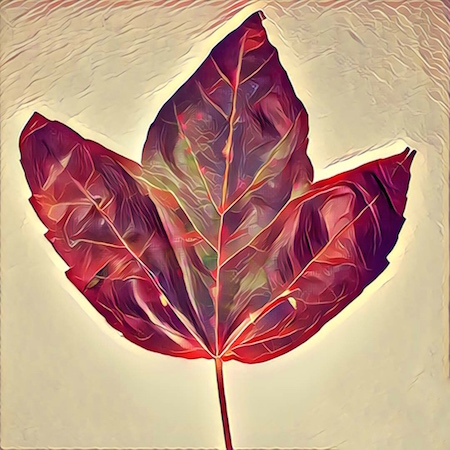 Same leaf, now artified

Leaf photos ©2016, Karen Fayeth, taken with an iPhone6, the Camera+ app, and the Prism app. Subject to the Creative Commons license in the right column of this page.

I'm incredibly in love with that harbinger of Spring, the yellow daffodil.
Sunshine on a stem.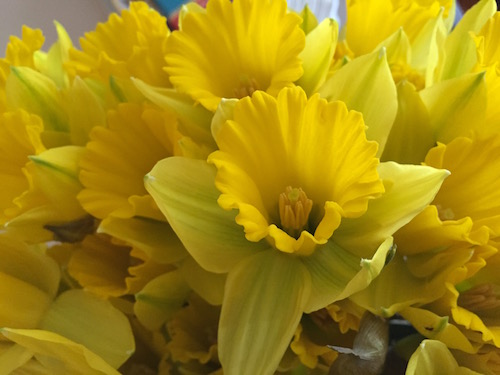 ©2016 Karen Fayeth


I adore going to Trader Joe's to pick up a bunch of tightly closed buds then later at home snipping the ends, placing the stems in water and watching a fireworks display.
Yesterday we sat at the table where this vase is placed and I swear these buds were busting open right before our eyes.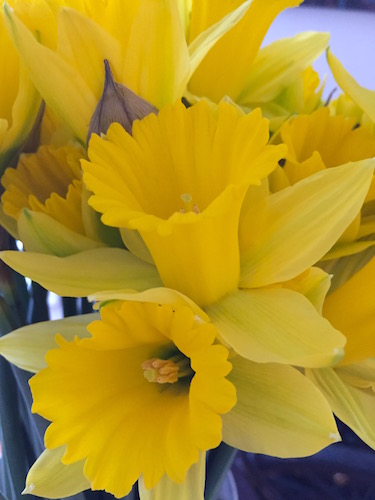 ©2016 Karen Fayeth

I took a big bunch to work today and have enjoyed so many of my coworkers (and my boss) coming by to ooh and aah.
"They are just so sunshiny" is the general consensus.
And they are.
Unless I'm being all moody and arty and stuff and go for the black and white on the desk of my brand new office (yay me!). Then they are regal and proud and still very beautiful.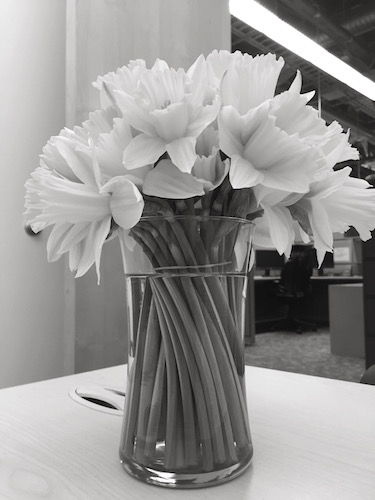 ©2016 Karen Fayeth


And because I'm goofy for the daffydils, here is a Kaleida Cam shot: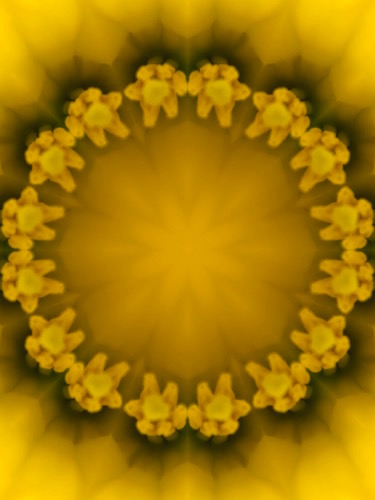 ©2016 Karen Fayeth


Ok, well, I've about exhausted the topic of daffodils. Love 'em!
Don't even get me started on tulips. Oh sigh, how I love Spring.
Even in the middle of this gray rainy Northern California day, I look at tulips and daffodils and feel entirely optimistic.

All photos ©2016 Karen Fayeth, taken with an iPhone6 using the Camera+ app, the Lenka app (for black and white) and the KaleidaCam app. All photos subject to the Creative Commons in the right column of this page.

This one goes out to all of us who found ourselves attending New Mexico State University back in 1989. Maybe it was 1990. Memory is funny.
This one is for the Ag College kids. I'm about to drop a memory on you. Come along with me.
I can't really recall what time of year it was, but it was sunny. That much I recall. Then again, it's sunny in Las Cruces an awful lot.
The band Foster & Lloyd were on the radio. Remember them? Back then we were all listening to Foster & Lloyd. A lot. And Dwight Yoakam. And the Mavericks. And more.
So along came the news that Foster & Lloyd were opening for a Los Lobos show at the Pan Am Center. Yeah, I wanted to go to that show real bad. Alas I was a broke college kid and couldn't afford tickets. I heard the ads on KGRT over and over and pined, but knew it wasn't meant to be.
So instead I popped my Faster and Llouder cassette tape into the boom box I carried in the car. Or maybe it was Verision of the Truth. Or maybe first one then the other. And I held my own car concerts as I rolled around Cruces.
Then something unbelievable happened. My best friend called, out of breath and excited, to tell me that Los Lobos had to cancel the show and Foster & Lloyd were going to do a free concert just outside of Corbett Center (the student union building at NMSU) in this little amphitheater area.
We gathered up all of our friends, an armful of blankets and made sure we went to that show. My best friend walked with confidence right to the front of the small stage area and staked out our place. Up close and personal. We sat, we listened, we sang, we were a bunch of kids feeling an awful lot like family on that day.
For a bunch of Ag College kids from NMSU (hands up now, "I believe in the Future of Farming…") having a national act come out and do a show FOR FREE was, well, that was about the coolest thing in the world.
That was a best-day-ever kind of a day. Back then anyway. Sitting here today I do have to admit that my wedding day is my best day ever, hands down. But back then to this New Mexico kid wearing dusty beat up goatskin ropers, that sunny Las Cruces day was really the best day ever.
My best friend and I slip into the Wayback Machine an awful lot when we get together, and that free concert is one we land on quite a bit. What I wouldn't give to have a real Wayback Machine and dial it to back to that day. I might never come back.
Toward the end of the show, Foster & Lloyd were really swinging. We were all riding a sonic high and at one point, Mr. Radney Foster wandered out into the audience and put a hand out to my best friend's little sister. He plucked her from our blanket and spun her around a little bit with the music.
My best friend and I were both elated and jealous as hell. In fact in the now twenty-five years hence, I know for sure that my best friend has never really gotten over it. Neither have I, if I am honest.
My best friend's little sister was and is a beauty. Gorgeous and sweet and funny as hell. She is pure awesome and I love her madly, so of course I can't be upset with her. Just jealous, I guess.
When we were in college, Little Sister was in high school and she'd find her way to Las Cruces and we'd take her out with us. When a cowboy would start to get a little too interested in her, my best friend would wander by and whisper "Um, just thought you should know…she's sixteen." That usually put an end to things.
So we were used to her getting a lot of the attention. On that day after Mr. Radney Foster twirled her under the bright New Mexico sky we laughed and hugged her and loved every second of that show.
It is a beautiful memory. Were you there too?
A few months ago I happened to stumble across Radney Foster's Facebook page and hit "like" so I could see what he was up to. I'd lost track of him after his Del Rio, TX 1959 album.
Then came the fateful day where he posted that he'd be playing a little venue called Freight & Salvage in mid-July. That's not too far from where this New Mexico kid is living these days.
Well, I hopped on those tickets so fast my credit card started smokin'.
And that live show happened just a week ago, July 15.
The Good Man had never heard of no Radney Foster until I showed him a bunch of YouTube clips in the days before the show. Then he was totally onboard. We stood at the front of the line when the doors opened and found second row seats in the general admission venue.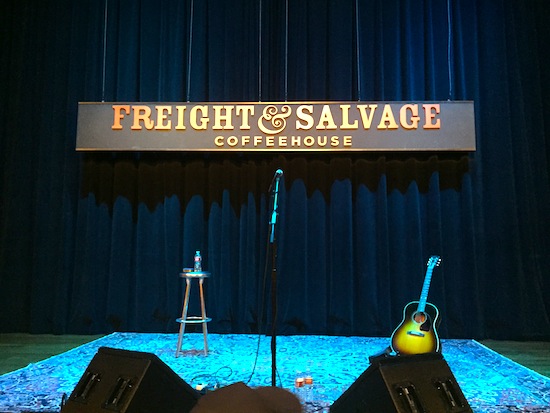 Photo Copyright ©2015 Karen Fayeth

It was just Mr. Foster and his acoustic guitar and he put on one hell of a show. Storytelling, songs, laughter. Man alive, it was really profound. It was like seeing a really dear old friend and picking up right where we left off twenty years ago.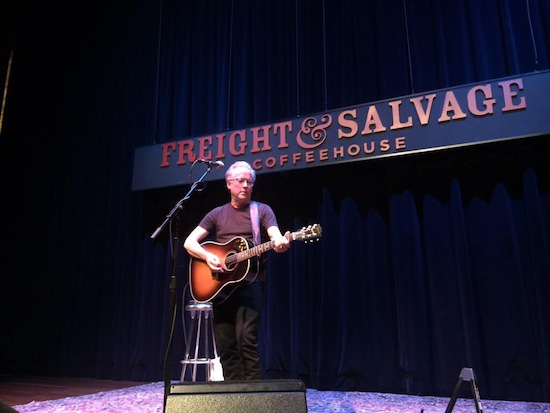 Photo found on @valisaschmidley Twitter stream because I was too gobsmacked to actually take a photo myself during the show.

I almost started crying when he hit the first notes of the first song. It felt so right.
And then…oh and then…
After the show, Mr. Foster came out to the front lobby to sign a few autographs and I jumped in line.
I practiced what I was going to say and when I got there, I let roll the story of that day, 1989 (or was it 1990?) in the grass outside Corbett Center in Las Cruces, New Mexico.
Given the sheer number of shows he has performed in the last 25 years, I was surprised that he actually remembered that one day. But he did.
"Oh yeah, we were rocking that day," he said.
"Yeah you were!" I replied.
Then I thanked him, I told him how much that free show meant to all us New Mexico college kids.
Then I reminded him about coming out into the crowd and dancing with my best friend's little sister. About how my best friend has never quite gotten over it.
Then I held out a copy of his new CD and said "Her name is Kate and you are going to sign this for her."
(The album is titled "Everything I Should Have Said" and it's awesome and you should pick one up. Here is the Amazon link and here is the RadneyFoster.com link ($3 cheaper!) Go on, click one of those links. You know you wanna)
And he did sign that CD. Oh boy did he ever.
Here's what it looks like. In case you can't read it, it says "Kate, You get the next dance."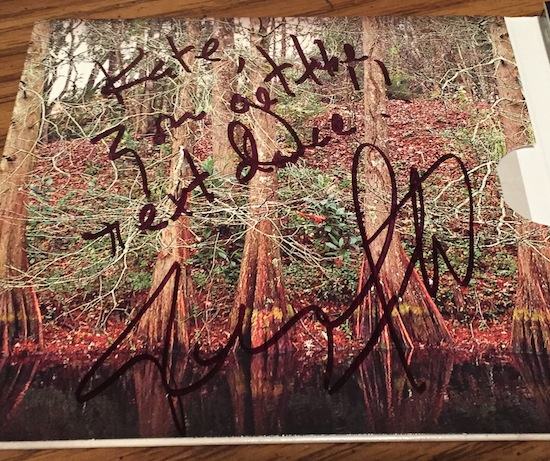 Photo Copyright ©2015 Karen Fayeth

C'mon! How awesome is Radney Foster? The correct answer is amazingly awesome!
I told him that he had just created some healing twenty-five years in the making and he laughed. Then I had that "hey, let's go grab a beer" moment and of course thought better of it. He's just the kind of musician you feel like you know well because he writes the kind of songs that feel personal.
Then I asked him to sign a CD for The Good Man and me, and he did.
I walked out of that venue smiling from ear to ear and remembering and laughing and just at peace with the world.
And so this entire post today and all of these stories are intended to bring all of my NMSU Ag College friends along with me into that Wayback Machine.
Were you there? Do you remember? Wanna reminisce?
This post is also to thank Mr. Radney Foster for helping create another amazing memory.
Whew. Today as I wrote this I listened to The Essential Foster & Lloyd album and it was almost hard to hear. So many memories both beautiful and sad captured in all of those songs.
Well, thanks for staying a while and reading all of these words. I'm serious about you grabbing one of those new albums. Get to clicking! And if you can catch Radney Foster live? Well even better.
____________

P.S. If you have ever wondered how a New Mexico girl could ever live in California, I suggest you obtain a copy of Mr. Foster's new album and listen to the song "California." (I believe it is also on YouTube) Then you will understand. According to the story, that song was inspired by a beautiful Bay Area sunset as viewed from the Oakland Hills. Saaaalute!