What follows is me working out some "stuff" up there in the ol' brain pan. A bit indulgent to do this publicly, but maybe putting it out there helps someone else. Or makes me accountable for my own crap. Either way.
So here it is… I have been taking part in a Flickr group that challenges its members to do a new macro photo every week based on a theme the moderators choose.
I started participating on December 4th with this photo: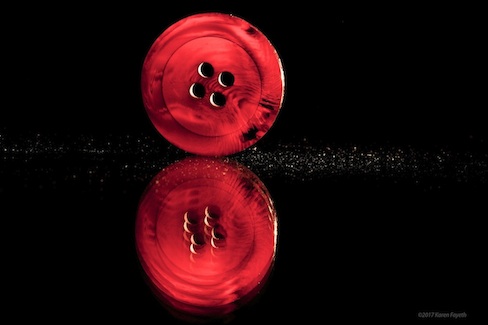 ©2018 Karen Fayeth

I felt clever. Sassy. Like my photo was more creative and of better quality than the others in the group. Go me! I was rewarded with well over one hundred faves in the first day. Hey, fun!
So I kept going. Each week working hard and having fun doing these weekly photo challenges. Creating a new image every week. Some weeks I worked really hard (or agonized) over executing my idea.
Other weeks it came easy to me, I snapped a photo that was exactly what I wanted and went on about my day.
But always having fun and not taking it too seriously.
Until two weeks ago. Two weeks ago I stopped having fun and got deadly (overly) serious about my weekly photo entry.
Let me back up. This Flickr group is huge, over 13,000 members. Each Monday between 800 to 1,200 photos are posted for the theme. This means in order to function, the group must be tightly moderated. And it is. Tightly.
I both like and respect that there are heavily enforced rules for the group. But I also HATE it because I'm an *artist* and The Muse can't be contained by your silly rules. I should be able to break them because MY work is the best.
Yeah, okay. I own it. I got weird. I hate it when I get weird.
The week's theme was monochromatic, and I turned this one in: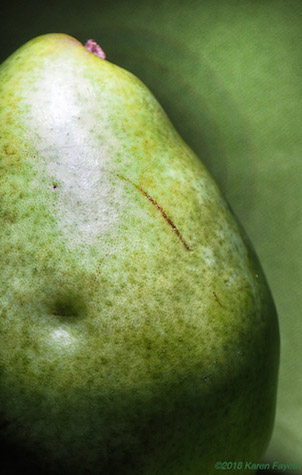 ©2018 Karen Fayeth

I really like this photo. I worked hard on it and felt really good about it. I feel like I did something worthwhile. Artistic.
Less than ten minutes after adding it to the group, a moderator pulled it, telling me "This is not monochromatic, I can see both brown and green."
I seethed. I stewed. I started looking at other photos in the group and found SEVERAL that also had tiny bits of another color that made it through the moderator's net.
I bellowed about how unfair it was. I started making a list of all the other photos that were let through. I prepared to launch my vitriol on anyone who would listen and demand answers for my mistreatment. How could they hate my photo so much!?!?! (I know, I know)
Then I went to talk to The Good Man, and as I detailed all the ways I had been wronged, I heard myself. I listened to my words and realized…aw damn…I'd stopped having fun. I was this worked up over a photo on Flickr in a group where the only prize is some eyes seeing the photo and some faves.
Yeah. I hit the wall pretty hard. This came just a day after struggling with a story for a writing contest that just would not gel for me. I hadn't given myself enough time to work on it and the story would not come together no matter how hard I tried. I tried to shotgun it and I failed hard. I did still turn in the story but I know it's not good.
You see, I wasn't mad at that stupid unfair moderator. I was mad at me.
And that's no way to create. That is the antithesis of creativity. This dampens The Muse.
So I went all the way there and now I'm reeling myself back in. I swear. I sat my Muse and my brain down and we had a talk. Feelings were felt and admonitions were issued. Promises to be better. To loosen up. To remember why I do any of my creative work…to have fun. To let the creativity out. To create something.
And I'm better. I am. The following week I swore I wasn't going to participate in the Flickr group again, but that was EXACTLY why I needed to get back in the game. So I made a photo based on the theme "in a bottle."
Here's my Valentine to myself. Green like the Hulk who gets very, very mad. Sweet like the victory of turning out a piece of art and something I really like. It also met the rules and made it past the moderators.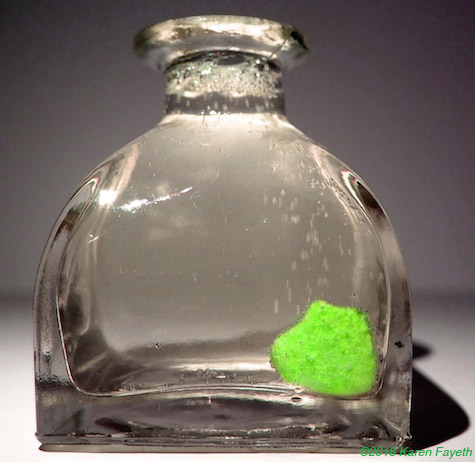 ©2018 Karen Fayeth

Lesson learned. Scars formed. Exterior just a little bit tougher.
And this week? Try, try again.

So without going into specifics (because it's the internet and who knows what people do with facts anymore) the job I do every day is, essentially, a customer service gig. We don't support the general public, but support the operations of my employer. We serve all of my coworkers as customers. Confusing enough?
Anyhow, since we have a focus on customer service and have standard corporate performance measurements to maintain, on a regular basis we send surveys to our customers to ask how we did so they can grade us and provide feedback.
Fairly standard stuff. If the surveys for my team come in good, then fabulous. It's logged and reported and so forth. If a survey comes in bad, then a member of the team that collates responses will discreetly make a copy and slide it onto my desk. This usually happens when I am off in a meeting or something so they don't have to make eye contact. It's all very clandestine.
Bad surveys happen. It's normal. I usually review them, see what the beef is about and move on.
Except for yesterday. Yesterday gave me pause. I returned to my office to find the dreaded folded sheet of paper on my desk. "Ugh" was my first thought as I unfolded and read the survey.
It was a good time. Suffice to say, my team was blamed for everything wrong in this person's life, including (and I'm not kidding) the reason the person is leaving our institution to go work somewhere else. All our fault.
The words "byzantine" and "Kafkaesque" were used. And after looking up what those words meant, I was really offended.
Just kidding, I wasn't offended. To be honest if bureaucratic, surreal and nightmarish processes aren't your bag, then working anywhere that receives federal funding is not going to be a fun time.
This unhappy person did wrap up by saying they thought my employee that they worked with lovely, but the processes were ugly.
Fair enough.
To be honest, I appreciate this customer for giving me the first good laugh I've ever had over a bad survey response.
And the search for just the right image for this post was also a nice distraction from my byzantine day.
I think I nailed it:


**An actual Franz Kafka quote that just supremely fit this post
As I put in a few extra work hours in this crazy holiday season, I thought I'd reshare this photo I took a couple years ago.
I call it "After the Party" because, you know…I had thoughts of the remnants of a great holiday party, happy people, tree on the floor, ornaments askew.
This photo was so much fun to set up and SUCH a pain to clean up. It remains one of my favorite shots in my portfolio.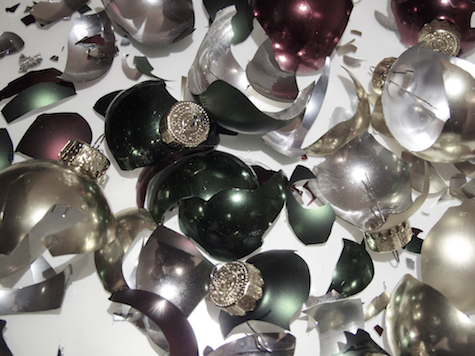 ©Karen Fayeth

See more of my stuff (including another Christmas photo) on my Flickr

This has been a weird year, right? I don't think anyone will disagree. As I came sliding butt first into December, I was already disorganized and suddenly bowled over by work. By all measures, we did triple the volume of work we usually do and it was no small bit of effort to simply make it through December. But make it through we did.
In the smoldering ashes of 2016, I am working hard to get some order back to the chaos of my life. I firmly believe that being a little bit stronger, quite a bit more disciplined (and organized) and filled with more optimism will carry me through the slings and arrows of 2017.
To that end, I have returned to Morning Pages. If you have read The Artist's Way, you are familiar with Morning Pages. The idea, according to Julia Cameron, is to prime the pump. Write three pages of stream of consciousness words every morning to get into the creative flow.
Instead of handwriting pages as suggested by Cameron, I use an online tool called 750words. That tool works a bit differently than the Artist's Way describes, but that is okay too.
So as I sit here now on my fourth day of vacation, hallelujah, I am working on today's words. I have fallen out of my writing discipline and I can tell I am rusty. Lots on my mind. It's good to get back into the habit.
The best part of the 750words is that every once in a while, while priming the pump and working through the silt to get back into the flow, some solid words, some bon mots, some worthy thoughts come through.
Wanted to share these, because they may become my motto for the new year (Warning: there is some salty language, it that offends, look away):

…doubt is a persistent little bitch. Hope slides off like you are made of teflon, but doubt sticks like tar, or used up chewing gum or one of those gluey mocos you can't quite get off your finger no matter how hard you shake. Patience and discipline, that is the kleenex to your glue moco and allows you to fly once more. The sturdy facial tissue that brings back hope.

Yeah, I have no idea what any of that means, but it made me feel good to write it. Like I was really tapping into something, so I decided to share it.
Hope your end of 2016 and planning for 2017 has better metaphors. I'll keep working on mine.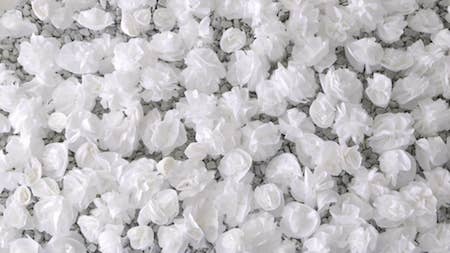 Inspiring flowers made of kleenex. Is that hope I'm feelin'?

Image found here.

Recently, as I perused the pages of Facebook, I came across a Newscastic (read clickbaity) article with a New Mexico topic. I took the bait so you don't have to.
The title of the article is:
Pick A Side: 11 Famous ABQ Rivalries Since The Day You Were Born
They said to pick a side, so I did.
Herewith, the 11 so called rivalries (many of which came well after the day I was born, by the way) and my pick for each.


1) Comanche vs Candelaria


We can all agree not Montgomery, right? My preference always was and will always be Comanche, since it was quite close to the house where I grew up.
Sideline here, I looked up the house where I grew up on Google Street View. Wow, hardly recognize it. Brought a little tear to my eye.
Back in my day Comanche had way less traffic than Candelaria and made it worth taking, even with all of the stoplights. Who knows how it goes today? Maybe my ABQ folks can let me know.


2) Twisters vs Golden Pride


Have I been out of the state so long I don't know what Twisters is? Had to look it up. Established in 1998. Psh! No.
Golden Pride (est 1972) all the way.


3) Sadies vs El Pinto


Isn't the right answer first one then the other?
Okay, okay, look, I grew up in the days when Sadies was located in a bowling alley. That's the kind of clientele they drew. El Pinto was always nice, a little more upscale (and pricey).
So to me it's Sadies if you want casual and El Pinto if you want nice. Even with the lovely Sadies stand-alone restaurant, I stand by that rule of thumb.
Verdict: No pick, love 'em both in different ways


4) Rio Grande vs Alameda


Shrug. No opinion. I was a Northeast Heights girl. Didn't get down either very often. Probably Alameda, based on my limited memories.


5) The Shins vs Brokencyde


Who? I thought this was "rivalries since the day you were born."
Let's go with neither. How about Joe King Carrasco, who is not from ABQ but played the hell out of it back in my day. Yeah.


6) UNM vs New Mexico State


I believe my feelings are this matter are abundantly clear.

And when we win this game, we'll buy a keg of booze, and drink it to the Aggies til we wobble in our shoes.

Best. Fight song. Ever.


7) Eldorado vs La Cueva


Richie rich versus the really Richie rich. Who cares? Not me.
Del Norte for the win.


8) Sandia vs Rock Quarry


For skiing? Sandia. Oh Sandia and your bare dirt patches. Your hard icy spots. Your imperfect but nearby skiing, how I miss you.


9) La Cueva Skatepark vs Los Altos Skatepark


Hey! You children get off my lawn!


10) Scorpions vs Dukes


Those Dukes are comin' up swinging. No contest whatsoever. Love the Dukes. Likely because I am a huge fan of the sport of baseball.
While I love the sport of hockey and have nothing against the Scorpions, it just never seemed…right…to have hockey in the middle of the desert. (Yes, yes, I know about the Coyotes)
Side note, the Dukes used to have dollar dog and dollar draft days. Wow there are some games I can't remember but had fun.


11) Sandhill cranes vs Balloons


Stop it Newscastic, you're drunk. This is a ridiculous question. What, because they both fly?
Here's the answer, hot air balloons in the morning, sandhill cranes at sundown. Owl burgers all day long.
Solved.


Okay, ABQ folks, what are your picks?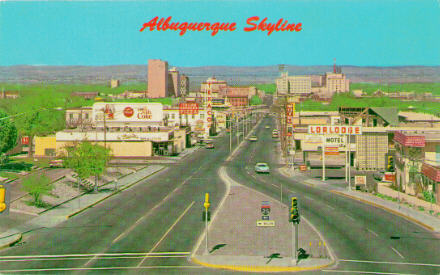 Image found here.