Sunday rolled around and The Good Man and I had something special on the agenda. We had a date with Candlestick Park and a dance with the San Francisco 49ers football team.
The Good Man had attended professional football games in the past, but I never had. I've spent much time inside Candlestick, but it was back in the late 90's, watching my beloved San Francisco Giants get brutalized. The Giants moved to their new yard in 2000 and I hadn't been to Candlestick since.
I wondered how the 'Stick had held up over the past eleven years. The answer? About how you'd expect.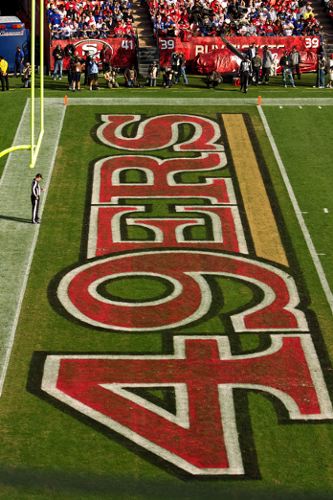 Photo by Karen Fayeth, Copyright 2011


Once upon a time I was a huge 49ers fan (going back to living in New Mexico where they were my team of choice). But over the past decade they kept stomping on my heart over and over, so I had to break up with them.
But this year…with their shiny 8-1 record…I might have been woo'd back to their side.
I think I've finally worked out my issues with this guy (that's the long suffering quarterback, first round draft pick, Alex Smith).
Photo by Karen Fayeth, Copyright 2011


I gave up on him when I kept shouting at my television "THROW THE DAMN BALL ALREADY!!!" and he wouldn't throw the ball. And then he'd get clobbered.
On Sunday, he threw the ball. Oh he threw it, indeed. And he ran it, and he handed it off and did everything a calm, cool quarterback should do.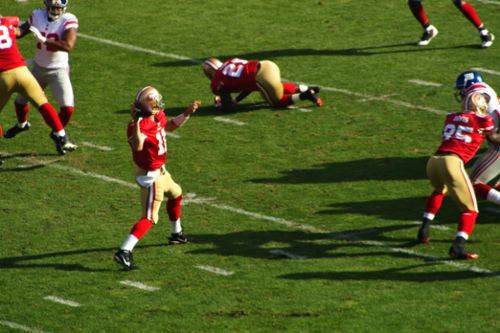 Photo by Karen Fayeth, Copyright 2011


Oh, hello Kendall Hunter. Welcome to the end zone.
Photo by Karen Fayeth, Copyright 2011


This morning, the local sports radio show keeps talking about the amazing atmosphere at the 'Stick on Sunday.
It was crazy.
Isn't it always like that?
Photo by Karen Fayeth, Copyright 2011


For the non-baseball fans, I hear a lot of talk about how baseball is so slow, there's waiting around, blah blah blah.
You know what? There is a lot of waiting around in football too.

Photo by Karen Fayeth, Copyright 2011


But there is an awful lot more blood in football. Yikes.

Photo by Karen Fayeth, Copyright 2011

I guess that tends to happen when your whole intent, play by play, is smashing into very large people. Our seats were great and I sure did see a lot of men crash into other men. Sometimes I had to close one eye and look away. That's usually when the guys around me would shout "yeeeah!"
Boys. Hmph.
Photo by Karen Fayeth, Copyright 2011


Football is a crazy sport. A crazy, fun, outrageous, holy cow YEAH baby kind of sport.
In short…I loved it. Seeing it live was really something spectacular.
All photos by Karen Fayeth and subject to the Creative Commons license found in the far right column of this page.

Hoo boy….I am beat down to a nub. I have been arts and crafting my ass off in preparation for the upcoming local county fair.
While the term "county fair" may imply something small and hick-ish, my local fair is anything but. It's a huge event
Back in February, I visited with my godkids in Las Cruces, and they were all fired up about their own county fair coming up in September.
My niños are all about 4H and have decided to raise pigs this year to show at the fair. Their excitement was contagious, so I came back to Northern California fired up and ready to participate in my own fair.
In fact, I was so excited that when the guidebook arrived, I decided to sign up for four events. Four. Which means I'm either stupid or sadistic. I, uh, have a full time job.
Since the fair kicks off June 11, my four entries are due, oh, NOW.
The events I'm doing are: short story, photography, visual art, and baking.
Yes. I said baking.
The short story had to be turned in over a month ago so the judges had plenty of time to read and evaluate the stories. Last week I got the smoking hot news that my story won my genre category, which was Western.
Whoo hoo! The fair hasn't even started and I'm liking this already!
The story will be published in an anthology of stories put out by the Fair and sold to benefit charity.
Pretty damn excited, I can tell you that!
The photography entry has gone fairly well, too. I knew which photo I wanted to use and it was a matter of getting a good print made (harder than it sounds) and then cutting the mat and framing the piece. I got that done mid-last week. Boom!
The visual art piece is a Dia de los Muertos inspired craft. Oh, how this work has vexed me. I had a *very* ambitious idea and have spent the last couple months constructing tons and tons of tiny details and figures and touches. The work, just finished this morning, doesn't include all of the aspects I'd hoped to accomplish, but I have to say, I'm very proud. This project really pushed the bounds of my abilities as both crafter and storyteller.
Yesterday evening I slumped back in my chair, catatonic. I had nothing left. I had glue and paint all over my hands, sweat on my brow and an ache in my lower back that defies superlatives.
But yet I was still compelled to keep going and finish this piece on deadline, for no other reason than the pure satisfaction of having completed something so very boundary testing.
I did it. I DID it. I'll be damned…I actually did it. Whoa.
Today I'll turn in the framed photo and the art work and then I'll do a little "I made it by the deadline" dance.
Then I'll collapse.
But wait, there's more! The deadline for the fourth event comes up next week. I entered the "ethnic desserts" category and I'll be whipping up a batch of Biscochitos.
New Mexico! Representin'!
And then I will eat my fill of anise seed treats, slip into a sugar coma, and sleep for a very long time…or at least until The Muse taps me on the psyche again.
So I was reading my mom-in-law's blog, Musing by Moonlight, and her touching post about the March of Dimes and the fight for preemie babies.
Since my own beautiful twin nephews were preemies, I chimed in the comments about how one of the best ways to help preemies is to donate platelets, also called apheresis.
So, it's been a while since I have donated, and since I like to practice what I preach, I called to make an appointment at my local blood center.
They said "YES! Can you come in today!?!?!"
The holidays are a tough time for both blood and platelet needs.
Here is my public service message:
Please, please, donate blood or platelets if you are able!
Here's my "I'm just a big candy ass" message:
Today?!?!?!? YIPE!
While I'm always glad to donate platelets, it never stops me from being very, very skeered!
However, whenever I give platelets, as they flow out of my veins, I always imagine that the person who receives my pretty little red blood cells will wake up, healthy and strong and craving the hell out of green chile chicken enchiladas.
My donation to mankind.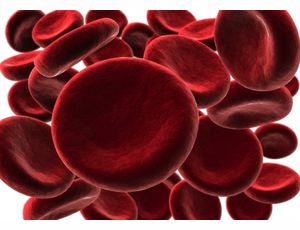 …that even if they make you mad, or you don't see them for a while, or you don't even know some of them, they are still yours. And they tell you a little about yourself.
I had the chance to take my still freshly minted husband to visit with the folks from my dad's side of the family tree.
Unfortunately, my dad passed before The Good Man got the chance to meet him. TGM has heard all of my stories and I thought it was important for him to hear the stories that others had to tell.
I think you can learn to know a person by their stories.
This trip was also a lesson for me in asking for what you want.
I asked my aunts and uncles, surviving siblings of my father, to be willing to tell us stories about my dad.
They were only too happy to respond. And oh did they deliver.
The first day of my visit, my wish was not just fulfilled, my expectations were far exceeded.
Two aunts and two uncles, siblings of my dad, along with an aunt and an uncle by marriage, my mom, my husband and I all met for lunch.
Our orders were barely placed when the story telling began. Oh does my family love to tell a good story. My grandparents were real characters, like something out of fiction, and there is quite a bit of fodder there for stories.
I haven't laughed that hard in a very, very long time. In fact, had I not been laughing, I probably would have cried my eyes out for all the gratitude I felt.
In two hours of lunch, I got a pretty deep glimpse into my dad's life growing up. I didn't know my dad's side of the family that well since we were in New Mexico and they were in Indiana. Since my dad's passing, I've been developing relationships with these folks and feel sad on the years I missed, but happy for the love and friendship and family bond I am earning as an adult.
I know a little bit more about my dad now. I know a little bit more about me, too.
And maybe the timing on this visit couldn't have been more perfect now that I face the next decade of my crazy, mixed up, perfect life.
The funny thing about my family is…we may be a little strange, but the roots of our raisin' run deep.
I wouldn't have us any other way.
Went to have my teeth cleaned and checked yesterday. Been going to the same dentist for twelve years, so I've gotten to be somewhat friendly with my hygienist.
She is amazing. A force to be reckoned with. Very handy and kind with a dental tool.
Over the years, she and I have been through a lot together. For example, I recently got married, she recently got divorced.
She's has been seeing a new guy for about a year now. The first blush of love has worn off, and they have hit a rough patch.
Yesterday as she scraped at my teeth and gums with a metal pointy object, she caught me up on the latest.
"I'm not even staying over at his place anymore, I've been back at my apartment," she said, angrily.
"I do things for him! I know what he needs and I give it to him. Why can't he do the same for me!" she huffed. : scrape, scrape :
"He just makes me so MAD" she said, while jabbing the beejeezus out of my gums.
When she gave me a moment to rinse the blood out of my mouth, I said, "you know, my husband has told me that often enough men really appreciate it if you'll just *tell* them what you need. Give him a little guidance and I bet he'll be happy to provide what you want. He just wants to make you happy."
"But why doesn't he just *know*?!?" she wailed.
"Because he doesn't. Don't be afraid to ask for what you need," I said, gently.
She thought about what I said, muttering aloud to herself with one foot on my forehead and both hands shoved in my face, jabbing at my teeth unmercifully.
"Maybe you are right, maybe I need to be willing to say what I need more. Maybe I'll go over to his place tonight to watch the hockey game and we can talk."
I grunted.
For some reason, people like to use me for therapy.
.
.
.
.
Oh…
Did I mention?
My hygienist is 60 years old.
Never, NEVER too late!