This is where I ate my lunch yesterday: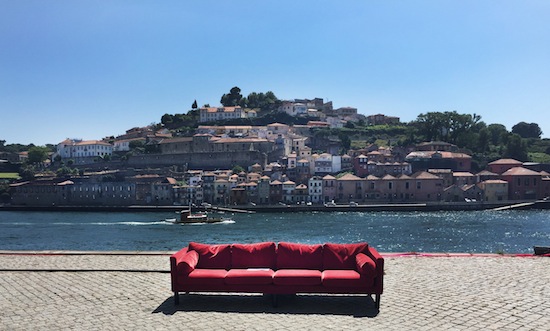 Copyright ©2015 Karen Fayeth

A velvety red couch by the beautiful Douro River in Porto, Portugal.
Wednesday was a beautifully clear warm June day. I sat on the pleasantly comfortable couch with two other people who are counterparts from another company. Two people I genuinely like.
We sat together companionably and talked and laughed and told stories. We couldn't believe our good fortune that the couch seating was open on such a gorgeous day.
Inevitably, time passed and it was time to go back inside the Alfândega Congress Centre, a historic former customs house, and go back to work.
Deep in very businessy conversations inside the cool stone structure, I couldn't stop my mind from wandering back to that place. That seat. That sun. That perfect moment. A delicious lunch with good and decent people on an oddly but fortuitously placed couch by the Douro river. In Portugal.
On the next break I wandered downstairs and back outside. After taking a photo of that now empty red couch by the river, I went down a few granite stairs and sat closer to the water. Small wakes from passing boats gently lapped the bottom step.
Then I started thinking. Lovely thoughts on a lovely day. A workday, no less! What a lovely city in a lovely country. Just that easy. Just that difficult.
And that, my friends, is how a good memory is made.

A couple days ago I mentioned that I had been in Chicago for a writer's conference at the end of March.
I've been to Chicago many times (as in passing through on my way elsewhere) but I've never really been to Chicago. When a couple ladies from my class said they wanted to go into downtown for dinner I was totally on board.
We hopped on the L and headed from Rosemont into downtown and walked around.
The ladies were intent on seeing Cloud Gate, colloquially known as "The Bean" and I was onboard.
It just so happened that the March theme for my photography club was night photography, so I took along a camera just in case I saw something good.
The Bean is like any touristy object, it's been photographed thousands of times. I had no idea what I could do to improve on what's already been done, so I just had fun with this shiny reflective piece of art.
Here's what I got: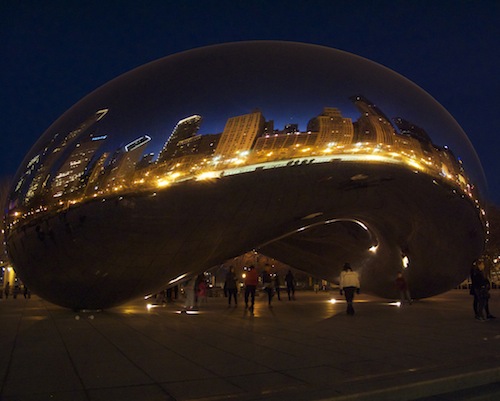 Image Copyright © 2015 Karen Fayeth

I think the Chicago skyline is so beautiful and a bit iconic as well. I love that at certain angles, the polished surface of the Cloud Gate just disappears into the sky like liquid silver. It's really cool!
My favorite part of the whole night was when my fellow travelers and I had found our way to Millennium Park and were a bit lost trying to find The Bean inside the park.
At one point, a bunch of kids came running and flowed around me like a stream while they pointed and shouted "El Frijol! Mira! Mira! El Frijol!" I smiled because I knew I was near. And I laughed because of course it's called El Frijol. My New Mexican pride stool tall as I found that big shiny bean.
I love the shot, but I wasn't sure anyone else would. Turns out this photo took second place in the voting for my photography club's monthly challenge, and that makes me happy (missed first place by one vote!).
After The Bean, we found our way to Giordanos because hello Chicago style pizza! Can you believe I forgot to take a photo of that delicious deep dish? Oh well.
This photo of Cloud Gate brings me good memories of downtown Chicago. I look at this beautiful bean photo and I smile.
Chicago is such a great city. Really top notch. I can't wait to go back.
I've already shared this photo on Facebook but I wanted to share it again here because I sure have been looking at this photograph an awful lot lately.
While spending a few fun days in New Mexico a couple weeks back, I went to Bien Mur to look for a couple of gifts. I haven't been to Bien Mur since I was a teenager and it was so beautiful to be there on a sunny winter day.
The only sad part was that the shop had taken down their high shelves which used to house a collection of some of the most beautiful Kachina figures I have ever known. They are cemented in my memories. On this visit, the shop only had a few small Kachina figures. Perhaps the art of making the Kachina is waning? I sure hope not.
Anyhow, upon leaving Bien Mur, I took a right turn and headed east up Tramway, past the newish buffalo paddocks, and kept driving. The day was clear and bright and beautiful and I found that I had to immediately pull the car over and hop out and take it in.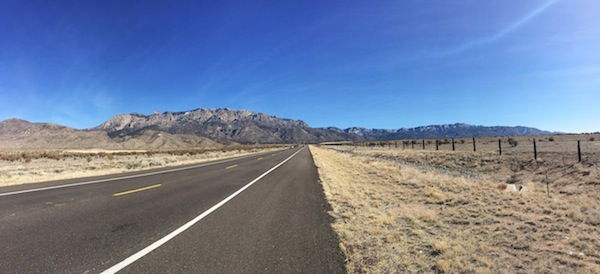 The camera on the iPhone 6 is pretty good and I've discovered that the pano feature on the native camera app works pretty darn well.
After several photographs, I simply stood and stared. And stared. How I love the Sandia mountains. How I miss using them as my directional device (as in…"if the Sandias are on my right, then I must be headed north"). How I miss the beauty, the open valley, the terrain of my homestate.
It was so comforting to be back in the arms of the mountains that protected me in my youth. I've hiked, skied, and just stood atop that high peak. I believe the folds and curves of the Sandia mountains can be found in my very DNA.
Back here at the office, I showed the photo to someone and they asked me how much Photoshopping I had done. I replied "Well, I took out a contrail, that's it."
"But you boosted the color, right? I mean, look at that sky!"
"Nah," I replied, "The sky really is that blue in the high desert."
My coworker walked away thinking I was exaggerating.
That's okay, fellow New Mexicans, we know the truth. It can just be our little secret.
My Fair New Mexico, our visit was all too brief. I count the days until we are together again.
Image Copyright 2014 © Karen Fayeth, and subject to the Creative Commons license found in the far right column of this page. Taken with an iPhone6 and the native Apple Camera app with only the most minor of Photoshop work. Because who can improve on something that pretty?

Back there in June, which seems like a lifetime ago, recall I had the fun chance to visit Amsterdam on a work trip? Yay!
While there, I made use of my company credit card because that's the best way to go when it comes to pesky expense reports.
However, there are a few things that the company says no-no to on expense reports. For example, booze. I mean, how can one have a nice dinner in Amsterdam and not sample the local beer?
One doesn't and this one didn't. I sampled. Oh did I sample. No, I didn't sample Amsterdam's other claims to fame. I was on a work trip ferchrissakes! But light brown beer was a delightful dinner companion.
So what I did was expense the expensable parts and the not expensable parts I would pay personally to the credit card company. No problem, right?
Upon my return to the States, in the midst of chaos and twelve to fourteen hour days and working nights and weekends on this massive project (the whole reason I went to Amsterdam and Ireland) I managed to knock out my expense report.
Then I knew I would get a bill for about $110 US dollars for the "not allowable" stuff. The beer, mostly. Not gonna lie.
About a week and a half ago, I got a snippy notice from the credit card company. "Second notice", they said and "we'll shut off your card in five days unless payment is received."
I also noticed that they had transposed two numbers in my mailing address.
Well, I got a bit high handed about this. First of all, I didn't receive a first notice! Second of all, my address is wrong. Third of all, pfft! Or something like that.
I'm still working a lot of hours and so I dashed off a check but didn't send it. I wanted to talk to my friend who runs the travel program. I needed to know if I could change my mailing address for the card or if she had to. She said I could do it or she could. No matter.
Great! Then life and my insane job intervened and quite a few more than five days passed. Ugh. Over the weekend when I had a few minutes to breathe, I picked up the ol' phone and called the credit card folks. I knew I needed to take care of this problem like a grownup.
Imagine my surprise when I got a recorded message saying that a payment had been received and my balance was zero.
"Uh oh," I told the Good Man. "The company paid my bill. Crap. Now I have to figure out how to pay them back. Or will they take it out of my paycheck? Gah. What a mess."
The next day, I went back to my friend in Travel to figure this out.
"Honey, we don't pay people's credit cards. And if we did, just keep quiet about it." She laughed.
But she looked up my account. "Hmm…" she said, rolling her mouse over the screen. "I can't tell where this payment came from. Did you do another expense report?"
"No."
"Hmm. Are you sure you didn't pay it?"
"Yes."
"Really sure?"
I thought back to the dates from May 1 through August 15, my head down working this project. The lack of sleep. The stress. The long days and working weekends and not having a single day off in all of that time. The disconnected feeling. The lack of awareness about pretty much everything around me.
"Well. I'll check my bank account but I really don't think so."
I walked back to my desk, logged into my bank and searched for the amount. By golly, there was a payment.
That means that 1) I had indeed received a "first notice" from the credit card company and didn't remember it and 2) had set up the credit card company as an auto pay from my account and didn't remember it and 3) actually paid the bill and didn't remember it.
So that means that when I was wandering around in a zombie-like intense work state, forgetting to eat meals and forgetting to sleep and often forgetting to change clothes and frequently forgetting to even brush my teeth in the morning, I managed to be fiscally responsible enough to pay my credit card bill?
Um. What?
I'm certainly glad that zombie Karen cares enough to pay normal Karen's bills. I wonder what else I did when I wasn't even on the planet.
I can hardly wait to find out.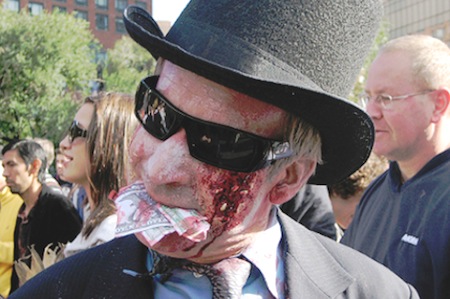 Image found here.

Part V, and the conclusion of a five part series.
It was a short plane ride, take off, cruising altitude for something like a minute, then get ready for final descent into Las Vegas.
Las Vegas. My kind of town. Vegas and I go way back. Now you know my not so secret secret, I wasn't actually born in New Mexico, I was born in Las Vegas, Nevada.
My dad was working out at the Nevada Test Site and one thing led to another and…
Growing up some of my friends liked to tease me that my parents took a gamble and lost. Oh! Hey! Good looking crowd. We're here all night. Tip your waitress.
My folks loved living in Las Vegas, but for various reasons moved back to Albuquerque when I was very small. Really too small to remember much of life in Las Vegas. All I've ever known is New Mexico, so I still rightfully call myself a native.
I scrambled off that Southwest Airlines jet, through the jetway, and hit the carpet in McCarran Airport. I walked without hesitation to a bank of slot machines that were unoccupied and pulled up a seat.
My family likes to gamble. A trip to Vegas was my present for my twenty-first birthday. My folks used to get out there at least once, maybe twice a year and we kids often went along. I didn't grow up in Vegas but I grew up an awful lot on the many casino floors through the course of my life.
The Vegas I know is an old school Vegas, from the 1970's, and it always feels a little right to be there.
With twenty dollars in the slot machine, I managed to make it play for a little over a half hour. I'd get down to the last dollar then the machine would pay off again. I was on a nice hot streak. Not hot enough to cash out, but hot enough to have some fun.
When that was gone, I picked another machine and chased another twenty dollars around for about fifteen minutes.
When that was gone, I got up from the seat with a sigh. I felt hungry and went in search of something not airport-awful to eat. Over a really disappointing slice of Sbarro's pizza, I stopped chewing for a minute and smiled.
A thought occurred to me. In that same day, I had been in New Mexico, I was in Las Vegas, and I'd soon be in California. Those are all of the places I have ever lived. Those are all of the places I know.
Those are all of the places I belong.
Kind of cool, really. Kind of a nice way to end my journey. A full circle kind of a thing.
My trip to New Mexico was, all in, pretty good. I was so glad I made the trip, so glad to see my best friend and my goddaughters, so glad to go home and immerse myself in memories (and make new ones too).
My trip to New Mexico was also a little difficult. You see, my dad died in 2005 and he's buried in the National Cemetery in Santa Fe. There was no way I could live with myself if I was in Santa Fe and didn't go to the cemetery. And yet I really, really didn't want to go to the cemetery. It's not a joyful thing.
The last time I had visited was in 2009 and I was without a job and had lost my mind a little bit. I was scrambling to find a way to get back on my feet. That year I took a trip home to New Mexico to see if going back to my roots could help me find my compass needle.
I had cried a bit when my dad had died, but I was also a little stoic. My mom had asked me to be strong so that she didn't have to be, and I agreed. I was as strong as I knew how to be back then, and a few years later there may have been some pent up stuff that needed to come out.
In 2009 when I found the stone that marks the place where my dad's ashes are stored, it was a surreal experience. Gray skies opened up with rain and I stood there with my hand tracing the letters in stone and I cried, I keened, I howled. I scared the grounds crew. I honestly did, I freaked out this nice man taking care of the row of headstones nearby.
I guess back then I had some things I had to work out. On that recent spring day in March 2014, I was afraid that monster was still inside of me. I was terrified I'd find myself keening again at my father's graveside. When considering going to the cemetery, I balked, I stalled, and finally I borrowed the keys to my friend's new Suburban and set up Apple maps on my phone and took off on the highway, dreading it all the way.
Apple maps led me on quite a merry chase through the streets of downtown Santa Fe. That is a very old city, built by the Spanish Conquistadors so the roads are narrow and the sidewalks are high to accommodate horse drawn carriages.
With a little bit of axel grease and a shoehorn, I was able to navigate a huge Suburban through the streets, getting more lost by the moment.
Eventually, Siri found her head and I found my way, and there I was again, at the Santa Fe National Cemetery, both ready and not quite ready for what lay ahead.
That cemetery is always a difficult place for me. Rows upon rows of headstones mark all of my fellow New Mexicans who served in the military and who passed on, either in service of their country or later, as my dad had done. It is quite a humbling place for me, and that is even before I get to the place where I have to face my personal sorrow.
I had a bit of a false start, stopping at the wrong row of stones and realizing I was off by a bit. It didn't take me a long time to find the right row and my father's stone.
His ashes are in what is called a columbarium and it's covered with a lovely piece of what I think is marble and secured to the wall with these connectors that look, to me anyway, like conchos.
They are so beautiful and so New Mexico appropriate.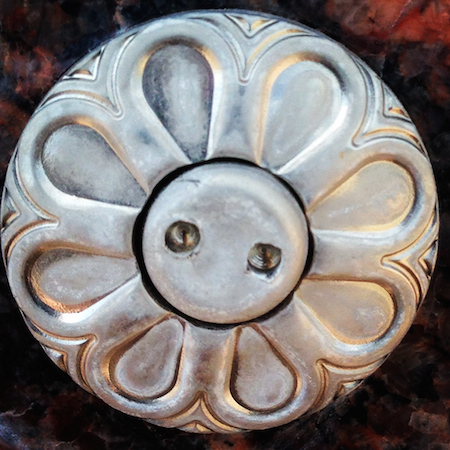 Copyright © 2014 Karen Fayeth

For personal reasons, I will decline to post the entire stone, but I wanted to share a nice photo of that fastener. It stands on its own as a useful reminder.
On this visit I didn't keen and I didn't wail, but I sure did cry an awful lot. I put my hands on the now weathered stone and I traced his name and the word "Korea," the war in which he participated. I felt the cold marble and I noted the sand blasted wear and tear and laughed at the unyielding New Mexico elements that caused the letters to already become faded. It's only been nine years.
"Well, dad, I guess I'm doing a lot better than I was the last time I was here," I said aloud. And I was.
Seeing my father's name carved into stone never fails to break me on some level. After pacing a bit and having a pretty hard cry, I walked up the row and sat on one of the benches. It looks out over the valley and has a gorgeous view.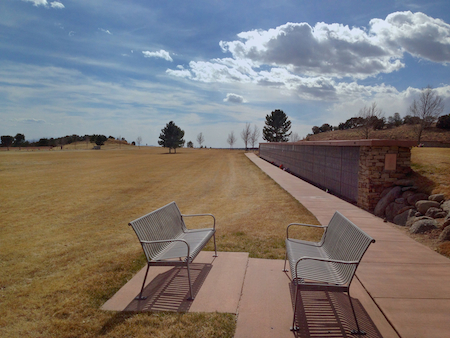 Copyright © 2014 Karen Fayeth


The mountains at my back and the dried grass and valley in front of me. The New Mexico unrelenting wind dried my tears the moment they slipped from my eyes. I laughed as the wind whipped at my hair. "Goddamn springtime wind," I said to no one as I sat there alone.
Tumbleweeds of thoughts bounced in my mind. Through tears of sorrow, I smiled, because of that view, that place, that moment.
I had spent the past three days wondering I was even a New Mexican anymore. Sitting there, letting the climate steal my moisture and feeling grounded, I remembered that I always was and will always be.
I can never not be a New Mexican. Just as I can never not be born in Las Vegas. And I can never not be a damn near twenty-year veteran of California.
I am all of that. I am none of that. I am more than that.
I am greater than the sum of all my parts.
My version of New Mexico may not exist anymore but it's mine. My particular brand of Las Vegas may not exist anymore, but I own it. My California is still telling me its story.
There is a lot left to learn about all of those places and as I gaze forward to the celebration of another revolution around the sun, I humbly admit there is an awful lot yet to learn about me.
What started as a fun trip to see my best friend in the entire world and my gorgeous godkids turned out to be something of a journey. A grounding moment in time that changed me, humbled me, reminded me and helped me grow.
I had no idea that was going to happen. I'm kind of glad I didn't know. To paraphrase one of my oldest goddaughter's favorite songs (that dates back to my college years), I might have missed the pain, but I'd have had to miss that dance.
And there is no way I'd ever miss out on a good dance with some of my most favorite people in the world, back home where I belong.

Both photos Copyright © 2014, Karen Fayeth, and subject to the Creative Commons license in the right column of this page. Taken with an iPhone5 and the Camera+ app. The fastener photo was further edited in Instagram.