This is a bear.
A chocolate bear. A delicious Lindt milk chocolate bear. A tasty holiday morsel, a gift, a happy chocolatey treat with a red bow around his tiny bearlike neck.
This bear is a survivor. It has outlasted all of the cookies, both biscochito and sugar cookies. It outlasted the holiday decorated six pack of Toblerone that was a gift from a coworker. It has outlasted all of the Christmas 2013 bits and bobs of delicious sugary treats. It has even outlasted the giant candy cane, which is always the last to be eaten around here.
Oh yes. This bear is a survivor.
The bear was gifted to The Good Man. It is The Good Man's bear, and so by the laws of respect and decency, I have neither opened nor nibbled on the bear. Sure, by the laws of the State of California that bear is half mine to do with as I please. But I am a nice spouse and I give The Good Man the space to open and nibble on his own present first.
But this bear. It challenges me. It torments me.
There it sits in its thin gold foil, smirking at me while I rummage and forage for holiday sugar snacks that aren't there anymore. Oh sure, I came home from work loaded with sweet meats in the week before the actual day of Christmas. We had a dedicated shelf for all of the sugary holiday yum-yums.
But they are gone. Noshed. Dispatched with.
All except this freaking smiling bear. The bear that isn't mine but make me want to p0wn it like the little chocolately bitch that it is.
I want to bash in its little head and gobble at its ears. I want to reach into its gullet and pull out the still beating chocolate heart and bite into it with fury and insanity and let the juices dribble down my chin.
I want to fry up its little chocolatey liver and sip from its corpuscles.
Oh yes, I want, need, must have it. It vexes me. It taxes me. I shall dominate this milky chocolate bear that hails from Switzerland and mocks me and doesn't understand the needs of a sugar fiend.
Must. Smash. Bear.
And gobble the remains.
Must.
So.
Do you think I probably need to back off the sugar a bit? Probably need to get a few more veg in the maw and less processed sugar snax? Maybe something protein based with a little less fat? Something with actual nutritional value?
Yeah. Me too.
Happy Post-Holiday Food Hangover.

Slightly askew photo of my chocolatey prey is Copyright 2013, Karen Fayeth, and subject to the Creative Commons license in the right column of this page. Taken with an iPhone5 and a dash of maniacal insanity.

The rest of this week is going to be a drag. Any joy I feel at having a short week after a long weekend is dried up by the fact that I am required (not suggested, not a choice, required) to attend three full days of training here at the ol' place of work.
Three. Full. Days.
Somewhere around that time in history when the first smartphone came out, I developed a pretty severe case of adult ADD. I cannot sit still like a good kid for more than an hour at a time. In order to get me to do that, the topic better be damn interesting.
Sneak preview: The topic of this training is not. At all.
The guy giving the training is doing a good job. He is trying his hardest to make this interesting. Cracking a joke here and there. But even he knows this is a drudge and we all just gotta get through it.
And so the first couple hours were fine. It was all new and somewhat interesting. The next couple hours were hell. Part of the "rules of the road" for the class are no open laptops and no looking at phones.
Argh!
So I'm bored. I doodle in the margins of my notepad. I let my mind wander to far off topics (at one point I was wondering if I should cut my nails or keep them a bit longer since they are so strong right now).
And then I run out of things to wander off about and supposedly I'm supposed to be paying attention and learning something and getting something out of this class that my department paid big money to force me to attend.
So then boredom gives way to something else. Something sinister. I become "that guy" in the training class. You know that guy. Or girl. Whatever. You know, the person who participates. Who answers questions. Who offers suggestions. Who always has something to say. That person who everyone is sick and tired of by the end of day one with two more days of class ahead.
I hate that guy! Except when I'm being that guy and then it's a crap load of fun!

It's a…you know…big mouth bass. *snork*

Image found here.

A big, huge, silly, ridiculous kind of fool.
Here's the evidence: Let's go back to Saturday evening in San Francisco. I'd just finished a nice dinner with friends where I had eaten trout almandine with a nice glass of light red to accompany. It wasn't a heavy meal and I was pleasantly full but not stuffed.
After dinner we headed off into the late summer night towards the theatre to see a show, quickly crossing streets and heading toward Union Square.
All of the people in our party are tall and in reasonably good shape. I'm walking along and find myself falling well behind the pack. Not only bringing up the rear, but struggling to keep up.
My heart is beating in my ears and I feel like I can't fight hard enough to catch my breath.
After a bit, The Good Man notices that I'm struggling and he drops back to check on me. I admonish him with, "You have to slow down!"
The Good Man is super tall and quite long legged so this is not the first time I've asked this of him in the course of our lives together.
He slows and I'm feeling frantic, winded, sweaty and anxious. And I am mad. At myself.
Can I really be this out of shape? Am I really this far gone?
I grouse to my husband, "I don't understand! I'm working my ass off lately, I eat almost nothing during the day and we have decent dinners at home. I walk three to four miles several days a week but I can't keep up with you? It's not fair, I can't believe I was stuck with this goddamn body!"
As we near the theatre, it's crowded. People are pushing and shoving. At one point I can't seem to find a bathroom and it's six minutes to show time.
I'm. Freaking. Out.
So I cry. It's humiliating to admit and I'm mortified that I did it in public, but I cried.
The Good Man did what a good man does and he talked me through it. He asked me if I wanted to go home. He petted my head and he was just there for me as I got myself together.
I sucked back up all my whinging, dried my eyes, and we went on with the night. It turned out really well after all my fuss and kerfuffle.
Back at home, a tiny voice called to me from the back part of my brain.
"Hey. Maybe you need to start using your daily inhaler again."
"Nooo," the obstinate part of my brain said. "I don't want to admit I have asthma."
"Just try it. If it doesn't help then stop."
"Oh fine!" I say, petulant and cranky. And so I hit my inhaler and then went to bed.
The next morning, I go again. The prescription says take two puffs twice a day. Sunday night, I take the next two, and again Monday morning.
At noon Monday, I head out for my regular three mile jaunt with my friend. She's in awesome shape and lately I've been lagging behind her and hardly able to make the walk.
Today, I zoomed around the paths, no trouble keeping pace.
Goddamn it. It was just that easy.
My body just needed a little oxygen.
This on the heels of a recent encounter with my acupuncturist. I have been crying and whining about being *so* tired lately. My western doctors found no medical reason and so I'm visiting this guy to see if he can help.
We've tried some various herbs and remedies and finally last week he says, "have you ever had trouble with anemia?"
"Yes," I reply, rolling my eyes because I don't want to admit that I have struggled with anemia damn near all of my life.
"Do you take iron?"
"No."
"Um. I think you are anemic."
"Oh fine!" I say.
So I am mad and I stomp to the store and I buy my regular iron supplement and I start taking it regularly and I'll be damned if the ringing in my ears doesn't stop and I sleep better and my digestion is better and I suddenly have enough energy to get through the day.
All I needed was iron.
Oxygen and iron.
What a genuine idiot I am.
And to think I gripe at The Good Man about overcomplicating things. Who is overcomplicating things now, eh?
Image found here


In November, I got to thinking about the end of the calendar year and how hard my own work team has been pulling to keep our program going, supporting end users, and picking up the slack when others have left the group.
They are a resilient little team (I mean little in numbers) and I'm proud of them.
I asked the Boss of my Boss if we had some sort of recognition program. He said, "oh yes, we do spot bonuses. Talk to so-in-so and they can provide you with some gift cards to hand your employees."
I was pretty stoked. I figured these gift cards might be $100. Or maybe, you know, $50. Not much, but enough to make a difference.
So I contacted so-in-so and wrote up my justification and was handed some gift cards.
They are $25 each.
Ugh.
Ok, I know $25 is still better than a kick in the shins, but I worried that handing out $25 would be less of a thank you and more of a "why bother"? Given how hard this crew has been working and the success they saw last year, would a $25 gift card be an insult?
Unfortunately for me, it turned out to be all I could do for my employees under "official" program at of my very cheap frugal cost-conscious company.
This week, with everyone back in the office after the holiday break, I decided to hand out the gift cards along with a hearty thank you.
I went to each person on my team and I talked to them about how hard they worked and said "I'd like to give you this. I'm sorry it's not very much, but it's the best I can do under the official auspices."
Every member of my team was incredibly grateful and dare I say excited to get an "official" bit of recognition for a job well done.
As one woman leapt from her chair to hug me and thank me over and over, I was stunned.
How could she be so thrilled over a puny $25 gift card?
I puzzled over it and thought about it and pondered.
Today, on my afternoon walk around the lake, I figured it out.
These wonderful, hardworking, amazing people are simply happy to be recognized.
This is the power of saying (and meaning) the words Thank You.
I knew this mattered, I really did. I try very hard as a manager to remember to say thank you and mean it. But even I forget.
My very humble team gave me a good lesson. They took me back to Management 101, and for that I'm filled with gratitude.
(Should I remind my own manager that I also tend to work harder with a few "thank yous" along the way?)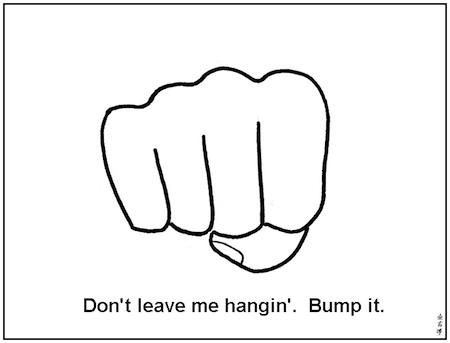 Image via Abstruse Goose.

While we haven't quite yet passed to the end of 2011, I'm already in progress on what will surely be the biggest change to impact my new year.
You see, the Good Man and I are moving house.
It's not a big move, just a few miles away. But we are moving to a much larger place with two, count them TWO full bathrooms.
I experience waves of joy at that thought.
As the landlord is completely renovating the place (we get to move in with all new paint and floors and appliances, yay!) we won't actually move until later in January.
But…
Here's the thing. I have lived in our current spot for almost eight years. The Good Man moved in almost five years back. But for me, eight long years. That's a lot of time to accumulate crap.
A lot of crap.
Over the years, I may have been accused by friends and family of having difficulty with throwing things away.
Ahem.
I'm not a hoarder. Much.
I mean my place isn't floor to ceiling with newspapers I can bear to part with, but the extra large storage space under my current place IS full of all manner of stuff that should have been thrown away or donated long ago.
It's a lot.
The Good Man is fairly organized and keeps his stuff pretty tidy. He goes through everything about once a year and culls out, cleans out and donates.
Me. Not so much.
So laying ahead of me, I have a fabulous future with a shiny new home. It has a fireplace! And a deck. And an actual living room.
Surrounding me, I have boxes and bags and barrels of crap to sort through.
I pledged this week that I'm off work to clean out everything under the current house. So instead of enjoying my bright future, I am lost in my past.
Today I went through a huge box of papers, bills and receipts. This is my personal weak spot. For some reason I think I need to keep every receipt I ever get. The Good Man has me on a rehab plan so I don't keep doing this.
But today I shredded the original registration papers on the Jeep I bought in 1995. The State of New Mexico charged me forty-eight dollars to register the first car I bought with my own money. I miss the days of forty-eight dollar car registration.
I traded in that Jeep on a new one in 2001. So I kept an almost seventeen year old document on a Jeep I sold ten years ago from from a state where I no longer live.
It's like that.
I remember talking to my mom in the year after my dad had passed. She was going through everything they owned with plans to eventually sell their house and move somewhere more manageable.
In the stuff, she found a box of papers that my dad had kept. In this box were bills and receipts that dated back to the first year of their marriage. They were married for forty-five years.
Mom fired up a burn barrel and alternately cried and cursed while disposing of the stack of paper that had (unknown to her) been a part of her life for her entire marriage.
Today, as I shredded, I thought about that. I though about how mad The Good Man would be if I died and left him with all of this crap to sort through.
I have to strive to be better, to get rid of stuff more often, to keep my piles of crap under control.
This move is good. It's a good idea to force myself to clean out my mess. It's a good idea to have a new start.
My future is bright. But I gotta sort through my past first.
Image from The Magic Forest.
This is an early entry for this week's Theme Thursday fun. This week's theme = future.