Recently, as I perused the pages of Facebook, I came across a Newscastic (read clickbaity) article with a New Mexico topic. I took the bait so you don't have to.
The title of the article is:
Pick A Side: 11 Famous ABQ Rivalries Since The Day You Were Born
They said to pick a side, so I did.
Herewith, the 11 so called rivalries (many of which came well after the day I was born, by the way) and my pick for each.


1) Comanche vs Candelaria


We can all agree not Montgomery, right? My preference always was and will always be Comanche, since it was quite close to the house where I grew up.
Sideline here, I looked up the house where I grew up on Google Street View. Wow, hardly recognize it. Brought a little tear to my eye.
Back in my day Comanche had way less traffic than Candelaria and made it worth taking, even with all of the stoplights. Who knows how it goes today? Maybe my ABQ folks can let me know.


2) Twisters vs Golden Pride


Have I been out of the state so long I don't know what Twisters is? Had to look it up. Established in 1998. Psh! No.
Golden Pride (est 1972) all the way.


3) Sadies vs El Pinto


Isn't the right answer first one then the other?
Okay, okay, look, I grew up in the days when Sadies was located in a bowling alley. That's the kind of clientele they drew. El Pinto was always nice, a little more upscale (and pricey).
So to me it's Sadies if you want casual and El Pinto if you want nice. Even with the lovely Sadies stand-alone restaurant, I stand by that rule of thumb.
Verdict: No pick, love 'em both in different ways


4) Rio Grande vs Alameda


Shrug. No opinion. I was a Northeast Heights girl. Didn't get down either very often. Probably Alameda, based on my limited memories.


5) The Shins vs Brokencyde


Who? I thought this was "rivalries since the day you were born."
Let's go with neither. How about Joe King Carrasco, who is not from ABQ but played the hell out of it back in my day. Yeah.


6) UNM vs New Mexico State


I believe my feelings are this matter are abundantly clear.

And when we win this game, we'll buy a keg of booze, and drink it to the Aggies til we wobble in our shoes.

Best. Fight song. Ever.


7) Eldorado vs La Cueva


Richie rich versus the really Richie rich. Who cares? Not me.
Del Norte for the win.


8) Sandia vs Rock Quarry


For skiing? Sandia. Oh Sandia and your bare dirt patches. Your hard icy spots. Your imperfect but nearby skiing, how I miss you.


9) La Cueva Skatepark vs Los Altos Skatepark


Hey! You children get off my lawn!


10) Scorpions vs Dukes


Those Dukes are comin' up swinging. No contest whatsoever. Love the Dukes. Likely because I am a huge fan of the sport of baseball.
While I love the sport of hockey and have nothing against the Scorpions, it just never seemed…right…to have hockey in the middle of the desert. (Yes, yes, I know about the Coyotes)
Side note, the Dukes used to have dollar dog and dollar draft days. Wow there are some games I can't remember but had fun.


11) Sandhill cranes vs Balloons


Stop it Newscastic, you're drunk. This is a ridiculous question. What, because they both fly?
Here's the answer, hot air balloons in the morning, sandhill cranes at sundown. Owl burgers all day long.
Solved.


Okay, ABQ folks, what are your picks?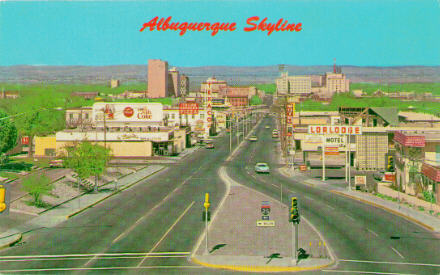 Image found here.

When I have had a big event, a big adventure or just something interesting happen in my life, I almost always have to spend a little time processing it, usually out loud and on these pages.
Having just returned from a weeklong trip to Ireland, I'm pretty sure that readers here will be treated to (tormented by?) several posts about my days in Dublin. I had such a wonderful time and I want to get all the stories out and onto the page.
The question is, where to begin? Some would say start at the beginning. Some would say start somewhere in the middle when things begin to get good. Others still say to start wherever you want.
The thing is, I usually don't get a say in where to begin telling a story. The Muse has a mind of her own and she tends to open one sliding door in my mind to show me what she's interested in, while keeping the other doors firmly closed until she's good and ready.
What I mean today is that there is one story, one experience, that keeps replaying in my mind. It is the sum of my entire view of Ireland and probably belongs at the end of the entire tale.
But why cave to the convention of putting the end of the story at the end? This is what I want to write, so this is what will be written. For today, at least.
Here we go…
The hotel where I stayed was in a rather upscale suburb of Dublin named Donnybrook. Back in the day, Donnybrook used to be the scene of an event called the Donnybrook Fair. And by "back in the day", I mean like the 1200's through the 1800s.
Evidently that event turned from a nice twelve-day fair, fun for the whole family, to a drunken brawling event. In fact the very word donnybrook has come to mean a brawl or fracas.
The Catholic Church took a dim view of this debauchery (as they are wont to do) and ultimately lobbied for the fair to shut down, mainly by building a church right at the event site.
This is a great story, I love it, but it's kind of tangential. Let me get back on track. In this wonderful Donnybrook neighborhood, there are quite a few shops, restaurants and a couple pubs.
One of the pubs, named McCloskey's, was about a half a block away from where I was staying. I could see it from the window in my hotel room.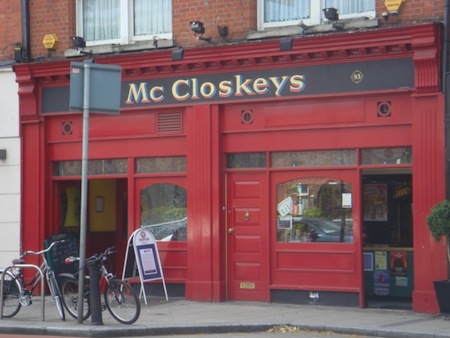 Image found here.


I had walked past the place quite a few times but was never brave enough to go in. Something about genuine pubs kind of intimidates me. It's a mix of the expected amount of hesitation being a woman going into a bar alone, and my propensity to overworry that I'll somehow say or do something that breaks the unwritten protocol of the pub.
I also never am sure how Americans are perceived so it's always a little tentative for me. Which is silly because of the pubs I've encountered in the UK and now Ireland, it's always been a lovely experience.
On Thursday after what had been a busy and intense workweek, I decided to go inside McCloskey's. I was hungry, I love pub food, and I was in desperate need of a pint.
With a deep breath, I opened the door and went in. I walked the length of the place to give it a look-see and decided to stay, taking up a corner seat at the bar.
The bartender was a fireplug of a man, in his early fifties, with a pugilistic look about him and a vibe that was clear he knew how to run a pub. He could and would toss your ass out without hesitation and with force.
He came over and slid a napkin on the bar like skipping a rock and asked, "What'll you have?"
"A pint of Guinness," I replied with confidence. He nodded with a grunt and poured the beer. In hindsight, I should have just said "A Guinness," the pint is understood.
What a lovely pint it was. A perfect pour, the perfect temperature, perfect creamy foam on top. Oh yes. I wanted to take a picture of it so I could always remember that beautiful moment, but thought better of it. It felt like the bartender may take a dim view of selfies and Instagram in his pub.
As he set the pint down I asked, "Can I order some food?"
"Er, yeah, we have a stew, the fish and something else I can't remember" he said.
"I'll have the fish," I said.
"Fish and chips, you know?"
"Yep!"
He grunted again and went off to the kitchen to place the order. I sat there feeling tense and sipping my beer. There were really only about four people in the pub, all quietly drinking and keeping to themselves. 1970's disco played from a small boom box to fill the atmosphere.
Next to me was a stack of local newspapers so I picked one up and read it, giving me something to do as I sat alone and tried to act normal.
After a bit my food came and it was so delicious. Light and crispy cod, perfect chips and slices of tomato. I ate it joyfully and drank my Guinness and suddenly everything was really right with the world.
During this time, the bartender mostly ignored me. He was friendly but distant. Gruff but fair, I suppose, and that was fine.
While I ate, a group of people came in. They were obviously all family, and they took up chairs and seats around several tables. Then more and more kept arriving. There were probably twenty or more people and one older gentleman with graying hair was buying all the drinks.
These folks were all in a good mood and talking excitedly. At one point someone teased the older man about "never being around" and he tipped his pint glass to them and said, "now that's one thing you can never say about my term! My opponent can't say the same."
It was then I sussed out that this might be a local politician. I heard someone call him by his first name and as I was texting the play by play to The Good Man, he did a quick Google search and we discovered I was in the pub with the local councilman. Elections were due to be held the next day. My guess is he was out celebrating the end of his campaign run with friends and family.
As the crowd grew, it became such a convivial atmosphere. I sat next to one of his daughters and we chatted and laughed. Her son, who looked to be about five, ordered a cranberry juice and wanted it served in a Guinness pint glass. Everyone bought and ate small cans of Pringles.
As ever more people kept piling in, I kind of felt like I needed to get out of there. I'm sure I could have stayed and been fine, but I started to feel like an outsider.
So I hopped up from my barstool and went over the cash register where the bartender stood. He turned to me and I said, "I'd like to tab out, please."
"Oh sure," he replied and began ringing me up.
"That will be twelve euros fifty," he said. I handed him a twenty euro bill.
He took it and looked me, touched my hand and said, "You doing okay, darlin'? Was everything all right?" with genuine concern in his eyes.
I replied, "Yes, it was great. I'm…I'm just a little jet lagged and very low energy."
He had a sparkle in his eye when he smiled, then tapped my hand again and said, "That's okay, darlin', you still look gorgeous!" He laughed like a schoolboy while he got my change.
He put the bills and coins in my palm and said, "now you have a good night, eh?"
I left the pub with a smile on my face. Now that, the whole story and everything in it, that's Ireland to me.
It is a wonderful, charming and friendly place. I loved every minute of the time I spent in the city of Dublin and the district of Donnybrook.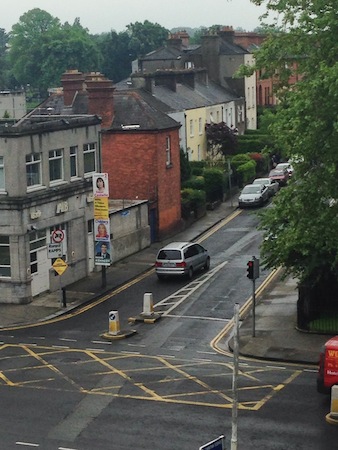 A view from my hotel room. Lovely! Copyright © Karen Fayeth, 2014

Mother, mother ocean, after all the years I've found
My occupational hazard being (that) my occupation's just not around
I feel like I've drowned, gonna head uptown

–"A Pirate Looks at Forty" by Jimmy Buffet
Yeah, I might be taking a few liberties with a very fine Jimmy Buffet song that did not make a lot of sense to me when I was in my twenties and seems rather spot on now.
I find myself sneaking up rather quickly on the milestone age of forty-five. Or rather it's sneaking up on me. What a milestone, I'm not even sure what it means. There are ages old enough to vote, old enough to drink, and then it all kind of gets muddled after that.
At this point in my life, I'm in a place where I don't love my birthdays most years. For reasons that aren't clear to even me, this particular trip around the sun is a little rough on me. Or maybe they are all a little rough on me these days.
And so weirdly (or not so weirdly) enough I have been thinking about that Buffet song dating back to the jolly era of 1975. The song is about a man who laments the fact that he was born too late to be a pirate. Jack Sparrow kind of pirate, not Somalia kind of pirate.
The man in the lyrics looks at his life and wonders what might have been. I have a very rich internal life and while I love my life today, I do often think about the what-ifs.
Yo ho ho, the pirate life isn't quite the one for me, but I do have laments of being born too late. A hazard of the years going by, I suppose.
I'm not so unlike the main character in "Midnight in Paris" who wishes to live in the era where writers were valued and were paid quite well for their work. Where art wasn't as much of a business as it is today.
I recently read a biography of Zelda Fitzgerald and grew ever more green with envy over how Scott Fitzgerald could keep them in a very high life simply by writing and publishing a few short stories.
I'm not implying he didn't work hard at his craft. I've read some of his shorter works and of course "The Great Gatsby" and the man could write. But he also had a venue for those stories, popular magazines that were both willing and able to pay.
Oh to live a life where I could install myself in a Parisian pub with a bottle of Spanish red and write my words. Then know I might get many rejections, but when I get that "yes" that it really meant something on a large scale.
I was singing this sort of tune in my head over the weekend and because Fate is one hell of a comedian, I received an acceptance on an essay I had submitted to a very fine online publication. I am quite proud to contribute to this literary magazine, but the timing couldn't have been more humorous.
One of my coworkers recently had occasion to read one of my published short stories about a scuba diver (if you haven't read it, I'll direct you to the right column of this page). She is also a scuba diver and she liked the story very much.
"You are such a talented writer! Why do you do this job?" she asked, and laughed.
"Because that doesn't pay, and this does," I said and sighed.
Oh, it could. Maybe one day. With a lot of work and a lot of sweat and a lot of blood and a mountain of rejection letters under my feet.
But as I sidle up to age forty-five, it sometimes feels like my best years have passed.
I once knew a bluesman who could play a muddy, gorgeous telecaster like he was drinking water. He made it look easy. So easy people were always sure they could do it like he did, and when they wondered aloud to him why it was so hard, they would say, "You must have just been born talented."
He would reply, "Yeah, and at age twelve I picked up a guitar and played it every day until my fingers bled, and then every day since."
Talent is nothing without hard work. I am more than happy to do the work, and I actually do the work every day. I type my words until my wrist aches and my head hurts. Then I write some more.
There are many days I simply wish I had started writing seriously earlier in my life when energy and time were not an issue. Then again, what did a bubbleheaded girl like me have to write about?
Maybe I had to live a little before I could open a vein and write the words.
Oh well, this is my journey. Not anyone else's. Forty-five it is and forty-five it must be.
The dread leading up to the day started to wane in the final days. Resignation set in and now I suppose I'm okay. I tried on forty-five and it fit like a shiny new pair of fine leather shoes. A little tight and squeaky at first, but breaking in nicely.

If I'm going to overwork a metaphor, I should probably reuse a photo of a very favorite pair of well broken in boots

Image Copyright © 2010, Karen Fayeth, and subject to the Creative Commons license in the right column of this page.

This is what I'm doing today. To clarify, this photo depicts what my world looks like as I find myself squashed up under my desk at work.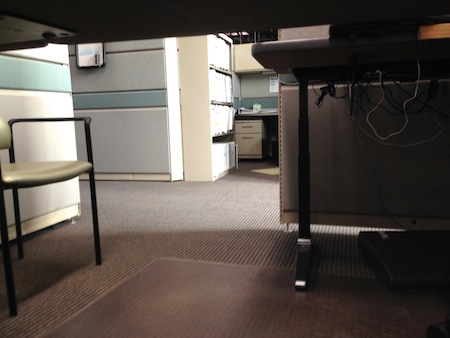 Multiple choice:
Why is Karen under her desk at work?


1) Huddled up waiting for the Congressional sh*tstorm to pass
2) Hiding from her boss
3) Sleeping
4) Drunk again
5) Participating in an earthquake preparedness drill.

If you picked one through four, you are probably correct.
If you picked five you are technically correct, which is the best kind of correct.
Today my employer required our mandatory participation in a worldwide earthquake preparedness event.
Humorously, my employer called it a "drop, cover and hold" event, which of course made me think of those fun Cold War duck and cover school drills.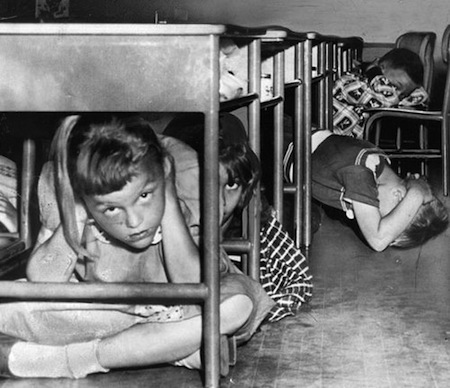 Growing up during the Cold War and living in a town with a Nuclear Research Facility, I used to wonder how that little ol' pressed wood school desk was going to save anyone's butt from nuclear fallout.
But whatever.
The theory behind shimmying under my desk while on the clock is the somewhat disputed "triangle of life" that says if you can get under something solid with a bit of room and the ceiling falls, it creates a triangle of open breathable space.
The funny thing is that my desk is cheap modular cubicle furniture and the building is a quite old converted warehouse. The very high ceiling is made of what appears to be solid oak beams.
I question if pressboard beats solid oak in the race against gravity, but I put that aside and complied with the mandatory event by smushing under my desk.
We held for 20 seconds to simulate a earthquake of that duration. Out of curiosity I looked up the Loma Prieta earthquake from 1989 and it was estimated to last between 10 to 15 seconds. Such a short amount of time for such a terrible thing.
By the way, today is the 24th anniversary of that little ol' 6.9 shaker.
I felt a little silly under my desk and while we all under our respective desks we found the acoustics are awesome. We might have to hold staff meetings that way from now on. Then we evacuated the building and had about twenty minutes outside on a warm Autumn day.
So while we all giggled and cracked jokes about the end to end exercise, I also felt grateful.
It's always nice to have a plan.
May I never have to use it.
First image, from under my desk, is Copyright 2013, Karen Fayeth, and taken with an iPhone5, the Camera+ app, and humor.
The second image, a black and white photo of children under their schooldesks was found here.

Here I have been railing about pumpkin flavored dog days of summer and it turns out My Fair New Mexico had a gut punch to deliver.
Oh Fair, how I adore you, but is it *really* time to burn Zozobra again? I guess it is.
I always really enjoy watching Old Man Gloom burn away my troubles, but to be honest it's 70 degrees and today I sat out on the patio at lunchtime and drank lemonade while a strappy sandal dangled from a toe.
How can I have gloom in this gorgeous summer weather?
Argh! Not ready, not ready, not ready, : covers ears : lalalalalalalalala I can't heeeear you!
To assuage my sadness, I sought out my coworker, a fellow New Mexican (not a native but lived in Santa Fe for many years) and said "dude, did you know they burn Zozobra tonight?"
He had wide eyes like me, then said "That must mean mariachis are currently wandering through the streets of Santa Fe."
Then we both got wistful.
After a few moments I said, "Man, I sure remember those days of being wobbling drunk on the plaza and shouting 'burn, burn, burn!"
The effect of chanting while Old Man Gloom burned and groaned and flapped his arms was always very visceral.
I could tell my coworker was remembering too. He nodded solemnly in agreement. Then we sighed in unison.
Yeah. Days like these make me miss my home state. A lot.
Oh Fair New Mexico, I love, I love you so.
____________


Side note: Lest anyone learn about Zozobra and think it's a knock off of Burning Man, I should note that the purely New Mexico tradition of burning Zozobra started in 1926. Burning Man started in 1986. And the Celtic tradition of burning the wicker man is even older than that.
Fun fact: Zozobra's hair color changes every year. It was yellow last year and photos on Mr Z's Facebook page would make it seem this year his hair is gray. (Edit: I was fooled, it is green this year) Details for tonight's event are here.

Image from the ABQJournal and first published in 2010.