It was just a week ago yesterday that I found myself in the world class city of Prague with a personal day on my hands.
The work part of the trip had been both busy and exhausting. My coworkers all left for home that morning but I had a tourist Friday ahead of me. The challenge: To see as many of the must-see Prague sights as possible in one day.
Now just eight days later, it seems almost like a dream.
A week ago it was very real. So real I had a fair bit of anxiety and no idea what lay ahead. The Good Man managed to talk me down from nine timezones away and with a deep breath, I screwed up my courage and headed out of the hotel room.
As luck would have it, there happened to be a Metro station right under the hotel.
So this is where my journey began: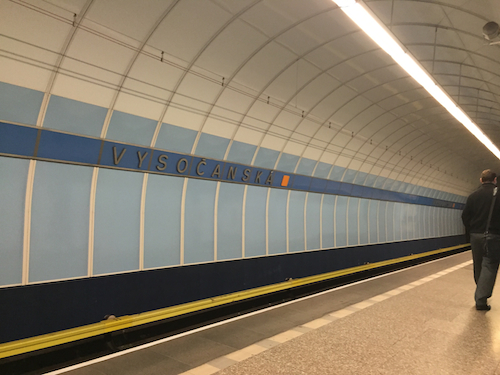 A simple suburban Metro station that would take me *everywhere*

The hotel where I stayed is in the suburbs of Prague, but the Metro is so damn good it was a less than fifteen minute ride and I emerged at the bottom of Wenceslaus Square.
I had done some reading before arriving in Prague and I knew a bit about Wenceslaus Square.
Well, I knew three things:
Thing 1) The square is dominated by a statue of King Wenceslaus. As in "Good King Weceslaus blah blah, on the feast Stephen, nuh nuh nuh nuh nuh nuh nuh, deep and crisp and even…"
What the hell is that song even about, anyway? Wait, let's hold that question for another time.
On that day, I knew that Saint Wenceslaus is considered the patron saint of the Czech Republic.
So I walked uphill and gawked at the shops and restaurants and soon found myself in the shadow of the Good King and his steed.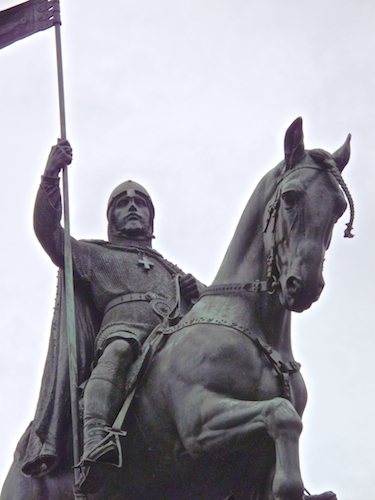 That there is a gooood king

Thing 2) Wenceslaus Square is incredibly historic, considered the very heart of the city of Prague, and it is a World Heritage Site because it was on that very square in 1989 that the Velvet Revolution happened.
What is the Velvet Revolution, you say? I'm so glad you asked.
The Velvet Revolution is when the then Czechoslovakia decided it had had just about enough (MORE than enough) and threw off Communist rule. They then became their own self-managed country with a parliament.
This is a very, very big deal. It utterly changed the course of the Czech people. For the better.
I have a coworker who grew up in Prague. She left as a teenager in 1984. She said, "We had to leave. We had so much despair. We believed it would never change."
It would eventually change, but it would take a few more years.
So I stood on this square, a lost little girl from New Mexico, and thought about how much happened right where my feet stood. How these people took back their own destiny.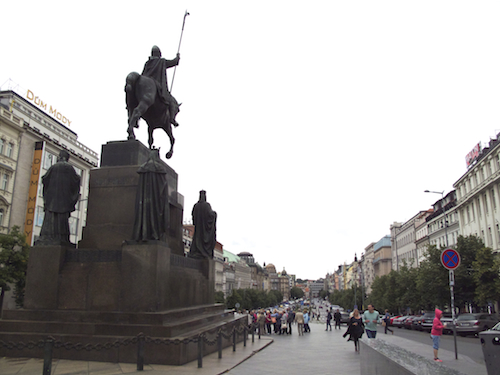 See where all those tourists are? History happened there.

Thing 3) At the top of Wenceslaus Square, behind the statue and in front of the museum something particularly sad and historic happened.
In 1968, a student named Jan Palach protested the invasion and eventual fall of Czechoslovakia by the Soviet Union during what was called the Prague Spring. He did so by committing suicide by self-immolation.
"…Palach did not set himself on fire to protest against the Soviet occupation, but did so to protest against the 'demoralization' of Czechoslovak citizens caused by the occupation." – from a doctor who treated Palach (wiki)
I think that sense of demoralization and despair runs strong through the history of the Czech people. In my experience, they are a very laid back and easy going people, but there is that sadness underneath. Well, maybe not sadness, just…world weary.
I wanted to find the small marker of Palach's history that is embedded in the brickwork in front of the museum. I have to say I was greatly moved. There were flowers at the site, meaning people still remember and still care about what he did.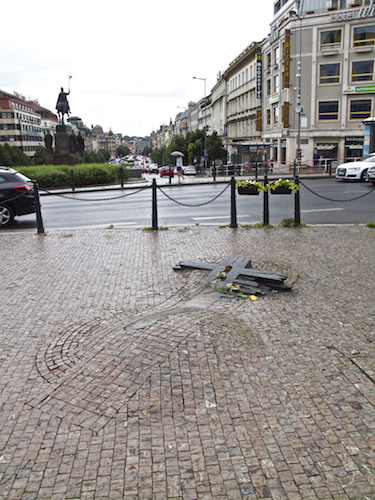 This is a simple but powerful marker

Well, that was a bit of a dark start to my day of exploration, but it also really touched me.
From there, I hopped back on the Metro and made my way to Old Town Square. The mood and attitude in the Old Town area could not have been more different.
The Old Town Square is beautiful, but incredibly overrun by tourists. Okay, sure, I was also a tourist, but you get what I mean.
Along with tourists there were an awful lot of flim-flam men (and women), grifters and pickpockets. At one point I stopped to look at maps on my phone to see if I was heading the right direction, and saw no less than three people make a move toward me.
San Francisco is a tourist town and I'm fairly used to this sort of untoward behavior, so each person got my patented City Stink Eye. The one that lets people know I am not to be trifled with.
They soon backed up, but that kind of predatory behavior was pretty rampant in the Old Town area. I was waving off sellers, beggars and all around questionable sorts left and right. I also kept a firm grip on my bag as I heard from several places that the pickpocketing is quite bad.
The main reason to be in Old Town, apart from admiring the amazing architecture, was to see the Astronomical Clock located at the Old Town Hall building.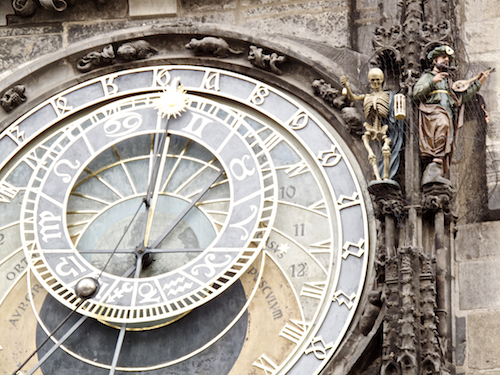 Of course my favorite part was the skeleton

This clock was installed in 1410. Um, what? 14 freaking 10? Wow.
As luck would have it, I was there at about twenty minutes to the top of the hour, so I waited with all of the many tourists, in the rain I might add, to watch the clock's mechanics at the top of the hour. A skeleton rings a bell, the animated figures come to life, and above the clock statues of the twelve apostles zip by and look out the windows.
It was very quaint and lovely, and I'm glad I saw it. Not much more to say than that. More than a Clark Griswald shrug, less than rapturous delight.
After taking some photos of the beautiful buildings on the square, I then made my way onward to the Charles Bridge.
The most famous of the bridges across the Vltava River, the Charles Bridge began construction in 1357.
You know how sometimes Europeans give Americans a wry smile when we talk about our deep history? Yeah, this is why. In 1357 they were building bridges that would safely transport my tired little toes across the same river some 659 years later. America wasn't even a twinkle in the eye of Columbus in 1357.
The stroll across the bridge was certainly lively. Lots of people, lots of selfie sticks (ugh), quite a few pickpockets and an awful lot of Catholic statues. Like, a LOT of Catholic statues.
Felt like I needed to go to confession when I got to the other side, ba-dum, tish!
It was hard to pick just one photo from my walk across the river, but let's go with this one: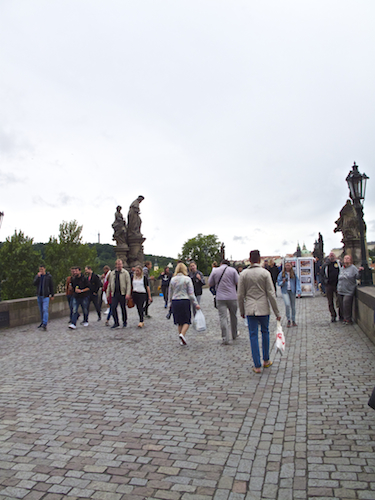 The walk across the bridge was quite pleasing especially since the rain had moved on and a bright blue Czech sky emerged. Quite lovely.
The part of Prague on the other side of the bridge is known as Lesser Quarter, which I find quite a rude name. There was nothing lesser about this side of the bridge in my opinion. It is much quieter, calmer and less busy. It suited me just fine.
At this point, my legs, feet and bladder asked nicely if we could stop, so I landed at a coffee shop.
Over a lovely icy coffee, I tweeted exactly how I felt in that moment on that day.

As my legs relaxed, I listened to a group of four Czech students argue and debate and I watched life happen outside the glass door. I felt enormously contented. It's those moments I will remember long after I've come back to my regular life. It's those moments I wait for on each international trip I take. It's what makes all of those long and ugly plane miles worth it.
Yeah. Seriously, may I never forget how good I felt in that moment.
Now fortified, I moved on to my last stop of the day, St Nicholas Church.
The guidebook I pondered over coffee told me that it was a beautiful example of a baroque church. I do like to see some of the old and over the top churches in Europe, so I was game.
The guidebook also mentioned the bell tower at the church. How it had been used by the communists to keep an eye on the American Embassy nearby, and that it offered some of the best views in all of Prague.
Impulse overtook me and I smacked down 90 koruna for a ticket and began climbing the stairs.
What in the utter hell was I thinking? One, my legs were already tired, two I'm in okay shape but stair climbing is tough, and three my asthma was like "hey, what's up?"
But I kept climbing the spiral stairs and narrow ladders until it got more and more exhausting and claustrophobia inducing (and I don't often struggle with claustrophobia).
At more than one point I had to remind myself that I managed to get myself into this situation and had to figure out how to get myself out.
My bullish determination kicked in and I made a promise I would make it all the way to the top.
Along the way I found the watchmen's quarters, a sparse room with a small bed, rough wood table and open brickwork fireplace.
When there were windows, I looked out then kept climbing. Finally, I could smell the fresh air of outside and found myself at a narrow deck that encircled the tower. There was a guide there and she told me to go outside (I didn't understand what the signs meant and had hesitated).
Wow. Truly. Wow. I was stunned at seeing all of Prague laid out before me.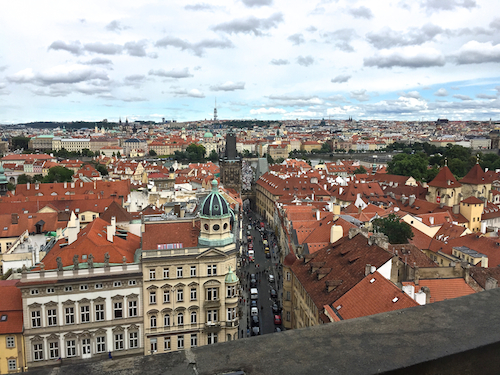 The sky stippled with clouds and the sun began its slow descent toward the end of the day and there I stood taking it all in.
And hey, I wasn't even at the top of the tower yet. After taking quite a few photos with both of my cameras, I kept climbing. The very, very top of the tower, at the end of 215 steps, was less interesting. It was low ceilinged, cramped, stuffy and the windows were small.
So I went back down to the narrow deck and took another spin.
With that, I declared myself done for the day. Ready to head back to the hotel.
I came down all 215 steps a lot faster than I went up and made myself dizzy. Wobbly on my pins, I chose instead to stop for some dinner and I'm glad I did. I found a funny little restaurant where they treated me nice and I ate something they called Slovak gnocchi, which a short Google search later assured me is actually a thing.
A very delicious thing.
I wanted to have a nice Czech beer alongside, but worried a beer would drop me right to the ground so I opted for something milder.
After eating my fill, I set out back across the Charles Bridge. The mood on the bridge had changed. I crossed east to west at about 2:45pm and came back west to east at close to 6:00pm. There were more people out and the Friday revelry had begun. It was funny how quickly the mood had shifted.
On the way back, I made sure I touched the two lucky spots on the bridge, once with my left hand for my husband, the southpaw, once with my right hand for me.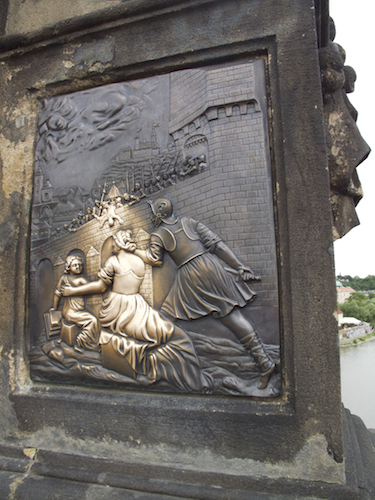 One of the two lucky spots, though a bit grim. So this priest was thrown in the water…

A nice twilight stroll and I soon found myself back at a Metro station waiting to head back to the hotel and the end of my stay in Prague.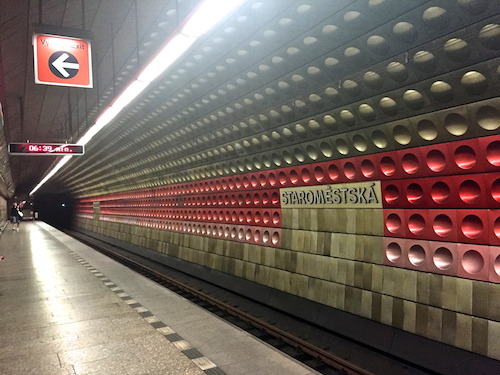 There are quite a few more things I wish I could have found time to see while in Prague. The Apple Museum, the castle, and the art gallery, to name but a few, but I was grateful to have one full free day to see the best of what Prague had to offer.
Prague is a gorgeous, easy and fun city. I loved every minute of my time there and wonder if someday I will ever find my way back.
I suppose I can dream.
Meanwhile, at a week later I think my legs have finally recovered. Seriously, 215 stairs? C'mon!
And to the good people of Prague, I say děkuji for treating me so very well.

All photos ©Copyright 2016, Karen Fayeth, and subject to the Creative Commons license in the right column of this page. Taken with either a Canon G10 or an iPhone6.

With Thai Basil Tofu, potstickers and spicy eggplant simmering in my tum, I excitedly reached for my fortune cookie, ready to crack it open and read my fate.
I have a mild obsession with fortune cookies and the wise and occasionally silly words inside. I have several of the small slips of paper tucked into my wallet. A few are taped to my work monitor. Some just drift around in my writing workspace like tumbleweeds of clever words intended to poke and prod at my mind.
So it was on this day, celebrating the birth of the kind and patient woman who gave birth to The Good Man, that I cracked open a fortune cookie and found…
Well, this: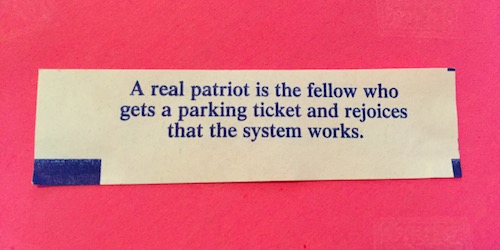 "A real patriot is the fellow who gets a parking ticket and rejoices that the system works."

Okay, okay, now wait just a second here. This is not fortune. This is propaganda.
Believe you me I've never, not once, rejoiced in a parking ticket. And living where I do, parking tickets are something that find their way into my life more often than I appreciate.
One short Google search later I discovered this happens to be a quote attributed to a man named Bill Vaughan.
Fine, okay. Who in the hell is this Bill Vaughan?
According to Wikipedia, he's an American columnist who wrote a syndicated column for the Kansas City Star from 1946 to 1977.
******
We break here for the requisite Roger Miller sing along.
I drive a big old Cadillac with wire wheels, got rhinestones on the spokes
I got credit down at the grocery store
And my barber tells me jokes
I'm the number one attraction every supermarket parkin' lot
I'm the king of Kansas City, no thanks, Omaha, thanks a lot

Kansas City star, that's what I are
Yodel-deedle ay-hee, you oughta see my car

Aaaaand we're back.
******
So I read the rest of the Wikipedia page trying to understand if this Vaughan guy is a communist or what. Because that quote, ooh damn. That runs a bit into a political spectrum that I'm not sure I run toward.
Turns out Mr. Bill Vaughan was sort of a quippy guy. Here's some others attributed to him:

"A citizen of America will cross the ocean to fight for democracy, but won't cross the street to vote in a national election."
"Suburbia is where the developer bulldozes out the trees, then names the streets after them."
"The groundhog is like most prophets; it delivers its prediction then disappears."
"If there is anything the nonconformist hates worse than a conformist, it's another nonconformist who doesn't conform to the prevailing standard of nonconformity."
Ok, I might be warming up to this guy. Still not sure what he's doing in my fortune cookie, though.
Maybe the business of fortune cookies has gone from slight puns and fake Confucius quotes to smart, scholarly, and thoughtful fortunes.
To that I say: Harumph
I may be a bit a traditionalist when it comes to the fortune cookie. I guess I'll just have to keep going to the kind of restaurants where they can be found in order to do additional (delicious) research.
While we're on the topic, here's one of my all time favorite fortune cookies. I got it almost a decade ago but it still rings true:


Birds are entangled by their feet and men by their tongues


Now that one is a thinker! And a little more fortune cookie-eque. With all due respect to Mr. Bill Vaughan.

Both cookie fortune photos ©2016 Karen Fayeth. Taken with an iPhone6, questionable light, questionable photographer and a song in my heart. Subject to the Creative Commons license in the right column of this page.

Since I am a native New Mexican, it seemed mandatory that I watch the television series "Breaking Bad," which is set mostly in Albuquerque.
I missed it during its first run on AMC but found all five seasons are available on Netflix.
The Good Man watched some of the pilot episode with me and found it just didn't work for him. Okay, fair enough. This meant I was on my own to get through it.
If you are part of a couple that shares a Netflix account, you know how hard it is when one of you wants to watch something and the other doesn't. You have to carve out time to watch when the other isn't in the mood to be watching TV.
I had to look for times when either The Good Man was off doing something else or I had to set up my iPad and watch it while sitting in the same room with The Good Man. Which, let's face it, seems kind of silly.
Breaking Bad is not the kind of show one can really binge watch. I found that after getting through a single episode I had to step away from the television and go out into the world and remind myself that nice things still exist.
So it ended up taking me a really long time to watch all 62 episodes, but finally a few weeks ago I did it. I summited the mountain. I reached the peak. I got through the final episode of Breaking Bad.
I have to admit, the last five or so episodes are pretty hard to watch. The whole story and its characters are unraveling and there is a lot of violence and ugly things happening. I found it hard to finish, but I prevailed.
And now that I am on the other side, I broke through, so to speak, what is my final analysis?
As a writer, this is genuinely some of the best writing I have ever experienced. The character development, the original ideas, the pacing, the language. All of it. Genuinely amazing and enviable. Easy to understand why the show won so many awards. And easy to see why it's been hard for Brian Cranston to find other projects to work on. He's said he wants projects where the writing is as good as Breaking Bad, which has to be a real challenge.
As a New Mexican, it was at times really hard to watch. I'm not blind, I know there is a lot of bad happening in my homestate. That said, a lot of dramatic license was taken for the sake of a good story. It's possible to live a nice life in Albuquerque without encountering meth. It really is.
I cringe when I see posts on social media where people say they moved to Albuquerque just because of the show. To each their own, I guess.
I did often have a chuckle when I saw familiar places in the show. The carwash that Walt and Skylar own? I lived about two blocks away from it. The dark restaurant with candles on the tables where Walt and Jesse would often meet? It's over on Gibson (closed now) and my boss and I used to go have lunch there when I worked for Sandia Labs. Saul's office? Used to frequent the liquor store in the same strip mall.
The list goes on.
However, seeing all of those locations in the show didn't really make me homesick. They seemed so out of place in the context of what was happening.
Anyhow, I guess in summary, I can say I have mixed feelings. The writing and acting are profoundly good. And I am glad I watched the show so that I at least understand all of the cultural references. I do kind of wish New Mexico could have gotten a better shake. It's a beautiful state with a lot to offer including a unique culture and way of life.
Nevermind. I take it back. It's awful. If you aren't already a resident, you don't want to live there. Seriously. (Much love to the 505!)
I am glad that New Mexico got its moment in the spotlight, and I think the story, writing and acting changed the game for television. Hard to believe something so culturally groundbreaking came from a deceptively simple story about a cancer stricken chemistry teacher and his ne'er do well former student cooking meth. It's a fine though challenging show.
And now the big question……
Do I start watching "Better Call Saul?"
Hmm.

______________

In other news, apparently the actor who played the DEA Agent known as Gomie is running for Bernalillo County Commissioner. Weird. He's a legit New Mexican though, so okay.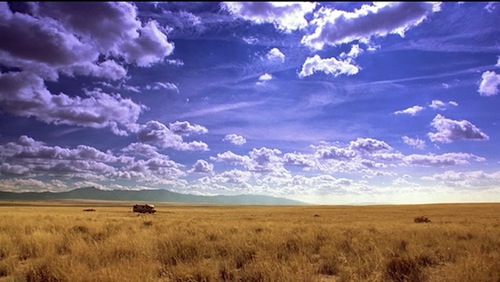 Image found here.

This one goes out to all of us who found ourselves attending New Mexico State University back in 1989. Maybe it was 1990. Memory is funny.
This one is for the Ag College kids. I'm about to drop a memory on you. Come along with me.
I can't really recall what time of year it was, but it was sunny. That much I recall. Then again, it's sunny in Las Cruces an awful lot.
The band Foster & Lloyd were on the radio. Remember them? Back then we were all listening to Foster & Lloyd. A lot. And Dwight Yoakam. And the Mavericks. And more.
So along came the news that Foster & Lloyd were opening for a Los Lobos show at the Pan Am Center. Yeah, I wanted to go to that show real bad. Alas I was a broke college kid and couldn't afford tickets. I heard the ads on KGRT over and over and pined, but knew it wasn't meant to be.
So instead I popped my Faster and Llouder cassette tape into the boom box I carried in the car. Or maybe it was Verision of the Truth. Or maybe first one then the other. And I held my own car concerts as I rolled around Cruces.
Then something unbelievable happened. My best friend called, out of breath and excited, to tell me that Los Lobos had to cancel the show and Foster & Lloyd were going to do a free concert just outside of Corbett Center (the student union building at NMSU) in this little amphitheater area.
We gathered up all of our friends, an armful of blankets and made sure we went to that show. My best friend walked with confidence right to the front of the small stage area and staked out our place. Up close and personal. We sat, we listened, we sang, we were a bunch of kids feeling an awful lot like family on that day.
For a bunch of Ag College kids from NMSU (hands up now, "I believe in the Future of Farming…") having a national act come out and do a show FOR FREE was, well, that was about the coolest thing in the world.
That was a best-day-ever kind of a day. Back then anyway. Sitting here today I do have to admit that my wedding day is my best day ever, hands down. But back then to this New Mexico kid wearing dusty beat up goatskin ropers, that sunny Las Cruces day was really the best day ever.
My best friend and I slip into the Wayback Machine an awful lot when we get together, and that free concert is one we land on quite a bit. What I wouldn't give to have a real Wayback Machine and dial it to back to that day. I might never come back.
Toward the end of the show, Foster & Lloyd were really swinging. We were all riding a sonic high and at one point, Mr. Radney Foster wandered out into the audience and put a hand out to my best friend's little sister. He plucked her from our blanket and spun her around a little bit with the music.
My best friend and I were both elated and jealous as hell. In fact in the now twenty-five years hence, I know for sure that my best friend has never really gotten over it. Neither have I, if I am honest.
My best friend's little sister was and is a beauty. Gorgeous and sweet and funny as hell. She is pure awesome and I love her madly, so of course I can't be upset with her. Just jealous, I guess.
When we were in college, Little Sister was in high school and she'd find her way to Las Cruces and we'd take her out with us. When a cowboy would start to get a little too interested in her, my best friend would wander by and whisper "Um, just thought you should know…she's sixteen." That usually put an end to things.
So we were used to her getting a lot of the attention. On that day after Mr. Radney Foster twirled her under the bright New Mexico sky we laughed and hugged her and loved every second of that show.
It is a beautiful memory. Were you there too?
A few months ago I happened to stumble across Radney Foster's Facebook page and hit "like" so I could see what he was up to. I'd lost track of him after his Del Rio, TX 1959 album.
Then came the fateful day where he posted that he'd be playing a little venue called Freight & Salvage in mid-July. That's not too far from where this New Mexico kid is living these days.
Well, I hopped on those tickets so fast my credit card started smokin'.
And that live show happened just a week ago, July 15.
The Good Man had never heard of no Radney Foster until I showed him a bunch of YouTube clips in the days before the show. Then he was totally onboard. We stood at the front of the line when the doors opened and found second row seats in the general admission venue.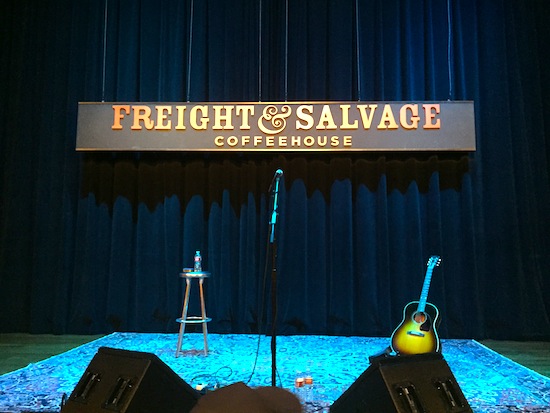 Photo Copyright ©2015 Karen Fayeth

It was just Mr. Foster and his acoustic guitar and he put on one hell of a show. Storytelling, songs, laughter. Man alive, it was really profound. It was like seeing a really dear old friend and picking up right where we left off twenty years ago.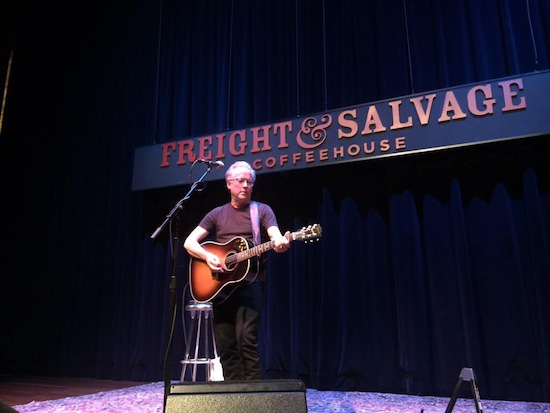 Photo found on @valisaschmidley Twitter stream because I was too gobsmacked to actually take a photo myself during the show.

I almost started crying when he hit the first notes of the first song. It felt so right.
And then…oh and then…
After the show, Mr. Foster came out to the front lobby to sign a few autographs and I jumped in line.
I practiced what I was going to say and when I got there, I let roll the story of that day, 1989 (or was it 1990?) in the grass outside Corbett Center in Las Cruces, New Mexico.
Given the sheer number of shows he has performed in the last 25 years, I was surprised that he actually remembered that one day. But he did.
"Oh yeah, we were rocking that day," he said.
"Yeah you were!" I replied.
Then I thanked him, I told him how much that free show meant to all us New Mexico college kids.
Then I reminded him about coming out into the crowd and dancing with my best friend's little sister. About how my best friend has never quite gotten over it.
Then I held out a copy of his new CD and said "Her name is Kate and you are going to sign this for her."
(The album is titled "Everything I Should Have Said" and it's awesome and you should pick one up. Here is the Amazon link and here is the RadneyFoster.com link ($3 cheaper!) Go on, click one of those links. You know you wanna)
And he did sign that CD. Oh boy did he ever.
Here's what it looks like. In case you can't read it, it says "Kate, You get the next dance."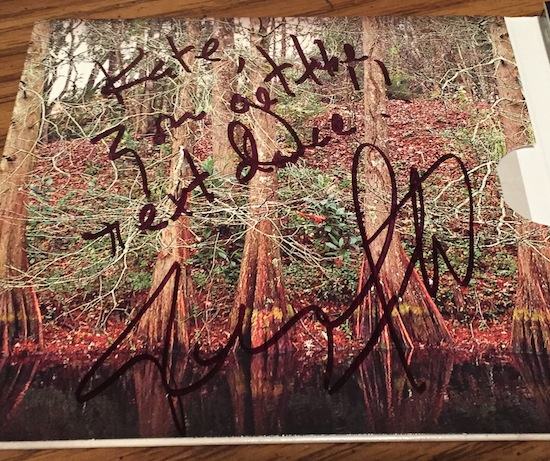 Photo Copyright ©2015 Karen Fayeth

C'mon! How awesome is Radney Foster? The correct answer is amazingly awesome!
I told him that he had just created some healing twenty-five years in the making and he laughed. Then I had that "hey, let's go grab a beer" moment and of course thought better of it. He's just the kind of musician you feel like you know well because he writes the kind of songs that feel personal.
Then I asked him to sign a CD for The Good Man and me, and he did.
I walked out of that venue smiling from ear to ear and remembering and laughing and just at peace with the world.
And so this entire post today and all of these stories are intended to bring all of my NMSU Ag College friends along with me into that Wayback Machine.
Were you there? Do you remember? Wanna reminisce?
This post is also to thank Mr. Radney Foster for helping create another amazing memory.
Whew. Today as I wrote this I listened to The Essential Foster & Lloyd album and it was almost hard to hear. So many memories both beautiful and sad captured in all of those songs.
Well, thanks for staying a while and reading all of these words. I'm serious about you grabbing one of those new albums. Get to clicking! And if you can catch Radney Foster live? Well even better.
____________

P.S. If you have ever wondered how a New Mexico girl could ever live in California, I suggest you obtain a copy of Mr. Foster's new album and listen to the song "California." (I believe it is also on YouTube) Then you will understand. According to the story, that song was inspired by a beautiful Bay Area sunset as viewed from the Oakland Hills. Saaaalute!

Recently I've been a little delinquent in spoiling The Good Man. Things have been crazy what with all of the international travel and working long hours and, well, life.
His birthday was last month and although we had a nice quiet celebration, I feel like I failed a bit to make the day something special.
The Good Man is a child of summer and it's easy to understand why his favorite fruit is the peach. Yesterday I found a nice ripe pile of the fuzzy stuff at the grocery store and brought several home.
"Cobbler or pie?" I asked after showing him the peaches. He began muttering the question over and over to himself like a philosopher mulling over the meaning of life.
"Or a crumble?" I followed, then, "Is that too many choices?"
For several hours after he wandered around the house "cobbler or pie…or crumble? Hmm…" This is a very big decision in Good Man Land.
Finally toward the late evening hours, I surveyed the ingredients I had on hand and began consulting cookbooks in preparation for his decision.
It was then I pulled out The Book of Love (dun, dun DUUUUUN!) to begin the search for recipes.
This Very Good Book: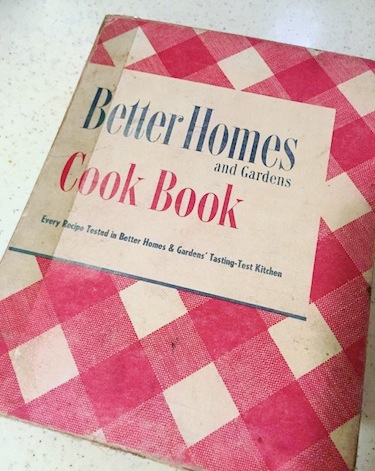 I think every person who likes to cook has a favorite or special cookbook that is the go-to for any circumstance, and this one is mine.

Taking a seat in a nearby chair, I opened the holy tome. I read the inscription inside the front cover. You see, this particular cookbook was a gift from my grandparents to my mother on the occasion of Christmas 1950.
My mom left it behind when she moved out and my grandmother kept updating the recipes inside. The Better Homes & Gardens magazines published recipes that the homemaker could cut out and add to the book, to keep it fresh. I love seeing my grandma's handwriting along with the food spots and spatters in its pages.
Some of the recipes are a little odd or outdated, but I'll tell you this, I've never made a recipe from this book that failed me.
As The Good Man walked by, he said in a voice a little quavery with anticipation, "I love it when you pull out that cookbook."
Oh yeah, he knows. Good things come from that 1950's made with yum cookbook.
Finally, after waiting for his answer and looking at recipes and thinking about my laziness factor, I decided for him. "Good news, you are getting cobbler."
He nodded, relieved the decision had been made and ready for the delivery on my promise.
That happens tonight. Oh yes and oh yum.
Best part about making baked goods for the one I love? I get to have some too!