So yeah, I'll just cut to the chase, I've been having a hard time lately. Moving, work, life, storms, general state of politics, hades-like heat in the Bay Area, all of it. Stress. Anxiety. Insomnia. It all just got on top of me, and stood on my neck.
Some days I'm stronger than others, but last week the final drop of strong independent woman inside of me got used up, and I broke. I had been in a prolonged email squabble with a really challenging coworker and I hit a wall. I totally collapsed into tears.
Sobbing, heaving, inconsolable tears. Not in front of the coworker, at least. But still. It was what I believe the kids these days call an ugly cry. Full on.
For a while I was so down, ragged and lost that I thought I might be losing that small tenuous grasp I have on sanity. I was actually pretty scared.
But through some tough love from The Good Man, some actual sleep (I swear lack of sleep would make the most calm person into a raving psychotic), and doing a much better job taking care of myself, I found my way back. Mostly.
I mean, it's still there at the edges, the crazy I mean. This is the absolutely busiest time of year at my job and things always go a little pear shaped in September anyway. Tempers are quick for everyone and feelings are a little raw.
This too shall pass, it always does. I mean, October 1 is only three weeks away. I can survive three weeks, right?
Today, this lovely Saturday afternoon, when I should have been doing work but just couldn't bring myself to sit in front of a computer, I instead sat on my back deck with camera in hand, trying to photograph hummingbirds. Not an easy thing, and I'm learning a lot about both the birds and who I am as a photographer.
I shared one I really liked on all the social medias.
Here is another: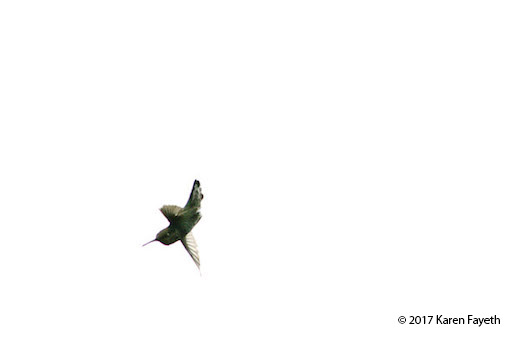 Today as I sat and watched and listened and kept my eyes open for the hummingbirds, another animal caught my eye: A Monarch butterfly.
A sure sign of pending Autumn, the monarch. They are special to me in so many ways, not the least of which is how closely tied they are to Dia de los Muertos in the Mexican culture.
I silently wished for the Monarch to land and let me get some photos.
Well, I got my wish, just not quite in the way I expected.
The butterfly flew in listlessly, bumped into a wall, ricocheted and then landed on the side of the deck.
As I got closer, snapping quickly with my telephoto, I soon realized the issue.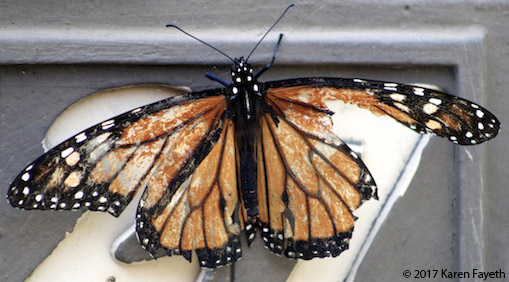 "We have an injured warrior out here," I texted to The Good Man.
I wondered what had happened to this beautiful animal. Did it go through a rough storm? Get batted at by a sporting cat? Fight for territory with another butterfly? Or was it just at the end of a good life?
What sort of hell had this little guy gone through, and how was it still flying?
After some Googling, I tried making some nectar and coaxing it into a box, but alas, no. It mustered up some of its last strength and flew off.
I was left sort of sad, wanting to give the injured insect a safe haven. Wishing I had just left it alone.
But as it flew off on one good wing, I couldn't help but admire its tenacity.
A tenacity I wish I could find. Or perhaps find a little more of.
May I (and you and we) find the strength to fly on our own battered wings. May my poor ragged butterfly inspire you as it did me.
This past weekend was something like a "what weekend?" as I worked my tail feathers off both days. About 1/3 of the tail feather workout was due to my job. Yes, I get to work for free on behalf of my employer, even on my days off. The joys of being a salaried employee.
The other 2/3 was working on my own sideline creative stuff. I did about 25 story submissions, I edited a photo that I will be showing later this week (that takes such a long time…a little burn here, a little dodge there), and I wrote a story for the first round of the NYC Midnight Flash Fiction contest.
The contest works this way: They give you a location, a genre and an object. All three have to be there in the story. This can be both liberating and constraining, depending on what you get. My draw for this first round was romance/haunted house/marshmallows. Not bad, not great.
Sunday around noon I found myself starting at that cursed curser blinking at me and I tried to find a story idea that was scary and lovey and marshmallowy all at the same time. A challenge. I was writing words but they weren't coming easily. My iMac sits on a table near a window, and something caught the corner of my eye as I labored. I looked out the window. Seems on that sunny creatively frustrating Sunday I had an auspicious little visitor.
I grabbed my camera, put on the longest lens I own, popped the screen out of the window and started clicking away.
I'm so glad I did.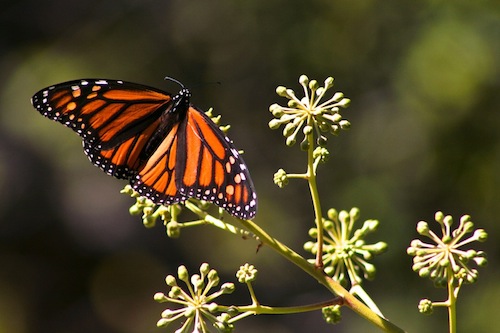 Photo copyright 2013, Karen Fayeth

This gorgeous lone Monarch Butterfly was just hanging out in the warm sun, using the ol' proboscis to gather some pollen and doing its butterfly thing. As I watched, a couple bees were highly displeased at the presence of the butterfly and kept strafing him (I say him correctly, I looked up Monarch butterflies online and the dots around the wings signify a male. edit: Upon further Googling, I think this is actually a female).
These bees were executing deep aggressive fly bys that only caused the butterfly to flap his wings a bit but stay put. Man those bees were persistent. And I kept snapping away. I have some awesome action shots that I'm still editing.
After a while, the butterfly flew off and I downloaded and looked through my photos, very pleased with the results.
Then I sat back in my chair and I smiled. After the visit from Mr. Butterfly, I felt totally motivated and completely creative. I turned back to my story and banged out about 1,300 words in one sitting. Then set it aside and let it percolate while The Good Man and I went to local street fair.
When we came back I edited the beejeezus out of the story, got it to 999 words (the limit is 1,000) and submitted it about 45 minutes before the deadline. Man oh man hitting send on that story sure felt good.
I owe my creative surge to a visit from a pretty orange butterfly on the first day of Autumn.

Photo copyright 2013, Karen Fayeth, and subject to the Creative Commons license in the right column of this page. Taken with a Canon Rebel, edited lightly in Elements.

We three kings of Orient are/bearing gifts we traverse afar
So goes the lyrics of one of my all time favorite holiday songs. I belted it out with gusto during Midnight Mass through most of my formative years.
As the story goes, the Three Wise Men brought gifts of gold, frankincense and myrrh on that first Christmas, thus paving the way for BlueRay players and gift cards and a Red Ryder BB gun.
I always thought gold was the good gift in that stack. Who knows what all that other stuff was? Wasn't a gift of frankincense and myrrh like getting a fruitcake and an ugly sweater?
Yesterday, I read with interest an article in USA Today discussing how the Boswellia tree, a scraggly tree found mostly in Ethiopia, is facing quite a sharp decline. Like 7% of trees dying off per year and new saplings not maturing into full trees.
Frankincense is the dried sap from a Boswellia tree. Cuts are made into the trunk of the tree (called stripping) and then sap flows to heal the wound. When that sap hardens (called, appropriately enough, tears), the dried frankincense is harvested from the tree and it can be burned or oils extracted for perfume.
The trees are threatened for a couple of reasons, one is that the Ethiopian government has pushed people to relocate from the highlands to the lowlands where the tree is prevalent. This puts pressure on the ecosystem. The highlanders brought cattle with them, and the cows eat saplings. Also, the grasslands are burned to make it easier to get to the trees to collect the frankincense, but that also kills saplings.
In addition, the process of cutting into the trees leaves them vulnerable to attack by longhorn beetles.
Researchers are still trying to understand if climate change is also a concern.
In all, quite a fascinating bit of understanding about that gift from the first Christmas that I've so often sung about but not well understood.
Of course, as I read the article I thought "I betcha these trees would grow in New Mexico." Well sure enough, there is a man in Arizona who is growing and selling Boswellia trees and they seem to do well in Southern California, Florida and parts of Arizona.
It's too cold here in the Bay Area, but if I was back in New Mexico, I'd totally want to see if I could grow a Boswellia tree.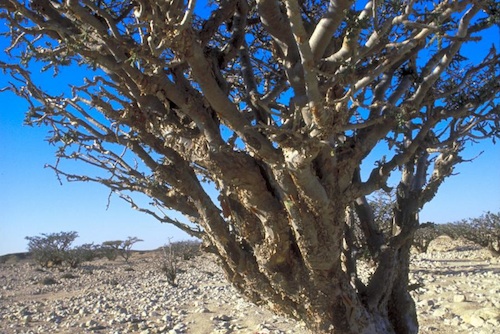 The Boswellia tree

Cuts are make into the trunk of the Boswellia tree to encourage the flow of resin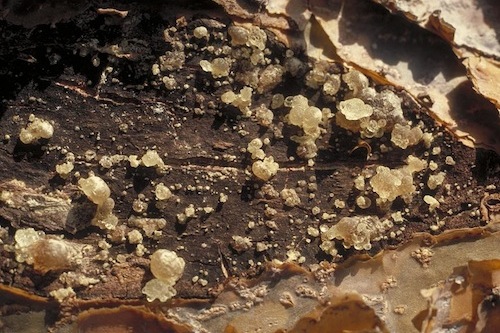 Hardened frankincense, also called tears

All images from LookLex Encyclopaedia.

This week's Theme Thursday is (appropriately enough): gift
And here we are at Friday, the end of another week.
An unusual week on my part, but happy to see Friday nonetheless.
Much to process from my day yesterday seeing old friends, burying a dear friend and reminiscing.
But for today, I'm here to talk about a feature of our Fair New Mexico that I really, really don't miss.
Mosquitos.
Now, where I live, I'm sure such creatures exist. It's just that I've not seen 'em.
I'm ok with not seeing them. Pinche insects.
I arrived Wednesday evening at my friend's home out in the boonies north of Las Cruces, and noticed water standing in all the pecan groves and cotton fields.
"I see everyone is irrigating," I mention.
Nope, they tell me. Rain. Three inches arrived the day before I did.
Which leaves standing water.
Perfect habitat for *slap* mosquitos.
I sat for maybe eight minutes outside at a table with a citronella candle on it. My arms. Fine. My ankles? Ten bites on the left, eight on the right.
Mosquitos in the house, too!
As I slept, I got zapped on the earlobe. The earlobe! The one place I forgot to apply repellent.
Gah!
And I won't mention a spot rather close to an unmentionable place where I was also ruthlessly attacked. Twice!
Hate 'em. Always hated them. Sure, I grew up with bug bites up and down my legs, and it was a fact of life. But living without them sure has been pretty durn nice.
I don't miss them. At all.
I'm not usually a fan of chemicals in the air, but even I cheered when the neighbors called the city to have the spraying truck come out. It helped, but didn't eliminate all the little buggars.
*scratch* This Benedryl lotion I'm using isn't helping one bit.
In other, happier, news I've been experimenting with night photography because the light noise at my friend's place is minimal. You can see the ding dang milky way out here!
If I get anything decent, I'll gladly share the results here.
As for now, onward to the weekend.
I was raised by rather practical parents. No sissy girls in their house, no. We were up on the roof painting kid of girls. We were change the oil in the car girls. Yes. Self-sufficient, and often creative when it came to fixing troublesome issues.
If you're country folk, the term "bailing wire and duct tape" is familiar to you. The concept being, with those two items, you can fix anything…MacGyver style.
I'm pretty proud of my redneck ways. Or as my Hispanic friends would call it, rasquache.
I pondered this again this morning as I admired my entomological prevention handiwork.
See, The Good Man and I are convinced our (rental) residence is, essentially, built on an anthill. Not mean like fire ant or anything. No, the annoying little black ants that I talked about in this post. (The Good Man has become a LOT less Zen about them, btw)
Their main port of entry is the kitchen, and since we're not eager to spread poison around the same place where we prepare food, we've been trying a variety of natural remedies (most discovered through research on the interwebs).
So far, the application of soapy water works best. Kills 'em on the spot. But doesn't really do much to prevent them. For that we try an orange oil product made for ants. It works…for a bit. But they come back, laughing.
Most sites I read said, "you have to find where they are coming in and seal that off."
Trouble is, we live in an almost seventy year old house placed precariously on a hill in earthquake country, so there are lots of gaps and cracks and crevices those little sonsabitches can exploit.
So in the heat of battle one day, frustrated and exasperated, I reverted to my "duct tape and bailing wire" days and got out the masking tape.
Everywhere it looked like they were coming in was slapped over with tape. TGM kind of laughed at me. He was like "oooookay".
But you know what? It worked. It didn't *look* good, but we were without ants for quite sometime. Oh sweet relief!
We left the tape up for a while, then took it back down.
As those ants are wont to do, they found a new port of call in a new area, and began streaming in again. We applied soapy water and orange oil and fought the battle.
While going hand to six-legged combat, TGM said, "I'm going to spray this down with orange oil and then you do your masking tape thing, ok?"
And I did.
And, for the past couple weeks…ant free.
We harbor no illusions that we're free of them. I'm sure they are just tormenting the neighbor right now (it's a duplex).
They'll be back. And we'll be waiting with a good squirt of orange oil and a fresh roll of masking tape.
"TOP OF THE WORLD, MA!!!" (click if you don't know the movie reference)