On the way to work this morning, I listened to legendary San Francisco radio station KFOG. They've recently had a bit personnel shakeup and it turns out their new morning guy is former MTV VJ Matt Pinfield. I'm not totally thrilled with the change, but I will say this: he is able to pull pretty decent guests.
This morning it was Matt Nathanson and it was a good interview. They talked music and influences, and Pinfield asked what I thought was an intriguing question.
"What is the one song that changed your life?"
For Mr. Nathanson, it was "Closer to Fine" by the Indigo Girls. He said it made him want to play acoustic guitar and changed the course of his music. Pretty cool answer and song.
When they cut to commercial, I was left wondering what my answer would be. What is the one song that changed my life?
Well sheesh, that's hard question. Music is so integral to my life that it can't possibly be one song. There have been many songs that have changed my life and there are unwritten, un-thought of songs on the path ahead that will certainly change my life again.
As I drove and pondered, I was able to come up with a bunch. Here are just four of a much longer list.
Let's dig in:
1) It's 1991 and I've just gotten an undergraduate degree and about to start my MBA program. Right before the new semester began, my boyfriend broke up with me. I was quite into that particular boyfriend, pretty sure he was "the one," and the breakup hit me like a ton of bricks.
I wallowed deep into a lot of sad country music, but one song in particular was a constant companion.
"Are You Still Within The Sound of my Voice" by Glen Campbell
There was a place down on the Rio Grande where he and I used to go, so I would drive there, bring out a blanket and my boom box and find a place on the banks of the river. I would play that song over and over again while crying, sobbing, keening. I rose the level of that dusty ol' river with my salty tears.
Glen and that song got me through it. I can still hardly listen to that song, it's so etched into my memory and DNA. But that song helped me make the transition back to good. It made me stronger. It did, indeed, change my life.


2) It's 1994 and I'm living in Albuquerque, fresh out of college, gainfully employed and living that single girl life on my own. I'd lost a lot of weight and was feeling sassy and strong.
My musical tastes still ran toward country, but I was starting to listen to a lot of other music. In fact my musical education expanded a lot since there was a whole lot of music in the 90's that was changing the world.
I'd caught the end of a song on the radio that got my attention, but I wasn't sure what it was.
A few days later I was riding in an old Jeep CJ that was open to the wind with radio playing loud. That song came on, those now easily identifiable guitar chords, and I asked the driver to turn it up.
I was super late to the party on this song, but on that day, really hearing the song, my life changed.
"Smells Like Teen Spirit" by Nirvana
Oh muh lord. Of course we all know the impact of Nirvana now, but back then, it was unlike anything I'd ever heard. I just knew I needed more. A lot more.
I bought "Nevermind" on CD and played it over and over and over. I had never heard an artist express themselves like that. I sang along with angry lyrics while the music (and musician) spoke to me in ways I still don't understand.


3) It's 1997 and I've moved to the Bay Area and I'm spending all of my time in San Francisco's North Beach where my musical education took a turn toward the Blues.
There were a couple bars I knew how to get to and went to all on my own. A little girl with hayseeds in my hair, the employees and the musicians took me in. I became part of their family and they mine.
Blues music rolled in waves down Grant street back then and I'd start at the Savoy and work my way down. Grant & Green, Lost and Found, The Saloon.
Then there was a man named Willie who belonged to the street, but was still part of our family. More than once he protected me from the less kind aspects of city streets. He was a talented man with a bit of a drinking problem, but oh could he play that harp.
He'd tap his foot in time and play the blues. Then I'd go inside the bars and hear the musicians dive deep into history and play those same songs.
There was one that made me take notice, made me sit up. The beginning of what became a beautiful blues education. The door opened and I walked through.
"Matchbox" written by Blind Lemon Jefferson
On one night I heard four different musicians do the song, each putting their own fingerprint on it. This one song took a hold of me and never let go.


4) It's 2015 and I'm with the love of my life, the one who actually is the one, and we're attending a show at a small but awesomely funky venue in our new hometown. The act is Radney Foster and going to the show is like coming home.
I wrote a lot about why that night itself mattered right here on this little ol' blog.
But more than that, Radney's music was a core part of my college years and my life. A life I left when I moved to California. It was mostly the right decision, but damn I often feel like I left a huge piece of myself behind.
So many people here in the Bay Area. Crowded. Packed in. People who don't understand the emptiness you find in New Mexico. The wide open spaces. The ease.
A lot of people here who don't understand New Mexico, don't understand what matters to me, and sure as hell don't listen to country music.
And now here was Mr. Radney Foster standing on a stage in Northern California. There were even people other than me came to see the show. People who get it. It was a mind bender.
He did a lot of the familiar songs, and late in the show he introduced a new song. Told us that his wife grew up in Oakland. How he was at his in-law's house in the Oakland hills and watched a gorgeous Bay Area sunset. Then he told his wife "I'm going to be late for dinner," because he had to get down a song.
"California" by Radney Foster
It made me cry a little because it's a beautiful love ode to California, written by someone from West Texas. A desert rat like me who gets it, was there back in the day, and understands why California.
It's hard to explain to folks back home, but now I have the perfect musical explanation. In the following weeks I played it over and over again. This song let me know it's okay to have my heart in both New Mexico and California. This song brought peace. Healing.
Truly life changing.

——
Whew. Yeah. Okay. I could probably go on. This list expands and grows the more I think about it.
I bet you are thinking too. Running through the soundtrack of your life and remembering the songs that mattered. The songs that changed your life.
It's worth the journey. Feel free to share here or on Facebook. I'd love to know which songs changed your life.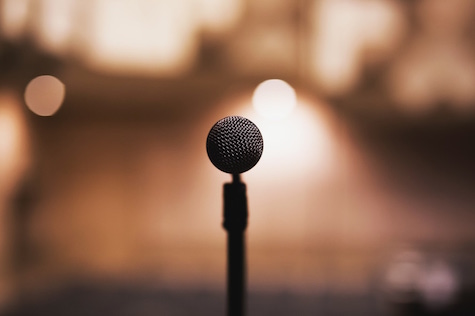 Image used royalty free and found here.

(A conversation between the warring factions in my brain. From about an hour ago.)
What's this?

Duh, it's a screwdriver.
Go deeper.
A flat head screwdriver.
Keep going.
A Sears Craftsman flat head screwdriver.
Bingo. Now, why are you holding this in your hand and staring at it so intently?
Because this Sears Craftsman flat head screwdriver is not mine.
Yes. This screwdriver isn't mine. I mean, I found it in the bottom of my toolbox. I was looking for some electrical tape to repair my iPhone charging cable. Because I'm too cheap to buy a new one.
Yes, I have a toolbox. Mine. And I've got some nice tools. Only, I don't have any Craftsman tools. I'm also too cheap to buy good quality handtools. What, am I building a skyscraper? No. I have never bought a Craftsman tool because I make do with discount store goods.
Except for this screwdriver. My lone Craftsman in a sea of cheapies.
And?
And when I look at this tool, I can tell it's been used. A lot. It's not new. It's scuffed, the handle shows traces of white paint. The tip is scratched to hell and someone has used the base to try to hammer something.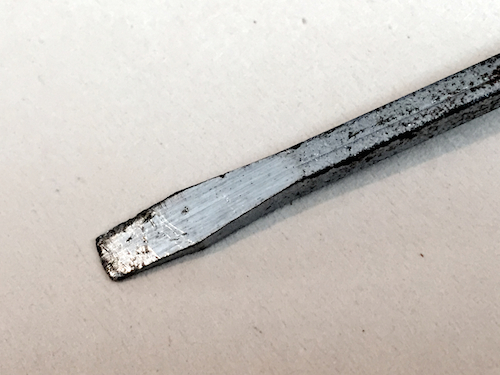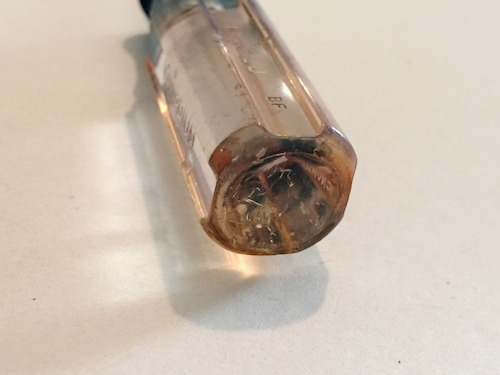 And?
And I just remembered where I got this Sears Craftsman flat head screwdriver.
I stole it from my father.
Okay, stole is probably too strong a word, but I did lift it from his toolbox and did not return it.
I kind of feel bad about that. He used to get so ticked when his tools didn't find their way back to his toolbox. Can you blame him?
I wish I could give it back. Only I can't. He's been gone for ten years and I've been carrying around this stolen property without even knowing I still had it.
But I do. Still have it. Now. Today. In the bottom of my toolbox, nestled next to the electrical tape and a bent hand saw blade. The saw blade is mine. All mine. Cheaply made, hence the wrinkle in the metal.
But that Sears Craftsman flat head screwdriver that came along with me from New Mexico to California. That's a quality tool. The logo has rubbed off and the metal is a bit rusty. And it's filled with memories, both good and bad. A lot of memories. So many I got a little lost.
What is Vanadium anyway? It says that word on the handle. Ah it's a mineral. It's a fancy word used to make this tool seem important. A simple Sears Craftsman flat head screwdriver.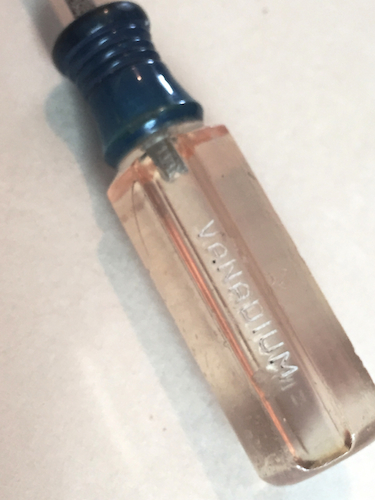 It is kind of important, in its own way.

All photos used are Copyright © 2015 Karen Fayeth and subject to the Creative Commons license in the right column of this page. Shot with an iPhone 6 and the Camera+ app.

Welcome to the sixth day of the year 2015 but only my second day back at the ol' place of work.
While technically the first of January is the first day of the New Year, it doesn't really feel like the New Year has begun until I go back to work, i.e. get back into the "real world."
My employer is ever so kind in that they shut down operations from December 24 through January 1. That means with a little planning and a little curation of vacation hours, I can eek out full two glorious weeks away from the office.
I look forward to this two-week break from work all year long.
All. Year. Long.
In my career, I've rarely taken two weeks of regular vacation time, so these two weeks at the end of the year feel beautifully indulgent.
My first priority for the break time is to sleep. Nap. Sleep more. Rest and then do nothing too taxing on brain and body. That usually lasts about three days then I'm rested and raring to go.
The rest of the break time is spent with family, exploring the world with The Good Man, cleaning up my home office/studio and working on creative projects.
I find I'm able to fully and completely forget about work and live the dream of a creative life. Sleep until my body is rested, rise and work on creative projects, fill my head with creative inspiration and plan forward for the projects I want to work on in the coming year.
It's a beautiful place to be, a place I'd live all year round if those darn lottery numbers would just break my way. It feels solid and satisfying and clean and pure.
And then sixteen days of being my own boss pass too quickly and Monday, January 5 arrives. I have to figure out how to get back into the flow of "regular" life. I have to metaphorically merge into speeding traffic with no running room and only two of four cylinders in working order.
Yesterday was that day. Yesterday I woke up with the help of an alarm clock (bleah, sixteen days of no chirping alarm was REALLY nice) and sat up in my comfy bed, bleary eyed and lost.
I tried hard to find the muscle memory to rise, to make some breakfast, to put on some clothes, where is my work badge?, move out the door and get to work on time.
When I arrived at the office it was all too familiar and all too unfamiliar.
It felt like I had changed. I was a different (and better) person as I swiped my badge and entered the office. Then I realized that work had not changed.
I came to my own little gray cubicle and there was all of my same stuff I'd left behind, but it looked alien.
The laptop machine asked me for a password and I had to think very hard about it. Took a couple tries at it and finally remembered.
Have you ever seen baby ducks when they are following their Mama Duck into the water? It often looks like this: Mama slides effortlessly into the water and her eight to ten ducklings slip, slide, belly flop, and unceremoniously plop themselves with a splash behind her.
For a moment, the water crests over the top of their head, then the ducklings one by one pop to the surface like popcorn and start swimming.
It was very much like that yesterday. I fell uncoordinated and perilously off the vacation ledge into the bracingly cold pool of work. I grasped for stability for a little while and then I found my feet and began to paddle. By the afternoon I was moving more or less in a forward manner.
So that's the New Year. A little bit new, a lotta bit old. I suppose all of the inspirational quotes are true. It's up to me to make 2015 a really awesome year.
Forward into battle! *splash*cough*splutter* Okay. Now, here we go.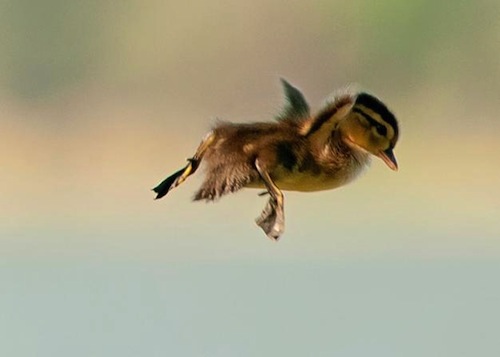 "Hoooooly craaaaap"

Image found here.

If we make it through December
Everything's gonna be all right I know
— Merle Haggard

Every year "If We Make It Through December," a classic Merle Haggard song that was released for the first time all the way back in 1973 becomes the theme for my holiday season. I have been playing it on repeat in my car as I drive back and forth to my job.
I also play it when it's dark in the morning and when it's dark in the evening. As the rain comes down. As protestors shut down access to my home and helicopters hover in the sky. As my feet ache and my head hurts and I wonder why, for another year, I'm anxious, depressed and overwrought during the happiest time of year.
Every year I look forward to December and the holiday season, hoping to capture some small bit of that childhood joy and anticipation and magic. I watch movies like "White Christmas" that are filled with optimism and dancing and songs about snow.
Every year I feel crushed by an avalanche of end of year business activities. It's the nature of the profession I have chosen that December is just always going to be craptastic.
And then current political events put a little exponential anxiety to this year's festivities.

Now I don't mean to hate December
It's meant to be the happy time of year

Happy, yeah. Full of cheer. Ho, ho, ho. Yesterday should have been a really good day. My boss held a breakfast holiday celebration for all of her team. Then one of my main client teams had a holiday luncheon for us too. A day of eating? Hell YES!
But in between those two events, I had a bunch of other meetings. I was late to most of them and got chewed out. I was running hither and thither to get to these "fun" events where my attendance was fully expected.
At the end of the day I had an inbox full of emails and angry voicemails from people expecting me to get my other work done.
So I stayed late at work (again!) and tried to get somewhat caught up. I worked off most of the code red items and left the code orange for another day.
Then I went home exhausted and emotionally shut down. I was not a good spouse to The Good Man or a good human to my Feline.
Hell, I didn't even plug in our Christmas tree yesterday. Yes, last weekend I managed to get our fake tree put together, but it is not decorated. I usually love to make cookies for the holidays, but not this year.
Instead I made toast for dinner and then went to bed. Feliz Navidad.

If we make it through December we'll be fine

But as I whine on and complain loudly, I suppose all is not lost. This year I introduced The Good Man to December's theme song. This happened while we were taking a drive to go see Merle Haggard play a live show at my favorite concert venue in Napa.
How bad can my month be if I get to see one of my all time favorite musicians play live? A musician who has written songs that make up a lot of the soundtrack of my life.
The Good Man is going through his own turmoil this December and so the lyric we most often repeated to each other on our hour long drive was this one, "If we make it through December we'll be fine."
And we will. We'll be fine. This hell and highwater (literally, one of the highway exits in our town was flooded out so we had to seek an alternate route) will recede and we'll find our way back to level ground.
I don't mean to hate December. It's just sometimes it feels like December hates me.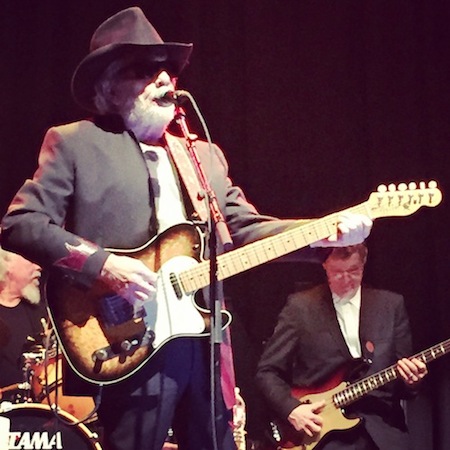 Photo copyright ©Karen Fayeth, 2014

Photo copyright ©Karen Fayeth, 2014. Taken with an iPhone 6 and run through Instagram. Photo subject to the Creative Commons license found in the far right column of this page.

Mother, mother ocean, after all the years I've found
My occupational hazard being (that) my occupation's just not around
I feel like I've drowned, gonna head uptown

–"A Pirate Looks at Forty" by Jimmy Buffet
Yeah, I might be taking a few liberties with a very fine Jimmy Buffet song that did not make a lot of sense to me when I was in my twenties and seems rather spot on now.
I find myself sneaking up rather quickly on the milestone age of forty-five. Or rather it's sneaking up on me. What a milestone, I'm not even sure what it means. There are ages old enough to vote, old enough to drink, and then it all kind of gets muddled after that.
At this point in my life, I'm in a place where I don't love my birthdays most years. For reasons that aren't clear to even me, this particular trip around the sun is a little rough on me. Or maybe they are all a little rough on me these days.
And so weirdly (or not so weirdly) enough I have been thinking about that Buffet song dating back to the jolly era of 1975. The song is about a man who laments the fact that he was born too late to be a pirate. Jack Sparrow kind of pirate, not Somalia kind of pirate.
The man in the lyrics looks at his life and wonders what might have been. I have a very rich internal life and while I love my life today, I do often think about the what-ifs.
Yo ho ho, the pirate life isn't quite the one for me, but I do have laments of being born too late. A hazard of the years going by, I suppose.
I'm not so unlike the main character in "Midnight in Paris" who wishes to live in the era where writers were valued and were paid quite well for their work. Where art wasn't as much of a business as it is today.
I recently read a biography of Zelda Fitzgerald and grew ever more green with envy over how Scott Fitzgerald could keep them in a very high life simply by writing and publishing a few short stories.
I'm not implying he didn't work hard at his craft. I've read some of his shorter works and of course "The Great Gatsby" and the man could write. But he also had a venue for those stories, popular magazines that were both willing and able to pay.
Oh to live a life where I could install myself in a Parisian pub with a bottle of Spanish red and write my words. Then know I might get many rejections, but when I get that "yes" that it really meant something on a large scale.
I was singing this sort of tune in my head over the weekend and because Fate is one hell of a comedian, I received an acceptance on an essay I had submitted to a very fine online publication. I am quite proud to contribute to this literary magazine, but the timing couldn't have been more humorous.
One of my coworkers recently had occasion to read one of my published short stories about a scuba diver (if you haven't read it, I'll direct you to the right column of this page). She is also a scuba diver and she liked the story very much.
"You are such a talented writer! Why do you do this job?" she asked, and laughed.
"Because that doesn't pay, and this does," I said and sighed.
Oh, it could. Maybe one day. With a lot of work and a lot of sweat and a lot of blood and a mountain of rejection letters under my feet.
But as I sidle up to age forty-five, it sometimes feels like my best years have passed.
I once knew a bluesman who could play a muddy, gorgeous telecaster like he was drinking water. He made it look easy. So easy people were always sure they could do it like he did, and when they wondered aloud to him why it was so hard, they would say, "You must have just been born talented."
He would reply, "Yeah, and at age twelve I picked up a guitar and played it every day until my fingers bled, and then every day since."
Talent is nothing without hard work. I am more than happy to do the work, and I actually do the work every day. I type my words until my wrist aches and my head hurts. Then I write some more.
There are many days I simply wish I had started writing seriously earlier in my life when energy and time were not an issue. Then again, what did a bubbleheaded girl like me have to write about?
Maybe I had to live a little before I could open a vein and write the words.
Oh well, this is my journey. Not anyone else's. Forty-five it is and forty-five it must be.
The dread leading up to the day started to wane in the final days. Resignation set in and now I suppose I'm okay. I tried on forty-five and it fit like a shiny new pair of fine leather shoes. A little tight and squeaky at first, but breaking in nicely.

If I'm going to overwork a metaphor, I should probably reuse a photo of a very favorite pair of well broken in boots

Image Copyright © 2010, Karen Fayeth, and subject to the Creative Commons license in the right column of this page.