Ah the onset of Autumn as these last wispy dog days of summer float by. These very warm September days don't even feel like summer is ending, rather it feels like we are smack dab in the middle as the high temperatures are still pretty gosh durn high.
But alas, October is right around the corner. And by god, the advertisers of the world won't let me forget it for a moment.
I'm not ready for it, but Autumn is being crammed into my face. My nose is smushed hard in it while I hear "Who's been a bad customer? Who's been ordering non-flavored beverages and food? Who's going to pay out big money for pumpkin flavored everything? You are, that's who!"
Just as Christmas shows up in October, pumpkin everything shows up in late August.
And it ain't right.
Along those same lines, here's a handy link:
The 12 Most Unnecessary Pumpkin-Flavored Products
That's ok, I'll suffer the slings and arrows of fake pumpkin flavor until about November 1 when it will all switch to peppermint all the things.
Then Cadbury Easter eggs will arrive in January.
*sigh*

The other morning I woke up a little fuzzy-tongued and slightly headachy. As I groaned and lifted myself up from the mattress I thought "now why in the heck is my head throbbing?" Then I blamed my pain squarely on the two glasses of wine I'd had with dinner the night before.
It was a brand I had heard some good reviews about. The grapes came from California's central coast. I learned from a wine tasting class that the central coast's warm foggy weather is better for whites and blah blah blah just give me some wine.
While this particular purchase wasn't a cheap bottle it also wasn't an expensive bottle. Nice enough to have with a homemade summer dinner, possibly nice enough to take to a friend's house for dinner, but nothing to give to the boss for holiday cheer.
For me I judge wine not by its "nose" or its "legs" but by my head. If I feel a little like my brain was extracted and cotton stuffed in, then I know it's not a good wine. If I have my usual one to two glasses and feel good enough to go into work without the assistance of copious amounts of coffee, then green light, that bottle is welcomed into my home.
So as I pondered fuzzy brain, I thought about what wines have given me the worst headaches in my life.
Well, of course, bar none was an evil bottle of Mad Dog 20/20 shared with my roommate in college. It was her idea and a fantastically bad idea. Cheap. Horrible. And I had the shakes the next day. Bad.
But….
I also got an awful headache the next day from sharing a top notch bottle of Dom Perignon with coworkers as we celebrated a huge success over dinner. I had, yes, two glasses of the stuff and it did quite a job on my head.
In the early days of my career, there was a C-level executive who invited a select group of employees to a holiday dinner. He took us to some very exclusive Bay Area restaurants and made it a point to order the most expensive bottles of wine on the list. On three occasions I was invited to these events and I drank wine massively out of my price range. Bottles I couldn't even look at without the help of a wealthy Fortune 100 executive. Some of those bottles were the most amazing wine I've ever had. Some were rather rough around the edges.
I suppose it just is a matter of taste, not cost.
Oh, and while the Mad Dog is probably my worst ever experience, I wouldn't actually call that wine. The worst bottle of actual (i.e. unfortified) wine I have ever consumed came into my life just over a year ago. I was in England on extended stay and I decided to buy a bottle to have with takeaway food in my hotel room. I went to the local Tesco and picked a bottle that came in around £15 (about $20). On that day I chose a South African sauvignon blanc. I'd never had an African wine so I thought that was cool.
Well, my love affair with South African wine was a brief one. That stuff was rough. I had a glass and a half and felt wobbly in the knees all the next day. The next evening I decided to try it again, got about two sips in and poured over half of a bottle down the drain. : shudder :
Life is too short.
So while all of this may sound like wine snobbery, it really isn't. It's just a matter of what tastes good and doesn't cause physical pain.
I've been to the top of the wine list and suffered. I've been to the bottom shelf and suffered. I've been to the top of the wine list and enjoyed. I've been to the bottom shelf and enjoyed. It's all a matter of personal taste I suppose.
So to wrap up my semi-wine snobby post, I'll conclude by saying I've also met the King (of beers) in Paris (Texas) and had a nice time, too.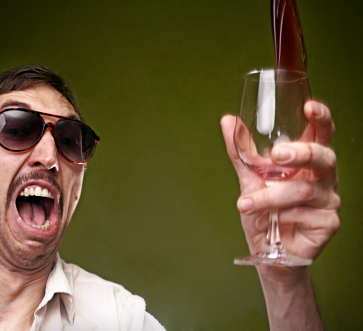 Image found here.

Oh the weather outside is…
Wow! Really nice. Quite sunny actually. Gotta love California.
And the fire is…
So bloody hot I'm pitting out over here. Would someone open a window?
And since there's no place to go…
Damn tootin', traffic out there is an obscenity. I'll gladly stay home in my yoga pants with the hole in the leg and my battered Louisville Slugger Museum tee shirt. Sipping spiked eggnog (with a Lactaid chaser).
Let it snow, let it snow, let it…
Whoa. If by "snow" you mean cookies and if by "let it" you mean me eating, then yes. Let it cookie all over the place.
Otherwise keep those soggy flakes to yourself.
Chestnuts roasting on an open fire…
Again with the fire? I am going to have to get a fan out, this is redonkulous. And chestnuts? Ew, no. I saw a package of those things at Trader Joe's. They look like something I want no part of.
More cookies please.
Jack Frost nipping at your nose…
That is assault and battery. Back off Jack.
Yuletide carols being sung by a choir…
Ok, that might not be so bad. Can I watch them streaming on my iPad so I can pause when I need to head to the little girl's room after all that nog?
And folks dressed up like Eskimos…
Lord, I hate wearing a coat. Thank goodness I live somewhere that is mostly warm.
Jingle bells, jingle bells, jingle all the way…
Now you look here…Mommy has had a little too much spiked eggnog and she's in no mood for your shenanigans. You shake those gall damn bells one more time and I'm going to shove them so far up your [censored] the light from Rudolf's nose won't be bright enough to help you find them.
Got it?
Come, they call him pah rumpa pum pum…
You too drummer boy.
Go tell it on the mountain…
Yes. Go. Quickly. Mountain. Far, far away. Move it!
Hark! The herald angels sing…
Did you ever wonder who this Harold Angel guy is and why we sing about him every year? That's a good gig. You think he gets residuals?
Wait I'm out of eggnog.
Now I have some place to go. Good thing the store is just across the street. Food stained yoga pants and flip flops are acceptable outside attire, right?
You all just be a good little silent night until I back. Keep your joy to the world to your own selves.
And someone get that damn partridge down from the pear tree. He's scared up there.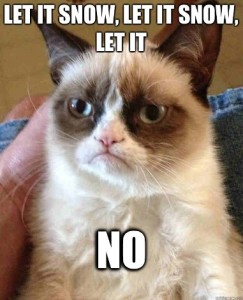 Image found all over the place on the net. This one found here.

So. You know. The life of a writer. It goes something like this:
Write something brilliant.
Submit it.
Wait.
Get a pile of rejection letters.
Feel bad about the world and my place in it.
Drink.
Work up my courage.
Write something else and submit it.
Wait.
Get another pile of rejection letters even larger than the last.
Yeah.
And then….
Someone finally says, "Ok, we'll take it."
Woo hoo!!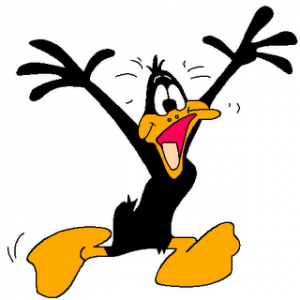 Thass right, for the past year and a half I've been writing and submitting my heiney off and finally I am back in print!
Well, online print but so goes the way of the literary magazine. (If online is good enough for Newsweek, it's certainly good enough for me)
And so without further ado, the link to my fabulously published essay in Wild Violet:

Share it with your friends, family and strangers!
And do a little happy dance with me!
Shake it, shake it!

Waiting .gif found here and woo hoo image found here.

My weekend, told in a few words with iPhone photos to illustrate.
On Friday, The Good Man and I did an early dash away from work and drove up to Napa.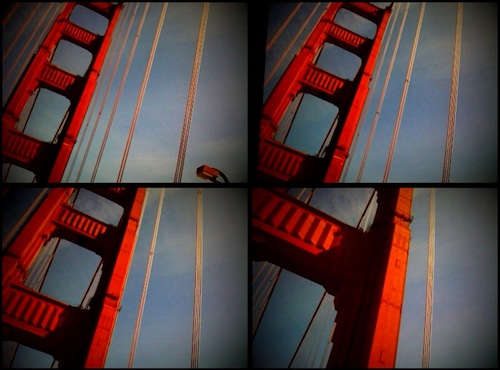 We checked into our B&B and went outside to sit on their peaceful back patio to decompress after a crazy week. And to partake of the B&B's delicious French press coffee.
Only, we weren't alone.

This creature doesn't belong to the B&B. No one is really sure where it came from. Creepy Stalker Chicken seemed to think we were going to feed her. She was especially targeted The Good Man who is used to being shaken down for kibble by The Feline. Apparently we were unable to escape hungry domesticated animals for the weekend.
Which kind of made us hungry. After a fantastic (non-poultry) dinner and a good night's sleep, we headed out the next day to do what it is most people do while visiting Napa.


A lot.
Oh, and at one winery, we still weren't alone.


Apparently Creepy Stalker Chickens were the weekend theme. This one was wearing chicken pants.
But no matter. There was still this…


And then more


And a WHOLE lot more


"Heeeeeey, schhhicken, scccchhhhicken, ssssssshicken…"
Then on Saturday night, we headed out to take in some live music at The Uptown Theater. An acoustic Roseanne Cash show (with Shawn Mullins as the opening act).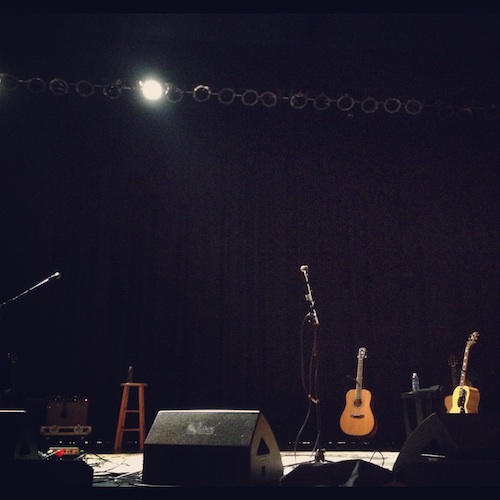 It was *awesome*.
We slept good that night. Had a kick butt breakfast.
Then sadly it was Sunday and time to head back home.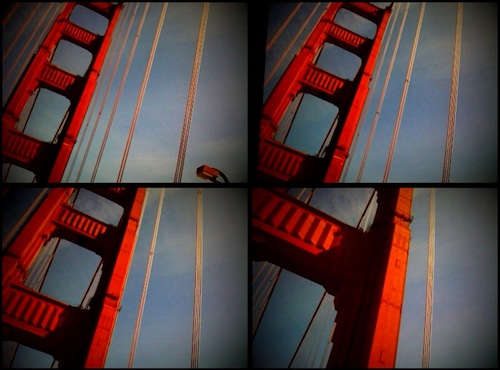 With a whoooole lotta wine in the trunk of the car.


It's medicinal. Really.

All photos Copyright 2010 or 2012, Karen Fayeth, and subject to the Creative Commons license in the far right column of this page. All taken with an iPhone 4s and the Camera+ up, except for the Golden Gate Bridge photo which was taken with the QuadCamera app.