The hard work on my Macro Photography skills continues this week with a theme of "lit by candlelight." A week ago when this challenge was announced, I was like "pssh, easy peasy."
Turns out shooting by candlelight has been anything but. Sunday night I did a whole round of photos with a few objects and although candlelight is certainly beautiful, the photos I shot just weren't working. The photos were…dull. Not interesting. They didn't give me that excited feeling to share.
Then The Good Man opened up a bottle of wine and put out some cheese and garlicky crackers. That really seemed to lubricate the creative gears. Half a glass in, I had an inspired idea. I grabbed my copper holiday cookie cutters out of the kitchen (not that I have made any holiday cookies this year, but that's a topic for another time) and got to shooting.
Turns out candlelight casts really great shadows. I'm now pretty happy with the results. The top photo is my entry this week in the Macro Mondays challenge. The black and white was just for fun.
Whew! This is three weeks in a row I've managed to produce a new Macro photo for Monday's event. It's harder than it looks!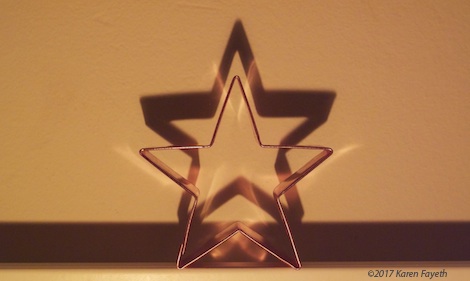 ©2017, Karen Fayeth, all rights reserved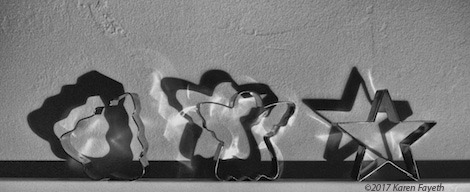 ©2017, Karen Fayeth, all rights reserved

When I have had a big event, a big adventure or just something interesting happen in my life, I almost always have to spend a little time processing it, usually out loud and on these pages.
Having just returned from a weeklong trip to Ireland, I'm pretty sure that readers here will be treated to (tormented by?) several posts about my days in Dublin. I had such a wonderful time and I want to get all the stories out and onto the page.
The question is, where to begin? Some would say start at the beginning. Some would say start somewhere in the middle when things begin to get good. Others still say to start wherever you want.
The thing is, I usually don't get a say in where to begin telling a story. The Muse has a mind of her own and she tends to open one sliding door in my mind to show me what she's interested in, while keeping the other doors firmly closed until she's good and ready.
What I mean today is that there is one story, one experience, that keeps replaying in my mind. It is the sum of my entire view of Ireland and probably belongs at the end of the entire tale.
But why cave to the convention of putting the end of the story at the end? This is what I want to write, so this is what will be written. For today, at least.
Here we go…
The hotel where I stayed was in a rather upscale suburb of Dublin named Donnybrook. Back in the day, Donnybrook used to be the scene of an event called the Donnybrook Fair. And by "back in the day", I mean like the 1200's through the 1800s.
Evidently that event turned from a nice twelve-day fair, fun for the whole family, to a drunken brawling event. In fact the very word donnybrook has come to mean a brawl or fracas.
The Catholic Church took a dim view of this debauchery (as they are wont to do) and ultimately lobbied for the fair to shut down, mainly by building a church right at the event site.
This is a great story, I love it, but it's kind of tangential. Let me get back on track. In this wonderful Donnybrook neighborhood, there are quite a few shops, restaurants and a couple pubs.
One of the pubs, named McCloskey's, was about a half a block away from where I was staying. I could see it from the window in my hotel room.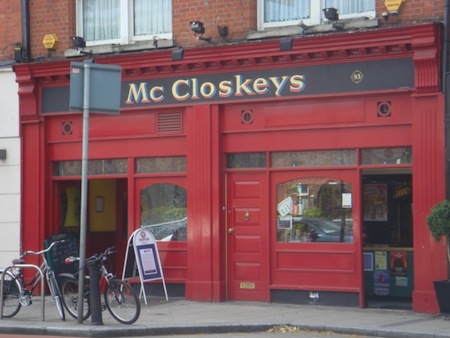 Image found here.


I had walked past the place quite a few times but was never brave enough to go in. Something about genuine pubs kind of intimidates me. It's a mix of the expected amount of hesitation being a woman going into a bar alone, and my propensity to overworry that I'll somehow say or do something that breaks the unwritten protocol of the pub.
I also never am sure how Americans are perceived so it's always a little tentative for me. Which is silly because of the pubs I've encountered in the UK and now Ireland, it's always been a lovely experience.
On Thursday after what had been a busy and intense workweek, I decided to go inside McCloskey's. I was hungry, I love pub food, and I was in desperate need of a pint.
With a deep breath, I opened the door and went in. I walked the length of the place to give it a look-see and decided to stay, taking up a corner seat at the bar.
The bartender was a fireplug of a man, in his early fifties, with a pugilistic look about him and a vibe that was clear he knew how to run a pub. He could and would toss your ass out without hesitation and with force.
He came over and slid a napkin on the bar like skipping a rock and asked, "What'll you have?"
"A pint of Guinness," I replied with confidence. He nodded with a grunt and poured the beer. In hindsight, I should have just said "A Guinness," the pint is understood.
What a lovely pint it was. A perfect pour, the perfect temperature, perfect creamy foam on top. Oh yes. I wanted to take a picture of it so I could always remember that beautiful moment, but thought better of it. It felt like the bartender may take a dim view of selfies and Instagram in his pub.
As he set the pint down I asked, "Can I order some food?"
"Er, yeah, we have a stew, the fish and something else I can't remember" he said.
"I'll have the fish," I said.
"Fish and chips, you know?"
"Yep!"
He grunted again and went off to the kitchen to place the order. I sat there feeling tense and sipping my beer. There were really only about four people in the pub, all quietly drinking and keeping to themselves. 1970's disco played from a small boom box to fill the atmosphere.
Next to me was a stack of local newspapers so I picked one up and read it, giving me something to do as I sat alone and tried to act normal.
After a bit my food came and it was so delicious. Light and crispy cod, perfect chips and slices of tomato. I ate it joyfully and drank my Guinness and suddenly everything was really right with the world.
During this time, the bartender mostly ignored me. He was friendly but distant. Gruff but fair, I suppose, and that was fine.
While I ate, a group of people came in. They were obviously all family, and they took up chairs and seats around several tables. Then more and more kept arriving. There were probably twenty or more people and one older gentleman with graying hair was buying all the drinks.
These folks were all in a good mood and talking excitedly. At one point someone teased the older man about "never being around" and he tipped his pint glass to them and said, "now that's one thing you can never say about my term! My opponent can't say the same."
It was then I sussed out that this might be a local politician. I heard someone call him by his first name and as I was texting the play by play to The Good Man, he did a quick Google search and we discovered I was in the pub with the local councilman. Elections were due to be held the next day. My guess is he was out celebrating the end of his campaign run with friends and family.
As the crowd grew, it became such a convivial atmosphere. I sat next to one of his daughters and we chatted and laughed. Her son, who looked to be about five, ordered a cranberry juice and wanted it served in a Guinness pint glass. Everyone bought and ate small cans of Pringles.
As ever more people kept piling in, I kind of felt like I needed to get out of there. I'm sure I could have stayed and been fine, but I started to feel like an outsider.
So I hopped up from my barstool and went over the cash register where the bartender stood. He turned to me and I said, "I'd like to tab out, please."
"Oh sure," he replied and began ringing me up.
"That will be twelve euros fifty," he said. I handed him a twenty euro bill.
He took it and looked me, touched my hand and said, "You doing okay, darlin'? Was everything all right?" with genuine concern in his eyes.
I replied, "Yes, it was great. I'm…I'm just a little jet lagged and very low energy."
He had a sparkle in his eye when he smiled, then tapped my hand again and said, "That's okay, darlin', you still look gorgeous!" He laughed like a schoolboy while he got my change.
He put the bills and coins in my palm and said, "now you have a good night, eh?"
I left the pub with a smile on my face. Now that, the whole story and everything in it, that's Ireland to me.
It is a wonderful, charming and friendly place. I loved every minute of the time I spent in the city of Dublin and the district of Donnybrook.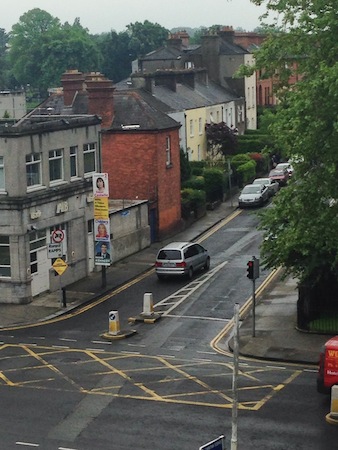 A view from my hotel room. Lovely! Copyright © Karen Fayeth, 2014

Dateline: April 23, 2014, 8:52am Pacific Daylight Savings Time
Location: An undisclosed intersection in what is known as the East Bay

It's morning and I'm waking up rough after some really painful dental work yesterday. I'm running late for work but I'm trying to stay calm and just get there.
I'm traversing a road that is something of an unofficial border. On one side is a series of slightly rough neighborhoods where gentrification is coming hard and fast. And painfully.
The other side is the "good" side of the road. Gentrification has already arrived, for both better and for worse.
I stop at a red light at a major intersection. I am first in line and there is a long line of cars behind me.
"Who Can It Be Now," plays from the oldies station on my radio. A popular song from my high school years is now an oldie. Don't get me started.
I tap my thumb on the steering wheel and hum along when to my left, a gentleman enters the crosswalk taking something of a slant route over the white lines.
In his hand he's carrying an open tall boy and holding it close to his chest. He's smiling, though his face and his skin looks like he's seen some things.
I am alternately like "right on!" because why not beer at almost nine in in the morning? Then "oooh, damn" because beer at nine in the morning maybe means a few demons in the mind somewhere around nine at night.
But I don't know this guy's story, so I don't judge.
As he ambles amiably in front of the grill of The Jeep, to my right an oblivious driver in a black Mercedes whips right into the crosswalk, intent on turning right and doing it right now, and damn near hits the guy.
Our beer drinking friend pulls up short, steps back and slightly bows, waving the Mercedes along. It pulls out in a huff, if I can attribute huffiness to a car.
Then the guy turns to me and smiles a lopsided smile and waves. I do what any decent member of the human race should do, I wave back. I briefly entertain a "I should not have done that" thought because I have learned through enough years living near and in big cities that sometimes it's just better not to engage.
But I was wrong for thinking that. As I wave, he smiles a little wider, peers around The Jeep to be sure the coast is clear, then makes his way to the other side of the road.
The light turns green and I drive on, thinking about the guy, this city where I now live, the ever growing division between rich and poor and the implications of gentrification. I also think about how delicious the lemon scone sitting in the passenger seat is going to be when I get to work and gobble it up.
I get to the place of my employment, find a parking spot, quick yank the parking break and start my day. Something about the man with the tall boy sticks with me and I can't quite figure out why.
One thing I know for sure is that I have to write about it, to capture the fleeting moment and memorialize it for myself as much as for anyone else.
And so I have.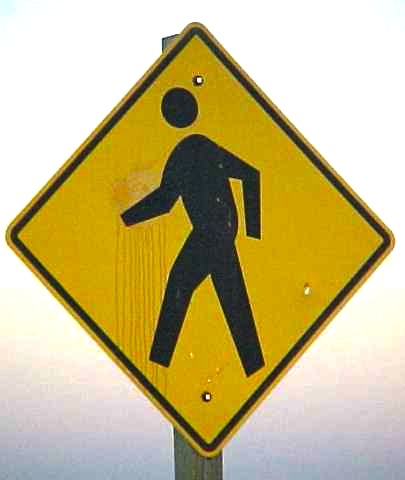 Image found here.


Ah the onset of Autumn as these last wispy dog days of summer float by. These very warm September days don't even feel like summer is ending, rather it feels like we are smack dab in the middle as the high temperatures are still pretty gosh durn high.
But alas, October is right around the corner. And by god, the advertisers of the world won't let me forget it for a moment.
I'm not ready for it, but Autumn is being crammed into my face. My nose is smushed hard in it while I hear "Who's been a bad customer? Who's been ordering non-flavored beverages and food? Who's going to pay out big money for pumpkin flavored everything? You are, that's who!"
Just as Christmas shows up in October, pumpkin everything shows up in late August.
And it ain't right.
Along those same lines, here's a handy link:
The 12 Most Unnecessary Pumpkin-Flavored Products
That's ok, I'll suffer the slings and arrows of fake pumpkin flavor until about November 1 when it will all switch to peppermint all the things.
Then Cadbury Easter eggs will arrive in January.
*sigh*

The other morning I woke up a little fuzzy-tongued and slightly headachy. As I groaned and lifted myself up from the mattress I thought "now why in the heck is my head throbbing?" Then I blamed my pain squarely on the two glasses of wine I'd had with dinner the night before.
It was a brand I had heard some good reviews about. The grapes came from California's central coast. I learned from a wine tasting class that the central coast's warm foggy weather is better for whites and blah blah blah just give me some wine.
While this particular purchase wasn't a cheap bottle it also wasn't an expensive bottle. Nice enough to have with a homemade summer dinner, possibly nice enough to take to a friend's house for dinner, but nothing to give to the boss for holiday cheer.
For me I judge wine not by its "nose" or its "legs" but by my head. If I feel a little like my brain was extracted and cotton stuffed in, then I know it's not a good wine. If I have my usual one to two glasses and feel good enough to go into work without the assistance of copious amounts of coffee, then green light, that bottle is welcomed into my home.
So as I pondered fuzzy brain, I thought about what wines have given me the worst headaches in my life.
Well, of course, bar none was an evil bottle of Mad Dog 20/20 shared with my roommate in college. It was her idea and a fantastically bad idea. Cheap. Horrible. And I had the shakes the next day. Bad.
But….
I also got an awful headache the next day from sharing a top notch bottle of Dom Perignon with coworkers as we celebrated a huge success over dinner. I had, yes, two glasses of the stuff and it did quite a job on my head.
In the early days of my career, there was a C-level executive who invited a select group of employees to a holiday dinner. He took us to some very exclusive Bay Area restaurants and made it a point to order the most expensive bottles of wine on the list. On three occasions I was invited to these events and I drank wine massively out of my price range. Bottles I couldn't even look at without the help of a wealthy Fortune 100 executive. Some of those bottles were the most amazing wine I've ever had. Some were rather rough around the edges.
I suppose it just is a matter of taste, not cost.
Oh, and while the Mad Dog is probably my worst ever experience, I wouldn't actually call that wine. The worst bottle of actual (i.e. unfortified) wine I have ever consumed came into my life just over a year ago. I was in England on extended stay and I decided to buy a bottle to have with takeaway food in my hotel room. I went to the local Tesco and picked a bottle that came in around £15 (about $20). On that day I chose a South African sauvignon blanc. I'd never had an African wine so I thought that was cool.
Well, my love affair with South African wine was a brief one. That stuff was rough. I had a glass and a half and felt wobbly in the knees all the next day. The next evening I decided to try it again, got about two sips in and poured over half of a bottle down the drain. : shudder :
Life is too short.
So while all of this may sound like wine snobbery, it really isn't. It's just a matter of what tastes good and doesn't cause physical pain.
I've been to the top of the wine list and suffered. I've been to the bottom shelf and suffered. I've been to the top of the wine list and enjoyed. I've been to the bottom shelf and enjoyed. It's all a matter of personal taste I suppose.
So to wrap up my semi-wine snobby post, I'll conclude by saying I've also met the King (of beers) in Paris (Texas) and had a nice time, too.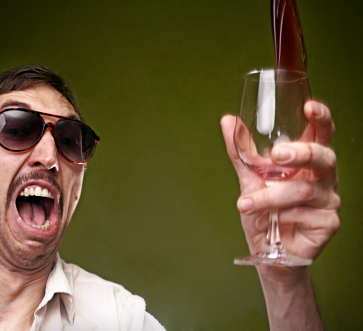 Image found here.