Blame it on Facebook and its algorithms that like to remind me of things from the past. For the better and for the worse.
I re-read this one over the weekend and thought "yeah, that one needs a re-post."
So here we are, when Monday, January 30, 2017 feels a lot like Monday, January 28, 2013

A Treatise On Monday
Originally published January 28, 2013

Written this morning at something like 5:45am


And so we find ourselves back at Monday. Ah Monday, both the beginning and the end.
I have sad, tired, squinting, groundhog eyes as the alarm goes off. I'm begging the world not to pull me from my burrow. Please don't shine that bright light in my face.
But I'm pulled from my burrow anyway and instead of a prediction, the world anticipates my arrival at the train station and my seat on the next ride into the city.
The bright light turns out to be a beautiful ray of light, glimmering off the slowly rising sun.
All possibility is in Monday. Will this be a good week? Will this be a bad week? Will it rain?
Monday is everything and nothing. A blank canvas ready to take the paint.
What will I make of my Monday? What will I achieve? How will I stumble and will I recover gracefully?
It all exists here in these quiet pre-dawn hours. The sun hasn't even said hello yet and here I am, writing. Scribbling the words that want to exit my head.
There is already acrylic paint on my hands from a project that is due Thursday morning. I had to get some early painting done so I can hit that deadline.
In this Monday, all things are possible including finishing a painting that is due in just three days.
Oh my.
I feel strangely happy today. What the hell is this? How unusual for a Monday morning.
The weekend was weird. I was cranky and then he was cranky and then it was Sunday night and another two days of not working were jettisoned to the ether. Monday turned the corner and sat down for a visit.
So here I am again loading a backpack for work, stumbling around to find my badge and my phone and my sense of self-worth.
I look again at my canvas and already I fear I have screwed it up. Don't they say in art there are no mistakes? Just roll with it and incorporate the error. OCD and art are not friends. This major but fixable error must wait until later tonight to find its cloak.
There is a train to catch and a Monday to face. I'd rather stay home in my studio and put gorgeous turquoise paint on a willing canvas. Can I do that for a living?
You know, a girl can dream, and so I will dream as BART gently sways. When I disembark dreams stop so reality can start.
But no matter, I can dream again, later. Dreams don't die easy.
And dreams don't wait for the weekend.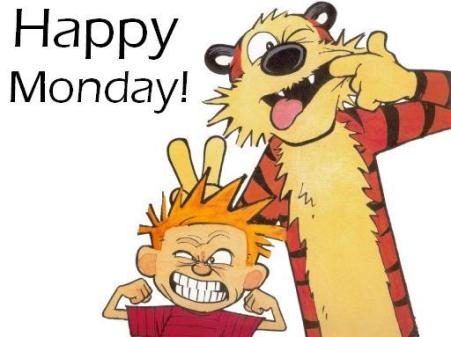 Image from The Miracle Journal.

It is a dark, gray and drizzly day here in Northern California and to be honest, that is a good thing. I say that even as my mood can best be described as poopy. The fact that the earth needs the rain doesn't preclude a little blue mood to go with the not-blue skies.
To be honest, in March, this is what the Bay Area is supposed to do. It's supposed to rain. So I'm grateful for the rain.
But still, I'm cranky.
Days like these make me want to stay in bed all day and only come to the surface for something tasty to eat (then dash back under the covers).
Last evening I watched an old episode of No Reservations when our host, Anthony Bourdain, was in France. At one point they showed warm hot loaves of bread coming out of the oven. Of course now all I want to eat is gigantic loaves of warm bread smothered with butter.
But alas, the butter is a non-starter for me with the lactose intolerance and all. And well, we all know bread gets a bad rap these days.
Later in the show, the host was eating some gigantic meat-on-meat madness type of meal and I said to The Good Man, "I…I just don't think I could eat that. I mean, I would try, but oh how my stomach would hurt."
What the hell has happened to me? I remember the days when I would and could eat everything from flaming hot green chiles to milk products to fatty meats washed down with a lot of beer and wouldn't even blink an eye.
Now as I ponder yet another birthday coming along in a few months, I realize what a little lily I have become. A hothouse flower who can't eat things too hot anymore (damn my GERD) and can't eat milk products (well, I can, but it's an unpleasant outcome) and I sure do eat a lot less meat than I used to because my tummy just can't take it.
Alas! What has become of poor Karen? I don't even know who I am anymore.
I suppose it's all a part of the cycle of life. I mean, I have tried and digested a lot of good food in my life. I don't hold back, I'm willing to give most foods a shot but I have become a lot more circumspect in how I nosh.
A "good" meal can be great in that moment and can then ruin my whole day. So I eat a little less quantity and a little better quality and I wonder what else I'm going to be a candy-butt about in this great life.
First world problems. I got 'em.
(And give me time, I'll get over myself. I always do.)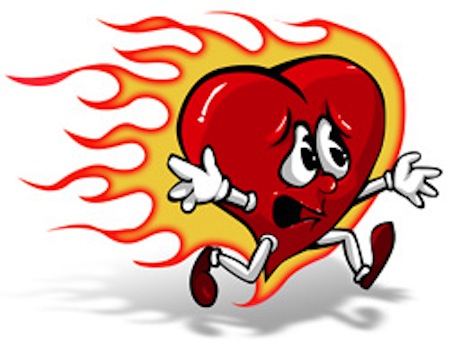 Image found here.

Woke up this morning to a dark gray day as the (much needed) winter rain pounds the Bay Area.
But this rainy Saturday had a surprise. A whisper of Spring, growing in the small yard beside my building.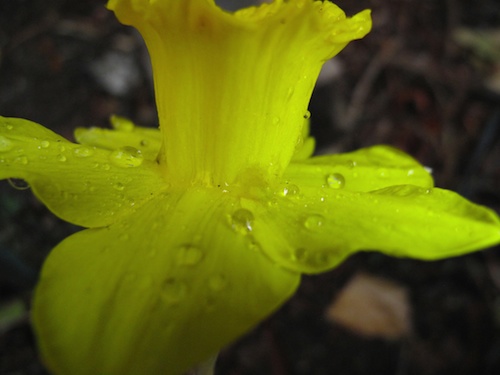 Photo © Karen Fayeth, 2014

I bought some daffodils from Trader Joe's yesterday, but the small wild 'dils in my yard beat them to the punch.
Oh how I love the sunny yellow of daffodils. Sweet smell of Spring.
While I do appreciate the rain, I really do, I secretly can't wait for golden California sunshine to return.

On Saturday the sun shone down so brightly on the Bay Area that it was too hard to stay inside. Roaming and marauding were the order of the day.
Yes, I know as a Californian I am supposed to feel Very Guilty about these sunny winter days we are having. I get it.
But instead of guilt, The Good Man and I went outside and basked in the sun. We decided to wander not our own neighborhood but the one just one city over.
It's a really fun and funky block of shops and restaurants.
They day started with some chilaquilas that were rated as acceptable to me. You see, I grade Mexican food on a very tight scale. Sadly, most Californian Mexican food fails.
Once we were full to overfilled with good eats, we moved on to a really awesome bookstore that I had never been to before.
I do love bookstores. Especially local bookstores with both new and used books on the shelves. You really get a feel for a town by what is stocked on those used shelves.
As I often do in a bookstore, I wandered over to the art section. I am looking for a used copy of a particular Henri Toulouse-Lautrec book. Hope springs eternal.
This particular art book section was more eclectic than I usually find, which was great. A lot of things I hadn't seen before.
While perusing, I found one very small section of books under the heading of "Wild, Wacky and Wonderful."
Boy, this small collection lived up to the billing.
There were just five titles. I can't quite remember them all. One was Toilets of the World. I recall that. Quite an interesting tome, may I add. One was the Pipe Handbook. One was the Diary of a Sword Swallower or something like that. I can't seem to recall the other two.
As I browsed I kept walking back to that section and laughing. It was *too* perfect. Just too.
So then I decided to take an iPhone photo so I could remember what five titles were there. But how to snap a photo without incurring the wrath of the storeowners? They are sick, I'm sure, of people finding something in their store then buying it on Amazon. Snap click is a means to that end.
My intentions were good but I didn't want to be a pain in that charming store.
Then I remembered, oh yes, that you can use the volume buttons on the iPhone to fire the shutter. I decided that I could hold the camera at about waist level and take a surreptitious snap.
I went over to the side of an aisle and thought, "Ok, I better give this a try to make sure I know how it works."
I pushed the button and then loudly echoing through the store was the shutter sound that iPhone so helpfully adds to camera app.
You see, I always, always, always have the sound off on my phone. Always. I mean seriously, always.
Except on Friday afternoon when I was expecting (and didn't want to miss) a call from my boss. After the call I then forgot to switch sound back off.
The shutter sound caused three people around me to snap their heads up and give me "grrrr" eyes.
Busted. Flat busted.
So there you go. I have no photo of the crazy fun titles, only my hazy memory.
And this piece of photographic art of the wrong shelves. *sigh*
Enjoy.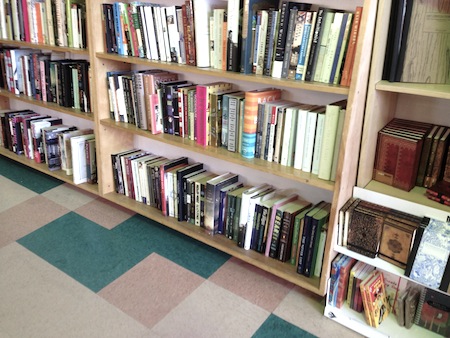 Copyright © 2014 Karen Fayeth

Photo Copyright © 2014, Karen Fayeth, and subject to the Creative Commons License in the right column of this page. Taken with an iPhone5, the onboard camera app, and not a lot of guile.

My fascination with bridges is pretty well documented. I have a mini project going on in my creative background to photograph bridges (and rivers, boy do I love rivers!).
This weekend I had a nice opportunity to photograph a brand spanking new bridge.
For years, ok pretty much since I moved to the Bay Area, I have railed about the eastern span of the San Francisco-Oakland Bay Bridge. The western span is a beautiful, elegant suspension bridge while the eastern span is a bunch of clunky tinker toys, better known as a cantilever bridge.
Here's a photo I took from the upper deck of the tinker toy:

Image Copyright 2010, Karen Fayeth

This part of the bridge is very functional but not very aesthetically pleasing. At least in my personal opinion (others disagree).
You'll recall that in 1989, this was also the section of the Bay Bridge that collapsed during the Loma Prieta earthquake.

Image from Wikipedia and used under a Creative Commons license.


If that photo don't make your heiney pucker, than you have a set of brass nerves that I just don't have.
In the wake of the 1989 earthquake, planning and work began to replace this span of the Bay Bridge with something more seismically stable. This project was not cheap and it was not simple, but by gum, now some 24 years later the brand spanking new eastern span of the Bay Bridge opened up to the public last night.
Traffic reports this morning were pretty bleak as plenty of people crammed onto the new span for their first ride.
Yesterday The Good Man and I sought to escape the breeze-less heat at our happy home and drove out to the marina near Emeryville, which offers unobstructed views of the City, the bridges and downtown Oakland. I took my camera along as I am part of a photography club and this month's theme is landscapes.
Here is my semi-artistic view of the new eastern span (to the far left in the photo) and how it blends is perfectly with the existing buildings and landscape of the San Francisco city line (that's the top of the iconic Transamerica building just to the right of the new bridge).
At first I was no fan of the white paint on the new span, but now I've come to love it. This new suspension bridge really stands out against the backdrop and claims its own place in Bay Area history.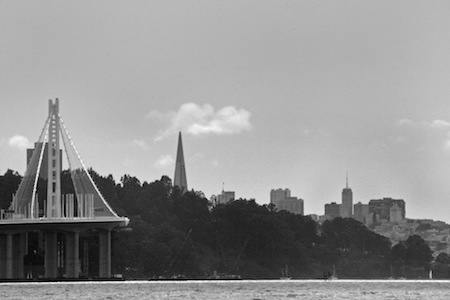 Image Copyright 2013, Karen Fayeth


Hard to tell from this photo, but there are no cars on the deck of the bridge. Who knows how many years will pass before we see that again!
And while I'm excited to the point of hyperactivity about this gorgeous new suspension bridge and looking forward to seeing it every day as I drive to work, I find something curious is happening.
The news reports say that the moment the new bridge is up and running, the old eastern span will be dismantled. The pieces will come out in the reverse order they went in and much of the metal will be sold for scrap. This makes me a bit sad. It seems that ugly ol' bridge found a way into my heart. Those 1934 era tinker toys now mean something to me, and I'm more than sad to see them go.
In the wake of this shiny new toy, that unseismically sound bridge now seems awfully lovely. In the many months I commuted to the east bay across the Bay Bridge (before I made the big move), I learned to love the forgotten little sister to the Golden Gate bridge.
Sure am going to miss one half of my old chum, even as I welcome this safer new span.
I'm glad the Bay Bridge is having a much deserved moment in the sun.

Image of the old eastern span of the Bay Bridge, Copyright 2010, Karen Fayeth. Image of new eastern span of the Bay Bridge, Copyright 2013, Karen Fayeth. Both images subject to the Creative Commons license in the right column of this page. Old span taken with an iPhone and the Camera+ app, new span taken with a Canon Rebel and fixed up a bit in Photoshop.