Blame it on Facebook and its algorithms that like to remind me of things from the past. For the better and for the worse.
I re-read this one over the weekend and thought "yeah, that one needs a re-post."
So here we are, when Monday, January 30, 2017 feels a lot like Monday, January 28, 2013

A Treatise On Monday
Originally published January 28, 2013

Written this morning at something like 5:45am


And so we find ourselves back at Monday. Ah Monday, both the beginning and the end.
I have sad, tired, squinting, groundhog eyes as the alarm goes off. I'm begging the world not to pull me from my burrow. Please don't shine that bright light in my face.
But I'm pulled from my burrow anyway and instead of a prediction, the world anticipates my arrival at the train station and my seat on the next ride into the city.
The bright light turns out to be a beautiful ray of light, glimmering off the slowly rising sun.
All possibility is in Monday. Will this be a good week? Will this be a bad week? Will it rain?
Monday is everything and nothing. A blank canvas ready to take the paint.
What will I make of my Monday? What will I achieve? How will I stumble and will I recover gracefully?
It all exists here in these quiet pre-dawn hours. The sun hasn't even said hello yet and here I am, writing. Scribbling the words that want to exit my head.
There is already acrylic paint on my hands from a project that is due Thursday morning. I had to get some early painting done so I can hit that deadline.
In this Monday, all things are possible including finishing a painting that is due in just three days.
Oh my.
I feel strangely happy today. What the hell is this? How unusual for a Monday morning.
The weekend was weird. I was cranky and then he was cranky and then it was Sunday night and another two days of not working were jettisoned to the ether. Monday turned the corner and sat down for a visit.
So here I am again loading a backpack for work, stumbling around to find my badge and my phone and my sense of self-worth.
I look again at my canvas and already I fear I have screwed it up. Don't they say in art there are no mistakes? Just roll with it and incorporate the error. OCD and art are not friends. This major but fixable error must wait until later tonight to find its cloak.
There is a train to catch and a Monday to face. I'd rather stay home in my studio and put gorgeous turquoise paint on a willing canvas. Can I do that for a living?
You know, a girl can dream, and so I will dream as BART gently sways. When I disembark dreams stop so reality can start.
But no matter, I can dream again, later. Dreams don't die easy.
And dreams don't wait for the weekend.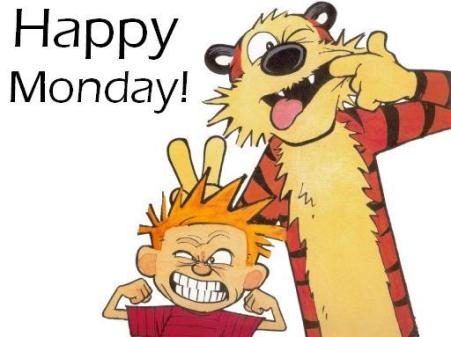 Image from The Miracle Journal.

I was out and about recently and ran into some friends who were with some other of their friends that I didn't know. We all got to talking, cussing and discussing over beers and a bit of wine, and the conversation drifted over to the show "Breaking Bad."
As a matter of fact, this happens to me a lot. Even though the show is no longer producing new episodes, it lives on in the world of Netflix. This show seemed to touch a nerve in people and it still relevant. People like to talk about it.
So I told one of my new friends that, "yeah, I'm finally watching it. I just started Season 2. It's kind of weird to watch, though, because Albuquerque is my hometown. It's where I grew up."
The person responded, "Really? That is so cool! I mean, really cool. Tell me about it! Tell me about Albuquerque."
This literally took the speech right out of me. "Uh, brr, eeeh, aauuugg" was about all I could manage.
Albuquerque? Cool? What?
Albuquerque is not cool!
Well, hell, maybe it really has become cool and it's time to admit it.
The Albuquerque I know was the place that either no one had heard of or said "Oh yeah, you mean like Bugs Bunny?"
Albuquerque is the place that Southwest Airlines used to fly planes that were only one third full because NO ONE went to Albuquerque. (side note: I used to really like that. Now on Southwest flights people are squeezed in so tight you can hardly sneeze.)
Albuquerque wasn't on anybody's radar and now it's in the zeitgeist. Just last night I saw an AT&T commercial that name checked Albuquerque. And it's not the only recent commercial I've seen that gave the 'Burque a shout out. Back in May I wrote this post about New Mexico being a part of not one but two popular movies.
When did this happen? I know, I know, this happened when "Breaking Bad" started airing.
I appreciate I haven't seen all of the episodes but so far, but I'm not sure that show portrays my hometown in the best light.
So far in Season 1 and the first part of Season 2 I can see it's mostly filmed in downtown. I think Jesse Pinkman lives somewhere off of Silver street. It's a pretty cool house, old style.
I lived around downtown ABQ for a while when I was doing a co-op job out of college with Sunwest Bank. I liked living there, but to be honest, that part of ABQ that doesn't always match my experience. I was more of a northeast heights kind of girl.
I often wince at the Jesse Pinkman character because he's so not anyone I would recognize from Albuquerque. Then I wince again because the bad guy character Tuco is pretty much an amalgamation of a lot of guys I went to school with.
Anyhow, I suppose I should be glad that Albuquerque is getting the love. Then again, the spirit of New Mexico runs deep within me. We often have been pretty damn happy when no one knows about our beautiful state. The less outsiders the better.
But alas, Albuquerque is on the map. I even saw a Twitter profile the other day saying, "Proudly living in the land of Walter White," and I just shook my head.
There's so much more to ABQ. But ya'll don't need to know any of that. When the glow of Breaking Bad fades off, we can reclaim our "not cool" town, and going on doing what we do and knowing what we know.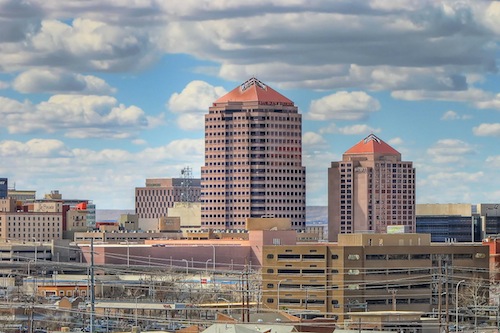 Image from Wikipedia and used here under a Creative Commons Attribution-Share Alike 3.0 Unported license.

The other day at the ol' place of employment, I had an early meeting at another site and then came back to my particular office building, which meant parking on the top level of the parking garage. Ugh.
Early on with this parking garage, I made myself promise that no matter where I parked, I would take the stairs to get to my car. No elevators. Just a little extra exercise in the day. So when I get here early, I have one flight of stairs. When I get here late, I have five. That's how the ol' cookie crumbles.
So after starting really early in the day at an off site meeting and then running like my hair was on fire in the office all day long (gigantic project brewing with very hard deadlines and a press conference to announce it coming up too!) I was pretty dead tired at the end of the day.
I stood at the bottom up the steps looking up mournfully. Five flights? After the day I had? I was determined to keep my promise to myself and I lifted heavy legs up and up and up the stairs.
Around the fourth floor I started feeling gassed. Each step felt harder than the last. It felt like gravity was actively defying me with every lift of my knees. Finally, exhausted and sucking oxygen I made it to the top floor, stumbled to my car and flopped inside.
That last flight really got to me. As I stepped, I had the kind of pondering thoughts that my brain often makes to keep me entertained. Were those last steps so difficult because my leg muscles were wearing out over the sum total of steps? Or does it become harder to slip the surly bonds of gravity with each flight? Or some combination of both?
And that struggle, that last mile difficulty, well, it started to feel like a metaphor. For my job. I am (to use yet another metaphor) rounding third base on this gigantic project and certainly headed for home plate, but this last leg of the journey is proving to be the most difficult.
Here's another metaphor. I can see the summit of this mountain, but the last 1,000 steps are straight uphill with no room or time to rest. Each day feels a little harder. Each moment is fraught with worry.
In about two weeks I will summit this sumnabitch and I will be glad I did. In a few months I will look back and it won't seem all that bad. But right now, looking up, knowing I am so close but knowing all that I have to endure to get to the other side, it feels daunting.
It feels like gravity actively puling me down, down, further toward the ground. Yeah, climbing five flights of steps feels like a metaphor, and not a bad metaphor at that.
But what good is the metaphor? I still have to climb the steps. I still have to complete the journey. And I have not get so focused on the pain and agony and effort of each step that I forget to remember home and the loving arms of The Good Man wait on the other side.
It's worth climbing those steps if only because it means I'm one step closer to him. What is a difficult journey without a meaningful destination?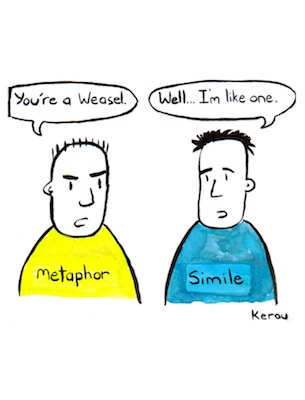 Image found here.

I've talked a bit on this here blog about the photography club I recently joined filled with stodgy scientists and photographic perfectionists.
The way it works is that each month we are assigned a theme. We can either submit photos we already have that fit the theme, or it's highly encouraged to go out and shoot new photos. Most months I dig into my inventory and pull out a couple photos and submit them to be evaluated. Some months I'll push myself to produce something new, so I often have one new and one previous photo to submit.
This month's theme is "Holidays" and I didn't have a ton of photos already lined up and ready to go, so I decided to shoot a couple fresh pictures.
The due date for submitting photos is usually the day of our meeting, but somehow I missed the memo that this month (due to the, um, holidays) the due date is way earlier. I thought I still had this weekend to shoot then upload, but alas, no.
Here is the photo I did manage to shoot and submit: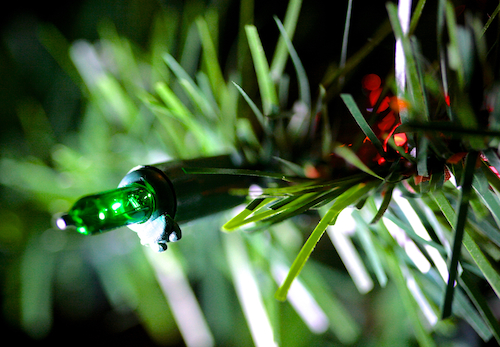 Image Copyright 2013, Karen Fayeth


Took that while setting up the Christmas tree. Turns out photographing Christmas lights is harder than it looks.
Here is the photo that I shot this weekend and can't submit. I had this photo in mind for a while, planned and set up the shoot and executed on it. I'm pretty happy with the results.
But sadly, cannot put this in the running for the December contest.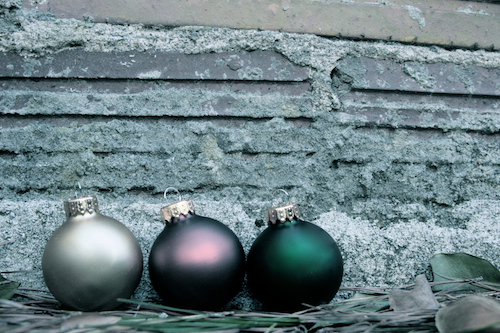 Image Copyright 2013, Karen Fayeth


So pooh on all of this! I made my own club. I have my own contest.
And I win. Yes. I get to win because nanny-nanny-boo-boo.
But seriously…I have to keep a closer eye on due dates.
Whoops!
Both photos Copyright 2013, Karen Fayeth, and subject to the Creative Commons in the right column of this page. Both taken with a Canon Rebel and touched up slightly in Elements.

…but you can't take the desert out of the girl.
So here's something that is grinding my gears lately.
It is the summertime here in the Bay Area and that is a complicated thing. As many know, the marine layer and I have long had a tempestuous relationship.
July looks like this: overcast morning gives way to a very hot and sunny day which is then doused by fog by the afternoon.
This phenomenon is why you see tourists shivering in their shorts down on Fisherman's Wharf. The Bay Area warms up quickly then is naturally cooled.
However….
Before the fog rolls in, it can get truly hot around here. Hot enough that a little air conditioning would be a nice thing.
Most of the Bay Area doesn't believe in air conditioning. I recall when I first moved here and was shopping apartments. I asked one landlord "where are the air conditioning controls?" and he laughed and said, "No air conditioning."
"Whaaat?!" Was my reply. That was when I lived in the South Bay and temps could climb into the high 90's during the day.
"Just open the windows. We get a cross breeze," he said.
I scoffed. And harrumphed. And muttered something like "I'll give you a cross breeze you rattin' smattin' rootin' tootin' son of your mother…."
As it turns out, very few homes in the Bay Area have air conditioning. No place I have lived since I've been here has had the sweet miracle that is air conditioning. Only some windows and a hope for a cross breeze.
Compare that to New Mexico where every home has some form of AC. It's only right. Just. Moral. Upstanding.
I've survived many a Bay Area summer season by working a few longer hours at work, sucking down their gentle corporate paid cool air, or riding in my car with the AC on max to cool off.
But what's grinding my gears lately is all of the retail stores that either don't have or don't use air conditioning.
Look, I learned as a young child about moving quickly from the freon cooled car into the refrigerated air cooled grocery store that was so frosty it would raise goose flesh on arms and my legs clad only in shorts. Malls and clothing stores and other retail shops are a respite from the heat.
Not here. Stores have no windows and no AC and no moving air at all and they become this stale pit of muggy heat. Bleah! I saunter around the store wiping sweat off my fevered brow.
My desert hewn body was made to be a wonder of convection cooling. I sweat, breeze passes over it, water evaporates and I'm cooled.
This is how nature made me!
But deep inside a Walgreens or a Safeway there ain't no breeze and only the sweat remains. Gross.
So then I take up residence somewhere near the freezer section where I crack open a door and it takes me a reeeeaaaalllly loooooong time to select which brand of frozen orange juice I would like.
It just ain't right.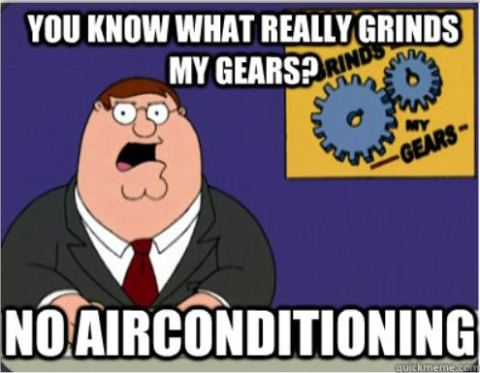 Image created by quickmeme.