For just over a month I have been participating in a Flickr group called Macro Mondays, the intent of which is to create a new Macro photo each week based on a specific theme.
This group is a lot of fun and it is a pretty good challenge for me to create something new every week.
This week's theme turned out to be right in my wheelhouse, combining two great loves of my life.
Our theme was to create a macro photo based on a favorite book. The rules said no showing the cover of the book, no obvious photos of a book. No, the photo needed to represent what the book is about.
Many an hour was spent thinking about what book to choose and how to best represent a story. I wanted to do Red Sky at Morning, but was unsure how to create that in the small space of a macro photo. I considered Lonesome Dove, but didn't feel I could do it much justice.
So I finally settled on Something Wicked This Way Comes. After many brainstorming sessions with The Good Man, much thinking and agonizing and not being happy with what I was producing, I think I finally landed on something that does justice to Mr. Bradbury's fabulously creepy story.
Here's my photo: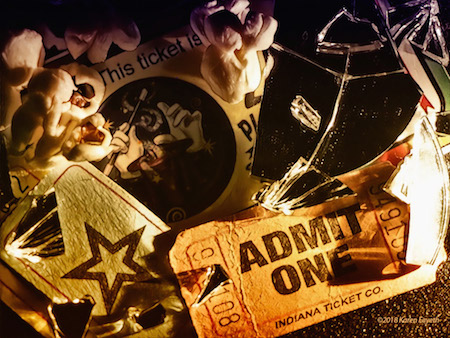 Inspired by Something Wicked This Way Comes by Ray Bradbury

Copyright ©2018 Karen Fayeth

This weekly challenge gets about 1,000 entries this week, and I look at every one of them so I can learn and get excited about the work of fellow photographers.
Here is some fun trivia: What book do you think was the most represented this week? Any guesses?
.
.
.
.
.
.
.
.
.
By far, a Clockwork Orange. I don't know what that says about this group…..
Followed by Lord of the Rings, Hitchhikers Guide to the Galaxy and Zen and the Art of Motorcycle Maintenance.
Fantastic books, all. Just not on my personal top ten.
I won't even get into all of the instances of 50 Shades of Gray and Twilight.
So while this week's photo took a lot of planning and setup, I am completely excited about this idea and (mostly) happy with my photo. I would love to take a stab at some other books too. Fun idea. Now I look forward to next week's challenge.

As a sort of minor and mildly entertaining footnote to Tuesday's Congressional election in Alabama, there was a CNN interview where the spokesperson for the Republican candidate made a spirited argument that Muslim politicians should not be allowed in Congress because they'd be required to swear on a Christian bible.
The CNN host went on to utterly decimate the spokesperson's assertion by letting him know that not only is it not required to swear on a bible, if you are swearing an oath of office, you can technically swear on anything.
Something about that pesky separation of church and state, I suppose.
Look, I'm not here to wade into political waters. What I am here for is to wade into this debate:
If you became an elected official, upon which book would you swear your oath of office?
As a lover of books, this question intrigues me. One might suggest that the book used for an oath of office would have some meaning, some gravity. Something that matters to you.
So where to start? I mean, what are the books that made me who I am today? That have, to me anyway, a sacred meaning. Something upon which an oath would really matter?
Okay, I've had a noodle on this, and decided that here would be my top five picks, in no particular order:

Lonesome Dove by Larry McMurtry



This is the book that made me want to be a writer. It's seminal to my creative life and had particular meaning for me years ago to read an author from the west write the west (and not some east coaster's idea of the west, I'm looking at you Cormac). This book is in my DNA and it's the perfect book upon which to swear, because Gus and Call do an awful lot of swearing in the story.

Red Sky at Morning by Richard Bradford



When I was a kid, my mom suggested I read this book and I am so glad she did. I've opined plenty on this book, and it's perfect for swearing an oath because this was the first book to make me feel like it was not only okay, but pretty damn cool, to be a New Mexican. Growing up in the 70's and 80's no one knew where or what New Mexico was, nor cared. Heisenberg putting us in the media spotlight was years away. This book is me and I am this book, I give you my oath on that.

Lamb: The Gospel According to Biff by Christopher Moore



The story of the Son of God, as told by his best friend Biff. It's historical and hysterical. This book will make you laugh right out loud as our man Biff pulls his somewhat clueless friend Jesus out of scrape after scrape. It's outright blasphemy which makes it the most logical choice to swear my oath of office.

Fear and Loathing in Las Vegas by Hunter S. Thompson


As noted before on this blog, Las Vegas is something well woven into the fabric of my life. I got my start in life there and spent an awful lot of time there as a kid. I have a much different view of Vegas than most. It's a strange sort of indescribable thing. This book is on my list because, uh, it's Hunter S. Thompson. What better FU to the whole swearing an oath to the government?

But mainly, it's because of this part:

"A little bit of this town goes a very long way. After five days in Vegas you feel like you've been here for five years. Some people say they like it — but then some people voted for Nixon, too. He would have made a perfect mayor for this town…" — Fear and Loathing in Las Vegas

C'mon! This is the perfect oath of office swearing in book.

Boys of Summer by Roger Kahn, or maybe Shoeless Joe by W.P. Kinsella, or possibly Ball Four by Jim Bouton, or, or, or… It's a long list.



The right choice for swearing in because baseball is my religion.
Okay, now that the book question is sorted, the next item to tackle is what music is going to be played at my swearing in? I'm going to assume I will be elected to a low-level office with no budgets for live acts. So, assume a bumpin' sound system. Who gets to warble under my swearing? Ooooh, that's a good one…..
If you have a mind to, holler at me here or on any of the social medias and tell me what book you want to swear your own oath on. I'd love to cuss and discuss.

———————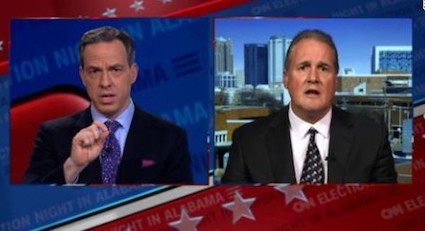 The exact moment where the one on the right realized his whole argument was just verbally punched to the ground

Story source.

Lately I am all about my Kindle. I had an actual Kindle eReader for a while and then I migrated to using the Kindle app on my iPad and iPhone.
Love, love, love it.
As a writer, I am interested in the people who manage to self-publish and get a little traction on Kindle. As in, who are these people who are making it into the Kindle 100?
As a commuter, I like quick, lightweight and fun reading to pass the time on long BART treks.
With all of this in mind, I went and scoured the Kindle 100 list for downloadable fun. On the top seller list, I found mostly genre books, and most of the genre stuff falls squarely under romance.
Hey, look, cheap romance novels and I go way back. I was reading Harlequin paperbacks when I was in mid-school. My Grandma loved those inexpensive books so much. She'd read one and then my mom, sister and I would pass it around when she was done.
Not much has changed in the romantic genre since moving to Kindle. I looked at all the cheap and tarty romance eBooks and paid anywhere from $1.99 to $7.99 for three different titles.
I have made my way through two of them and am working on the third. I find that immersing myself into this world of genre fiction has sort of tinged my world view. The real world and actual human romantic relationships look a little weird after living in genre world.
In no particular order, what I've learned from $13 worth of literary cotton candy:


Everything old is new again.


The basic formula for a good Harlequin romance goes something like this:
There is a dark and brooding man. There is a troubled and innocent woman. Their worlds collide in some fashion. Usually the man is some brash worldly guy like a sea captain or an army general (most Harlequin's are set in a historical era).
She hates him or he hates her or they hate each other and they fight. He curses the headstrong woman, she alternately loves and hates how manly and forceful he is.
One or both of these characters has a secret. This secret means they can never truly love. That said, a little roll in the hay and it turns out that the love of a good person can cure all their problems.
Cue riding off into the sunset.
Yeah. Not much has changed. Instead of sea captain insert Chief Operating Officer of a big marketing firm, CEO of his family's insurance company, and famous rock star.
I'm not making any of these up.
Apparently the new brash sea captain wears a tie and worries about his stock portfolio.
Also, apparently male victims of sexual abuse seem to be the new theme. In one it was his step mom, in another it was his foster mom, in the third there was physical but not sexual abuse because his mom was a junkie who died thus preventing him from ever truly loving a woman…blah blah blah.
*sigh*


One really cringe worthy success spawns many, many more. Like evil bunnies.


I am learning about this phenomenon called Fan Fiction, which has been around for ages, dating back to early Sci Fi books, and perhaps older than that, even.
In a nutshell, people love a book and then take the same characters or the same setting or both and write a new work. Rarely is the fanfic sanctioned by the original author. It's written largely for other fans of the original work.
Just so you know, the author of the weirdly successful "Fifty Shades of Gray" series admits that she took her inspiration and characters from Twilight.
Hackdom begats hackdom begats hackdom.
I realized post-purchase that the authors of one of my three eBooks also took their inspiration from Twilight. Edward is now named Jake and wears a suit and is a surly corporate executive. Bella is now named Chloe and is an MBA intern.
Yeah. I might note here that I got through one and a half of the Twilight books and hated them immensely. So fanfic based on a series I can't stand isn't really working for me, but oh damn is it working for a whole lot of other people.


Careless disregard for the English language, grammar, readability, and formatting does not prevent the sale of books or degrade the author's credibility.


So that book I just referenced, the Jake and Chloe one? Reached number nine on the New York Times bestseller list for fiction (and higher than that on the ebook list).
This, despite the fact that it was riddled with formatting issues, typos and grammar errors.
Just cuz ya popular don't mean yer quality.
Whooo doggies. The language abuses I've seen.


Character development? Pfft! Who needs it?


Apparently writing about lots and lots of sex, in rather graphic detail, trumps the need to actually develop the characters.
Usually when reading a book I can "see" the characters. They take on fully formed beings in my head and in a book I like, they become like friends I get to visit with for a while.
Not from this book. I know very little about the characters other than he is tall and has tousled hair. She is short and skinny with dark hair. And has big boobs.
There you go. Characters for the ages.


Euphemisms! I got your euphemisms right here!


This is the most awkward part about reading these books. Look, even Harlequin used euphemisms for body parts and particular actions. You'd think some thirty to forty years later we'd be better at providing color commentary.
Nope. We've graduated past "towering manhood" and "her most delicate flower" but not by much. Now the in-favor euphemisms seem to be "his sex" and "her opening".
I cringe just typing those words. Ew.
Can we just agree that "thingy" and "hoo-ha" are the generally accepted nomenclature and be done with it?


Everything ends up "happily every after" unless, of course, the author is working on grinding out a series of books.


And then it makes sense to leave your character lying in a pile of leaves in the woods, distraught over a break up (ahem, *coff*Twilight*coff*) and the fans begging for the next book.
Nice work if you can get it.

I had a rather in depth conversation with The Good Man last night over whether I have it in me to crank out some of this genre stuff. I *can* do it, meaning I have the skills and capability, but somehow it feels, to me anyway, a little soul deadening.
So this was a good sashay into the current state of publishing. Not sure what it means for my writing. Though my commutes have never been hotter, all that thingy on hoo-ha action!
Or, you know, not.
I guess at this point in my life, you gotta make it GOOD to get this old girl rolling. And by rolling, I mean something other than my eyes.

"Coffee Flavored Kisses" — java, my true romance!

Image Copyright 2013, Karen Fayeth, and subject to the Creative Commons license in the right column of this page. Taken with an iPhone 5 and the Camera+ app, and sweetened by a little iPhoto touchup and an Instagram filter.

Turns out world traveling makes me homesick more than ever for my homestate.
When I can't pay my Fair New Mexico a visit in person, I have to go there in my mind.
A good book helps on that transcendental journey.
Time for a re-blog. This was first published May 16,2007.

________________________________

I'm a fan of books, always have been. I have to say that The Flamenco Academy (chronicled here a few days back) has really fired me up lately. I haven't read a book in a long while that made me feel like there is hope for popular fiction. And that a book set in New Mexico was so well done makes me double happy.
So I know this has been covered plenty of places elsewhere, but here's my top five list of the best works of New Mexico fiction. These are the books that, in my opinion, make me proud to be a New Mexican.
Without further ado (in no particular order):


1) Red Sky at Morning by Richard Bradford
This is a quintessential read for anyone living in New Mexico. It ranks not just as one of my fave NM books, but one of my fave books of all time. The main character, Josh is brought from Alabama to New Mexico by his parents and is introduced to the clannish people of Northern New Mexico, including the bully Chango. The scene where he and his buddy get liquored up remains a classic. I almost always quote from it when I, myself, tie one on. A classic, truly. And an easy choice for the list.
2) Bless me Ultima by Rudolfo Anaya
One of those books that gave me a wry smile as I read it. One of those where you nod as you read, thinking "yeah, that's familiar". Anaya is a beautiful writer and it is an honor to be a fellow New Mexican with a man of his caliber. This coming of age story is a nice contrast of old vs new, how Hispanic culture rolls into American culture in a way that is beautifully unique to New Mexico. It's lyrical in the storytelling and a must read.
3) The Milagro Beanfield War by John Nichols
Yeah. This had to be here. You know it did. When I'm homesick I put on the movie to see the land as much as anything. It's a salve for my soul, always. The book was a little tough for me to get through, but worth the effort. It really captures the feeling of that time in New Mexico in the 1970's. It also captures a little bit of that magic that can only be found on My Fair home state. Milagro Beanfield War always takes me right back home, effortlessly.
4) Cavern by Jake Page
A thriller about a group of spelunkers who explore a hidden cavern and discover a near extinct species of bear…who is none to happy to be bothered. Not a particularly great novel by most standards, but it does speak to a bunch of interesting things including a fairly detailed explanation about how the caverns, including Carlsbad Caverns, were formed. Both my parents worked for a while at the WIPP site, so this book also showed the ongoing battle of all the government agencies involved out there. DOE, Environmental groups, BLM and private interests do war daily and there is some discussion of WIPP in the book and how it may affect things in that geographic area.
My mom turned me on to this book and laughed at how true to life some parts of the book were portrayed. Working at WIPP left her a bit…scarred…so it was good for her to see it in print. Validating, you know? For me, it was a fascinating read and name checked a lot of places I know from living in Carlsbad, including some truly dive bars (including the one frequented by miners, ranchers, roughnecks and college kids. They stopped serving beer in bottles because there had been too many fights. But on a good night, the dancing was unbeatable).
5) Anything for Billy by Larry McMurtry
Ok, not technically a New Mexico book but about a New Mexico legend (Feh to the Texas town that claims ownership. FEH! I say!) and certainly New Mexico figures into the story. I am a massive fan of McMurtry and this is my favorite of all his books. He portrays Billy as a young, impulsive, spoiled, petulant brat. It's fabulous. To me it was a fresh look at an old legend and to do that takes a talent that Mr. McMurtry has in spades.
You'll note my list is strangely devoid of Hillerman books. I'm actually not a fan. My mom is an avid reader of his stuff. I am not. : shrug : I've got no issues with Hillerman, it's just not my taste.
Lois Duncan is another author I'm proud to know is New Mexican. As a kid I avidly read all her stuff. Loved her writing and always got geeked out when we saw her at the Coronado Club at Kirtland Airforce Base. My mom would point her out to me. Her husband worked at Sandia Labs like my dad so she'd wait there (like we did) for her husband to get off work. Those were fun sunny summer days as a family. I tend to associate Duncan with that time in my life.
I know there are probably a bunch of good choices I'm missing, but for now, that's my list. I reserve the right to add, delete and change the list as we go.

Over this past weekend on our fun boondoggle of a vacation tour, The Good Man and I found ourselves up in Sonoma, California. Land of wines, a California Mission, and a fantastic historic plaza. Beautiful, wonderful Sonoma.
Another fabulous feature of Sonoma is that the writer Jack London lived there for many years. He and his second wife built an enormous home out in the tall redwoods, which sadly burned down, never to be rebuilt. They built a smaller cottage, and in fact, Jack London is buried there near the site of his home. This location, the ruins of the big house and London's grave are all part of the Jack London State Historic Park due for closure in 2012 because of ongoing California budget woes.
Since both The Good Man and I are avid readers, we were thrilled to take a tour of the site.
One of my favorite parts of the museum was the many letters both to and from Jack that are on public display. He was quite the articulate one.
Here's one that especially resonated with me. It's a rejection letter from the editors at The Curtis Publishing Company in Philadelphia. I believe this was a query to the Saturday Evening Post.
Here's what it says:
Dear Sir

We have found the "Sunlanders" a story of exceptional interest. We should wish to give it a place in our columns were it not our policy to exclude the tragic from the magazine.

We thank you cordially for giving us an opportunity to examine this manuscript, and hope that you have in hand some tales of a more cheerful manner.

Very truly yours,

The Editors
So, you know. Ouch. Your story? Rocked. But it's sad. We don't *do* sad. Write something happy, why don't you?
Of course, this is also a very strong example, perhaps, of a writer not doing their homework before querying a magazine. I might be guilty of this.
This is but one of the many rejection letters that London received over the course of his notable writing career. He'd wallpapered his cabin in Oakland with them and there were many more to go. His first book was rejected 600 times.
Now that's tenacity.
Then there's this letter, a brief note included in the collection with no explanation:

It says:

Dear Comrade – I can't read your letter. I've wasted twenty minutes, ruined my eyesight and lost my temper, and I can't make out what you have written.

Try it over again and more legibly.

Sincerely yours,

Jack London

PS I can't even make out your name
Oooh, rasty, rasty Jack. Love it.
But my favorite, far and beyond the best of them all was a two pager regarding some delinquent payments.
It's a doozy.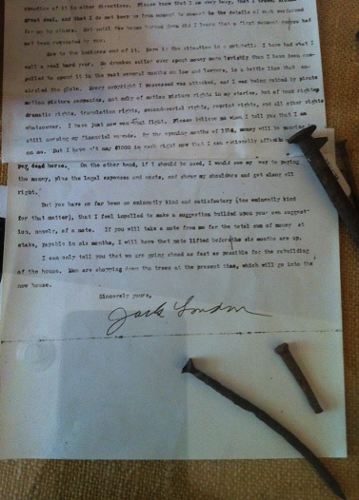 Here's the text:

Messrs M. Clark and Sons,

Gentlemen:

In reply to yours of December 26, 1913, addressed to Mrs. Shepard, which Mrs. Shepard has kindly forwarded to me. I am glad she forwarded to you the letter I sent her the other day.

Before we get to the business end of it, let me tackle the mental end of it, namely, your inability to understand my remark that if you had collected the $1000 when it was due, I would not be pinched for it now. The funniest thing is, that it is just that $1000 I am pinched for now. Put yourself in my place: Mrs. Shepard had charge of the house building and the bill paying. I earned the money. Mrs. Shepard always let me know roughly what bills and expenses were paid each month. Anything that was left over I spent. Naturally, since the $1000 was not collected at the time it was due, it was left over, and I spent it. You know what a dead horse is—–this $1000 is now a dead horse to me. I cannot unspend the spending of it in other directions. Please know that I am very busy, that I travel around a great deal, and that I do not keep up from moment to moment in the details of work performed for me by others. Not until the house burned down did I learn that a first payment due you had not been requested by you.

Now to the business end of it. Here is the situation in a nutshell: I have had what I call a real hard year. No drunken sailor ever spent money more lavishly than I have been compelled to spend it in the past several months on law and lawyers, in a battle line that encircled the globe. Every copyright I possessed was attacked, and I was being robbed by pirate motion picture companies, not only of motion picture rights in my stories, but of book rights, dramatic rights, translation rights, second-serial rights, reprint rights and all other rights whatsoever. I have just now won that fight. Please believe me when I tell you that I am still nursing my financial wounds. By the opening months of 1914, money will be pouring in on me. But I haven't any $1000 cash right now that I can rationally afford using to pay a dead horse. On the other hand, if I should be sued, I would see my way to paying the money, plus the legal expenses and costs, and shrug my shoulders and get along all right.

But you have so far been so eminently kind and satisfactory (too eminently kind for that matter), that I feel impelled to make a suggestion builded upon your own suggestion, namely, of a note. If you will take a note from me for the total sum of money at stake, payable in six months, I will have that note lifted before the six months are up.

I can only tell you that we are going ahead as fast as possible for the rebuilding of the house. Men are chopping down trees at the present time, which will go into the new house.

Sincerely yours,

Jack London
This letter made me laugh out loud. Makes me want to take a few lines from his work the next time I have to write a gripe to someone who has ticked me off.
Here's a good example: Dear Sirius Radio, it's a dead horse, I'm not going to sign up with your service again. I've been spending money as lavishly as any sailor ever did (*cough*iPad*cough*) and I'm tapped out. Now go away.
Good ol' Jack. One hell of a writer.