As I put in a few extra work hours in this crazy holiday season, I thought I'd reshare this photo I took a couple years ago.
I call it "After the Party" because, you know…I had thoughts of the remnants of a great holiday party, happy people, tree on the floor, ornaments askew.
This photo was so much fun to set up and SUCH a pain to clean up. It remains one of my favorite shots in my portfolio.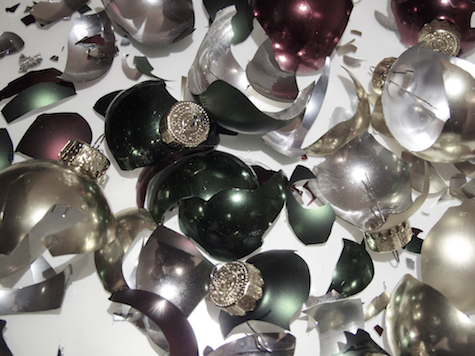 ©Karen Fayeth

See more of my stuff (including another Christmas photo) on my Flickr

It's January. The holidays are over. Back to work. Inauguration looms large.
The skies above the Bay Area have turned a familiar shade of mushy gray. Expected for January.
When the marine layer isn't in, it's frosty cold. When the marine layer is in, it's torrential. Standing pools of water soak my socks. Windshield wipers can't keep up. The kind of rain that terrifies a New Mexican until she remembers that Bay Area drainage systems were meant to handle this kind of water. Mostly.
January feels dreary, but there is hope on the horizon. There is a break in the gray.
You see, this past weekend my favorite grocer featured unopened daffodil blooms. I scooped them up and ran home with my trophy.
I love daffodils because they remind me of what's to come.
First come the daffodils with their buttery yellow optimism. Then almond and cherry blossoms create their own snowfall of fragrant petals. Then tulips in every color you can imagine. Finally colors and flowers of every sort jostle for the gentle rays of warm Spring sun.
I am a child of Spring and Spring is on the road, making its way back home to me. It returns with the dogged determination of a lost love.
Within my pile of hope and anticipation bought at the grocery store, there was a special stem. It made me a promise. Silent and steady.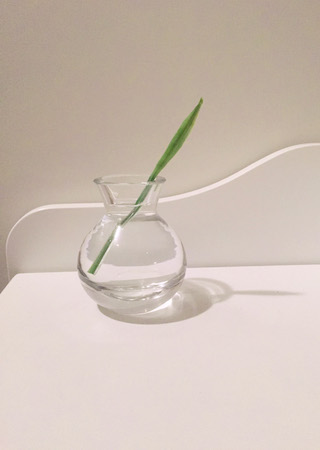 A promise made.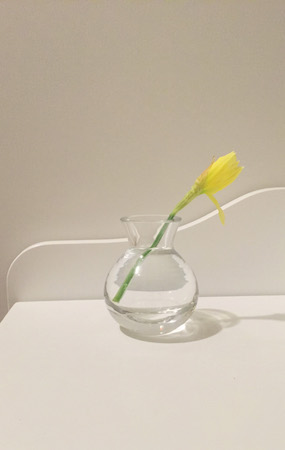 A promise in progress.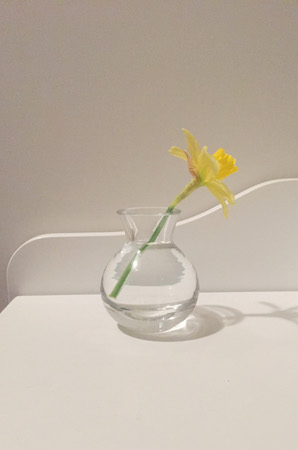 A promise kept.


Now ain't that something to get excited about?

All photos ©Copyright 2017, Karen Fayeth. Taken with an iPhone6, the Camera+ App, patience and anticipation. Subject to the Creative Commons license on the right column of this page.

This has been a weird year, right? I don't think anyone will disagree. As I came sliding butt first into December, I was already disorganized and suddenly bowled over by work. By all measures, we did triple the volume of work we usually do and it was no small bit of effort to simply make it through December. But make it through we did.
In the smoldering ashes of 2016, I am working hard to get some order back to the chaos of my life. I firmly believe that being a little bit stronger, quite a bit more disciplined (and organized) and filled with more optimism will carry me through the slings and arrows of 2017.
To that end, I have returned to Morning Pages. If you have read The Artist's Way, you are familiar with Morning Pages. The idea, according to Julia Cameron, is to prime the pump. Write three pages of stream of consciousness words every morning to get into the creative flow.
Instead of handwriting pages as suggested by Cameron, I use an online tool called 750words. That tool works a bit differently than the Artist's Way describes, but that is okay too.
So as I sit here now on my fourth day of vacation, hallelujah, I am working on today's words. I have fallen out of my writing discipline and I can tell I am rusty. Lots on my mind. It's good to get back into the habit.
The best part of the 750words is that every once in a while, while priming the pump and working through the silt to get back into the flow, some solid words, some bon mots, some worthy thoughts come through.
Wanted to share these, because they may become my motto for the new year (Warning: there is some salty language, it that offends, look away):

…doubt is a persistent little bitch. Hope slides off like you are made of teflon, but doubt sticks like tar, or used up chewing gum or one of those gluey mocos you can't quite get off your finger no matter how hard you shake. Patience and discipline, that is the kleenex to your glue moco and allows you to fly once more. The sturdy facial tissue that brings back hope.

Yeah, I have no idea what any of that means, but it made me feel good to write it. Like I was really tapping into something, so I decided to share it.
Hope your end of 2016 and planning for 2017 has better metaphors. I'll keep working on mine.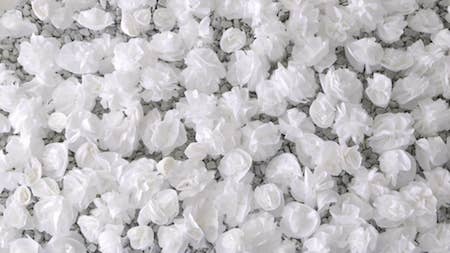 Inspiring flowers made of kleenex. Is that hope I'm feelin'?

Image found here.

Welcome to the sixth day of the year 2015 but only my second day back at the ol' place of work.
While technically the first of January is the first day of the New Year, it doesn't really feel like the New Year has begun until I go back to work, i.e. get back into the "real world."
My employer is ever so kind in that they shut down operations from December 24 through January 1. That means with a little planning and a little curation of vacation hours, I can eek out full two glorious weeks away from the office.
I look forward to this two-week break from work all year long.
All. Year. Long.
In my career, I've rarely taken two weeks of regular vacation time, so these two weeks at the end of the year feel beautifully indulgent.
My first priority for the break time is to sleep. Nap. Sleep more. Rest and then do nothing too taxing on brain and body. That usually lasts about three days then I'm rested and raring to go.
The rest of the break time is spent with family, exploring the world with The Good Man, cleaning up my home office/studio and working on creative projects.
I find I'm able to fully and completely forget about work and live the dream of a creative life. Sleep until my body is rested, rise and work on creative projects, fill my head with creative inspiration and plan forward for the projects I want to work on in the coming year.
It's a beautiful place to be, a place I'd live all year round if those darn lottery numbers would just break my way. It feels solid and satisfying and clean and pure.
And then sixteen days of being my own boss pass too quickly and Monday, January 5 arrives. I have to figure out how to get back into the flow of "regular" life. I have to metaphorically merge into speeding traffic with no running room and only two of four cylinders in working order.
Yesterday was that day. Yesterday I woke up with the help of an alarm clock (bleah, sixteen days of no chirping alarm was REALLY nice) and sat up in my comfy bed, bleary eyed and lost.
I tried hard to find the muscle memory to rise, to make some breakfast, to put on some clothes, where is my work badge?, move out the door and get to work on time.
When I arrived at the office it was all too familiar and all too unfamiliar.
It felt like I had changed. I was a different (and better) person as I swiped my badge and entered the office. Then I realized that work had not changed.
I came to my own little gray cubicle and there was all of my same stuff I'd left behind, but it looked alien.
The laptop machine asked me for a password and I had to think very hard about it. Took a couple tries at it and finally remembered.
Have you ever seen baby ducks when they are following their Mama Duck into the water? It often looks like this: Mama slides effortlessly into the water and her eight to ten ducklings slip, slide, belly flop, and unceremoniously plop themselves with a splash behind her.
For a moment, the water crests over the top of their head, then the ducklings one by one pop to the surface like popcorn and start swimming.
It was very much like that yesterday. I fell uncoordinated and perilously off the vacation ledge into the bracingly cold pool of work. I grasped for stability for a little while and then I found my feet and began to paddle. By the afternoon I was moving more or less in a forward manner.
So that's the New Year. A little bit new, a lotta bit old. I suppose all of the inspirational quotes are true. It's up to me to make 2015 a really awesome year.
Forward into battle! *splash*cough*splutter* Okay. Now, here we go.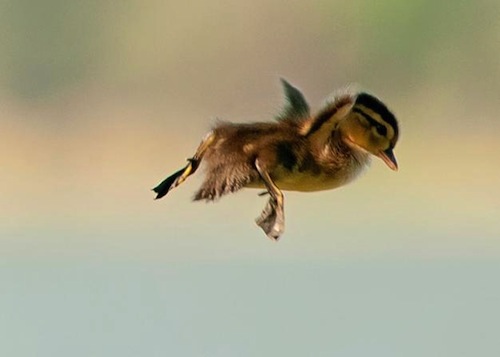 "Hoooooly craaaaap"

Image found here.

I'm a little late in getting this posted, but the sentiment is all the same. This list is an annual tradition here at Oh Fair New Mexico.
As I post this, I'm thinking about making a batch of biscochitos. Only, I couldn't find lard at the grocery yesterday. What the hell kind of place do I live that doesn't sell lard? Just gotta shake my head.
Anyhow, biscochitos or not, I wish happy holidays to you and yours.
Without further ado:

Top ten things I miss about Christmas in New Mexico (in no particular order):

Originally published December 11, 2007

1) An annual shopping trip to Old Town in Albuquerque. This was a longtime mom and me tradition. Every year I'd get to pick out my own ornament that would eventually be mine when I became an adult. I have every one of those ornaments stored in a Thom McAnn shoebox and they go on my tree every year. They are a glitter and glass history of my life. I remember buying each of them and it gives me a beautiful sense of continuity to have them on my tree.


2) Luminarias. I always was the one to make them for the family. Someone would drive me to an empty lot and I'd dig out two buckets worth of good New Mexico dirt, then I'd go home and fold down the tops on brown lunch bags. Each would get a candle inside and then at night I'd light them. It was my holiday job and I loved every folded bag and every bulk buy candle (and every small emergency when a bag caught on fire in the wind). I miss real luminarias.


3) The Bugg House, which, sadly, is no more. My sister lived over on Prospect and we'd go for a walk in the dark on Christmas Eve to take a look at the outstanding display of holiday spirit. On the way to Christmas shop at Winrock Mall, I'd take a detour to the Bugg house to take a look. No one does lights like the Buggs did.


4) Neighbors bringing over a plate of freshly made tamales as a Christmas gift. When there are three generations of Hispanic women in a kitchen with some masa and shredded pork, magic happens. Yum! I also miss that people would bring tamales to work in a battered Igloo cooler and sell them to coworkers. I was always good for a dozen or more.


5) A ristra makes a good Christmas gift. I've given. I've received. I love 'em. They'd become a moldy mess here, and that makes me sad, cuz I'd love to have one.


6) Biscochitos. My love for these is well documented.


7) Sixty-five degrees and warm on Christmas Day. Growin' up, I think one year there was actually snow on the ground for the 25th, but it was melted by the end of the day. Oh Fair New Mexico, how I love your weather.


8) Christmas Eve midnight Mass in Spanish with the overpowering scent of frankincense filling up the overly warm church. Pure torture for a small child, but oh how I'd belt out the carols. And when we came home after, we could pick one present and open it. Gah! The torture of choosing just one!


9) A New Mexico piñon, gappy, scrawny Christmas tree that cost $15 at the Flea Market and was cut from the top of a larger tree just that morning. Look, to my mind, it ain't a tree unless you are using a few low hanging ornaments to fill the obvious empty spots. These overly fluffy trees just ain't my bag. If you aren't turning the bad spot toward the wall, you paid too much for your tree.


10) Green chile stew for Christmas Eve dinner and posole for New Year's, both served with homemade tortillas. My mouth waters. It's weep worthy. I can taste the nice soft potatoes in the stew, the broth flavored just right. And posole to bring you luck with red chile flakes and soft hunks of pork. Yeah……


*sigh* Now I'm homesick.
Which is not to say I don't have happy holidays where I live now…but sometimes I feel melancholy. In a way, that's what the holidays are for, right? To remember.


Finally, in order to just really drive a homesick knife into my heart, I give you this, the beauty of Old Town Albuquerque: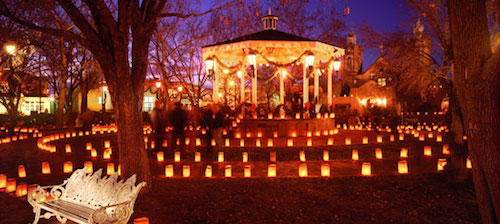 Image via Delta Skymag