Today I learned something. It may not be a groundbreaking discovery, but it's an important handy tip to know.
Let me start with the backstory.
This morning I noticed I had a meeting on my calendar that started early and would last all day long, so I decided to hustle up and get it together so I could leave the house plenty early. I wanted to be able to stop for coffee and still get into the office a bit early so I could sit a minute at my desk, gather my thoughts, and prioritize any urgent emails before disappearing into a conference room for the remainder of the day.
What a good strategy! This is part of my new approach for taking better care of myself. Generally I show up to the early meetings five to ten minutes late, anxious and sweaty from running to the meeting. Oh, and lacking coffee.
With determination, I took care of my at-home stuff and hit the mark. I left the house on time and was happy. I had a casual and not harried drive to work and I even lucked out and found a parking spot right in front of my local Starbucks.
I mean, the day was ticking right along on schedule. I was feeling so proud of myself.
With Jeep parked, I walked inside hoping for a short line then opened the door to that very image. Only three people in line. Yesss!
I stepped up to the register, ordered my drink, chatted with the person behind me in line, giggled with their child and was feeling pretty great.
My latte came up quick and I grabbed it and was feeling pleased with the smooth pace of my day.
I carried my drink over to the little station where you can find sweetener and milk to add in. I politely said excuse me as I accidentally walked in front of another customer. I thought about an article I had read recently about the value of being nice, and thought how I need to continue to be a nice person even when the world sometimes makes me want to be mean.
Landing at the sweetener station, I popped the lid off my drink, reached to grab a couple packets of sweetener, shook, tore and when I went to put this into my drink, I knocked over my lidless cup, sending a coffee tsunami into the air.
Seriously. How did my latte catch air? I have no idea. Sixteen ounces of beverage became gallons as it poured all over the counter and onto the floor. The force of the wave shoved my sunglasses off the counter and onto the floor.
The velocity was overwhelming as waves of coffee and soy milk engulfed the entire store and its patrons.
And that's how I learned that Starbucks napkins are super, duper absorbent.
Keep that handy tip in mind.

A dramatic, yet dry, recreation of events

Image Copyright © 2014, Karen Fayeth. Taken with an iPhone5 and the Camera+ app. Also taken surreptitiously in an empty conference room while the big meeting was on break.

It's 8:30am and I am already late for work, but I stop anyway because I'm not sure how I'm going to endure this day without a morning fix.
Walking through the door is a sensory dream. As I cross the threshold from below freezing to enveloping warm, I inhale deeply and take in cinnamon and coffee and bread browning in hot ovens.
In the back corner is where I find her, standing by the "We only use real butter in our baked goods" sign with tongs in hand, head tilted waiting for her customer to decide between a chocolate croissant or a cranberry orange muffin. Both are good choices. I understand the agony of decision.
She smiles and stays patient with the indecisive customer, then acts with steady precision once a choice has been made.
She is tall, very tall. I would estimate an inch or two over six feet. Very slender but well apportioned. She was made to be this tall and she wears it well.
She resembles a modern day Josephine Baker, but reedy and in her early sixties. Her regal demeanor is well accented by her beautifully high cheekbones that suggest an American Cherokee heritage. Or perhaps I'm simply projecting my own experience on her.
When it's my turn, she speaks to me in a voice that is quite deep. Less Eartha Kitt and more Ella Fitzgerald. She looks me right in the eye, is engaged, actually likes this job and you can tell.
I am also trapped in the agony of indecision but finally announce the verdict. She plops my made-with-real-butter baked good into a to-go bag and turns to the espresso machine to finish my order.
As I wait, I look around the place. I've purposely left my mobile phone in the car so I cannot be distracted. I want to focus on this place. There is no need to go numb when there is so much to see if I only look around.
This morning they are playing music performed by what sounds like a church choir. High, high notes and big round allelujahs fill the small wooden bakery. This is not always the kind of music they play. It varies with the wind and the season and the time of day.
Today I feel like the almost church-hued tones fit the bill. It is, for me, a religious experience. A worship. A tithe. A blessing.
She calls out that my latte is ready and I scamper over to grab it, now feeling shy and rotund and awkward in the gaze of this extraordinary woman.
As I add a few packets of sugar to my cup, my eyes go toward the back of the shop, the kitchen, the place where butter-based magic happens. I see one person turning out loaves of bread and another frosting cinnamon rolls. I feel gratitude wash over me that these people exist. People willing to rise early so that I may ingest a still warm from the oven blueberry lemon scone, made fresh that day.
Oh yes. This place is a cathedral that I must worship, and that regal woman behind the counter must certainly be an angel.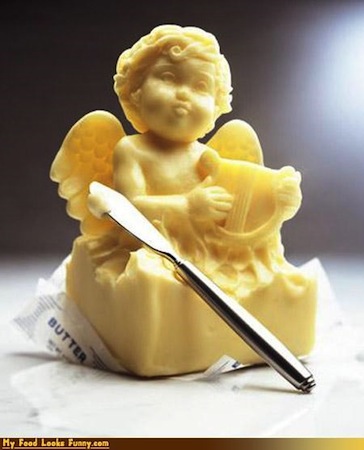 Image found many places on the web, but this one was from My Food Looks Funny.com.

It's both a blessing and a curse that immediately next door to the building where I work is a Starbucks. This means I visit the green mermaid several times a week, spending both precious dollars and time worshiping at her fins.
But I'm not sorry. It's a nice break in the day to lay down arms in email form and go next door to grab a cup of something nice.
So in my recent near daily adventures to the 'bucks as I stand in line and observe, I have started to get a bead on the various faces of the customers of Starbucks.
Here's my thoughts, in no particular order (feel free to add your own in the comments)

The Stalker – This person places their order and immediately moves to the pickup area. The Stalker doesn't care if there were ten people ahead who ordered first and are still waiting, nope. They will set up camp right there at the edge of the pickup spot, blocking everyone else from grabbing their order when ready. Often they will have also ordered a pastry and they will stand there mouth breathing and chewing their petit vanilla scone like a cud while staring dully at the barista. At their worst, The Stalker will pick up and check each cup that comes out to see if it is their order. They do this even if the barista has called a name that isn't their own. It is as if by sheer force of their will, they can turn the beverage into theirs, because they are the center of the universe.


The Can't Be Bothered – This person places their order, pays the tab and then disappears. Their drink is made in due time and the barista calls their name or their drink order. No response. So the drink sits there getting cold (or warm, depending). And it sits. And sits. If it has whip cream on top, this starts to wither and ooze. The barista calls out the name or drink over and over and everyone looks at everyone wondering who the heck ordered this drink and won't pick it up. No one really knows where The Can't Be Bothered has wandered off to.


The Planner – This person orders their drink and then moves to the sweetener station where they grab their sugar packets, stirrer, coffee jacket, straw, napkins, etc. They stand there waiting with sugar packets pre-shaken down and ready to pour (in some cases already torn open). They look like special teams ready to take delivery of the pigskin, hands open and ready to receive. The very second the cup hits the countertop, bam, they are on it, sugar, stir, jacket, lid, booyah! And out.


The Conspiracy Theorist – This person has ordered a special drink for a special snowflake in a special way and they are convinced the barista will make a mistake. The barista sets the drink down, The Conspiracy Theorist swipes it up off the counter and looks at it in askance as though it will betray them at any moment. "Does this have four pumps?" they will ask, "Is this no foam?" or "did you heat this to exactly 230 degrees?". The barista will nod and give affirmative answers through clenched teeth that try to make a smile but can't quite. God help the barista who gets it wrong, "Oh, gosh, no, I forgot and only put three pumps. Let me fix that." This just encourages The Conspiracy Theorist.


The Indecider – This person stands patiently in line, gets to the front, and doesn't know what they want to order. They take something like twenty minutes just to decide what they want and then of course they use a gift card that doesn't have enough money so then they dig around in pockets or purse or backpack for the 72 cents to pay off the rest of their tab. I often want to throw a dollar bill at them so they will just finish the heck up. Argh! And as they dawdle the line starts queuing up out the door and onto the sidewalk. Boo!


Ok, that's only the beginning of my log of personality types at the 'bucks. Much like Jane Goodall, I am out there living among them. I will continue to take notes as new classifications arise.

Ah, a stalker family!

Yes, I blurred that person's face

Image found here.
So here at the new place of employ, we have a very nice building to work in. It's an old warehouse in a now gentrified former industrial district that has been updated with all the conveniences of a modern office.
It's a pretty nice place to work and probably the nicest of all the buildings my employer leases or rents for us minions.
For the 150 or so people located in this building we have a pretty nice break room that includes fancy steel microwaves, up to the minute toaster oven and even a dishwasher.
And then there is the "coffee system."
Yes, I said system.
In lieu of a good old glass pot of coffee burning on a hotplate all day, we have two Keurig devices. These devices utilize what are called "K cups" for the brewing of single cups of coffee.
My company only provides the machines and the water. Employees have to bring their own K cups.
My coworkers seem very whipped up and excited about K cup coffee and tea. In order to play along, I went to Safeway and invested in two boxes of (highly overpriced) K cups, one box of coffee, one box of chai tea.
This Keurig machine seems all very futuristic. You put in the plastic K cup, clamp the machine down and press "brew". The machine whirs quietly and makes important beeping noises then it creates your warm mug of beverage.
Only…couldn't I just dump the contents of the K cup into a mug, add hot water, stir and have the same results?
That's when I realized these Keurig people are a bunch of really smart and somewhat evil entrepreneurs. They have employed the Hewlett Packard home printer model to coffee.
The Hewlett Packard model is thus…charge $100 for a small personal printer. Then charge $70 for the ink cartridges to use with the printer. They make a couple bucks off the machine, they make a LOT of bucks off of what they call "consumables" (i.e. something that gets used up and needs to be replaced).
Keurig has done this brilliantly. They have made the end user experience feel special with blue lights and soft whirs and beeps. They make you want to run to that machine and slap in a K cup that runs about a dollar to a dollar fifty each. Starbucks and Bed Bath and Beyond are in on the scam, selling their own versions of K cups.
Meanwhile I'm thinking this is just instant coffee all tarted up in a new way. What really boggles me is the people who "loooove" (<- direct quote) the green tea K cups. Because, ahem, dunking a tea bag in a cup of hot water is just too much work? The name Keurig led me to believe this was a european company (the name is the Dutch word for excellence) and I was going to make some comment about the Euros having one over on us Americans. Then I looked up the company and discovered they are from Massachusetts. That there is some Yankee ingenuity. You brilliant b*stards. I know I'm being hornswaggled and yet I play along anyway. Well done Keurig-onians. Well done.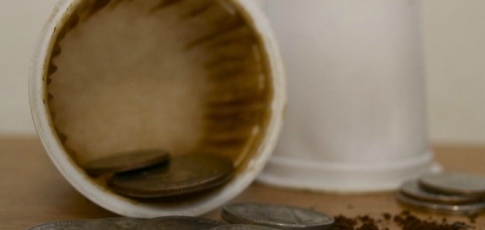 Image from theburr. Click the link to see how to recycle K cups.

There is a disparity, it seems, among the people of the world. We can be divvied up and sliced and diced into neat categories every which way to Sunday.
One of those particular designations is on my mind lately.
This new job of mine brings many challenges, not the least of which is a long commute. An hour on the train means I must rise in the small hours of the morning in order to make it to work on time.
Hours so small I never even knew they existed.
Some people are morning people. They thrive on the early hours and always say chipper things like, "I get so much done in the early morning hours!"
According to Wikipedia, we call those sorts of people larks.
Effin larks.
I do not get things done in the early morning hours. Early morning hours for me consist of some grunting, some grumbling and a lot of shuffling.
You know how when they turn on stadium lights, they don't come on right away. From switch flip to on to full light power takes quite a bit of time. (this recent power debacle at the Super Bowl, by way of example.)
That is me. I'm a stadium light standard. In the early hours the light switch might go to on, but it will take until about 10:00 and then *flink!* the lights finally pop on and everything in my brain starts churning.
Before that it's a slow plod with lots of flickering.
The other morning I was chatting with a lady I work with. She veritably chirruped when telling me how much of a morning person she is. She asked me what time I get up. Through clenched teeth, as though I could hardly say the words, I told her 5:30am.
"Oh, really? At 5:30 this morning I was already at the gym having a great workout!"
"Good for you," was my reply, still through clenched teeth.
I am just not a larky morning person and I'm not ever going to be. I'm a night person. I like the nighttime. It feels good.
Night creeps in on soft furry little paws, slowly dimming the lights and making everything more sultry and lush. Night rolls in like a blues ballad from John Lee Hooker or BB King. Powerful and meaningful perfect three bar rhythm as the backdrop, while everything slows down a little and everyone takes their time. Evening is red wine and deep conversation and big plates of seafood pasta that fill both the belly and the soul.
Morning is a whole other thing. Morning clangs in with bells and horns like a one man marching band and turns the lights on hi-beam and shines those lights right into my eyes. The spotlight lands on the To Do list where every single action item dances an over caffeinated jig like a Chihuahua mainlining albuterol.
Morning clangs to the rhythm of euro techno music as the backdrop until I hold my hands over my ears and beg for it to stop, please stop, I'm asking you so nicely to stop.
I don't care how many mornings my alarm clock forces me out of bed while it is still dark outside, I'm just never going to be a morning person. I don't even want to be.
Let the larks get their worms in the morning. This owl will hunt something up real nice tonight.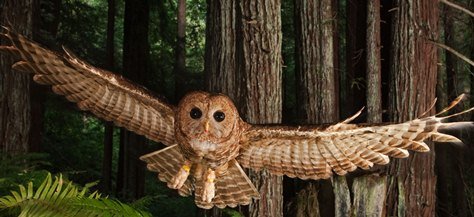 Image Copyright National Geographic photo galleries. All rights reserved.