This has been a weird year, right? I don't think anyone will disagree. As I came sliding butt first into December, I was already disorganized and suddenly bowled over by work. By all measures, we did triple the volume of work we usually do and it was no small bit of effort to simply make it through December. But make it through we did.
In the smoldering ashes of 2016, I am working hard to get some order back to the chaos of my life. I firmly believe that being a little bit stronger, quite a bit more disciplined (and organized) and filled with more optimism will carry me through the slings and arrows of 2017.
To that end, I have returned to Morning Pages. If you have read The Artist's Way, you are familiar with Morning Pages. The idea, according to Julia Cameron, is to prime the pump. Write three pages of stream of consciousness words every morning to get into the creative flow.
Instead of handwriting pages as suggested by Cameron, I use an online tool called 750words. That tool works a bit differently than the Artist's Way describes, but that is okay too.
So as I sit here now on my fourth day of vacation, hallelujah, I am working on today's words. I have fallen out of my writing discipline and I can tell I am rusty. Lots on my mind. It's good to get back into the habit.
The best part of the 750words is that every once in a while, while priming the pump and working through the silt to get back into the flow, some solid words, some bon mots, some worthy thoughts come through.
Wanted to share these, because they may become my motto for the new year (Warning: there is some salty language, it that offends, look away):

…doubt is a persistent little bitch. Hope slides off like you are made of teflon, but doubt sticks like tar, or used up chewing gum or one of those gluey mocos you can't quite get off your finger no matter how hard you shake. Patience and discipline, that is the kleenex to your glue moco and allows you to fly once more. The sturdy facial tissue that brings back hope.

Yeah, I have no idea what any of that means, but it made me feel good to write it. Like I was really tapping into something, so I decided to share it.
Hope your end of 2016 and planning for 2017 has better metaphors. I'll keep working on mine.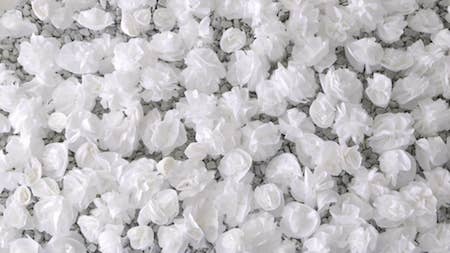 Inspiring flowers made of kleenex. Is that hope I'm feelin'?

Image found here.

I drove a 1979 Mercury Bobcat. It was a Ford Pinto made by Mercury. Less flammable.
It featured a rigid manual clutch and four speeds on the center console. With a good tail wind and a steep New Mexico hill, I could get some speed in that tin can of a car.
Its vintage meant that it was too new for an 8-track player and too old for a cassette player. Only an AM radio was provided. You'd pull the button out and shove it back in to save your favorite station.
There is a lot of wide open land in New Mexico. So uninhabited that radio signals from faraway populated areas don't always reach. Spin the dial and listen to different kinds of static. Only static.
I grew up in Albuquerque and went to college at New Mexico State in Las Cruces. The same day I moved into my freshman dorm, my parents moved to Carlsbad.
To go from Las Cruces to Carlsbad, you get to the other side of El Paso and face about two hours of nowhere and nothing. No people. No animals. No radio.
The seatbelt on the passenger side fit nicely around my boom box, a Christmas present from my mom. A stack of cassette tapes queued up to take a turn in the dual slots.
The Mavericks, Patsy Cline, Foster and Lloyd, Dwight Yoakum, Buck Owens, Alan Jackson, Keith Whitley, Marty Stuart, Willie Nelson.
Merle Haggard.
And that's the point of telling this story, isn't it?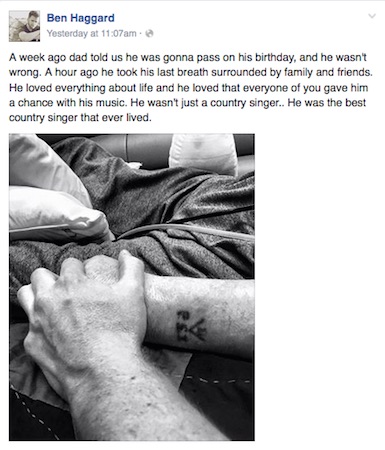 Those voices, those songs, those musicians. Then and now, they are a part of telling my life's story. The music of Merle Haggard lives in my DNA. It's a short hand between friends. An access code for memories, to instantly revisit a time and place.
There was this blue eyed cowboy. He loved to sing. Occasionally he'd even sing to me. There was this dance in Mimbres. The band let him do a song, "Silver Wings." Merle's music and that cowboy's voice. Everyone talked about it for weeks.
I wasn't even there (he and I had parted ways by that point) and it's still a part of my story, the collective story of all of us Ag College kids from that era.
Back then a band or a jukebox or a cassette tape would play a Haggard song and we had to dance, had to sing along.
When I was taking acoustic guitar lessons, I spent a lot of time learning how to play "My Favorite Memory." I never quite got it right.
Merle Haggard told stories. His stories became our stories. His stories became timeless. The opening cords of any number of his songs thrum a string in my soul.
Seventy-nine years is a lot and yet somehow not enough. I had recently been trying to get tickets to a show. He'd rescheduled February and cancelled March. I knew he was having trouble.
Knowing the end is near and the arrival are two very different things.
We last got to see him in December 2014. He came out to the stage looking tired and at half a lung down his voice was a little thin. By the end of the show he had energy and that smooth Merle Haggard sound rang clear, filling the venue and spilling out onto the streets.
We left the show full up to the top with the music of Merle Haggard. Though we've lost the man, his music lives on. In that way, we'll always have Merle.
I'm saddened for his family who lost a husband, father and friend. We lost a good man yesterday. Today seems a little paler for the loss.
Rest easy, Hag.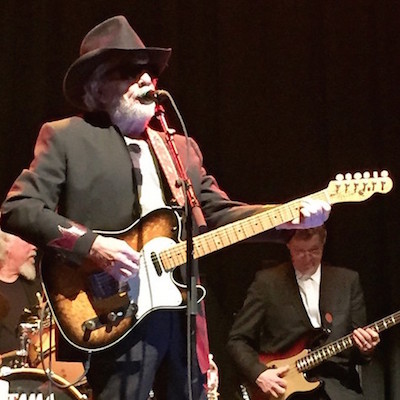 December 2014 at the Uptown Theatre in Napa, CA

Black and white photo from Ben Haggard's Facebook page all rights stay with the originator. Color photo ©2014 Karen Fayeth, taken with an iPhone6 and the Camera+ app and subject to the Creative Commons license in the right column of this page.


I'm incredibly in love with that harbinger of Spring, the yellow daffodil.
Sunshine on a stem.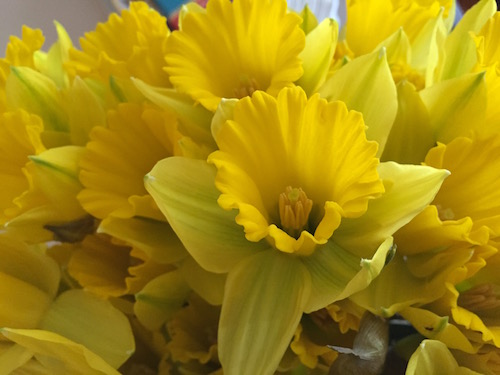 ©2016 Karen Fayeth


I adore going to Trader Joe's to pick up a bunch of tightly closed buds then later at home snipping the ends, placing the stems in water and watching a fireworks display.
Yesterday we sat at the table where this vase is placed and I swear these buds were busting open right before our eyes.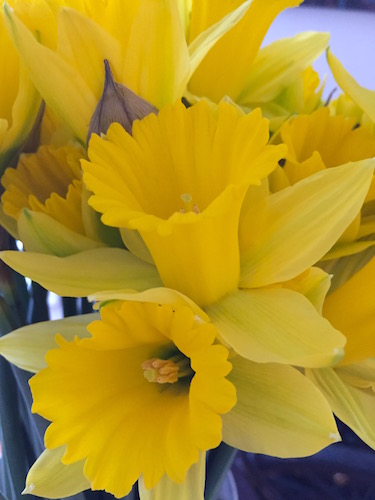 ©2016 Karen Fayeth

I took a big bunch to work today and have enjoyed so many of my coworkers (and my boss) coming by to ooh and aah.
"They are just so sunshiny" is the general consensus.
And they are.
Unless I'm being all moody and arty and stuff and go for the black and white on the desk of my brand new office (yay me!). Then they are regal and proud and still very beautiful.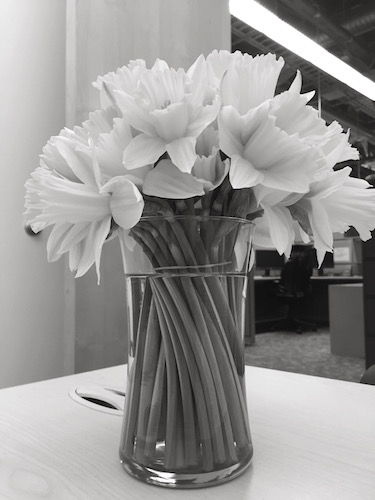 ©2016 Karen Fayeth


And because I'm goofy for the daffydils, here is a Kaleida Cam shot: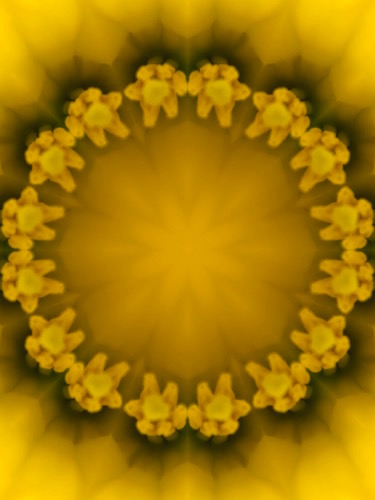 ©2016 Karen Fayeth


Ok, well, I've about exhausted the topic of daffodils. Love 'em!
Don't even get me started on tulips. Oh sigh, how I love Spring.
Even in the middle of this gray rainy Northern California day, I look at tulips and daffodils and feel entirely optimistic.

All photos ©2016 Karen Fayeth, taken with an iPhone6 using the Camera+ app, the Lenka app (for black and white) and the KaleidaCam app. All photos subject to the Creative Commons in the right column of this page.

A leap day is observed because a complete revolution around the Sun takes slightly longer than 365 days. It compensates for this lag, realigning the calendar with the Earth's position in the solar system; otherwise, seasons would occur in a different time than intended in the calendar year. — Wikipedia


On my way into work today, I was listening to whatever morning radio station was not running commercials and landed on a crew of three djs discussing facts and trivia about today, February 29th. Better known as Leap Day.
Yeah, yeah, yeah, we all know the deal. The Gregorian calendar is nice and all, but doesn't *quite* work. Close only counts in horseshoes and hand grenades, as the saying goes. And, apparently, calendars.
While I have a degree in finance, I am not a finance person. Humorously, the work I do is slotted under the Finance organization, so I can confidently say that in the parlance of the Finance industry, Leap Day is better known as a fudge factor. A plugged number. A "what do you want the numbers to say?" kind of adjustment.
Let's just call it a rounding error.
I work in contracts and we have something similar. It's what one of my first and favorite bosses called "weasel words." This is where the person on the other end of the contract (usually a lawyer) is being petulant and you can't quite give them the language they want. Instead you can appease them with something in the vicinity of what they want. Words like "reasonably attempt" and "in accordance with best practices." Leap words, if you will.
Not to digress, but baseball has something similar. Called a "neighborhood play" it roughly means that the second baseman doesn't have to actually touch the base or runner to get the out as long as they are near to the base and in control of the ball.
Second basemen tend to stay a bit off the bag because lead runners like to come barreling in trying to disrupt a potential double play. The topic of the neighborhood play came to a head during the playoffs last year as a player got seriously injured.
So in this Leap Year, baseball looks to be changing up the rules. Which will likely make for a lot more leaping shortstops trying to stay off the DL.
In the spirit of both Leap Day and my favorite sport of baseball, I present to you my favorite Giants shortstop of all time, Omar Vizquel, doing what he did best.
Happy Leap Day!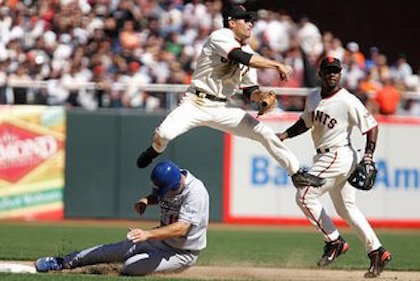 Leaping Omar image found here.

Hoo boy, back in the saddle again after a weekend trip to my Fair New Mexico. Let me tell you, it's hard to get into the ol' groove after being back in my homestate.
I found myself in southern New Mexico over the past four days for the occasion of my goddaughter's sixteenth birthday. She is amazing, beautiful, smart as a whip, sassy as hell and genuinely caring.
She has been easy to love since the day I first met her tiny little self. She was barely a month old when her mom brought her along and met me as I came off the plane at the El Paso airport. My world has not been the same since.
The occasion of her birthday celebration meant that I also got to see quite a few people I hadn't seen in years.
The thing that really sticks out to me from this past weekend was not just seeing a lot of dear friends who go back quite a few years, but getting to know their kids.
Time has marched along and many of these kids are now teenagers or older. So much more than a fun lump of baby or a capricious toddler. They are getting to the age where you really start to see who these kids are going to be.
What a lot of fun to see what so many of my now grown up and responsible friends have created. Look, back then I would have voted some of my tribe to the sidelines in the game of propagating mankind, and yet, their kids have turned out pretty damn awesome.
As I hear about these kids moving into their adult lives, getting married, graduating college, being responsible members of society, I also had to sit down for a moment and contemplate just how fast time marches on. And on. And on.
So many times I found myself saying "Really? Working a full time job? Getting married? Graduating college? Wow. I remember the day you had that adorable baby. Damn."
One old friend summed it up when she told me she'd just moved her youngest into her own place. "My husband and I looked at each other and said, 'Now what?'"
Now what indeed. Friends who are around my age, kids raised, possibility of retirement on the horizon and a new life awaits.
Wait a minute, aren't we going to a Corbett Dance tonight?
Oh no, Karen, that was twenty-five years ago.
Nina Karen needs to sit down. Bring your Nina a piece of cake, would you dear?
Those old hands on the clock keep pressing forward, ever onward, whether I'm ready or not.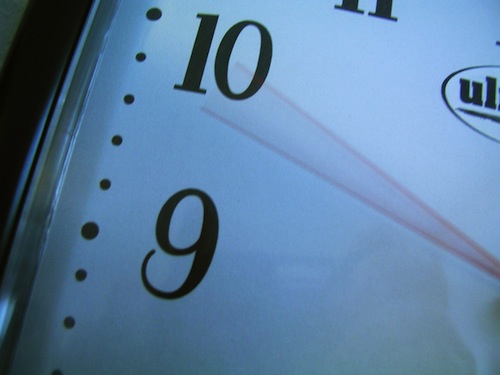 Image found on freeimages.com