What follows is me working out some "stuff" up there in the ol' brain pan. A bit indulgent to do this publicly, but maybe putting it out there helps someone else. Or makes me accountable for my own crap. Either way.
So here it is… I have been taking part in a Flickr group that challenges its members to do a new macro photo every week based on a theme the moderators choose.
I started participating on December 4th with this photo: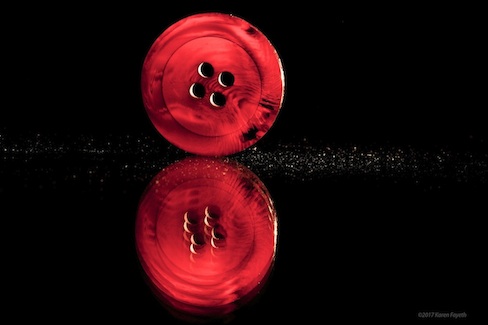 ©2018 Karen Fayeth

I felt clever. Sassy. Like my photo was more creative and of better quality than the others in the group. Go me! I was rewarded with well over one hundred faves in the first day. Hey, fun!
So I kept going. Each week working hard and having fun doing these weekly photo challenges. Creating a new image every week. Some weeks I worked really hard (or agonized) over executing my idea.
Other weeks it came easy to me, I snapped a photo that was exactly what I wanted and went on about my day.
But always having fun and not taking it too seriously.
Until two weeks ago. Two weeks ago I stopped having fun and got deadly (overly) serious about my weekly photo entry.
Let me back up. This Flickr group is huge, over 13,000 members. Each Monday between 800 to 1,200 photos are posted for the theme. This means in order to function, the group must be tightly moderated. And it is. Tightly.
I both like and respect that there are heavily enforced rules for the group. But I also HATE it because I'm an *artist* and The Muse can't be contained by your silly rules. I should be able to break them because MY work is the best.
Yeah, okay. I own it. I got weird. I hate it when I get weird.
The week's theme was monochromatic, and I turned this one in: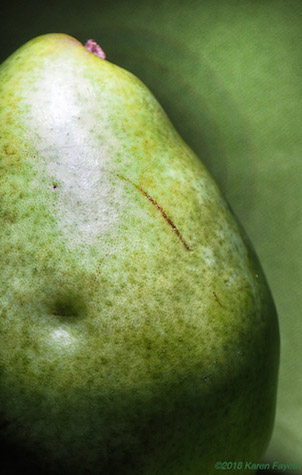 ©2018 Karen Fayeth

I really like this photo. I worked hard on it and felt really good about it. I feel like I did something worthwhile. Artistic.
Less than ten minutes after adding it to the group, a moderator pulled it, telling me "This is not monochromatic, I can see both brown and green."
I seethed. I stewed. I started looking at other photos in the group and found SEVERAL that also had tiny bits of another color that made it through the moderator's net.
I bellowed about how unfair it was. I started making a list of all the other photos that were let through. I prepared to launch my vitriol on anyone who would listen and demand answers for my mistreatment. How could they hate my photo so much!?!?! (I know, I know)
Then I went to talk to The Good Man, and as I detailed all the ways I had been wronged, I heard myself. I listened to my words and realized…aw damn…I'd stopped having fun. I was this worked up over a photo on Flickr in a group where the only prize is some eyes seeing the photo and some faves.
Yeah. I hit the wall pretty hard. This came just a day after struggling with a story for a writing contest that just would not gel for me. I hadn't given myself enough time to work on it and the story would not come together no matter how hard I tried. I tried to shotgun it and I failed hard. I did still turn in the story but I know it's not good.
You see, I wasn't mad at that stupid unfair moderator. I was mad at me.
And that's no way to create. That is the antithesis of creativity. This dampens The Muse.
So I went all the way there and now I'm reeling myself back in. I swear. I sat my Muse and my brain down and we had a talk. Feelings were felt and admonitions were issued. Promises to be better. To loosen up. To remember why I do any of my creative work…to have fun. To let the creativity out. To create something.
And I'm better. I am. The following week I swore I wasn't going to participate in the Flickr group again, but that was EXACTLY why I needed to get back in the game. So I made a photo based on the theme "in a bottle."
Here's my Valentine to myself. Green like the Hulk who gets very, very mad. Sweet like the victory of turning out a piece of art and something I really like. It also met the rules and made it past the moderators.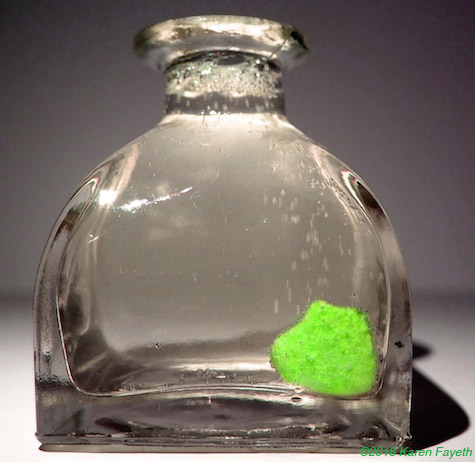 ©2018 Karen Fayeth

Lesson learned. Scars formed. Exterior just a little bit tougher.
And this week? Try, try again.

When I began to seriously focus on submitting my writing to literary journals, I was schooled on the concept that it takes about one hundred rejections to get an acceptance.
Since submitting to one hundred journals takes a lot of research work, I began working with a really awesome service that helps me target submissions and keep track of rejections. Over the past several years, I have found that the one hundred rejection rule is pretty much true.
What this means is that I now get A LOT of rejections. In those first years most submissions were done by regular mail so I'd often have a mailbox crammed with rejection notices.
Now most submissions are done electronically and it is my email inbox that is filled to overflowing with rejection slips. They tend to come in waves. None for a while then six or eight at a time. Rejections usually show up when I'm having a really crappy day.
Receiving a pile of rejections just makes everything SO much better.
When I started getting that many rejection notices, it hurt at first. Each one was a tiny "ouch" and made me sad. Who could reject my perfect little carefully crafted babies?
Over time, I became immune to the sheer volume of no-thank-yous. The skin hardens a bit, the outlook toughens and now I just shrug and say "okay" and move on.
It's what makes those occasional acceptances that much more sweet. A barrage of no and then a glowing, shiny, joyful yes.
Since I have had the good fortune to receive quite a few acceptances, my submission service has been trying to up my game a little bit.
By up my game, I mean in addition to the regular submissions to a lot of fine magazines that no one has heard of, they have been adding a few more well-known and highly regarded journals to my submission list.
I'm not quite up to the point of hitting up the New Yorker for publication, but names on the list recently include McSweeney's, Harvard Review, Zoetrope and The Paris Review.
I always giggle just a little when I hit "submit" on those queries. That's because the odds of my work seeing the light of such highly regarded and high circulation magazines is pretty slim. That said, you don't hit a home run if you don't swing at a few pitches. So I swing away.
The Good Man has a different view on the rejection process. He is always happy to see the rejections in the mailbox. His firm belief is that if they are saying no then at least they considered my work, if even for a moment.
He especially loves the so-called "good" rejections. The slips that have a personal note from the editor, or say something like "while we were unable to use this particular story, we'd like to see more work from you."
Those good rejections are a tiny bit of bread to a starving writer. Those few words are enough to keep me working hard to get to yes.
Anyhow, all of this was on my mind as this morning I sorted through a stack of mail and opened a couple rejection slips. I can recognize them right away because when I do paper submissions, I include a self addressed stamped envelope.
When my own envelope returns to me, it's almost always a no. Almost. I did get an acceptance one time in my SASE. I'd neglected to open it for almost two weeks and couldn't believe it when I did open it. That was a nice surprise.
Anyhow, this morning's envelope had a postmark from New York and inside resided the tiniest sliver of paper. What I estimate to be about one-eighth of a sheet of paper.
It's from The Paris Review. A highly revered title.
They were able to spare just a tiny sliver of paper to tell me no way, Josephina.
And for a moment, I'd like to think about some low to no paid intern reading my story, considering it and then thoughtfully sending this slip.
I'm sure they LOVED my work, it just didn't fit the themes on their literary calendar. Right?
Right.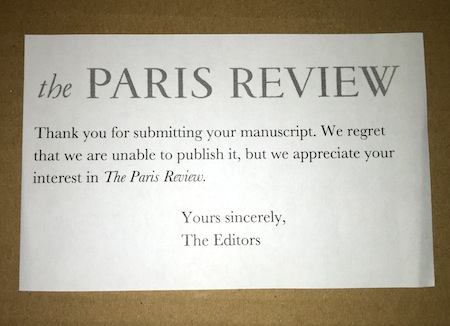 The other day at the ol' place of employment, I had an early meeting at another site and then came back to my particular office building, which meant parking on the top level of the parking garage. Ugh.
Early on with this parking garage, I made myself promise that no matter where I parked, I would take the stairs to get to my car. No elevators. Just a little extra exercise in the day. So when I get here early, I have one flight of stairs. When I get here late, I have five. That's how the ol' cookie crumbles.
So after starting really early in the day at an off site meeting and then running like my hair was on fire in the office all day long (gigantic project brewing with very hard deadlines and a press conference to announce it coming up too!) I was pretty dead tired at the end of the day.
I stood at the bottom up the steps looking up mournfully. Five flights? After the day I had? I was determined to keep my promise to myself and I lifted heavy legs up and up and up the stairs.
Around the fourth floor I started feeling gassed. Each step felt harder than the last. It felt like gravity was actively defying me with every lift of my knees. Finally, exhausted and sucking oxygen I made it to the top floor, stumbled to my car and flopped inside.
That last flight really got to me. As I stepped, I had the kind of pondering thoughts that my brain often makes to keep me entertained. Were those last steps so difficult because my leg muscles were wearing out over the sum total of steps? Or does it become harder to slip the surly bonds of gravity with each flight? Or some combination of both?
And that struggle, that last mile difficulty, well, it started to feel like a metaphor. For my job. I am (to use yet another metaphor) rounding third base on this gigantic project and certainly headed for home plate, but this last leg of the journey is proving to be the most difficult.
Here's another metaphor. I can see the summit of this mountain, but the last 1,000 steps are straight uphill with no room or time to rest. Each day feels a little harder. Each moment is fraught with worry.
In about two weeks I will summit this sumnabitch and I will be glad I did. In a few months I will look back and it won't seem all that bad. But right now, looking up, knowing I am so close but knowing all that I have to endure to get to the other side, it feels daunting.
It feels like gravity actively puling me down, down, further toward the ground. Yeah, climbing five flights of steps feels like a metaphor, and not a bad metaphor at that.
But what good is the metaphor? I still have to climb the steps. I still have to complete the journey. And I have not get so focused on the pain and agony and effort of each step that I forget to remember home and the loving arms of The Good Man wait on the other side.
It's worth climbing those steps if only because it means I'm one step closer to him. What is a difficult journey without a meaningful destination?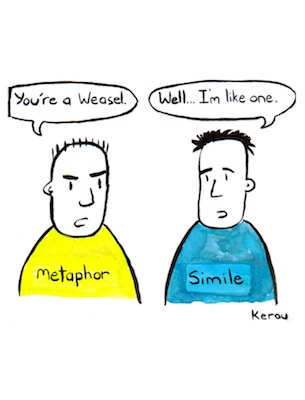 Image found here.

Blog post written for and on behalf of The Good Man.
_________________


Late last week we all got the news that the Supreme Court had handed down their opinions regarding both the Defense of Marriage Act (DOMA) and California's Prop 8. There was much news coverage all around as same sex couples are now allowed to marry and receive federal benefits.
As in any Supreme Court case, there is the majority opinion and the dissenting opinion. Each must be written up as a point of record.
In the instance of DOMA, Justice Anthony Kennedy wrote the majority opinion and it was Justice Antonin Scalia who wrote up the dissenting opinion. I actually made it a point to read Justice Scalia's opinion as I was interested to hear what points he might make in his dissenting case.
What I got was a blast of vitriol, indignation and sarcasm.
My favorite line in the whole piece, however, was this:

"As I have said, the real rationale of today's opinion, whatever disappearing trail of its legalistic argle-bargle one chooses to follow…"

Did he…did a Justice of the Supreme Court of these United States just use the term "argle-bargle"? Is that for real?
I looked around and confirmed in several spots that indeed, yes, the term argle-bargle is now a part of the legal and constitutional history of our country.
Wow.
So of course I immediately sent this over to The Good Man. We are both big fans of the television show Boston Legal which often featured a doddering old judge (played to perfection by Shelly Berman) who would use terms like "stop all this jibber-jabber" and then proclaim "I am the decider!"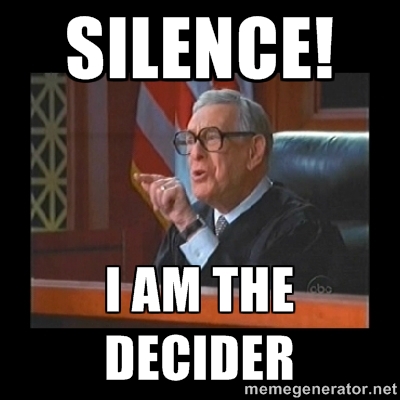 So good they made a meme

But it was The Good Man who reached even farther back into the folds of his brain and pulled out an audio recording he remembered from his youth.
On an album entitled "Monty Python's Previous Record" released in 1972, there is a track named "Teach Yourself Heath".
In the track, the Python crew mocks the accent style of British conservative Prime Minister Edward Heath. This would be something akin to the Saturday Night Live tradition of sending up the US President.
Click here to give it a listen if you wish. It's at about the 3:22 mark (for reasons unknown this clip is subtitled in Spanish):
In the clip, the phrase argy-bargy is used. A short Google search shows that argy-bargy is a rather low-brow bit of British slang used to describe a lively discussion or vigorous dispute.
So this begs the question: Did Justice Scalia really use modified British pub slang in his dissenting arguments?
and
Is he just a big ol' Monty Python nerd?
Either way, it's pretty fascinating. Usually American politicians tend to shy away from anything British, especially anything relating to British politics.
As we get very near the day of celebrating our independence from the King of England, Justice Scalia went all Monty Python. (Do you think he has his own funny walk under that robe?)
Wow.
'Merica! With a British twang.

Judge Robert Sanders photo found here and Monty Python photo found here.

While sitting on my tuchus being completely idle this weekend (yay!) I flicked through my Twitter stream to get caught up on what is happening out there in Interwebs land.
I came across a tweet from Penn Jillette (one half of the famous duo Penn and Teller) that said, and I quote:
"You might not want to watch this. You really might not. It's kinda sorta dangerous funny. It hurts. http://www.youtube.com/watch?v=cpfQSqfpuac"
(if you are feeling like a laugh, go on and do a click for yourself).
So because I love and trust Penn and I needed a laugh, I clicked the link. What I found was a Taylor Swift video for the song "I Knew You Were Trouble" and in some of the high wailing parts, someone had substituted a bleating goat for the vocals.
I watched it three times. It was indeed very funny.
Just for the sake of reference, I then watched the actual video from Taylor Swift for "I Knew You Were Trouble" (well most of it anyway) and as I watched her writhing around in the dirt, I wondered to myself who this song had been written about.
It's fairly well known that Ms. Swift likes to write such songs about broken romances. A quick Google search led me to the answer. Mr. Trouble turns out to be Harry Styles from the Brit pop boy band One Direction.
Now, as an over forty year old woman, Mr. Styles doesn't look like an ounce of trouble to me, but I suppose I understand where she's coming from. Who among us ladies hasn't written pages and pages of journal entries about a romance gone wrong and maybe even some bad poetry too? I certainly have, I just didn't have the platform that Ms. Swift enjoys for such endeavors. But I totally support her right to say what's on her mind and be super angsty about it too.
So now that I knew Harry Styles of One Direction (by the way, doesn't Hairy Styles sound like an awesome name for a barber shop?) was the object of this sad song, I recalled that my kid sister-in-law (not so much a kid anymore, she's 13, it's a long story) absolutely looooves One Direction, though her affections tend to lean toward one Mr. Liam Payne.
Then I noticed that YouTube suggested that after watching the Taylor Swift video I should watch the super hot OMG hot hot brand new song from One Direction called "One Way".
"Why not?" I thought and gave it a click.
What presented itself to me was a video of five boys who probably aren't old enough to have pubes singing a bee-boppy rendition of the kick ass Debbie Harry song "One Way or Another" from 1979.
You know? "One way or another, I'm going to find ya'/I'm gonna get ya', get ya', get ya', get ya'/One way or another, I'm gonna win ya"
(To all whom I've just earwormed, I do apologize. It couldn't be helped.)
So as these boys wriggled and mugged their way across London, I felt a sadness in my heart. I emitted a sorrowful sigh.
The tough as brass song written by the beautiful and punk rock Debbie Harry is now being autotuned and smoothed up for a boy band. The catchy lyrics written in the wake of a stalking ex-boyfriend are now fodder for little girl swoons and cutesy thoughts of dating a One Direction lad.
Oh boy. Er. Boys? If the song had been redone and there was a new or original take, then by all means go for it. I am not against remakes, I am, however, against remakes that take the soul out of a great song.
Certainly Ms. Debbie Harry, as the co-writer of the song is enjoying much windfall from the pop redo of her music, but damn. It hurts just a little, in my soul.
Later over breakfast, The Good Man and I discussed this song and video since it was still very much on my mind.
"I suppose it shouldn't bother me that teens are listening to this crap because I listened to some poppy boy bands in my era. Like, for instance, Duran Duran," I said.
But then I realized something…yes, Duran Duran was a schlocky boy band and yes I swooned over the poster I had of the five of them on my bedroom wall (John was my favorite) but at least they 1) actually played their own instruments and 2) wrote many of their own songs.
Ok, yes, fine, I know that remaking songs is a common occurrence and in some cases, the remake is WAY better than the original (Hendrix's "All Along The Watchtower" for example). I also know that in the history of music there have been hundreds of over engineered boy (and girl) acts doing their soulless little dance with deadened eyes and walking down a life map that probably leads to either ultra-thumping-Christianity or deep and abiding drug use…or both. And I know I can't stop it, nor should I try.
But I also can't help seizing up a little whenever I hear great music so profoundly bastardized.
My thirteen year old sister-in-law is actually an excellent musician in her own right and I have to trust that over time she will learn to see that you can have both quality music written and played by the musican AND a hot guy to look at. Jim Morrison springs to mind, but let's see if I can come up with someone more current….I know, how about Bruno Mars or even Jason Mraz?
Losing argument, I know. As long as there are dollars in auto tuning them thar children, the shlock pop is always going to keep coming around.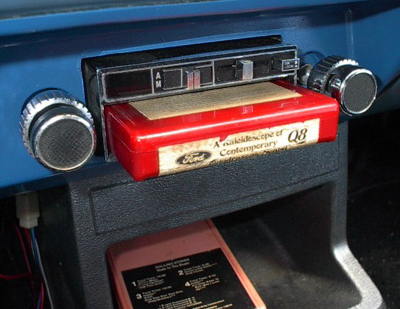 Shaddup Grandma! One Direction is the best band ever!

Image from the spydersden blog