January 7, 2018 by
Karen Fayeth
·
2 Comments
Filed under:
Adulting
,
amazing
,
angry
,
anxiety
,
art
,
artist
,
automobiles
,
awesome!
,
awkward
,
backyard
,
Bay Area
,
Be Better!
,
big weather
,
business is business
,
California
,
Celebration
,
cha-cha-changes
,
changing seasons
,
cranky
,
creativity
,
da blues
,
daffodils
,
don't want!
,
doubts
,
drama
,
driving
,
fog
,
gratitude
,
hellidays
,
holiday fun
,
iPhone
,
iPhoneography
,
latent childhood
,
lazy
,
learning
,
life
,
light
,
luck
,
make it work
,
miscellany
,
mobile phones
,
Monday
,
Mother Nature
,
objectophilia
,
Opinions
,
optimism
,
our happy home
,
overwhelmed
,
pancakes
,
photography
,
play through
,
pondering
,
show and tell
,
spring fever
,
thank you
,
The Good Man
,
vacation
,
w00t
,
water
,
whining
,
why
,
windows
,
winter
,
work
,
worried‬
,
writer
,
writer's block
,
writing
,
yes boss
,
zen
Here it is, Sunday, January 7th and I'm staring down the barrel of Monday.
It's time to get myself back into gear.
You see, not only does my employer shut down between Christmas and New Year, but I was also able to scrape up enough hours to take this past week off. I've just had seventeen glorious and fun filled days away from work. Days of setting my own agenda. Of not looking at work email. Of working on photography at midnight if that's where the fancy took me because I could sleep in the next day and the next one after that.
Last week I existed in a fabulous sort of limbo land. 2017 no longer, not quite 2018. It suits me.
All good things must come to an end, and so must my extended vacation. Tomorrow, reality slaps me across the chops, as reality is prone to do.
This morning The Good Man and I left our warm and cozy home to venture out into the rainy, wintry cold for Sunday breakfast. Pancakes to bid adieu to vacation and bonjour to 2018.
Through visible breath and rubbing hands together I looked up and saw a bright red maple leaf shellacked to the windshield. "Hey that's pretty," I said and took a quick snap.
Now, I realize that in this simple winter image I somehow exactly captured my mood. No more holly jolly songs and soft Christmas lights. No more Santa and wrapping presents and warm cookies baking in the oven.
It's now winter, plain and straightforward. No more looking forward to the holidays, instead we look to Spring. I have a lot of (needed) California rain to endure this year because that is what the Bay Area does in winter.
This is the long slog, when it's still dark early and foggy mornings and shivery cold.
But soon. Yes soon, the world moves into winter so we can know the spring. Daffodils and cherry blossoms are just around the corner, but for today it's a sodden leaf in cold rainy hazy blue surroundings.
So I won't lose hope. Tomorrow may loom large, but I will pop back to the surface like a bobber and keep swimming. I will have great successes and I will fail a lot too. I will be mad and sad and happy and grumpy and overtired and all the things I was on December 21 when this wild leave from work began.
Okay 2018. I put you off as long as I could, but you are now top of my To Do list and I'm going to tackle you.
Starting tomorrow.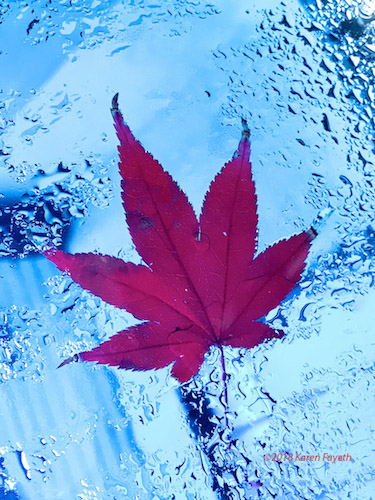 ©2018 Karen Fayeth

May 16, 2011 by
Karen Fayeth
·
2 Comments
Filed under:
awkward
,
Bay Area
,
business is business
,
Celebration
,
choices
,
cookies
,
curious
,
dessert
,
don't want!
,
family
,
fun
,
good eats
,
gratitude
,
insanity
,
latent childhood
,
life
,
Love
,
make it work
,
manners
,
OCD
,
Opinions
,
overwhelmed
,
pancakes
,
party
,
peculiar
,
play through
,
polite
,
pondering
,
psychosis
,
silly
,
The Good Man
,
truth is stranger than...
,
weekending
,
woo hoo!
Over this past weekend, The Good Man and I got together to celebrate a belated Mother's Day with my in-laws. It's always nice to have a chance to catch up with family.
The place we chose to eat was a nice hotel with a Sunday buffet brunch and a live jazz trio to add ambiance.
The family all got dressed up and converged on the hotel. The jazz was lovely. The setting sublime. Mimosas were poured. Chatter happened. Then the waiter said "go ahead and get started" and we were off to wander around the wonderland of food.
I have to admit that at first I could only stumble about with an empty plate. I was both surprised and astounded by all the food.
Prime rib and pancakes, sushi and dim sum, a huge table of seafood of all varieties! And that was only the beginning.
One part of me was like "Yeah baby!" I could easily envision myself much like Cookie Monster, shoveling it all in there while grunting "ahm nom nom nom nom!"
But another part of me was almost turned off by the literal piles of food. Good lord! So much food! A first world problem, to be sure.
After walking around in a daze, I finally dove in. I made the conscious decision NOT to lay right down and devour the entire dessert table (it was tempting). Instead I chose only the things I knew for sure I'd like and in small amounts. I had to remind myself that I could return for more if needed. That ol' demon self-control.
I think the key to a buffet is if you take something you don't really care for…don't eat it. Yes, I know for many the idea of wasting food is terrible, but in this scenario, it's almost necessary.
In the past, I've had occasion to think about the "I have to get my money's worth out of the buffet!" concept. This plagues a lot of people and causes the desire to eat as much as possible. This is fairly common, actually. I've personally succumbed to this thought.
To be honest, the cost of the buffet is less about how much one can eat and more about how many choices the establishment is able to provide. It costs money to have enough people to put on a spread like that.
A buffet is certainly a deliciously dangerous place for a food lover like me, but it's also a boon for a food lover. A buffet provides a huge range of choices that I'd just never get with a traditional sit down and order off the menu type of meal.
It's all about balance.
At the end of the day, the intent was to be with family, not Cookie Monster the entire meat carving station. Though the thought did cross my mind…

Stayed home from work today. Was tired, dizzy and recovering from a wicked bout of either stomach flu or some tainted eats. Either way, I wasn't in a good place.
As I lay on the couch, moaning and sweating in the near 100 degree heat (I have no air conditioner, you know…..ugh!), I flipped through the TV channels and paused momentarily on a syndicated episode of "What I Like About You", you know, that sort of short lived UPN show that starred Jenny Garth (just looked it up on IMDB, it ran four seasons…wow, I never knew it had lasted that long).
In the episode the lead character played by Garth was flipping out about making wedding plans. She encounters another woman who is considerably less wealthy, and the girl was waxing philosophic about how she wasn't uptight about her wedding because she felt her fiancé was perfect. To describe how perfect, she likened him to chocolate chip cheesecake with chocolate drizzle on top. To her that was utter perfection. I found that bit kind of cute.
Later in the day, I was at the grocery in line behind a couple. Two women who had that knowing look with each other, that look that lets you know those two have spent some years loving each other dearly. They were so calm, easily in love and gentle with each other. Since my own loving partner went out of town this morning, seeing the love between the two gave me pangs of longing.
As I walked to car I remembered the "chocolate chip cheesecake with chocolate drizzle" bit and realized that doesn't describe my man. So I actually put some thought into it. What describes the perfection of my own partner?
Pancakes. Golden brown Sunday morning pancakes slathered in butter and covered with maple syrup. The real kind, not that fakey Mrs. Butterworths, no, the kind tapped out of a real maple tree, collected by some New Englander and warmed up in a small pitcher then drizzled on my beautifully fluffy pancakes. He's a Sunday morning smile, warmth from the sun, and delicious, heavenly pancakes.
I'm a lucky girl to have a man as lovely as perfect pancakes to share my life. And sometimes it's good to show a little gratitude. I miss you, love, and thank whatever powers that reign that I found you…….come home soon, ok?