Do you remember the Sting song "Russians" from way back in 1985? An overly somber commentary on the state of the Cold War, Sting implored "I hope the Russians love their children too."
I have had occasion to listen to this song a few times over the past months. It keeps coming up in my consciousness. I do readily admit that in 2016 the song sounds almost quaint and old fashioned. I remember the first time I heard it in 1985 it felt deadly serious.
As a GenXer, the Cold War is certainly a part of my formative years. Growing up in New Mexico, I was acutely aware that "Oppenheimer's deadly toy" was largely created in Los Alamos. My dad was employed by Sandia Labs and he worked on nuclear weapons. Hell, my dad was one of those guys in the 1950's out on some Pacific island in the middle of nowhere setting off nuclear explosions just to see what would happen.
So the Cold War was a little more real to me than perhaps many of my classmates. I remember on the playground talking with some friends about this list that apparently the Soviets had. A list of the first places they would hit if the war began. We all agreed Los Alamos would be on the list and debated if Sandia was there too.
I remember saying to a friend that I'd rather be nearby if a nuke was dropped. I'd rather be vaporized than have to live with radiation poisoning. I was just a kid but I had worked out how I would get as close as possible to Kirtland Air Force Base to control my own destiny.
That was some heavy stuff for a little kid, but it was the reality of the world back then.
So when I learned in April of this year that I would be traveling to the Czech Republic, I was incredibly excited. I love international travel and Czech Republic is a really old and quite historic city. The Good Man calls it "deep Europe" and it sounded so dark and mysterious.
But I also pulled up short. Hesitatingly, I asked The Good Man, "Didn't…uh…Czechoslovakia used to be Communist?"
Then I took a look on Google, I searched "Iron Curtain" and found this map. There it is, Czech Republic behind that heavy line.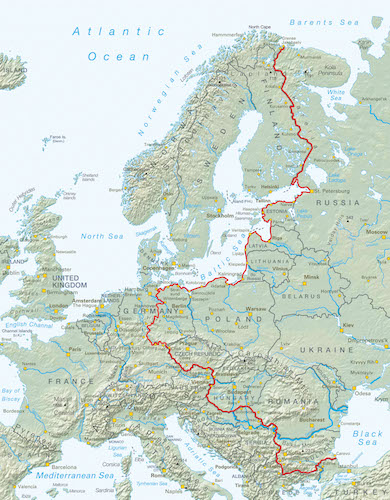 Map found here

I had a startling realization that I was preparing to travel to a communist country. This brought up an amazing amount of fear and almost guilt. Like I was betraying my country. Like I was letting down my father and all of those people he worked with back in the day. Or that I would surely find myself taken prisoner and subjected to intense KGB scrutiny simply for being an American in the wrong place.
Of course, all of that is patently ridiculous. The Czech people had taken back their country in 1989 and Americans visit Prague all the time. One of my coworkers had just been there and she loved it.
My weirdness was not helped when the guy who heads up the property team at work dropped a letter on my desk and told me to keep it with my laptop when I traveled. The letter assured that my employer owned the machine and that I was authorized to carry it.
I said, "This is my fourth international trip for our employer. I should admit I've never had a letter like this before."
He quickly replied, "That's because you've never traveled to a former Communist country before."
Oh.
Back in the day, I loved that movie "White Nights." What more could a movie do to pander to GenXer fears around the Cold War? Plus, I had enormous teenage tingly feelings for Gregory Hines (I can confess I actually got to meet him once and he was even more handsome in person, and also a true gentleman). Mikhail Baryshnikov was not exactly hard to look at either. But I'm wandering off topic…
That scene where Baryshnikov's character, a defector from Russia, realizes the airplane is going to make a crash landing in Siberia had a big impact on me. As he's tearing up his passport and flushing it down the toilet, I was terrified. When the inevitable straight out of central casting KGB agents arrived to harass our hero, I just knew that was EXACTLY how it really was. This was more documentary than fiction, right? <*smirk*>
It was with all of these thoughts and fears that I boarded a plane headed for the Czech Republic. Of course what I found when I landed was a beautiful country and very kind people.
My first foray into the center of the city of Prague was to attend a formal dinner at the historic Rudolfinum. One of my coworkers who knew her way around suggested we get off the Metro a couple stops early and walk about half a mile to the venue. Well of course, I was excited at this very idea. My first real exposure to the heart and soul of Prague.
I was immediately enchanted by the lumpy cobblestone streets and the very old buildings. We soon came across an odd building with four statues over the entrance depicting what appeared to be, to my eye anyway, communist era workers. The kind of thick neck and heavy features you'd find in a Diego Rivera painting.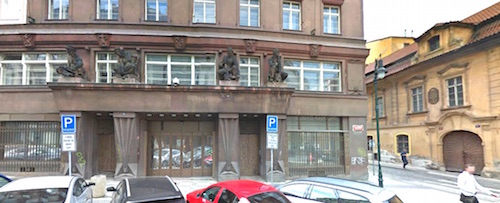 A very bad screen grab from Google maps because I didn't take a photo while there

I had kind of a "holy shit, look at that" moment and kept walking. There was a remnant of Soviet era Prague right there. Right there!
As we kept walking my eyes landed on souvenir shops with colorful marionettes, crystal shops, many pubs, restaurants and even a big ol' Burger King, and I knew that it was okay. I was not somewhere I wasn't supposed to be. I didn't need to rip up my passport and toss it into the murky blue waters of an airplane toilet.
No, rather, I was exactly where I needed to be. Instead of fear I felt proud that my ten New Mexico bred toes felt the pulse and music and life of one of deep Europe's most beautiful cities.
Now, in hindsight, of course I was being ridiculous. I mean, my brother has traveled right into the heart of Moscow, Americans are free to visit Cuba, and Dennis Rodman gets to visit his bestie in North Korea. It's a different world and a different view.
At the end of the day, it turned out that the Russians did (and do) love their children too.

On the way to work this morning, I listened to legendary San Francisco radio station KFOG. They've recently had a bit personnel shakeup and it turns out their new morning guy is former MTV VJ Matt Pinfield. I'm not totally thrilled with the change, but I will say this: he is able to pull pretty decent guests.
This morning it was Matt Nathanson and it was a good interview. They talked music and influences, and Pinfield asked what I thought was an intriguing question.
"What is the one song that changed your life?"
For Mr. Nathanson, it was "Closer to Fine" by the Indigo Girls. He said it made him want to play acoustic guitar and changed the course of his music. Pretty cool answer and song.
When they cut to commercial, I was left wondering what my answer would be. What is the one song that changed my life?
Well sheesh, that's hard question. Music is so integral to my life that it can't possibly be one song. There have been many songs that have changed my life and there are unwritten, un-thought of songs on the path ahead that will certainly change my life again.
As I drove and pondered, I was able to come up with a bunch. Here are just four of a much longer list.
Let's dig in:
1) It's 1991 and I've just gotten an undergraduate degree and about to start my MBA program. Right before the new semester began, my boyfriend broke up with me. I was quite into that particular boyfriend, pretty sure he was "the one," and the breakup hit me like a ton of bricks.
I wallowed deep into a lot of sad country music, but one song in particular was a constant companion.
"Are You Still Within The Sound of my Voice" by Glen Campbell
There was a place down on the Rio Grande where he and I used to go, so I would drive there, bring out a blanket and my boom box and find a place on the banks of the river. I would play that song over and over again while crying, sobbing, keening. I rose the level of that dusty ol' river with my salty tears.
Glen and that song got me through it. I can still hardly listen to that song, it's so etched into my memory and DNA. But that song helped me make the transition back to good. It made me stronger. It did, indeed, change my life.


2) It's 1994 and I'm living in Albuquerque, fresh out of college, gainfully employed and living that single girl life on my own. I'd lost a lot of weight and was feeling sassy and strong.
My musical tastes still ran toward country, but I was starting to listen to a lot of other music. In fact my musical education expanded a lot since there was a whole lot of music in the 90's that was changing the world.
I'd caught the end of a song on the radio that got my attention, but I wasn't sure what it was.
A few days later I was riding in an old Jeep CJ that was open to the wind with radio playing loud. That song came on, those now easily identifiable guitar chords, and I asked the driver to turn it up.
I was super late to the party on this song, but on that day, really hearing the song, my life changed.
"Smells Like Teen Spirit" by Nirvana
Oh muh lord. Of course we all know the impact of Nirvana now, but back then, it was unlike anything I'd ever heard. I just knew I needed more. A lot more.
I bought "Nevermind" on CD and played it over and over and over. I had never heard an artist express themselves like that. I sang along with angry lyrics while the music (and musician) spoke to me in ways I still don't understand.


3) It's 1997 and I've moved to the Bay Area and I'm spending all of my time in San Francisco's North Beach where my musical education took a turn toward the Blues.
There were a couple bars I knew how to get to and went to all on my own. A little girl with hayseeds in my hair, the employees and the musicians took me in. I became part of their family and they mine.
Blues music rolled in waves down Grant street back then and I'd start at the Savoy and work my way down. Grant & Green, Lost and Found, The Saloon.
Then there was a man named Willie who belonged to the street, but was still part of our family. More than once he protected me from the less kind aspects of city streets. He was a talented man with a bit of a drinking problem, but oh could he play that harp.
He'd tap his foot in time and play the blues. Then I'd go inside the bars and hear the musicians dive deep into history and play those same songs.
There was one that made me take notice, made me sit up. The beginning of what became a beautiful blues education. The door opened and I walked through.
"Matchbox" written by Blind Lemon Jefferson
On one night I heard four different musicians do the song, each putting their own fingerprint on it. This one song took a hold of me and never let go.


4) It's 2015 and I'm with the love of my life, the one who actually is the one, and we're attending a show at a small but awesomely funky venue in our new hometown. The act is Radney Foster and going to the show is like coming home.
I wrote a lot about why that night itself mattered right here on this little ol' blog.
But more than that, Radney's music was a core part of my college years and my life. A life I left when I moved to California. It was mostly the right decision, but damn I often feel like I left a huge piece of myself behind.
So many people here in the Bay Area. Crowded. Packed in. People who don't understand the emptiness you find in New Mexico. The wide open spaces. The ease.
A lot of people here who don't understand New Mexico, don't understand what matters to me, and sure as hell don't listen to country music.
And now here was Mr. Radney Foster standing on a stage in Northern California. There were even people other than me came to see the show. People who get it. It was a mind bender.
He did a lot of the familiar songs, and late in the show he introduced a new song. Told us that his wife grew up in Oakland. How he was at his in-law's house in the Oakland hills and watched a gorgeous Bay Area sunset. Then he told his wife "I'm going to be late for dinner," because he had to get down a song.
"California" by Radney Foster
It made me cry a little because it's a beautiful love ode to California, written by someone from West Texas. A desert rat like me who gets it, was there back in the day, and understands why California.
It's hard to explain to folks back home, but now I have the perfect musical explanation. In the following weeks I played it over and over again. This song let me know it's okay to have my heart in both New Mexico and California. This song brought peace. Healing.
Truly life changing.

——
Whew. Yeah. Okay. I could probably go on. This list expands and grows the more I think about it.
I bet you are thinking too. Running through the soundtrack of your life and remembering the songs that mattered. The songs that changed your life.
It's worth the journey. Feel free to share here or on Facebook. I'd love to know which songs changed your life.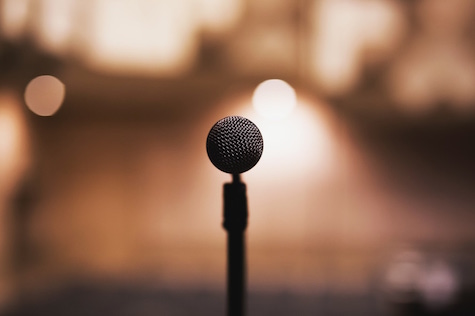 Image used royalty free and found here.

I drove a 1979 Mercury Bobcat. It was a Ford Pinto made by Mercury. Less flammable.
It featured a rigid manual clutch and four speeds on the center console. With a good tail wind and a steep New Mexico hill, I could get some speed in that tin can of a car.
Its vintage meant that it was too new for an 8-track player and too old for a cassette player. Only an AM radio was provided. You'd pull the button out and shove it back in to save your favorite station.
There is a lot of wide open land in New Mexico. So uninhabited that radio signals from faraway populated areas don't always reach. Spin the dial and listen to different kinds of static. Only static.
I grew up in Albuquerque and went to college at New Mexico State in Las Cruces. The same day I moved into my freshman dorm, my parents moved to Carlsbad.
To go from Las Cruces to Carlsbad, you get to the other side of El Paso and face about two hours of nowhere and nothing. No people. No animals. No radio.
The seatbelt on the passenger side fit nicely around my boom box, a Christmas present from my mom. A stack of cassette tapes queued up to take a turn in the dual slots.
The Mavericks, Patsy Cline, Foster and Lloyd, Dwight Yoakum, Buck Owens, Alan Jackson, Keith Whitley, Marty Stuart, Willie Nelson.
Merle Haggard.
And that's the point of telling this story, isn't it?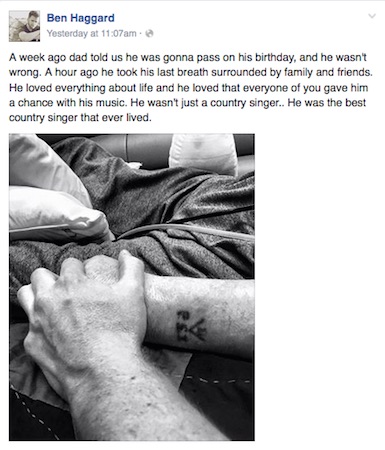 Those voices, those songs, those musicians. Then and now, they are a part of telling my life's story. The music of Merle Haggard lives in my DNA. It's a short hand between friends. An access code for memories, to instantly revisit a time and place.
There was this blue eyed cowboy. He loved to sing. Occasionally he'd even sing to me. There was this dance in Mimbres. The band let him do a song, "Silver Wings." Merle's music and that cowboy's voice. Everyone talked about it for weeks.
I wasn't even there (he and I had parted ways by that point) and it's still a part of my story, the collective story of all of us Ag College kids from that era.
Back then a band or a jukebox or a cassette tape would play a Haggard song and we had to dance, had to sing along.
When I was taking acoustic guitar lessons, I spent a lot of time learning how to play "My Favorite Memory." I never quite got it right.
Merle Haggard told stories. His stories became our stories. His stories became timeless. The opening cords of any number of his songs thrum a string in my soul.
Seventy-nine years is a lot and yet somehow not enough. I had recently been trying to get tickets to a show. He'd rescheduled February and cancelled March. I knew he was having trouble.
Knowing the end is near and the arrival are two very different things.
We last got to see him in December 2014. He came out to the stage looking tired and at half a lung down his voice was a little thin. By the end of the show he had energy and that smooth Merle Haggard sound rang clear, filling the venue and spilling out onto the streets.
We left the show full up to the top with the music of Merle Haggard. Though we've lost the man, his music lives on. In that way, we'll always have Merle.
I'm saddened for his family who lost a husband, father and friend. We lost a good man yesterday. Today seems a little paler for the loss.
Rest easy, Hag.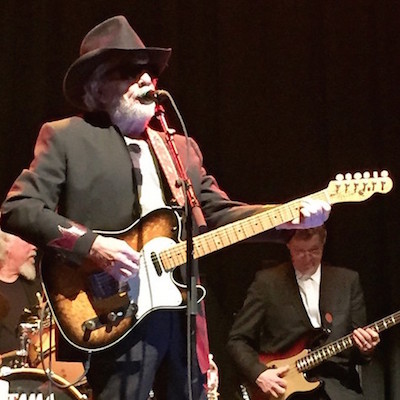 December 2014 at the Uptown Theatre in Napa, CA

Black and white photo from Ben Haggard's Facebook page all rights stay with the originator. Color photo ©2014 Karen Fayeth, taken with an iPhone6 and the Camera+ app and subject to the Creative Commons license in the right column of this page.


Hoo boy, back in the saddle again after a weekend trip to my Fair New Mexico. Let me tell you, it's hard to get into the ol' groove after being back in my homestate.
I found myself in southern New Mexico over the past four days for the occasion of my goddaughter's sixteenth birthday. She is amazing, beautiful, smart as a whip, sassy as hell and genuinely caring.
She has been easy to love since the day I first met her tiny little self. She was barely a month old when her mom brought her along and met me as I came off the plane at the El Paso airport. My world has not been the same since.
The occasion of her birthday celebration meant that I also got to see quite a few people I hadn't seen in years.
The thing that really sticks out to me from this past weekend was not just seeing a lot of dear friends who go back quite a few years, but getting to know their kids.
Time has marched along and many of these kids are now teenagers or older. So much more than a fun lump of baby or a capricious toddler. They are getting to the age where you really start to see who these kids are going to be.
What a lot of fun to see what so many of my now grown up and responsible friends have created. Look, back then I would have voted some of my tribe to the sidelines in the game of propagating mankind, and yet, their kids have turned out pretty damn awesome.
As I hear about these kids moving into their adult lives, getting married, graduating college, being responsible members of society, I also had to sit down for a moment and contemplate just how fast time marches on. And on. And on.
So many times I found myself saying "Really? Working a full time job? Getting married? Graduating college? Wow. I remember the day you had that adorable baby. Damn."
One old friend summed it up when she told me she'd just moved her youngest into her own place. "My husband and I looked at each other and said, 'Now what?'"
Now what indeed. Friends who are around my age, kids raised, possibility of retirement on the horizon and a new life awaits.
Wait a minute, aren't we going to a Corbett Dance tonight?
Oh no, Karen, that was twenty-five years ago.
Nina Karen needs to sit down. Bring your Nina a piece of cake, would you dear?
Those old hands on the clock keep pressing forward, ever onward, whether I'm ready or not.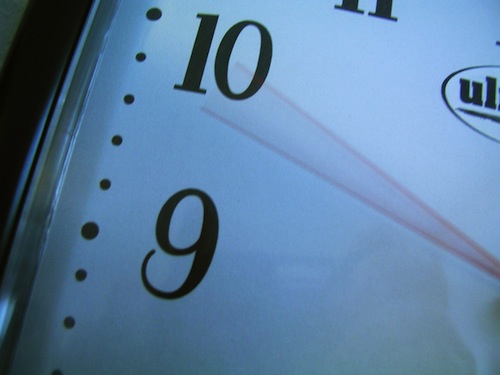 Image found on freeimages.com

There is a pot of beans burbling on the stove, Hatch chile on the counter, and a song in my heart.
The song sounds a lot like: "Santa Fe, tus fiestas de septiembre": (hear it here: Fiestas del Santa Fe)
Tonight is the annual Burning of Zozobra event. Oh yes it is.
Time to collect all my glooms and watch them burn.
I love that the City of Santa Fe live streams the event so this ex-pat living in California can be there, with my people.
I have only this to say: Burn him!!