Sense memory is a funny thing. Seemingly insignificant things are ingrained early in your cells and pop up at the darndest times.

***

Earlier this week, after a long day at work and in a post-dinner stupor, I emptied the dishwasher and put away our clean dishes.
No big deal, right? Common, unremarkable.
After I'd put away the dishes, I looked at the cabinet where our glassware is kept and laughed, because I had done something that harkens back to an earlier time.
When The Good Man and I first moved in together more than ten years ago, there was a lot of negotiation. To be expected, I'd been living alone an awfully long time, was a bit set in my ways, and I was no spring chicken either.
So having this dude move into my space was, well, weird. I honestly had some difficulties, which we were able to work through bit by bit.
One such negotiation had to do with the orientation of drinkware on the shelves. You'd think this wouldn't be a big deal, but it became one of many lessons in "things you do because of where your from."
You see, I grew up in dry ol' New Mexico. We loaded our glasses rim down so the dust doesn't get in ya drink.
The Good Man grew up in Brooklyn. They loaded their glasses rim upward because god knows what crawled across the shelves and it's gross to drink from a rim that's been in the yuck. "That's why my mom puts new shelf paper down in every place she lives," he explained.
Ah. Well. Sure. That actually made sense. So I relented and agreed our home would be a rims up sort of space.
Besides, I knew that picking battles was going to be the key to success. We still had to settle if our home was going to load toilet paper over the top or from below. (Over the top is the final determination, my preference, The Good Man doesn't care either way)
So this past week, tired of mind and body, doing something I must have done thousands of times in my life by emptying the dishwasher, I loaded the glassed rim down. And laughed.
Then thought about the early days of The Good Man and Me. As we approach our ten-year wedding anniversary, I have been doing that a lot lately.
So did I then turn the glasses back over? Nope. I left them, figuring we'd use all the clean glasses before the next washer run, and then on the next unload one of us would get the right orientation.
This morning, better rested, I unloaded the dishwasher again. Sense memory, I didn't even think about it. I put the clean glasses rims up and walked away.
Here is a true and accurate representation of the current state of our cabinet.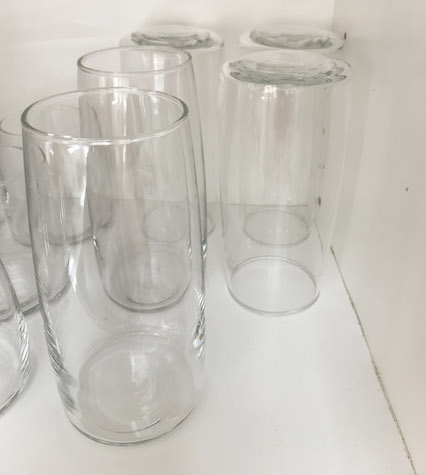 Where avoiding dust and avoiding rat droppings meet


I wonder how long it will be before my rather obsessive need for uniformity will get the better of me….can't blame that on New Mexico.

Photo taken this morning using the Camera+ app on an iPhone 7. I mean, why would you want to steal a photo of my drinkware? But if you do, please remember it's subject to the Creative Commons in the right column of this page. Attribution, please! :)
There is no such thing as 'traditional' or 'authentic' sangria. Sangria is a party drink designed to get your guests drunk really cheaply.

— Damian Corrigan, About.com Guide
Well, what Damian lacks in tact he makes up for by being right. Isn't truth the best defense? Yes, I think so.
I found this quote when I Googled "how to make traditional sangria" because all of the sudden I have noticed that sangria has become cool. Except, the sangria they are serving in bars and restaurants these days cost $15 a glass and doesn't taste right. It has become something hipster and these children are tinkering around.
What happened? No one knows how to make sangria right anymore!
In the folds and recesses of my mind, I remember someone's mom or abuela telling me "Oh, Sangria is easy, just buy the cheapest sweet red wine you can find, pour it in a pitcher then cut up a bunch of fruit and drop it in there and let it sit for a couple days."
That's it. That's how I recall it being told and that's how I recall sangria should be made. Sweet, fruity, and inexpensive. It takes a few days to make it right. Land of Mañana. A little slow and easy on a hot summer day.
These days bars make "sangria" on the spot, mixing some red wine, some other hard liquor (brandy, vodka, rum or in the case of a restaurant in San Francisco, I swear it's everclear) and tossing in a couple orange slices.
It doesn't taste right. It wasn't given time to do what good sangria should do.
I remember as a child, my mom confiding in me that the best sangria she'd ever had was at La Tertulia** in Santa Fe. I remember dining with the folks and all the adults at the table seemed to love the stuff, like kids and Kool-Ade.
Later as an adult I got to give a pitcher of La Tertulia's nectar a sip for myself, and by god mom was absolutely right. Ab-so-loot-lee. Mom knows her sangria.
So all this sangria angst was dusted up because over the weekend while at my local Trader Joe's, I picked up a bottle of Maria Ole Sangria that had been touted so highly in the sales circular.
I put that bad boy in the 'fridge to get nice and cold and last night on a really mellow evening, I cracked it open and poured some out.
It was pretty terrible. Really terrible. I finished the glass and decided to give it a chance. Sometimes crappy wine needs a second glass. That's my theory anyway. Second glass didn't do much to improve this swill.
Very disappointing.
And the worst of it? Today I am slightly hungover. Not in a big way but in that "shoot, I drank some crappy wine last night" and now I'm mad. Good old fashioned aged sangria is usually mellowed out enough that it doesn't hurt the head.
This new era of not really sangria not only hurts my head, it hurts my heart.

____________

**Sadly, La Tertulia is no more. I shall always remember their indian tacos and their sopaipillas and yes, their delicious sangria. *sigh* Pour one out for a NM institution…..

Image found here.
I always thought it was an especially good thing that my alma mater's fight song included references to drinking.
Because when you watch Aggie sports, you'll need it.
A lot.
Ah well NMSU, we'll try again next year.
NMSU Aggies Fight Song

Aggies, Oh Aggies
The hills send back the cry
We're here to do or die
Aggies, Oh Aggies
We'll win this game or know the reason why
And when we win this game
We'll buy a keg of booze
And we'll drink it to the Aggies
'Til we wobble in our shoes
A-G-G-I-E-S
Aggies, Aggies, go Aggies
Aggies, Oh Aggies
The hills send back the cry
We're here to do or die
Aggies, Oh Aggies
We'll win this game or know the reason why!
Oh happiest of Happy Fridays. Sure, I was on vacation Monday and Tuesday, but I've packed a week or more of work into the two days I've spent back in the office and more more lies ahead. Yeesh!
As I rolled into work on my morning commute, I thought "today's a real good day for a Happy Hour" which got me to thinking about all the bars I've visited in my little life.
Which got me wondering about what are the best (and by best, I the biggest dive) bars I've been to.
Here's my top five, in no particular order:

The Grant & Green Saloon (pre-renovation, when it was still a blues club), located conveniently at the corner of Grant and Green streets in San Francisco.



It was in this dank, cave-like (it was painted black), seedy SF joint that I first saw the irrepressible Johnny Nitro & The Doorslammers.

I still can't believe I used to go to this place *by myself* Ah the stupidity courage of youth.

One main feature of this dive was the bathroom. The ladies was located at the end of a weird dark hall. The door had a questionable bolt latch. The toilet tank was held together with a metal strap. The broken toilet seat was patched with heavily road worn gray duct tape. When you sat, first the tape would stick to you, and then the seat would give way a bit.

When your business was done, you'd stand, and the seat came with you. It stuck to your leg just long enough for the seat to shift back together and pinch a good amount of thigh skin between the broken pieces. It hurt like a sonovabitch and I'd come away with a welt and left over adhesive from the tape. Curse words were uttered.

Also, the boys loo at the front of the hall would stop up with some regularity, so when it was busted, the drunk boys would lumber to the end of the hall and shake the door to the ladies room. Regulars knew if you shook the door hard enough and long enough, that weak bolt would give way and *surprise* you'd be caught in a squat facing some drunk lumbering boy.

I learned to pee really, really fast. Also, I've never been one of those girls to go to the bathroom with friends, but I did at the G&G. It helped to post someone outside the door to keep watch. (the door was too far away from the toilet to be able to both hold the door and do business).

Despite all of what's gross about the G&G, I saw some of the most amazing live blues there. I was actually heartbroken when they fixed it up, painted it white and put in new plumbing. It's never been the same since….




The Saloon just down Grant street from the G&G, in San Francisco



Oh the Saloon. It contains what can only be called a "funky smell". Sunlight never hits the inside of this place, and that's probably for the best.

Established in 1861, it's San Francisco's oldest continually operating bar. The Saloon holds some history. Legend has it the local firefighters saved the building from the fires that raged after the 1906 earthquake due to the prosperous brothel that operated on the upper floors.

There are plenty of stories about young men having their fill and stumbling out onto the foggy San Francisco night, then waking up on a boat out to sea. An unwilling member of the ship's crew and unable to return to port for months or years at a time. The colloquial term for that is Shanghaiing.

All of that history invades the place, and you feel it. There is still live blues seven days at week at The Saloon (and two bands a day on the weekends).

It's strange, smelly, filled with weirdos, and a tiny dance floor (but the bathroom isn't so bad). I've had some of the greatest nights of my life inside that place. The timbers jump when the base player thumps that thing.

It's fantastically beautiful. And Fresno alley just outside the door is a place filled with all sorts of shenanigans (including photography, the light there is awesome).




The Alive just over the border in Juarez



I couldn't find any links to information about this place, other than wistful memories from many a person who was there back in the day.

The Alive was actually underground, you had to navigate this long, steep ramp to get into the place.

Just an aside….does it seem like a good idea to YOU to be in an place when you are 18, in a foreign country, underground, drunk and there is only ONE entry/exit? Ah the stupidity courage of youth.

This was a place for cheap Coronas, thumping dance music, and a bathroom that I can hardly even describe. There were no lights in there (probably for the best). With my walnut sized bladder, I did my best to hold it for as long as possible. Once, I went in there (couldn't wait anymore) and I slipped into a stall. SOMETHING was moving on the surface of the water in the toilet. It was alive. I have zero idea what it was and it scares the sheeeit out of me to think about it now.

I held the door handle for my life and leaned back, doing the best I could to be the farthest possible distance I could get from the seat and still hit the water. I prayed that door handle wouldn't give way. I prayed whatever was in the water wasn't bitey. I prayed I could just get this done and go home.

I survived and emerged unscathed. It took three tequila poppers (some called them slammers) to get over the trauma.

Then I danced and tried to forget.

I used to have such fun in Juarez. The danger made it more interesting, I suppose. Of course, these days it's ill advised to slip over into Juarez. Too much awful business going on there. I'm afraid The Alive is an experience that is long gone (and maybe that's for the best).




A bar attached to the Steven's hotel in Carlsbad


At least I think it was the Steven's Hotel. This was a bar that was located on the backside of a hotel on Canal Street in Carlsbad (it's been soooo many years since I lived there.)

I don't actually think this bar exists anymore. I can't seem to find any record of it from a Google search.

To get to the place, you had to ascend these steep metal stairs. Going up wasn't so bad, coming out was a bit treacherous once you were a little wobbly in your shoes, and especially if it had rained a bit. People slipped and bobbled down those stairs in droves. A big pile of borrachos at the bottom of the stairs. I wish I was kidding.

The bar hosted Pot Ash miners, local cowboys, and us college kids. This was something of a volatile combination. The plate glass windows were replaced by plastic after too many fights in the bar kept smashing the glass. You couldn't get beer in a bottle or glass. Only cans and plastic cups held drinks.

The mood was weird, and tense. But the beer was cheap and whatever half ass local band was playing would getcha dancing. And hell, it was somewhere to go and something to do in Carlsbad. So ok.

I had some odd, yet fun times there. Strange spot and strange people.




Cowboys bar in Las Cruces



Who knows what this place is called these days. At NMSU in the 80's and 90's this was THE place to be.

A band called Easy Money used to play there. The lead singer was named Toby Keith. They were a pretty good band. The lead singer was a complete arrogant ass. Nobody liked him, and now he actually is somebody. (I still think he's an ass)

At one point they introduced a special where on Fridays, if you bought a pitcher of beer, you could eat as much pizza as you wanted. Big mistake. Hungry and broke college kids can eat a LOT. And if we all put in a dollar, we could get one, maybe two pitchers of Coor's Light. So there.

That promotion didn't last long.

I danced until my feet hurt many a night at Cowboys. God I loved that place.

All night drinking and dancing, then after the bar closed, a group trip to Village Inn for late night pancakes. Why do pancakes taste so damn good at 2 am?

Whooo doggies, that was quite a trip in the Wayback Machine. I think I need a smoke (and a vodka drink) after all of that. (no, no, just kidding, I don't smoke….)
Sadly, I won't be at ANY those places tonight. Instead I'll be at the Red Couch Saloon where The Good Man tends bar.
He knows which wine goes best with Cheetos.
Happy Friday everyone! Enjoy your night.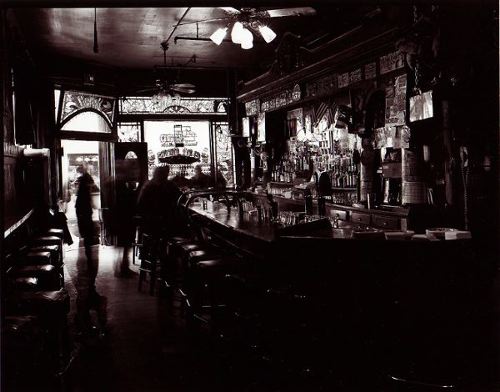 Photo of the interior of the Saloon, Copyright Scott Palmer.

So I'm about five days late getting around to this week's Theme Thursday.
It was a long week before the long weekend. Today, as with my astounding piles of work email, I'm finally getting caught up.
This week's theme is: Simple
And so we have the word simple. We have the hot, hot month of July. We have a need for refreshment.
Time for an easy yet useful recipe.
Simple syrup. If you are sweetening your iced tea, mojios, or other cold beverages without it, well then…where have you been?
Get on board!
Here you go:
Simple syrup is 1 part sugar to 1 part water. I usually do one cup to one cup.
Combine in a medium saucepan and bring to a boil, stirring, until sugar has dissolved. Allow to cool.
Dispense into something tasty.
That's it.
Now, go getcher drink on! Whatever that beautifully sweetened beverage might be.
Photo by Pam Roth and used royalty free from stock.xchng.