The photography club I attend monthly has been going through a lot of flux over the past year. A few of the main members have left (retired, mostly) and new folks have joined. We have a new leader and he's got a lot of ideas. It's a lot of change. For the good, I'm sure, but change anyway.
I've talked a bit about this group. It's made up of both scientists and engineers and is overwhelmingly male. These guys are very much tech head photographers who are all about gear and photographic perfection. Their photos are technically precise but in my opinion lack emotion…which suits them just fine.
It's a debate we have a lot in the meetings. Art vs Technical. Let's just say, my storytelling approach to photographs is in the way, way minority. I can often actually *hear* eyes rolling as one of my photos rolls across the screen during critiques.
I have learned a lot from this group. I work hard to make my photos better. To improve. To get technically cleaner. That said, in some ways, I also like to goad them. Poke the tiger with a stick.
One of the things we seem to struggle with as a group is our monthly theme. It's hard to come up with jazzy ideas every thirty days. This year's themes are some good and some weird. All are great in my opinion. I love being challenged.
A few of the more rigid photographers aren't having as much fun with the themes as I am.
For March, our theme was "wood." Seems easy, doesn't it? But it's harder than you'd think to come up with a good, unique, and well crafted photo of wood. It's almost too broad.
We get two entries each month. I did one that was a bit more "clean" though it still could use some technical work. And I did one storytelling photo.
Neither were very well received.
Presented for your perusal:

Palm, Pine, Maple, and Telephone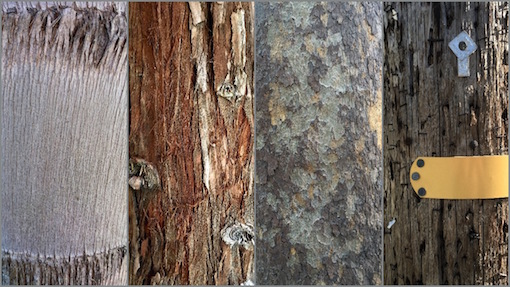 Copyright ©2016, Karen Fayeth

I presented this as a study of the wood types found in my neighborhood, each pattern more interesting than the last.
Ok, the image has a joke there at the end. And with the title I was yanking their chains, as these nature photographers get quite sniffy about the precise genus and species of flora and fauna they photograph.
This photo garnered four votes in our monthly contest. Not terrible, but not close to winning either.
Here is my other shot. I very much enjoy the story in this one. It got one vote. (At least it got one?)

Log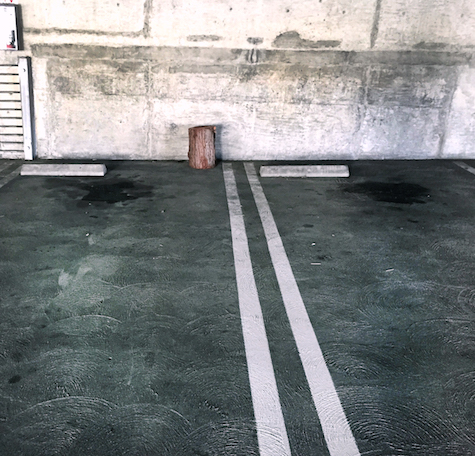 Copyright ©2016, Karen Fayeth

When faced with the conundrum of properly conveying the feeling of "random log in parking garage," I chose to go with moody.
This photograph was not subjected to Instagram filters. A color photo of this wooden beauty was lightly desaturated then pulled into Photoshop for burn and dodge to bring out those beautiful loggy highlights.
The squarish shape is due to cropping out surrounding cars.
I really love this photo. I mean…why the hell is there a log in the parking garage at work?
Also, could this BE any more perfect for the theme of wood? Nailed it!
One vote. At least one other photography club member gets it. It's something to build on.
Both photos are Copyright ©2016, Karen Lingua. All taken with an iPhone6 and the Camera+ app. First photo also utilized the free photojoiner.net site to combine the photos. Subject to the Creative Commons license in the right column of this page.

I drove a 1979 Mercury Bobcat. It was a Ford Pinto made by Mercury. Less flammable.
It featured a rigid manual clutch and four speeds on the center console. With a good tail wind and a steep New Mexico hill, I could get some speed in that tin can of a car.
Its vintage meant that it was too new for an 8-track player and too old for a cassette player. Only an AM radio was provided. You'd pull the button out and shove it back in to save your favorite station.
There is a lot of wide open land in New Mexico. So uninhabited that radio signals from faraway populated areas don't always reach. Spin the dial and listen to different kinds of static. Only static.
I grew up in Albuquerque and went to college at New Mexico State in Las Cruces. The same day I moved into my freshman dorm, my parents moved to Carlsbad.
To go from Las Cruces to Carlsbad, you get to the other side of El Paso and face about two hours of nowhere and nothing. No people. No animals. No radio.
The seatbelt on the passenger side fit nicely around my boom box, a Christmas present from my mom. A stack of cassette tapes queued up to take a turn in the dual slots.
The Mavericks, Patsy Cline, Foster and Lloyd, Dwight Yoakum, Buck Owens, Alan Jackson, Keith Whitley, Marty Stuart, Willie Nelson.
Merle Haggard.
And that's the point of telling this story, isn't it?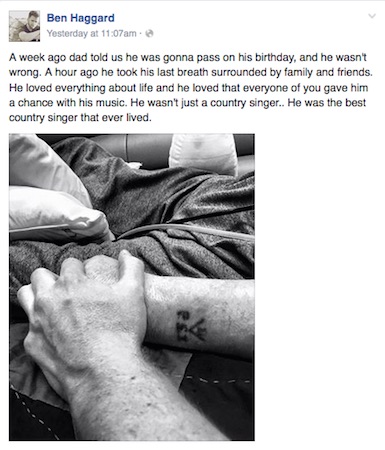 Those voices, those songs, those musicians. Then and now, they are a part of telling my life's story. The music of Merle Haggard lives in my DNA. It's a short hand between friends. An access code for memories, to instantly revisit a time and place.
There was this blue eyed cowboy. He loved to sing. Occasionally he'd even sing to me. There was this dance in Mimbres. The band let him do a song, "Silver Wings." Merle's music and that cowboy's voice. Everyone talked about it for weeks.
I wasn't even there (he and I had parted ways by that point) and it's still a part of my story, the collective story of all of us Ag College kids from that era.
Back then a band or a jukebox or a cassette tape would play a Haggard song and we had to dance, had to sing along.
When I was taking acoustic guitar lessons, I spent a lot of time learning how to play "My Favorite Memory." I never quite got it right.
Merle Haggard told stories. His stories became our stories. His stories became timeless. The opening cords of any number of his songs thrum a string in my soul.
Seventy-nine years is a lot and yet somehow not enough. I had recently been trying to get tickets to a show. He'd rescheduled February and cancelled March. I knew he was having trouble.
Knowing the end is near and the arrival are two very different things.
We last got to see him in December 2014. He came out to the stage looking tired and at half a lung down his voice was a little thin. By the end of the show he had energy and that smooth Merle Haggard sound rang clear, filling the venue and spilling out onto the streets.
We left the show full up to the top with the music of Merle Haggard. Though we've lost the man, his music lives on. In that way, we'll always have Merle.
I'm saddened for his family who lost a husband, father and friend. We lost a good man yesterday. Today seems a little paler for the loss.
Rest easy, Hag.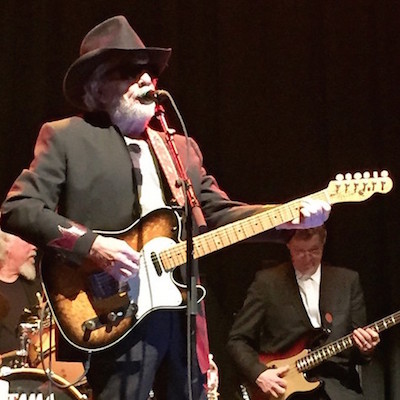 December 2014 at the Uptown Theatre in Napa, CA

Black and white photo from Ben Haggard's Facebook page all rights stay with the originator. Color photo ©2014 Karen Fayeth, taken with an iPhone6 and the Camera+ app and subject to the Creative Commons license in the right column of this page.


I'm incredibly in love with that harbinger of Spring, the yellow daffodil.
Sunshine on a stem.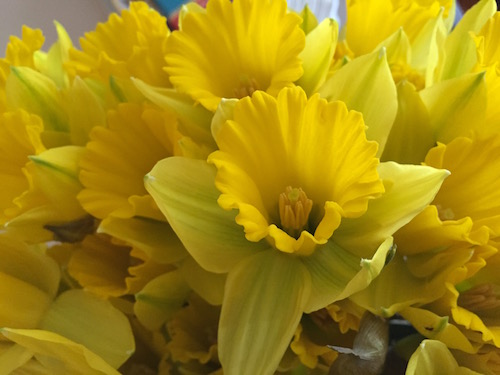 ©2016 Karen Fayeth


I adore going to Trader Joe's to pick up a bunch of tightly closed buds then later at home snipping the ends, placing the stems in water and watching a fireworks display.
Yesterday we sat at the table where this vase is placed and I swear these buds were busting open right before our eyes.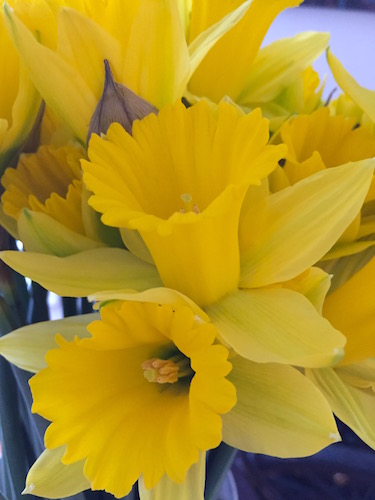 ©2016 Karen Fayeth

I took a big bunch to work today and have enjoyed so many of my coworkers (and my boss) coming by to ooh and aah.
"They are just so sunshiny" is the general consensus.
And they are.
Unless I'm being all moody and arty and stuff and go for the black and white on the desk of my brand new office (yay me!). Then they are regal and proud and still very beautiful.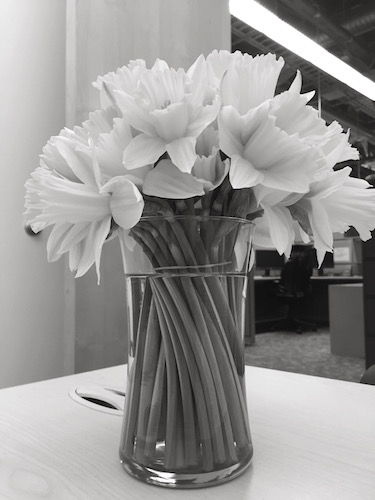 ©2016 Karen Fayeth


And because I'm goofy for the daffydils, here is a Kaleida Cam shot: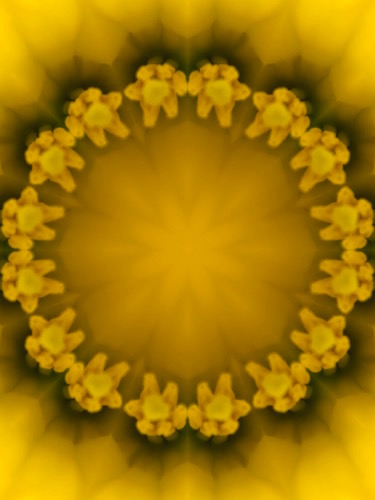 ©2016 Karen Fayeth


Ok, well, I've about exhausted the topic of daffodils. Love 'em!
Don't even get me started on tulips. Oh sigh, how I love Spring.
Even in the middle of this gray rainy Northern California day, I look at tulips and daffodils and feel entirely optimistic.

All photos ©2016 Karen Fayeth, taken with an iPhone6 using the Camera+ app, the Lenka app (for black and white) and the KaleidaCam app. All photos subject to the Creative Commons in the right column of this page.

With Thai Basil Tofu, potstickers and spicy eggplant simmering in my tum, I excitedly reached for my fortune cookie, ready to crack it open and read my fate.
I have a mild obsession with fortune cookies and the wise and occasionally silly words inside. I have several of the small slips of paper tucked into my wallet. A few are taped to my work monitor. Some just drift around in my writing workspace like tumbleweeds of clever words intended to poke and prod at my mind.
So it was on this day, celebrating the birth of the kind and patient woman who gave birth to The Good Man, that I cracked open a fortune cookie and found…
Well, this: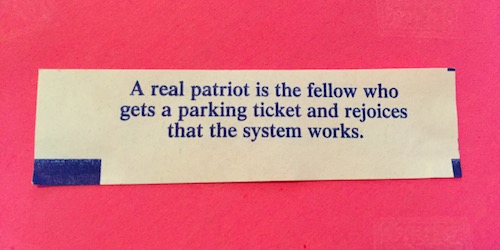 "A real patriot is the fellow who gets a parking ticket and rejoices that the system works."

Okay, okay, now wait just a second here. This is not fortune. This is propaganda.
Believe you me I've never, not once, rejoiced in a parking ticket. And living where I do, parking tickets are something that find their way into my life more often than I appreciate.
One short Google search later I discovered this happens to be a quote attributed to a man named Bill Vaughan.
Fine, okay. Who in the hell is this Bill Vaughan?
According to Wikipedia, he's an American columnist who wrote a syndicated column for the Kansas City Star from 1946 to 1977.
******
We break here for the requisite Roger Miller sing along.
I drive a big old Cadillac with wire wheels, got rhinestones on the spokes
I got credit down at the grocery store
And my barber tells me jokes
I'm the number one attraction every supermarket parkin' lot
I'm the king of Kansas City, no thanks, Omaha, thanks a lot

Kansas City star, that's what I are
Yodel-deedle ay-hee, you oughta see my car

Aaaaand we're back.
******
So I read the rest of the Wikipedia page trying to understand if this Vaughan guy is a communist or what. Because that quote, ooh damn. That runs a bit into a political spectrum that I'm not sure I run toward.
Turns out Mr. Bill Vaughan was sort of a quippy guy. Here's some others attributed to him:

"A citizen of America will cross the ocean to fight for democracy, but won't cross the street to vote in a national election."
"Suburbia is where the developer bulldozes out the trees, then names the streets after them."
"The groundhog is like most prophets; it delivers its prediction then disappears."
"If there is anything the nonconformist hates worse than a conformist, it's another nonconformist who doesn't conform to the prevailing standard of nonconformity."
Ok, I might be warming up to this guy. Still not sure what he's doing in my fortune cookie, though.
Maybe the business of fortune cookies has gone from slight puns and fake Confucius quotes to smart, scholarly, and thoughtful fortunes.
To that I say: Harumph
I may be a bit a traditionalist when it comes to the fortune cookie. I guess I'll just have to keep going to the kind of restaurants where they can be found in order to do additional (delicious) research.
While we're on the topic, here's one of my all time favorite fortune cookies. I got it almost a decade ago but it still rings true:


Birds are entangled by their feet and men by their tongues


Now that one is a thinker! And a little more fortune cookie-eque. With all due respect to Mr. Bill Vaughan.

Both cookie fortune photos ©2016 Karen Fayeth. Taken with an iPhone6, questionable light, questionable photographer and a song in my heart. Subject to the Creative Commons license in the right column of this page.

When I began to seriously focus on submitting my writing to literary journals, I was schooled on the concept that it takes about one hundred rejections to get an acceptance.
Since submitting to one hundred journals takes a lot of research work, I began working with a really awesome service that helps me target submissions and keep track of rejections. Over the past several years, I have found that the one hundred rejection rule is pretty much true.
What this means is that I now get A LOT of rejections. In those first years most submissions were done by regular mail so I'd often have a mailbox crammed with rejection notices.
Now most submissions are done electronically and it is my email inbox that is filled to overflowing with rejection slips. They tend to come in waves. None for a while then six or eight at a time. Rejections usually show up when I'm having a really crappy day.
Receiving a pile of rejections just makes everything SO much better.
When I started getting that many rejection notices, it hurt at first. Each one was a tiny "ouch" and made me sad. Who could reject my perfect little carefully crafted babies?
Over time, I became immune to the sheer volume of no-thank-yous. The skin hardens a bit, the outlook toughens and now I just shrug and say "okay" and move on.
It's what makes those occasional acceptances that much more sweet. A barrage of no and then a glowing, shiny, joyful yes.
Since I have had the good fortune to receive quite a few acceptances, my submission service has been trying to up my game a little bit.
By up my game, I mean in addition to the regular submissions to a lot of fine magazines that no one has heard of, they have been adding a few more well-known and highly regarded journals to my submission list.
I'm not quite up to the point of hitting up the New Yorker for publication, but names on the list recently include McSweeney's, Harvard Review, Zoetrope and The Paris Review.
I always giggle just a little when I hit "submit" on those queries. That's because the odds of my work seeing the light of such highly regarded and high circulation magazines is pretty slim. That said, you don't hit a home run if you don't swing at a few pitches. So I swing away.
The Good Man has a different view on the rejection process. He is always happy to see the rejections in the mailbox. His firm belief is that if they are saying no then at least they considered my work, if even for a moment.
He especially loves the so-called "good" rejections. The slips that have a personal note from the editor, or say something like "while we were unable to use this particular story, we'd like to see more work from you."
Those good rejections are a tiny bit of bread to a starving writer. Those few words are enough to keep me working hard to get to yes.
Anyhow, all of this was on my mind as this morning I sorted through a stack of mail and opened a couple rejection slips. I can recognize them right away because when I do paper submissions, I include a self addressed stamped envelope.
When my own envelope returns to me, it's almost always a no. Almost. I did get an acceptance one time in my SASE. I'd neglected to open it for almost two weeks and couldn't believe it when I did open it. That was a nice surprise.
Anyhow, this morning's envelope had a postmark from New York and inside resided the tiniest sliver of paper. What I estimate to be about one-eighth of a sheet of paper.
It's from The Paris Review. A highly revered title.
They were able to spare just a tiny sliver of paper to tell me no way, Josephina.
And for a moment, I'd like to think about some low to no paid intern reading my story, considering it and then thoughtfully sending this slip.
I'm sure they LOVED my work, it just didn't fit the themes on their literary calendar. Right?
Right.