A few days ago I posted the refreshed for 2018 Top Ten Things I Miss About Christmas In New Mexico, which has become something of an annual nostalgia trip for me.
As I was writing it, I thought to myself, you know….I've lived in the Bay Area for twenty years. Maybe it's time to write a top ten for my current home.
I mean, I am an ex-pat New Mexican and will always be a New Mexican, but I've lived in the Bay Area long enough to also call it home. I guess I'm lucky in that way, to call more than one place my home.
And so without further ado:
Top Ten Things I Love About Christmas In The Bay Area


1) San Francisco's buildings lit up like presents. Around Thanksgiving the buildings on and near the Embarcadero turn into glittering holiday presents and the Ferry Building lights up red and green.
My first Christmas living here, I'd taken a ferry over to Sausalito to buy presents. When I came back over on the ferry, just as the sun was setting, I saw those gift-wrapped buildings for the first time I couldn't stop staring. It's so beautiful and an annual tradition.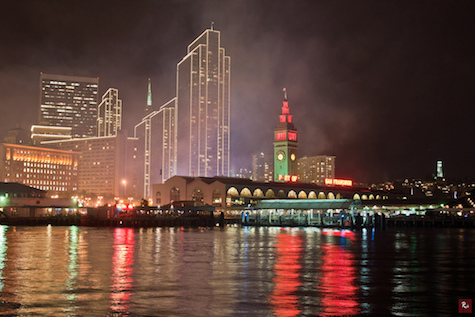 This was taken just after New Year's Eve fireworks last year, hence the smoke, but the view can't be beat. Image found here


2) And while we're talking about things down on the Embarcadero, how about the tradition of Palm trees wrapped in Christmas lights? Other than one sickly Palm tree doing its best to grow by the NMSU library, there aren't really a lot of Palm trees in New Mexico.
But there are plenty here and I love that they get in on the holiday fun. The Bay Area is hardly the only place to feature lit up holiday Palm trees, but it is the first place I ever saw the style and I've always loved it.
Here's an example of the Palm trees outside of AT&T park (there are 24 Palm trees to honor legendary #24, Willie Mays).
Image by Fuzzy Traveler and found on Flickr.

3) To stay on the theme of trees, the Bay Area hosts and awful lot of offbeat Christmas trees each year. I don't recall seeing a lot of weird trees back home in New Mexico, mostly normal trees decorated in the traditional way (which I love). But since living here in the Bay Area, I've seen a variety of trees including one decorated with only the heads ripped from dolls (weird), a tree decked out solely in Star Trek gear (nerdy), trees made of alternative materials like lab supplies, computer servers and routers, and then this one found at an architecture firm by internet friend, UPS driver extraordinaire, and longtime San Franciscan, Rafael Monterrosa.
Photo copyright Rafael Monterrosa (@rafael415 on Instagram), and used with permission. Give Rafael a follow, he is a fantastic photographer and posts photos from his travels all around the city of San Francisco. He's got a sharp photographic eye and knowledge of the City like no one else.


4) Okay, one last tree thing: Another fine Bay Area holiday tradition is tree lighting ceremonies. Usually happenig the weekend after Thanksgiving, every town has at least one. From the Union Square and Ghirardelli Square events in San Francisco, to Jack London Square in Oakland, to Christmas in the Park in San Jose, and lots of smaller neighborhoods and businesses in between, people love to come out to see trees light up for the first time of the season, drink hot chocolate, and get into the holiday mood.
Here's a photo from my little neighborhood's second annual tree lighting event this year: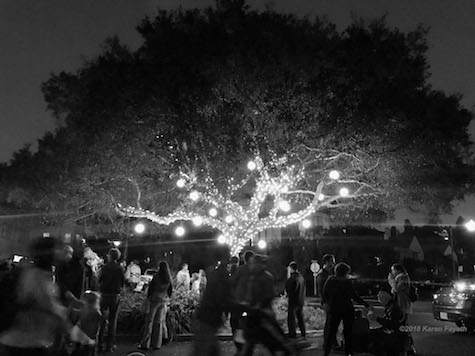 ©2018 Karen Fayeth

5) Now it's time to move on to the fantastic Bay Area food traditions at the holidays. Let's talk about Lumpia which can be found at just about every holiday potluck. Living in the Bay Area has opened me up to the traditions of so many cultures that I just never experienced back home in New Mexico.
I have been honored to know and work with so many amazing people from the Philippines, and they have lovingly introduced me to their food, most notably lumpia, which can roughly be described as a Philippino egg roll. More colloquially it's been called the food equivalent of crack, and I can't disagree.
Nothing more joyful than a huge pile of lumpia at the holiday party. No matter how many are in the pile, they will certainly ALL be gone within no time, and I will do my part to make them disappear. So freaking good.


6) Let's keep talking about holiday pot lucks because the Bay Area likes to eat, something I have always loved that about living here. In addition to lumpia, holiday eating in the Bay is an enormous cross section of diverse foods, all of them delicious.
This year my loaded down holiday plate included lumpia, pork buns, chow mein noodles, Italian seafood lasagna, samosas (delicious little savory pockets from Indian culture), German stollen, Hungarian floating island dessert, pecan pie (hello pecan producers in NM!), enchiladas, guacamole, ceviche (done in a Brazilian style), and much more.
I mean, come on! The amazing diversity of the Bay Area means the best of foods from around the world. What's not to love?


7) I'm not done talking about food either. Holiday season is also Dungeness crab season. Starting roughly in November (start dates depend on a lot of things), this is the time of year where the commercial crab season opens, and oh what a season.
For many Bay Area families, it's tradition to go down to the wharf or to certain places at the coast on Christmas morning to buy crab. Fresh caught that morning, and you can take it home and cook it yourself, or pick one out from the steaming vats.
As a single gal, I used to celebrate holidays with a dear friend, and she loved this tradition. She'd go out early in the morning to buy crab then put a huge stock pot in the middle of her dining room table to catch the shells and we'd dive in with hands and metal crab crackers. Some folks think eating crab is too much work, I say those people leave more crab for me and that's just fine. Delicious!

8) Going to the beach on Christmas day. One of the best Christmases I ever had was when I was all alone, a little depressed, and I made the excellent decision to pack up some leftover Chinese food, a blanket and a small radio and head to the beaches of Half Moon Bay for the day. It was a balmy 65 degrees and for many hours I had the beach all to myself. I read, I ate, I zoned out, I watched the waves, and I wasn't lonely for a minute.

9) The smell of eucalyptus and fog. Okay, fair enough, this is not just a holiday thing, but for some reason it stands out for me during the holiday season. The Bay Area is home to quite a few Eucalyptus trees, which are actually an invasive species, but are now just a part of life here.
The Bay Area geography means we have what is called a "marine layer", which is the reason for the iconic fog we experience. Roughly explained, when a warm Bay Area day meets the cool, cool Pacific Ocean, they crash into each other and create fog.
Add to that when a Eucalyptus tree gets warmed up, it releases its very aromatic oils.
So you have a warm tree giving off oils and by the afternoon a marine layer pushing ocean fog into the Bay Area. This creates a smell that is unique to the Bay Area all year round. Add in the moist damp air from the rainy season that starts around the holidays and you have something that will forever be etched in my mind. Even my sister recently commented on her memory of the Eucalyptus smell from her last visit.

10) To use a colloquialism from the internet, I truly love the way the Bay Area is so very extra at the holidays. Examples include the enormous real Gingerbread House at the Fairmont hotel, the entire Oakland Zoo covered in holiday lights, the huge Dickens fair, the full size skating rink constructed every year at the Embarcadero Plaza, real live reindeer at the Discovery Museum, the lighted boat parade with holiday lights from San Francisco's not one but two yacht clubs, and that's not even the beginning of a comprehensive list. There is always something to do, to try, to remember, and to make a tradition.
The Bay Area loves the holidays and I love everything about that.

_______________


Well that ended up being an awful lot of fun to write. Maybe posting this version right after my New Mexico version becomes my new holiday tradition.
Basically, I just love the holidays and all the food, smells, and trees, so I guess wherever in the world I live, I'll find something to love and write about at the holidays.
Thanks for coming along with me on this journey. Feel free to tell me what you love best about the holidays where you live either here or on any of the social media where we connect.
And to you and yours, wherever in the world you are, wishing a wonderful, joyful, and magic holiday season.

A few years back, I participated in a flash fiction writing event and drew the genre of Historical Fiction as my prompt. Historical Fiction! I had no idea what to do with that. None. At all.
I believe the full prompt was Historical Fiction, a dentist's office, and a leather jacket.
Uh. Okay. Sure.
So off I went and wrote a story. My own little sort of baseball story and turns out it did pretty well in the competition, meaning it was good enough to get me to the next round.
After finishing the story, I'd had a bit wish that my sorta kinda baseball story would get to see the light of day, and be published during the baseball season.
Well, my wish came true. "The Dilemma" was published this past April in issue 13 of SLAB Literary Magazine.
My baseball story! Published in April! During Spring Training!!
So why am I telling you this in June?
Well, it came out in the print version in April and I decided to wait for the issue to be loaded up online before sharing. Well, Issue 13 is online, however…..my story is listed in the table of contents but it's not printed in the online version.
Grr.
I've sent a few notes but I think the editorial team is off on summer vacation.
While I love the folks and SLAB and am so very, very grateful they published my story, I don't really want to wait anymore to share my little story with the world.
So I scanned that bad boy and you can read my little baseball story today, a few weeks before the All Star Break.
Here it is: The Dilemma
You can also find the link in the right side of this page.
If you take a few moments to give it a read, I'd be quite grateful. If you don't wanna read but just wanna send "yay you" thoughts, also fine by me.
Either way, I'm going to be over here feeling pretty darn proud of myself for taking a bit of an oddball prompt and making something good.

Issue 13

Recently, as I perused the pages of Facebook, I came across a Newscastic (read clickbaity) article with a New Mexico topic. I took the bait so you don't have to.
The title of the article is:
Pick A Side: 11 Famous ABQ Rivalries Since The Day You Were Born
They said to pick a side, so I did.
Herewith, the 11 so called rivalries (many of which came well after the day I was born, by the way) and my pick for each.


1) Comanche vs Candelaria


We can all agree not Montgomery, right? My preference always was and will always be Comanche, since it was quite close to the house where I grew up.
Sideline here, I looked up the house where I grew up on Google Street View. Wow, hardly recognize it. Brought a little tear to my eye.
Back in my day Comanche had way less traffic than Candelaria and made it worth taking, even with all of the stoplights. Who knows how it goes today? Maybe my ABQ folks can let me know.


2) Twisters vs Golden Pride


Have I been out of the state so long I don't know what Twisters is? Had to look it up. Established in 1998. Psh! No.
Golden Pride (est 1972) all the way.


3) Sadies vs El Pinto


Isn't the right answer first one then the other?
Okay, okay, look, I grew up in the days when Sadies was located in a bowling alley. That's the kind of clientele they drew. El Pinto was always nice, a little more upscale (and pricey).
So to me it's Sadies if you want casual and El Pinto if you want nice. Even with the lovely Sadies stand-alone restaurant, I stand by that rule of thumb.
Verdict: No pick, love 'em both in different ways


4) Rio Grande vs Alameda


Shrug. No opinion. I was a Northeast Heights girl. Didn't get down either very often. Probably Alameda, based on my limited memories.


5) The Shins vs Brokencyde


Who? I thought this was "rivalries since the day you were born."
Let's go with neither. How about Joe King Carrasco, who is not from ABQ but played the hell out of it back in my day. Yeah.


6) UNM vs New Mexico State


I believe my feelings are this matter are abundantly clear.

And when we win this game, we'll buy a keg of booze, and drink it to the Aggies til we wobble in our shoes.

Best. Fight song. Ever.


7) Eldorado vs La Cueva


Richie rich versus the really Richie rich. Who cares? Not me.
Del Norte for the win.


8) Sandia vs Rock Quarry


For skiing? Sandia. Oh Sandia and your bare dirt patches. Your hard icy spots. Your imperfect but nearby skiing, how I miss you.


9) La Cueva Skatepark vs Los Altos Skatepark


Hey! You children get off my lawn!


10) Scorpions vs Dukes


Those Dukes are comin' up swinging. No contest whatsoever. Love the Dukes. Likely because I am a huge fan of the sport of baseball.
While I love the sport of hockey and have nothing against the Scorpions, it just never seemed…right…to have hockey in the middle of the desert. (Yes, yes, I know about the Coyotes)
Side note, the Dukes used to have dollar dog and dollar draft days. Wow there are some games I can't remember but had fun.


11) Sandhill cranes vs Balloons


Stop it Newscastic, you're drunk. This is a ridiculous question. What, because they both fly?
Here's the answer, hot air balloons in the morning, sandhill cranes at sundown. Owl burgers all day long.
Solved.


Okay, ABQ folks, what are your picks?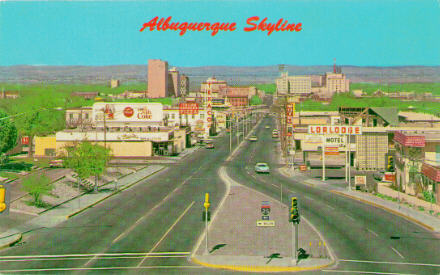 Image found here.

A leap day is observed because a complete revolution around the Sun takes slightly longer than 365 days. It compensates for this lag, realigning the calendar with the Earth's position in the solar system; otherwise, seasons would occur in a different time than intended in the calendar year. — Wikipedia


On my way into work today, I was listening to whatever morning radio station was not running commercials and landed on a crew of three djs discussing facts and trivia about today, February 29th. Better known as Leap Day.
Yeah, yeah, yeah, we all know the deal. The Gregorian calendar is nice and all, but doesn't *quite* work. Close only counts in horseshoes and hand grenades, as the saying goes. And, apparently, calendars.
While I have a degree in finance, I am not a finance person. Humorously, the work I do is slotted under the Finance organization, so I can confidently say that in the parlance of the Finance industry, Leap Day is better known as a fudge factor. A plugged number. A "what do you want the numbers to say?" kind of adjustment.
Let's just call it a rounding error.
I work in contracts and we have something similar. It's what one of my first and favorite bosses called "weasel words." This is where the person on the other end of the contract (usually a lawyer) is being petulant and you can't quite give them the language they want. Instead you can appease them with something in the vicinity of what they want. Words like "reasonably attempt" and "in accordance with best practices." Leap words, if you will.
Not to digress, but baseball has something similar. Called a "neighborhood play" it roughly means that the second baseman doesn't have to actually touch the base or runner to get the out as long as they are near to the base and in control of the ball.
Second basemen tend to stay a bit off the bag because lead runners like to come barreling in trying to disrupt a potential double play. The topic of the neighborhood play came to a head during the playoffs last year as a player got seriously injured.
So in this Leap Year, baseball looks to be changing up the rules. Which will likely make for a lot more leaping shortstops trying to stay off the DL.
In the spirit of both Leap Day and my favorite sport of baseball, I present to you my favorite Giants shortstop of all time, Omar Vizquel, doing what he did best.
Happy Leap Day!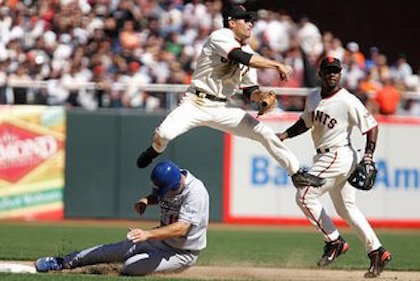 Leaping Omar image found here.

How does one eulogize a legend? I'm certainly not qualified, but my sincerity, hopefully, will win the day.
Over the weekend Major League Baseball lost a Hall of Famer, and it's given me quite a few moments to pause and reflect.
Lon Simmons didn't play the game but is as integral to the sport as any home run champion.
Simmons started out calling San Francisco 49er games in 1957 and then also began calling games for the San Francisco Giants with longtime partner Russ Hodges in 1958. This was just after the Giants had moved west from New York.
Lon's deep resonant voice is iconic in its own right as is his very dry sense of humor. So dry that occasionally athletes and other broadcasters didn't quite get it when he'd lay down a quip. In my opinion that sometimes led to awkward encounters, but Simmons was so affable that he could always save the moment.
Any baseball broadcaster worth a damn also has a signature homerun call, and I believe Simmons' call is the foundation for any good call you hear today.
It went something like this *crack of the bat* "…that ball is way back, way back….tell it good-bye!" and he said with a rising inflection that built the tension, made you clutch the steering wheel in your car, hug a loved one or just squinch down waiting for the payoff. Then yesss! Tell it goodbye! Now that's iconic.
In the early 2000's Lon was still broadcasting pretty regularly for the Giants. I have a confession to make, back then I was starting to get pretty frustrated with Simmons. He was of course legendary but his game calling had lost a step. Perhaps it was the impatience of youth, but I used to turn it off if he was calling the game and listen a different way. Sad but true.
When he retired from the Giants broadcasting, I was relieved. I believed then as I do now that it was time. There are other legends, Jon Miller among them, ready to carry on the legacy that Lon Simmons began.
Over the last decade or so, Lon could often be seen at the ballpark and we'd always give him a hero's welcome. Retirement seemed to suit him and when he'd come on the air, I was a lot more forgiving of his slow style and sometimes awkward pauses.
There is not a doubt in my mind that Mr. Simmons deserved his Ford C Frick award and his place in the Baseball Hall of Fame.
His voice, his storytelling, his homerun call, they are all a part of the fabric of the game that I love so much.
So on this second day of the 2015 Major League Baseball season and the first day of the San Francisco Giants season, I salute Lon Simmons for his service, for his style and for bringing baseball to life for me with his voice and his words.
I tip my cap to a great man. May he rest in peace.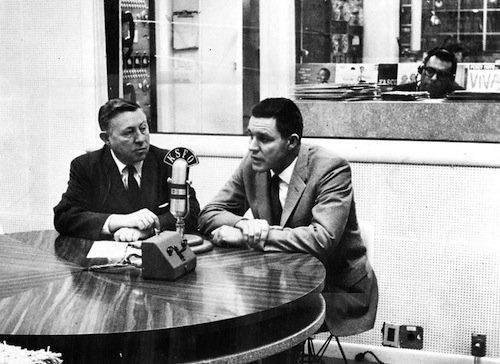 Russ Hodges (l) and Lon Simmons (r)

Image found here