A few years back, I participated in a flash fiction writing event and drew the genre of Historical Fiction as my prompt. Historical Fiction! I had no idea what to do with that. None. At all.
I believe the full prompt was Historical Fiction, a dentist's office, and a leather jacket.
Uh. Okay. Sure.
So off I went and wrote a story. My own little sort of baseball story and turns out it did pretty well in the competition, meaning it was good enough to get me to the next round.
After finishing the story, I'd had a bit wish that my sorta kinda baseball story would get to see the light of day, and be published during the baseball season.
Well, my wish came true. "The Dilemma" was published this past April in issue 13 of SLAB Literary Magazine.
My baseball story! Published in April! During Spring Training!!
So why am I telling you this in June?
Well, it came out in the print version in April and I decided to wait for the issue to be loaded up online before sharing. Well, Issue 13 is online, however…..my story is listed in the table of contents but it's not printed in the online version.
Grr.
I've sent a few notes but I think the editorial team is off on summer vacation.
While I love the folks and SLAB and am so very, very grateful they published my story, I don't really want to wait anymore to share my little story with the world.
So I scanned that bad boy and you can read my little baseball story today, a few weeks before the All Star Break.
Here it is: The Dilemma
You can also find the link in the right side of this page.
If you take a few moments to give it a read, I'd be quite grateful. If you don't wanna read but just wanna send "yay you" thoughts, also fine by me.
Either way, I'm going to be over here feeling pretty darn proud of myself for taking a bit of an oddball prompt and making something good.

Issue 13

Recently, as I perused the pages of Facebook, I came across a Newscastic (read clickbaity) article with a New Mexico topic. I took the bait so you don't have to.
The title of the article is:
Pick A Side: 11 Famous ABQ Rivalries Since The Day You Were Born
They said to pick a side, so I did.
Herewith, the 11 so called rivalries (many of which came well after the day I was born, by the way) and my pick for each.


1) Comanche vs Candelaria


We can all agree not Montgomery, right? My preference always was and will always be Comanche, since it was quite close to the house where I grew up.
Sideline here, I looked up the house where I grew up on Google Street View. Wow, hardly recognize it. Brought a little tear to my eye.
Back in my day Comanche had way less traffic than Candelaria and made it worth taking, even with all of the stoplights. Who knows how it goes today? Maybe my ABQ folks can let me know.


2) Twisters vs Golden Pride


Have I been out of the state so long I don't know what Twisters is? Had to look it up. Established in 1998. Psh! No.
Golden Pride (est 1972) all the way.


3) Sadies vs El Pinto


Isn't the right answer first one then the other?
Okay, okay, look, I grew up in the days when Sadies was located in a bowling alley. That's the kind of clientele they drew. El Pinto was always nice, a little more upscale (and pricey).
So to me it's Sadies if you want casual and El Pinto if you want nice. Even with the lovely Sadies stand-alone restaurant, I stand by that rule of thumb.
Verdict: No pick, love 'em both in different ways


4) Rio Grande vs Alameda


Shrug. No opinion. I was a Northeast Heights girl. Didn't get down either very often. Probably Alameda, based on my limited memories.


5) The Shins vs Brokencyde


Who? I thought this was "rivalries since the day you were born."
Let's go with neither. How about Joe King Carrasco, who is not from ABQ but played the hell out of it back in my day. Yeah.


6) UNM vs New Mexico State


I believe my feelings are this matter are abundantly clear.

And when we win this game, we'll buy a keg of booze, and drink it to the Aggies til we wobble in our shoes.

Best. Fight song. Ever.


7) Eldorado vs La Cueva


Richie rich versus the really Richie rich. Who cares? Not me.
Del Norte for the win.


8) Sandia vs Rock Quarry


For skiing? Sandia. Oh Sandia and your bare dirt patches. Your hard icy spots. Your imperfect but nearby skiing, how I miss you.


9) La Cueva Skatepark vs Los Altos Skatepark


Hey! You children get off my lawn!


10) Scorpions vs Dukes


Those Dukes are comin' up swinging. No contest whatsoever. Love the Dukes. Likely because I am a huge fan of the sport of baseball.
While I love the sport of hockey and have nothing against the Scorpions, it just never seemed…right…to have hockey in the middle of the desert. (Yes, yes, I know about the Coyotes)
Side note, the Dukes used to have dollar dog and dollar draft days. Wow there are some games I can't remember but had fun.


11) Sandhill cranes vs Balloons


Stop it Newscastic, you're drunk. This is a ridiculous question. What, because they both fly?
Here's the answer, hot air balloons in the morning, sandhill cranes at sundown. Owl burgers all day long.
Solved.


Okay, ABQ folks, what are your picks?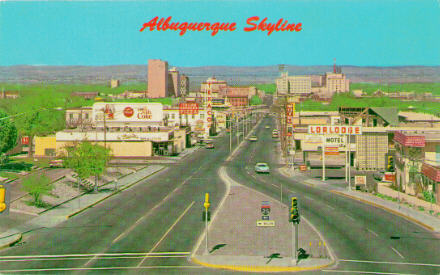 Image found here.

A leap day is observed because a complete revolution around the Sun takes slightly longer than 365 days. It compensates for this lag, realigning the calendar with the Earth's position in the solar system; otherwise, seasons would occur in a different time than intended in the calendar year. — Wikipedia


On my way into work today, I was listening to whatever morning radio station was not running commercials and landed on a crew of three djs discussing facts and trivia about today, February 29th. Better known as Leap Day.
Yeah, yeah, yeah, we all know the deal. The Gregorian calendar is nice and all, but doesn't *quite* work. Close only counts in horseshoes and hand grenades, as the saying goes. And, apparently, calendars.
While I have a degree in finance, I am not a finance person. Humorously, the work I do is slotted under the Finance organization, so I can confidently say that in the parlance of the Finance industry, Leap Day is better known as a fudge factor. A plugged number. A "what do you want the numbers to say?" kind of adjustment.
Let's just call it a rounding error.
I work in contracts and we have something similar. It's what one of my first and favorite bosses called "weasel words." This is where the person on the other end of the contract (usually a lawyer) is being petulant and you can't quite give them the language they want. Instead you can appease them with something in the vicinity of what they want. Words like "reasonably attempt" and "in accordance with best practices." Leap words, if you will.
Not to digress, but baseball has something similar. Called a "neighborhood play" it roughly means that the second baseman doesn't have to actually touch the base or runner to get the out as long as they are near to the base and in control of the ball.
Second basemen tend to stay a bit off the bag because lead runners like to come barreling in trying to disrupt a potential double play. The topic of the neighborhood play came to a head during the playoffs last year as a player got seriously injured.
So in this Leap Year, baseball looks to be changing up the rules. Which will likely make for a lot more leaping shortstops trying to stay off the DL.
In the spirit of both Leap Day and my favorite sport of baseball, I present to you my favorite Giants shortstop of all time, Omar Vizquel, doing what he did best.
Happy Leap Day!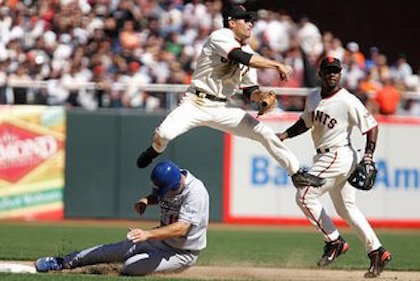 Leaping Omar image found here.

How does one eulogize a legend? I'm certainly not qualified, but my sincerity, hopefully, will win the day.
Over the weekend Major League Baseball lost a Hall of Famer, and it's given me quite a few moments to pause and reflect.
Lon Simmons didn't play the game but is as integral to the sport as any home run champion.
Simmons started out calling San Francisco 49er games in 1957 and then also began calling games for the San Francisco Giants with longtime partner Russ Hodges in 1958. This was just after the Giants had moved west from New York.
Lon's deep resonant voice is iconic in its own right as is his very dry sense of humor. So dry that occasionally athletes and other broadcasters didn't quite get it when he'd lay down a quip. In my opinion that sometimes led to awkward encounters, but Simmons was so affable that he could always save the moment.
Any baseball broadcaster worth a damn also has a signature homerun call, and I believe Simmons' call is the foundation for any good call you hear today.
It went something like this *crack of the bat* "…that ball is way back, way back….tell it good-bye!" and he said with a rising inflection that built the tension, made you clutch the steering wheel in your car, hug a loved one or just squinch down waiting for the payoff. Then yesss! Tell it goodbye! Now that's iconic.
In the early 2000's Lon was still broadcasting pretty regularly for the Giants. I have a confession to make, back then I was starting to get pretty frustrated with Simmons. He was of course legendary but his game calling had lost a step. Perhaps it was the impatience of youth, but I used to turn it off if he was calling the game and listen a different way. Sad but true.
When he retired from the Giants broadcasting, I was relieved. I believed then as I do now that it was time. There are other legends, Jon Miller among them, ready to carry on the legacy that Lon Simmons began.
Over the last decade or so, Lon could often be seen at the ballpark and we'd always give him a hero's welcome. Retirement seemed to suit him and when he'd come on the air, I was a lot more forgiving of his slow style and sometimes awkward pauses.
There is not a doubt in my mind that Mr. Simmons deserved his Ford C Frick award and his place in the Baseball Hall of Fame.
His voice, his storytelling, his homerun call, they are all a part of the fabric of the game that I love so much.
So on this second day of the 2015 Major League Baseball season and the first day of the San Francisco Giants season, I salute Lon Simmons for his service, for his style and for bringing baseball to life for me with his voice and his words.
I tip my cap to a great man. May he rest in peace.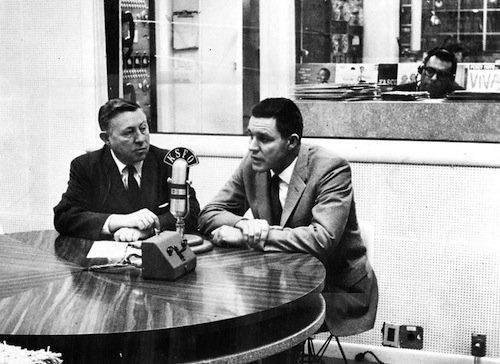 Russ Hodges (l) and Lon Simmons (r)

Image found here

"Baseball is a lot like life. It's a day-to-day existence, full of ups and downs. You make the most of your opportunities in baseball as you do in life."

— Ernie Harwell, Hall of Fame Broadcaster for the Detroit Tigers
As a longtime baseball fan, I've often spent time pondering this very notion, that baseball is an awful lot like life. I have even written yards of stories and words on this very topic. After watching thousands of games, I personally believe that across the nature of nine innings of baseball, in each and every game, a story is told.
One of the most curiously fascinating concepts to me is that a player can make a terrible error in one inning (thus making him the goat) and then be the hero of the game in the very next inning.
Local broadcaster Mike Krukow has often commented that it's just an unwritten fact of baseball, the guy who bobbles the ball in one inning is going to be at bat the next inning. Or, the guy who made a spectacular catch will also be up in the next inning.
It's an odd philosophy but I've observed that it is pretty spot on. Baseball with all of its flaws and issues is an awfully democratic game. Second chances are given. Third, fourth and fifth chances too. The player who is a super star can slip into an 0 for 42 slump. That guy who can't seem to hit a damn thing can suddenly make a key play that propels him to a 40 for 42 streak.
You just never know. And that is pretty much like life.
It was with this in mind that I joyfully watched a guy on a real bad downswing named Tim Lincecum, who plays for the San Francisco Giants, complete a no-hitter against the San Diego Padres on Saturday night.
Tim burst on the baseball scene in 2007 as a first round draft pick. Everything about him does not scream baseball. He is a very small person, running about 5'11" on a day he's standing up very straight and clocking in at maybe 170 pound soaking wet. He is an unlikely pitcher compared to the usual broad shouldered and well over six-footers that dominate the mound.
In addition, Tim's delivery style is rather unique and eyebrow raising among followers of Major League Baseball. In order to get speed from his small frame, he contorts and twists his body back and delivers a pitch with a whipsaw motion. This delivery and his ability to baffle quality hitters has earned him the nickname "The Freak."
As no major league batter had ever seen this kind of delivery, Lincecum dominated MLB for his first several seasons, racking up two Cy Young awards, several trips to the All Star Game, and much respect.
But as baseball is the great equalizer, major league hitters began to get used to how Tim pitched. They watched hours of tape and they started to work him out. Suddenly the phenom fell to earth and his pitching was not so freakish anymore. He was, as they say, getting "touched up" pretty regularly.
Over about three years, Lincecum has struggled mightily, and last year in the post season leading to the World Series, he was taken out of the starting rotation and placed in the bullpen. This is an ego bruiser for even the most easygoing of pitcher.
But Tim took it in stride, pitched well in relief and helped the team win the 2012 World Series.
This season, Lincecum has been showing marked improvement, but his teammates are batting so poorly in support of his outings that his record looks dismal. His quality outings have been a bright spot in a pretty terrible season for the San Francisco Giants.
Recently everyone (especially this Giants fan) has been wondering if this is the end of the era of Tim Lincecum.
So it was unlikely to see our small Mr. Lincecum on the mound pitching for his life on Saturday night. He worked his way through all nine innings and threw 148 pitches to close out his first no-hitter.
To be honest, I felt certain he'd throw a no-hitter in the first few years of his career, his stuff was that baffling. But in many ways, it has to be almost more satisfying to have been a phenom, then struggle, then battle back to show Major League Baseball that maybe the era isn't ending, but simply starting a new chapter.
What a great story. What an amazing game. What an accomplishment.
Lately I have been wavering a little in my allegiance to the San Francisco Giants, as they have been playing sloppy baseball and embarrassing themselves left and right. I was becoming bored with this season's story. Saturday night I turned the page and a new chapter filled with twists and turns greeted me. I'm now back in the game.
Thank you, Mr. Lincecum, for winning back my heart and mind and for telling me, a storyteller in my own right, one hell of a tale.
Much deserved.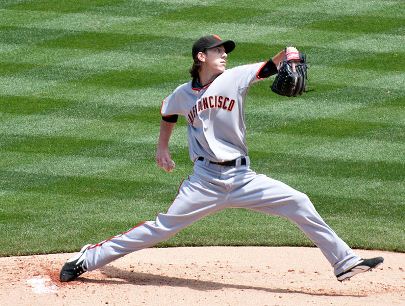 Bonus!

Another priceless moment from that no hitter game: A pitch accidentally hits the umpire in the gut, right at the bottom of his chest protector. Ow. Watch Lincecum's reaction. Awesome.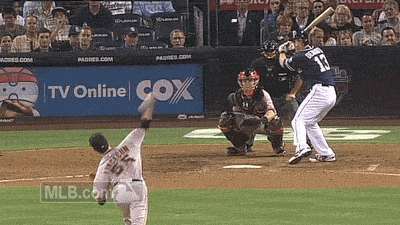 Image from Wikipedia and used under a Creative Commons 2.0 licensing agreement with attribution.
Footage belongs to MLB, .gif was found here.