One of the most popular posts I have ever done on my little blog is this one: Top Ten Things I Miss About Christmas in New Mexico.
Originally written in a fit of holiday homesickness in 2007, I republished it at the holidays for many years.
It's been a while since I put it up on the blog, and this year I decided not to republish that same post but instead write a new one. It's now eleven years later and things have changed. I have changed.
I'm sure many of the items will be the same, but may be on the list for a different reason. I don't know, I'm riffing this as it comes to me. Eleven years seems like a long time, then hardly a blip on the radar too.
Anyhow, I'm super sentimental today and I'm listening to oldies Christmas music (go Bing Crosby!) so here we go:

The (refreshed) Top Ten Things I Miss About Christmas in New Mexico:

1) The smell of piñon fire smoke mixed with the smell of snow or very cold air. Don't think snow has a smell? Think again. And piñon is the smell of home, hands down. Where I live now it's often a spare the air day, so no fires. And also, no snow.


2) Shopping with my mom for the annual Christmas ornament. Usually we shopped in Old Town, but not always. I took the challenge of picking out my annual ornament very seriously. I have all of them now in a box. Maybe I should hang them on the tree this year? I haven't done that in a while.


3) Biscochitos for sale pretty much everywhere. I love making them but also love eating them so sometimes my demand outpaced my supply. There was a little restaurant in Los Lunas that my folks used to like for breakfast that sold their own biscochos by the register. So light and crumbly. Gah! I could go for one now.


4) Tamales as gifts. Tamales at holiday pot lucks. Tamales at holiday parties. Just, all the tamales! All the time.


5) Creamland Egg Nog. You might say, "What now? Don't they have egg nog out there in crazy California?" Yes they do, but I've never found any I liked as much as that local NM dairy brand. Plus now that my ol' rig can't tolerate dairy like it used to, I just have live in memories of glasses of delicious chilled nog from childhood.


6) This holiday candle my mom had from Avon that she only put out at the holidays. It smelled SO good. I have no idea what the smell even was, some sort of spiced berry thing. It was in a really pretty gold painted glass container.
Oh wait, holy moly. I found a photo online. This is it! Called Avon First Christmas Frankincense & Myrrh, circa 1967 to 1972. This is the scent of my childhood holidays. Man I miss that smell. It's all Christmas Eve just after Mass, gazing at the tree, eating tamales, and you know, drinking big glasses of egg nog.
Awesome nostalgic photo was, surprisingly, found here.
7) Holiday happy hour at Gardunos, the one by Winrock. They'd decorate that whole warehouse looking place for the holidays. The margaritas flowed and mariachis played and there were good eats in abundance. I hear that the quality of Gardunos has gone to meh in recent years, and that makes me sad. Those days live on in memories from my mid-to-late 20s. (Well, there are quite a few things I miss from my 20s. My waistline, for example.)


8) And also sopaipillas. Which isn't really just a holiday but year-round thing, but gall durn I miss them.


9) Snow on Sandia Crest. Or snow on the Organ Mountains. Or snow on any of the gorgeous mountains in New Mexico. (and the delicious city water that flows at spring thaw). I do NOT miss driving in snow, or how crazy people get when it is snowing, or cleaning snow off the car. Or for that matter, snow melting then re-freezing for weeks so you have that one patch that you slip on every single morning on your way to work.
But snow in the mountains? Perfection.


10) Making, placing, and lighting luminarias. Yes, we called them luminarias, correctly or not. Labor intensive but a labor of love. Digging up good New Mexico soil to fill paper bags and plopping in a candle. Stamping out the fire when the NM winds got to be too much… Like that.


Wow, so that is ten. It's over as quick as it started. You know, ten seems hardly enough to capture all of the homesick in my heart, but this list is a pretty good place to start.
Maybe later tonight I'll sip a little good Irish Whiskey (which doesn't hurt my tummy!) and put my old childhood ornaments on the tree and hug The Good Man and The Feline and let memories have me for a while.
Coming up in the next few days: When I am done with the Wayback Machine, I think it is time to write the Top Ten Things I Love about Christmas in the Bay Area. There is a lot to love at the holidays, and after living here for 20 years, maybe it is time to give it its due.

Very cool image of Central Avenue in the 1950s-ish, at Christmastime was found here.

Hoo boy, back in the saddle again after a weekend trip to my Fair New Mexico. Let me tell you, it's hard to get into the ol' groove after being back in my homestate.
I found myself in southern New Mexico over the past four days for the occasion of my goddaughter's sixteenth birthday. She is amazing, beautiful, smart as a whip, sassy as hell and genuinely caring.
She has been easy to love since the day I first met her tiny little self. She was barely a month old when her mom brought her along and met me as I came off the plane at the El Paso airport. My world has not been the same since.
The occasion of her birthday celebration meant that I also got to see quite a few people I hadn't seen in years.
The thing that really sticks out to me from this past weekend was not just seeing a lot of dear friends who go back quite a few years, but getting to know their kids.
Time has marched along and many of these kids are now teenagers or older. So much more than a fun lump of baby or a capricious toddler. They are getting to the age where you really start to see who these kids are going to be.
What a lot of fun to see what so many of my now grown up and responsible friends have created. Look, back then I would have voted some of my tribe to the sidelines in the game of propagating mankind, and yet, their kids have turned out pretty damn awesome.
As I hear about these kids moving into their adult lives, getting married, graduating college, being responsible members of society, I also had to sit down for a moment and contemplate just how fast time marches on. And on. And on.
So many times I found myself saying "Really? Working a full time job? Getting married? Graduating college? Wow. I remember the day you had that adorable baby. Damn."
One old friend summed it up when she told me she'd just moved her youngest into her own place. "My husband and I looked at each other and said, 'Now what?'"
Now what indeed. Friends who are around my age, kids raised, possibility of retirement on the horizon and a new life awaits.
Wait a minute, aren't we going to a Corbett Dance tonight?
Oh no, Karen, that was twenty-five years ago.
Nina Karen needs to sit down. Bring your Nina a piece of cake, would you dear?
Those old hands on the clock keep pressing forward, ever onward, whether I'm ready or not.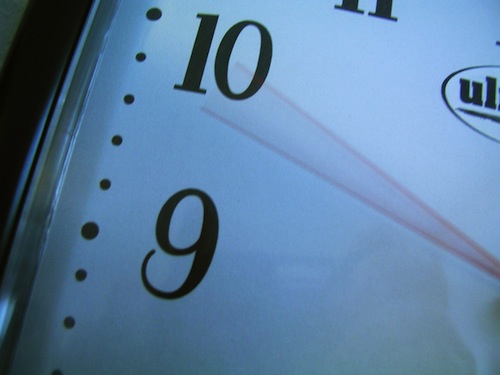 Image found on freeimages.com

"Practice makes perfect," they say and, "If you do something for 10,000 hours then you will be a master."
Well, horse hockey is my answer to that.
If the delineator for adulthood is the age of 18, then I have put in a solid 236,682 hours at this craft, and I still haven't figure out how to be a master.
In fact, I may be worse at it than ever.
Sure, I get up in the morning and I go to work and I make a paycheck and I pay my taxes and I usually vote and I have insurance and a 401k and even a will. All the trappings of being a grown up.
But I still would rather have cookies for dinner and silly cereal for breakfast. I still throw little tantrums when things don't go my way. I still need naps and need to believe in Santa and I still want to play with toys and fly kites and occasionally I just need to melt down.
I can pay my taxes but the very thought of buying a house terrifies me. I can make decisions that impact millions of dollars at my job and then sometimes can't decide if I want orange or lime flavored candy at the store. Then I buy and eat both and cry because my tummy hurts.
This thing, this adulthood, it doesn't get easier.
And hell, I don't even know where the border lies, the place I can cross safely and know for sure I have arrived into adulthood.
Some might say it happens when you have kids. Fair play, I guess. But I have a lot of friends with kids that I wouldn't call the model citizens for grownup-itude.
When my dad died, that probably was the closest for me in knowing what it means to be an adult. I grew up pretty fast when, for better or worse, that was thrust upon me.
But even that wasn't enough to be the final frontier for me. (mmm, Frontier. I could go for a cinnamon roll right about now)
This past month some things happened with my "lady guts" that signaled the beginning of a long journey. When a woman's life turns from the dog days of summer into Autumn.
Discretion keeps me from going through all of the gory details, no one needs all of that. While I'm far too young for the "main event," my body has let me know that the pre-game show has started and the players are starting to take the field. (nothing like a sports metaphor to describe a lady issue….)
I'm not ready for this. I'm not grown up enough for this. I'm not an adult! I have put in the hours, many hours of long grueling practice and still…still I find myself at this age and at this earthly turning of a season far from being an expert at adulthood. I am jack of many aspects and master of none.
Maybe that is okay. Maybe that is what being an adult is about, the continually wondering if you are "grown upping" correctly. Paying taxes and eating ice cream sundaes with reckless abandon (while popping Lactaid, because that's a mature thing to do).
And on my next bubblegum ice cream sundae, I will be decisive enough to get both nuts AND sprinkles on top.
Because I'm young enough to want them both and old enough to pay for it.
So there. Take that! This is how I'm doing grown up and no one can make me do it differently!
Nanny nanny boo boo on you!
Adults are always asking kids what they want to be when they grow up because they are looking for ideas.

— Paula Poundstone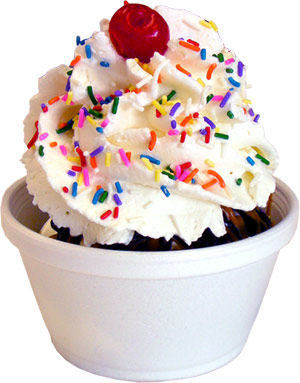 Image found here.

In the movie Tombstone, there is this scene where the bad guy Johnny Ringo and the bad but good guy Doc Holliday square off. It begins the escalation of their unpleasant association.
Here's a video clip.
The two are in a bar with their various friends and their mutual hatred begins with a war of the words.
Doc fires the first salvo by saying to his sidekick, "Look, darling, Johnny Ringo. The deadliest pistoleer since Wild Bill, they say. What do you think? Should I hate him?"
This of course isn't well received. From there Doc Holliday slides smoothly into Latin and Johnny Ringo follows suit without skipping a beat. This exchange goes on for a bit.
As the war of the words is broken up, Doc's eyes get a little steely and he says, "That's Latin, darling. Evidently Mr. Ringo's an educated man. Now I really hate him."
Bear with me here as I'm about to abruptly change course. I wanted to lay this down as useful context. Let it play in the background of your mind.
As I have noted I am the proud godmother (called Nina in the Hispanic tradition) to my best friend's two daughters. They are my light and my life and I love them enormously. I may not have kids of my own, but these girls are my kids.
However, Nina Karen is struggling a bit as these beautiful girls grow up. The oldest will be fifteen this year and the youngest will be thirteen.
Yeah. Teen. It's a whole thing I can't get into, and can't quite handle.
So my girls go about their lives back home in New Mexico and I follow them on Instagram so I can keep up with what is going on.
Several months ago, the younger of the two girls changed her Instagram profile to note that she was "taken" and put hearts around a boy's name.
Nina Karen lost her mind. Really, I was not ready to handle this. I got in touch with my best friend and grilled her. Did she know? Did she mind? Should I be worried? Can she come get me at the airport because I am flying out to New Mexico right this instant?
She assured me that it was fine. That she knew and was keeping an eye. My best friend is a wonderful mother so of course I had no reason to worry. But still, I did.
And I died a little inside when my girl would post photos of the boy and changed her username to reflect that she belonged to him by using his name and calling herself "hisname's girl" — Ugh. That one really got me.
I went on a long rant about how this burgeoning woman needs to learn to identify herself by her own name and stand on her own reputation and not identify herself simply by her association with a man.
As I stomped and ranted, The Good Man arched an eyebrow at me and said, "She's thirteen. Give it time. This will end."
And I stomped harder and said, "You don't understand! My girl! She's so loyal and true. What if she ends up marrying this guy?"
He arched his eyebrow harder and said, "She's thirteen."
So I did what any good Nina would do, I mildly stalked the kid by perusing his public Instagram feed. Photos of his family. Photos of his pets. Seems the kid likes to play sports.
I had a hard time deciding if I should hate him on principle, or learn to at least tolerate him because he was important to my beautiful, intelligent and amazing goddaughter.
After spending some time with my best friend and her girls over Spring Break, and getting some of my thoughts out, I realized that my girl has got to find her own way in this life, as much as this may pain me.
She really is a good person and growing up fast. Her parents have instilled good values and decent common sense and now is the time for her to put that to good use.
I still snarled when she would post a photo of this guy as her "Man Crush Monday," but kept all of my unkind comments tucked away inside. I had to just let this thing ride. Even if it meant heading in directions I didn't like.
I had reconciled myself to it. It was a burr in my saddle but not bad enough to stop the ride. Fine.
Until just this past week.
When I found out that this young man broke up with my girl.
Via text message.
Now I really hate him.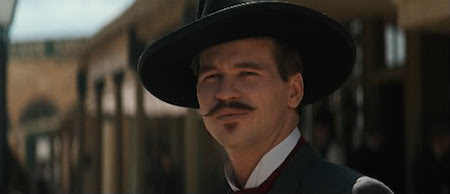 Okay, okay, fine. The Good Man was right. And I don't really hate the young man. He's doing what you do when you are thirteen and figuring it all out. He'll learn and my girl will learn and I will learn and maybe we'll all be better for it.
My heart breaks for my goddaughter because her heart breaks. I guess that's just how the game of life is played.
I can't spare her, I can only be there to catch her when she falls.

Image found here.

Part V, and the conclusion of a five part series.
It was a short plane ride, take off, cruising altitude for something like a minute, then get ready for final descent into Las Vegas.
Las Vegas. My kind of town. Vegas and I go way back. Now you know my not so secret secret, I wasn't actually born in New Mexico, I was born in Las Vegas, Nevada.
My dad was working out at the Nevada Test Site and one thing led to another and…
Growing up some of my friends liked to tease me that my parents took a gamble and lost. Oh! Hey! Good looking crowd. We're here all night. Tip your waitress.
My folks loved living in Las Vegas, but for various reasons moved back to Albuquerque when I was very small. Really too small to remember much of life in Las Vegas. All I've ever known is New Mexico, so I still rightfully call myself a native.
I scrambled off that Southwest Airlines jet, through the jetway, and hit the carpet in McCarran Airport. I walked without hesitation to a bank of slot machines that were unoccupied and pulled up a seat.
My family likes to gamble. A trip to Vegas was my present for my twenty-first birthday. My folks used to get out there at least once, maybe twice a year and we kids often went along. I didn't grow up in Vegas but I grew up an awful lot on the many casino floors through the course of my life.
The Vegas I know is an old school Vegas, from the 1970's, and it always feels a little right to be there.
With twenty dollars in the slot machine, I managed to make it play for a little over a half hour. I'd get down to the last dollar then the machine would pay off again. I was on a nice hot streak. Not hot enough to cash out, but hot enough to have some fun.
When that was gone, I picked another machine and chased another twenty dollars around for about fifteen minutes.
When that was gone, I got up from the seat with a sigh. I felt hungry and went in search of something not airport-awful to eat. Over a really disappointing slice of Sbarro's pizza, I stopped chewing for a minute and smiled.
A thought occurred to me. In that same day, I had been in New Mexico, I was in Las Vegas, and I'd soon be in California. Those are all of the places I have ever lived. Those are all of the places I know.
Those are all of the places I belong.
Kind of cool, really. Kind of a nice way to end my journey. A full circle kind of a thing.
My trip to New Mexico was, all in, pretty good. I was so glad I made the trip, so glad to see my best friend and my goddaughters, so glad to go home and immerse myself in memories (and make new ones too).
My trip to New Mexico was also a little difficult. You see, my dad died in 2005 and he's buried in the National Cemetery in Santa Fe. There was no way I could live with myself if I was in Santa Fe and didn't go to the cemetery. And yet I really, really didn't want to go to the cemetery. It's not a joyful thing.
The last time I had visited was in 2009 and I was without a job and had lost my mind a little bit. I was scrambling to find a way to get back on my feet. That year I took a trip home to New Mexico to see if going back to my roots could help me find my compass needle.
I had cried a bit when my dad had died, but I was also a little stoic. My mom had asked me to be strong so that she didn't have to be, and I agreed. I was as strong as I knew how to be back then, and a few years later there may have been some pent up stuff that needed to come out.
In 2009 when I found the stone that marks the place where my dad's ashes are stored, it was a surreal experience. Gray skies opened up with rain and I stood there with my hand tracing the letters in stone and I cried, I keened, I howled. I scared the grounds crew. I honestly did, I freaked out this nice man taking care of the row of headstones nearby.
I guess back then I had some things I had to work out. On that recent spring day in March 2014, I was afraid that monster was still inside of me. I was terrified I'd find myself keening again at my father's graveside. When considering going to the cemetery, I balked, I stalled, and finally I borrowed the keys to my friend's new Suburban and set up Apple maps on my phone and took off on the highway, dreading it all the way.
Apple maps led me on quite a merry chase through the streets of downtown Santa Fe. That is a very old city, built by the Spanish Conquistadors so the roads are narrow and the sidewalks are high to accommodate horse drawn carriages.
With a little bit of axel grease and a shoehorn, I was able to navigate a huge Suburban through the streets, getting more lost by the moment.
Eventually, Siri found her head and I found my way, and there I was again, at the Santa Fe National Cemetery, both ready and not quite ready for what lay ahead.
That cemetery is always a difficult place for me. Rows upon rows of headstones mark all of my fellow New Mexicans who served in the military and who passed on, either in service of their country or later, as my dad had done. It is quite a humbling place for me, and that is even before I get to the place where I have to face my personal sorrow.
I had a bit of a false start, stopping at the wrong row of stones and realizing I was off by a bit. It didn't take me a long time to find the right row and my father's stone.
His ashes are in what is called a columbarium and it's covered with a lovely piece of what I think is marble and secured to the wall with these connectors that look, to me anyway, like conchos.
They are so beautiful and so New Mexico appropriate.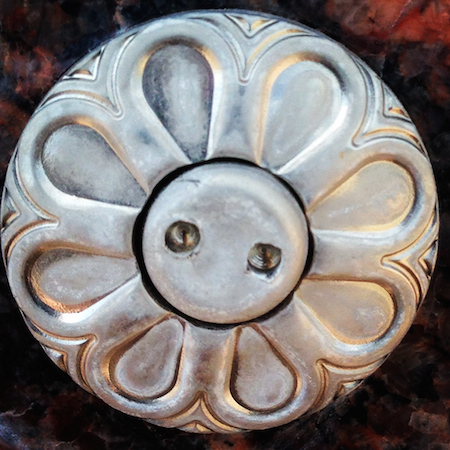 Copyright © 2014 Karen Fayeth

For personal reasons, I will decline to post the entire stone, but I wanted to share a nice photo of that fastener. It stands on its own as a useful reminder.
On this visit I didn't keen and I didn't wail, but I sure did cry an awful lot. I put my hands on the now weathered stone and I traced his name and the word "Korea," the war in which he participated. I felt the cold marble and I noted the sand blasted wear and tear and laughed at the unyielding New Mexico elements that caused the letters to already become faded. It's only been nine years.
"Well, dad, I guess I'm doing a lot better than I was the last time I was here," I said aloud. And I was.
Seeing my father's name carved into stone never fails to break me on some level. After pacing a bit and having a pretty hard cry, I walked up the row and sat on one of the benches. It looks out over the valley and has a gorgeous view.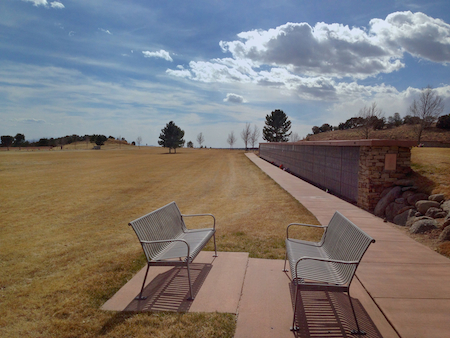 Copyright © 2014 Karen Fayeth


The mountains at my back and the dried grass and valley in front of me. The New Mexico unrelenting wind dried my tears the moment they slipped from my eyes. I laughed as the wind whipped at my hair. "Goddamn springtime wind," I said to no one as I sat there alone.
Tumbleweeds of thoughts bounced in my mind. Through tears of sorrow, I smiled, because of that view, that place, that moment.
I had spent the past three days wondering I was even a New Mexican anymore. Sitting there, letting the climate steal my moisture and feeling grounded, I remembered that I always was and will always be.
I can never not be a New Mexican. Just as I can never not be born in Las Vegas. And I can never not be a damn near twenty-year veteran of California.
I am all of that. I am none of that. I am more than that.
I am greater than the sum of all my parts.
My version of New Mexico may not exist anymore but it's mine. My particular brand of Las Vegas may not exist anymore, but I own it. My California is still telling me its story.
There is a lot left to learn about all of those places and as I gaze forward to the celebration of another revolution around the sun, I humbly admit there is an awful lot yet to learn about me.
What started as a fun trip to see my best friend in the entire world and my gorgeous godkids turned out to be something of a journey. A grounding moment in time that changed me, humbled me, reminded me and helped me grow.
I had no idea that was going to happen. I'm kind of glad I didn't know. To paraphrase one of my oldest goddaughter's favorite songs (that dates back to my college years), I might have missed the pain, but I'd have had to miss that dance.
And there is no way I'd ever miss out on a good dance with some of my most favorite people in the world, back home where I belong.

Both photos Copyright © 2014, Karen Fayeth, and subject to the Creative Commons license in the right column of this page. Taken with an iPhone5 and the Camera+ app. The fastener photo was further edited in Instagram.