I've been sitting on this one for a while as I wasn't sure when I could go public with the news but…..
I am happy to announce my story "Human Sounds" was recently published in Existere, Journal of Arts and Literature, which is affiliated with York University in Toronto, Canada.
That's right! I'm taking this thing, whatever this thing is that I am doing, over the borders and out to the world!
Since the magazine is published on good old fashioned paper and sold in stores, I don't have an online link to provide, so I've scanned my story so you can read it here.
Here is a direct link: Human Sounds
There is also a link in the right column of this page.
If you like what you read, I encourage you to check out the rest of the issue. There is some amazing writing to be found in Existere.
Thanks for giving me a read and stay tuned, I have another story that is tentatively scheduled to be published in December.
Yay!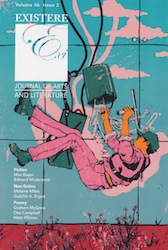 Volume 36, Issue 2

Hey, hey, excited to announce that my mildly creepy little story called "Bugging Out" was published this week in a wonderful literary journal called The Penmen Review.
Affiliated with Southern New Hampshire University, Penmen is a home for some incredible creative writing. Take a look at my story and then stick around and read the other stories too. It's top notch!
Here's the direct link: Bugging Out
There is also a link in the right column of this page.
And stay tuned, I have another story due to be published soon. 2017 has been a nice year for my work, and I'm very humble and super excited.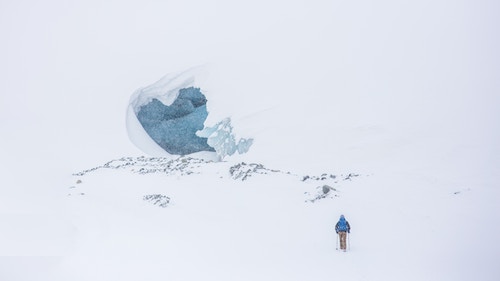 Image that accompanies my story in The Penmen Review

Blame it on Facebook and its algorithms that like to remind me of things from the past. For the better and for the worse.
I re-read this one over the weekend and thought "yeah, that one needs a re-post."
So here we are, when Monday, January 30, 2017 feels a lot like Monday, January 28, 2013

A Treatise On Monday
Originally published January 28, 2013

Written this morning at something like 5:45am


And so we find ourselves back at Monday. Ah Monday, both the beginning and the end.
I have sad, tired, squinting, groundhog eyes as the alarm goes off. I'm begging the world not to pull me from my burrow. Please don't shine that bright light in my face.
But I'm pulled from my burrow anyway and instead of a prediction, the world anticipates my arrival at the train station and my seat on the next ride into the city.
The bright light turns out to be a beautiful ray of light, glimmering off the slowly rising sun.
All possibility is in Monday. Will this be a good week? Will this be a bad week? Will it rain?
Monday is everything and nothing. A blank canvas ready to take the paint.
What will I make of my Monday? What will I achieve? How will I stumble and will I recover gracefully?
It all exists here in these quiet pre-dawn hours. The sun hasn't even said hello yet and here I am, writing. Scribbling the words that want to exit my head.
There is already acrylic paint on my hands from a project that is due Thursday morning. I had to get some early painting done so I can hit that deadline.
In this Monday, all things are possible including finishing a painting that is due in just three days.
Oh my.
I feel strangely happy today. What the hell is this? How unusual for a Monday morning.
The weekend was weird. I was cranky and then he was cranky and then it was Sunday night and another two days of not working were jettisoned to the ether. Monday turned the corner and sat down for a visit.
So here I am again loading a backpack for work, stumbling around to find my badge and my phone and my sense of self-worth.
I look again at my canvas and already I fear I have screwed it up. Don't they say in art there are no mistakes? Just roll with it and incorporate the error. OCD and art are not friends. This major but fixable error must wait until later tonight to find its cloak.
There is a train to catch and a Monday to face. I'd rather stay home in my studio and put gorgeous turquoise paint on a willing canvas. Can I do that for a living?
You know, a girl can dream, and so I will dream as BART gently sways. When I disembark dreams stop so reality can start.
But no matter, I can dream again, later. Dreams don't die easy.
And dreams don't wait for the weekend.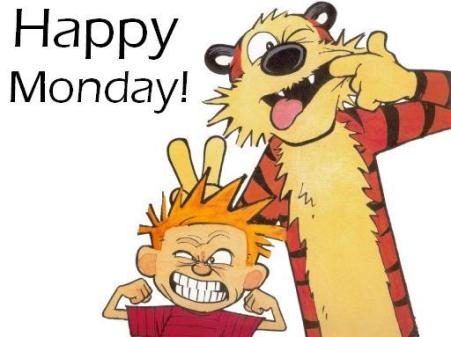 Image from The Miracle Journal.

This has been a weird year, right? I don't think anyone will disagree. As I came sliding butt first into December, I was already disorganized and suddenly bowled over by work. By all measures, we did triple the volume of work we usually do and it was no small bit of effort to simply make it through December. But make it through we did.
In the smoldering ashes of 2016, I am working hard to get some order back to the chaos of my life. I firmly believe that being a little bit stronger, quite a bit more disciplined (and organized) and filled with more optimism will carry me through the slings and arrows of 2017.
To that end, I have returned to Morning Pages. If you have read The Artist's Way, you are familiar with Morning Pages. The idea, according to Julia Cameron, is to prime the pump. Write three pages of stream of consciousness words every morning to get into the creative flow.
Instead of handwriting pages as suggested by Cameron, I use an online tool called 750words. That tool works a bit differently than the Artist's Way describes, but that is okay too.
So as I sit here now on my fourth day of vacation, hallelujah, I am working on today's words. I have fallen out of my writing discipline and I can tell I am rusty. Lots on my mind. It's good to get back into the habit.
The best part of the 750words is that every once in a while, while priming the pump and working through the silt to get back into the flow, some solid words, some bon mots, some worthy thoughts come through.
Wanted to share these, because they may become my motto for the new year (Warning: there is some salty language, it that offends, look away):

…doubt is a persistent little bitch. Hope slides off like you are made of teflon, but doubt sticks like tar, or used up chewing gum or one of those gluey mocos you can't quite get off your finger no matter how hard you shake. Patience and discipline, that is the kleenex to your glue moco and allows you to fly once more. The sturdy facial tissue that brings back hope.

Yeah, I have no idea what any of that means, but it made me feel good to write it. Like I was really tapping into something, so I decided to share it.
Hope your end of 2016 and planning for 2017 has better metaphors. I'll keep working on mine.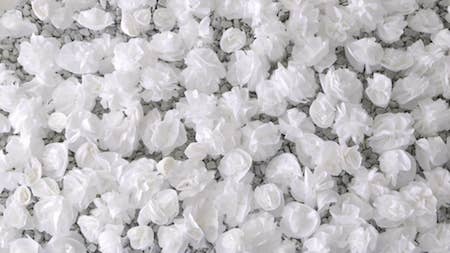 Inspiring flowers made of kleenex. Is that hope I'm feelin'?

Image found here.

The 26th of February. That what today is. February 26, 2016.
My, my, how time does fly.
Speaking of flying time, I see that the last time words were posted to this space was in November. That was like, yesterday, right?
Nope. 26th. Of February. Of 2016. Whew.
Well, okay, gotta try to shake that off and keep rolling. I've been thinking a lot lately about this little ol' blog. It used to be that I'd knock out a post every weekday. Then three times a week. And then nothing since November.
Been wondering what got in my way.
Three things, really. First, I got a little worn out. I'd pushed The Muse and it was getting harder to think of interesting ideas to write about. Eventually The Muse asked me to give it a rest.
Another contributor was starting a different job. I used have a free lunch hour where I both ate and knocked out the words for this blog. In my new job, I am in so galldarn many meetings each day that my lunch break is now me eating while my staff streams in the door to grab a few moments of my time.
Finally, I started wondering a little bit about the fate of so-called long form blogs in an ever-shortening attention span world. I read an article a few years ago declaring blogs dead in favor of tweets and Tumblr. I kind of took it to heart.
So I let my word field lay fallow. And maybe that is okay. It needed some rain and some decay and some time to become fertile again.
One of the most compelling reasons that I started this blog was to be a place for writing practice.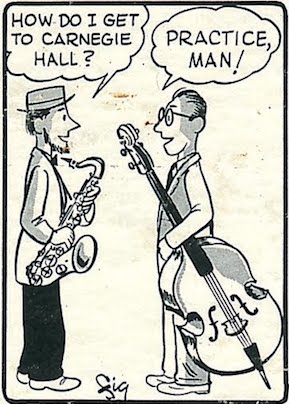 Practice, practice, practice. When I kicked off these pages back in 2007 I felt like I had something to say and needed a venue, so I made my own.
Over many years I wrote something every weekday and watched my writing both inside and outside the blog become stronger, sleeker, and more concise.
While I still benefit from all of that work, the last few times I've been working on a short story, I'm noticing the flow just isn't there. It's always an uphill climb but without the many days a week practice to keep me limber, the hill got a little steeper (and a lot more pedantic).
There is a widely debated theory that it takes ten thousand hours of practice to become a master at something. I am not sure that is true because any artist I know would say you never master your medium, no matter how much or how hard you practice.
But what I do know is that as of the moment I am putting these words into print, there are over six hundred thousand words that I created and added to this blog. That hasn't taken me ten thousand hours to create, but it's still not nothing. It's something that matters and something I am proud of.
Last weekend while I was sprucing up the blog and giving it a Spring cleaning (I'm kind of in love with this shade of blue) in preparation for my return to the words, I looked hard at that number in the footer of this page and thought to myself "I'm not done."
And so I'm not.
One added benefit is that I get to grab those crazy thoughts from my mind and get them down. There's good stuff in there. No more trying to blog it out loud to my kindly understanding spouse or my long-suffering coworkers.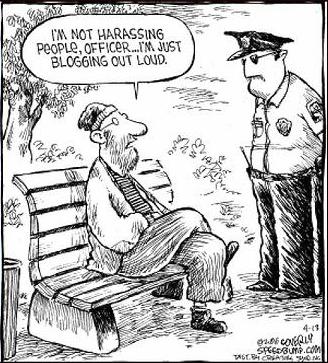 So here I am, back for today and hopefully back again soon. I want to push out my elbows and make the space in my world for the words, the practice, and the ever wonderfully agonizing quest to get better at what I love to do most.
Carnegie Hall cartoon found here.
Blogging out loud cartoon found here.