One of my coworkers brought in oranges from their yard today. Look at this, it is perfect! A supermodel among oranges. Spokesmodel for the State of California. This orange made possible by the sunshine of the Golden State. Gorgeous!

©2018 Karen Fayeth

Photo taken by me, all rights reserved. Taken with an iPhone7, the Camrea+ app, a green folder from the office, and a little bit of goofing off time while at work.

In addition to my weekly forays into macro photography, I also am a part of a photography club where I work. We have a monthly theme each month and for February the theme was water.
Ah water, necessary, essential, and in California a bit scarce. We've had some good rains lately but it's never enough.
The water theme was to support some research in process by my buttoned up scientific fellow photo club members. While they submitted perfectly rendered landscapes of lakes, exquisite macros of a single droplet on a perfect flower, and velvety moving streams, I submitted, well, this: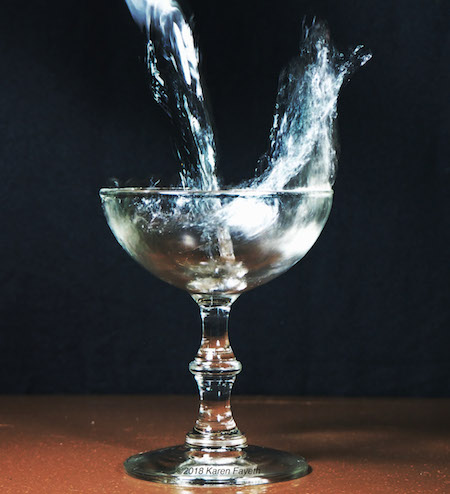 ©2018 Karen Fayeth

I fell in love with and bought the champagne glass for a dollar at my local salvage/thrift store. It was the only one there, and I loved everything about it. Since purchasing, I have been looking for the perfect project to incorporate its voluptuous curves. Turns out this was it.
Lately I have been exploring photography of drips, drops and splashes. Without a speedlight, the action of the water in this photo is not frozen, but I actually like the movement.
Also, it's unintended, but doesn't it look like a 1970's liquor ad? I love that about this photo. Not sure what I mean? Try this, this, and this.
I showed it to one of my photographer friends, a very metropolitan millennial, and he declared it "sexy AF" and "just waiting for a vodka ad."
I consider that a win.

Five years and one day later, Facebook saw fit to remind me of my history: A Monday in 2013 that I don't actually remember, can't pick out from the rest of the over 1,800 days that have passed since then, and was, I suppose, wholly unremarkable.
And yet, the early morning hours were remarkable enough to get my brain going and some writing done. I re-read my own words on a Sunday with Monday looming large and realized that other than riding the train to work every day, the sentiment remains much the same.
I have a big deal meeting at 8:00am today, and the Monday ahead has me quite thoughtful.
This post has aged well, so I'm happy to share it again today. It still works.


A Treatise On Monday
Originally posted January 28, 2013
Written this morning at something like 5:45am


And so we find ourselves back at Monday. Ah Monday, both the beginning and the end.
I have sad, tired, squinting, groundhog eyes as the alarm goes off. I'm begging the world not to pull me from my burrow. Please don't shine that bright light in my face.
But I'm pulled from my burrow anyway and instead of a prediction the world anticipates my arrival at the train station and my seat on the next ride into the city.
The bright light turns out to be a beautiful ray of light, glimmering off the slowly rising sun.
All possibility is in Monday. Will this be a good week? Will this be a bad week? Will it rain?
Monday is everything and nothing. A blank canvas ready to take the paint.
What will I make of my Monday? What will I achieve? How will I stumble and will I recover gracefully?
It all exists here in these quiet pre-dawn hours. The sun hasn't even said hello yet and here I am, writing. Scribbling the words that want to exit my head.
There is already acrylic paint on my hands from a project that is due Thursday morning. I had to get some early painting done so I can hit that deadline.
In this Monday, all things are possible including finishing a painting that is due in just three days.
Oh my.
I feel strangely happy today. What the hell is this? How unusual for a Monday morning.
The weekend was weird. I was cranky and then he was cranky and then it was Sunday night and another two days of not working were jettisoned to the ether. Monday turned the corner and sat down for a visit.
So here I am again loading a backpack for work, stumbling around to find my badge and my phone and my sense of self-worth.
I look again at my canvas and already I fear I have screwed it up. Don't they say in art there are no mistakes? Just roll with it and incorporate the error. OCD and art are not friends. This major but fixable error must wait until later tonight to find its cloak.
There is a train to catch and a Monday to face. I'd rather stay home in my studio and put gorgeous turquoise paint on a willing canvas. Can I do that for a living?
You know, a girl can dream, and so I will dream as BART gently sways. When I disembark dreams stop so reality can start.
But no matter, I can dream again, later. Dreams don't die easy.
And dreams don't wait for the weekend.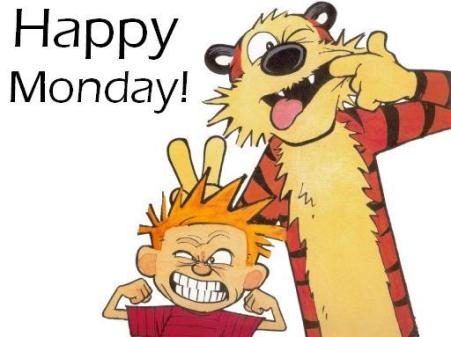 Image from The Miracle Journal.

Here it is, Sunday, January 7th and I'm staring down the barrel of Monday.
It's time to get myself back into gear.
You see, not only does my employer shut down between Christmas and New Year, but I was also able to scrape up enough hours to take this past week off. I've just had seventeen glorious and fun filled days away from work. Days of setting my own agenda. Of not looking at work email. Of working on photography at midnight if that's where the fancy took me because I could sleep in the next day and the next one after that.
Last week I existed in a fabulous sort of limbo land. 2017 no longer, not quite 2018. It suits me.
All good things must come to an end, and so must my extended vacation. Tomorrow, reality slaps me across the chops, as reality is prone to do.
This morning The Good Man and I left our warm and cozy home to venture out into the rainy, wintry cold for Sunday breakfast. Pancakes to bid adieu to vacation and bonjour to 2018.
Through visible breath and rubbing hands together I looked up and saw a bright red maple leaf shellacked to the windshield. "Hey that's pretty," I said and took a quick snap.
Now, I realize that in this simple winter image I somehow exactly captured my mood. No more holly jolly songs and soft Christmas lights. No more Santa and wrapping presents and warm cookies baking in the oven.
It's now winter, plain and straightforward. No more looking forward to the holidays, instead we look to Spring. I have a lot of (needed) California rain to endure this year because that is what the Bay Area does in winter.
This is the long slog, when it's still dark early and foggy mornings and shivery cold.
But soon. Yes soon, the world moves into winter so we can know the spring. Daffodils and cherry blossoms are just around the corner, but for today it's a sodden leaf in cold rainy hazy blue surroundings.
So I won't lose hope. Tomorrow may loom large, but I will pop back to the surface like a bobber and keep swimming. I will have great successes and I will fail a lot too. I will be mad and sad and happy and grumpy and overtired and all the things I was on December 21 when this wild leave from work began.
Okay 2018. I put you off as long as I could, but you are now top of my To Do list and I'm going to tackle you.
Starting tomorrow.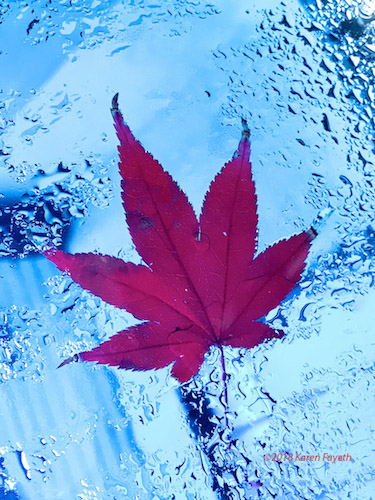 ©2018 Karen Fayeth

So yeah, I'll just cut to the chase, I've been having a hard time lately. Moving, work, life, storms, general state of politics, hades-like heat in the Bay Area, all of it. Stress. Anxiety. Insomnia. It all just got on top of me, and stood on my neck.
Some days I'm stronger than others, but last week the final drop of strong independent woman inside of me got used up, and I broke. I had been in a prolonged email squabble with a really challenging coworker and I hit a wall. I totally collapsed into tears.
Sobbing, heaving, inconsolable tears. Not in front of the coworker, at least. But still. It was what I believe the kids these days call an ugly cry. Full on.
For a while I was so down, ragged and lost that I thought I might be losing that small tenuous grasp I have on sanity. I was actually pretty scared.
But through some tough love from The Good Man, some actual sleep (I swear lack of sleep would make the most calm person into a raving psychotic), and doing a much better job taking care of myself, I found my way back. Mostly.
I mean, it's still there at the edges, the crazy I mean. This is the absolutely busiest time of year at my job and things always go a little pear shaped in September anyway. Tempers are quick for everyone and feelings are a little raw.
This too shall pass, it always does. I mean, October 1 is only three weeks away. I can survive three weeks, right?
Today, this lovely Saturday afternoon, when I should have been doing work but just couldn't bring myself to sit in front of a computer, I instead sat on my back deck with camera in hand, trying to photograph hummingbirds. Not an easy thing, and I'm learning a lot about both the birds and who I am as a photographer.
I shared one I really liked on all the social medias.
Here is another: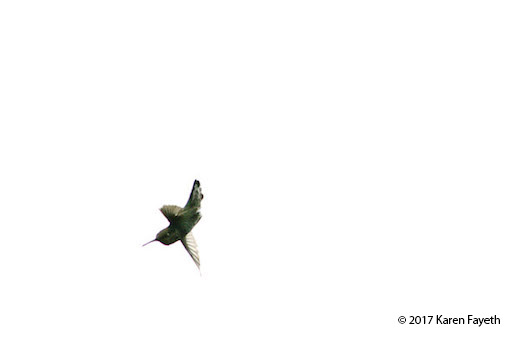 Today as I sat and watched and listened and kept my eyes open for the hummingbirds, another animal caught my eye: A Monarch butterfly.
A sure sign of pending Autumn, the monarch. They are special to me in so many ways, not the least of which is how closely tied they are to Dia de los Muertos in the Mexican culture.
I silently wished for the Monarch to land and let me get some photos.
Well, I got my wish, just not quite in the way I expected.
The butterfly flew in listlessly, bumped into a wall, ricocheted and then landed on the side of the deck.
As I got closer, snapping quickly with my telephoto, I soon realized the issue.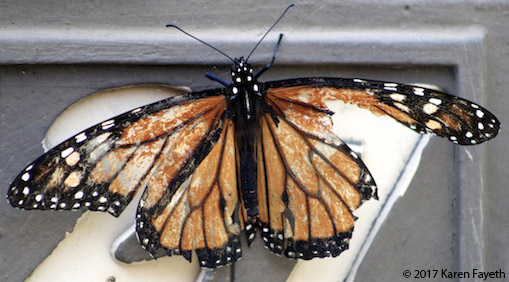 "We have an injured warrior out here," I texted to The Good Man.
I wondered what had happened to this beautiful animal. Did it go through a rough storm? Get batted at by a sporting cat? Fight for territory with another butterfly? Or was it just at the end of a good life?
What sort of hell had this little guy gone through, and how was it still flying?
After some Googling, I tried making some nectar and coaxing it into a box, but alas, no. It mustered up some of its last strength and flew off.
I was left sort of sad, wanting to give the injured insect a safe haven. Wishing I had just left it alone.
But as it flew off on one good wing, I couldn't help but admire its tenacity.
A tenacity I wish I could find. Or perhaps find a little more of.
May I (and you and we) find the strength to fly on our own battered wings. May my poor ragged butterfly inspire you as it did me.