The job that pays the bills has been especially nutty this month. Around these parts, Santa is saying "Ho, Ho, Hoooooly crap I have a lot of work to do." Thankfully, I managed to get through to the end of the week and now get to enjoy a bit of time off for the holidays.
And so it's best to balance all that work with some fun. Which can also be work, in a way.
This week, my photography takes a turn toward bokeh, the sort of blurry backlights seen in many an Instagram photo. I've seen a LOT of photos with bokeh, it's quite popular. When I see these kinds of photos they always seem fun, and those blurry lights look like they would be so easy to shoot.
Easy was not the case for me. I figured I'd waltz right into some fabulous bokeh photos, but I really, really struggled with this challenge. The photo's subject was photographer's choice, it just needed to have some nice juicy bokeh in the background.
Curse words were uttered. Cameras were called names. Swears in English, Spanish, French and British English (bollocks, bollocks, bollocks!) were all employed in the making of this photo. Finally after several Google searches and articles consumed, I stumbled onto a good suggestion for creating lots of sparkly light, and it worked.
In the end, I'm pretty happy with how this turned out. The photo features a Zuni Pueblo fetish carved by a Native American artisan named Dilbert Gasper. His Butterfly Maiden is carved from black marble and inlaid with turquoise. Since Christmastime is when I miss New Mexico the most, she seemed to be a good subject for my trials and (many) errors in learning a new technique.
I hope I did the little Butterfly Maiden and master artisan Mr. Gasper their justice.
And with that, a hearty Feliz Navidad to all!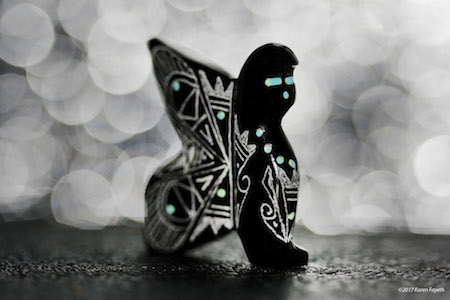 ©2017 Karen Fayeth

I have found myself in the city of Prague in the country of Czech Republic for only forty-eight hours. Well, a little less than forty-eight, but let's not quibble.
In forty-eight hours I have learned that the current leadership of the country wants their country to be referred to as Czechia, for reasons I don't fully understand.

"The Terminological Committee of the Czech Office for Surveying, Mapping and Cadaster officially codified Czechia in 1993 in its publication "Names of States and their Territorial Parts". Therefore, Czechia is the grammatically correct short name of the Czech Republic…" – from Go-Czechia.com
I have learned that occasionally I can understand a word or two in Czech, but then the diacritic marks give me doubt.
And I have interacted with Czech citizens, mostly the driver of my airport shuttle, hotel staff, and employees of the mall next door to the hotel. The clerks at the grocery store in the mall are probably the most Czech of the Czechs I have encountered. They have little to no English and can't care that I have no Czech. I admire this.
One habit I have cultivated in my bit of international traveling is that I like to go to grocery stores when I visit other countries. I like to see what everyday people buy and how everyday people procure their comestibles. Also because grocery store clerks are the most representative of the people of the country because they have no enthusiasm for making it easy on tourists. They are just being genuine.
In less than forty-eight hours I have come to appreciate and even feel a deep fondness for the people of Prague. Come with me on this tangent: Over the course of my life I have been fortunate enough to be friends with many Russian people. People from Russia have a very distinct cultural identity. Most Russian people I know can find a way to be unhappy even in the most incredibly happy of times. Not a sadness, but a deep disappointment tinged with world weariness. There is almost an enjoyment in unhappiness.
Obviously, owing to the long history of Czechia (see, I can learn), Russian culture has had a deep impact on the people who live here. I find some of that same slight sadness, irritation and fatigue with life in the people of Prague. At least the people older than say…thirty-five. It's almost kind of endearing.
Here's my best example. I went to the grocery to get some water, some chips and some cookies to stock in my hotel room for snack time. I had just a few items and I approached the register, feeling nervous.
I had learned two days ago that if I want a bag, I have to take one (paper or plastic) from the front of the register, and I have to let the clerk know I am buying the bag, and then I have to bag my own groceries. It's very common in Europe to bag your own groceries. I was proud to have learned the whole bag situation (a nice Czech lady helped me) and was ready to check out. (Czech out? Okay, bad pun.)
My sweet little American self stepped forward when it was my turn, and I held up the bag and pointed and nodded. The clerk sighed and began mumbling in Czech. Then the mumbling took on a ferocity. She riffled through some papers on her table and spoke more loudly, but not to me.
She shouted across the aisle to the clerk at the next checkout station. A conversation ensued. As near as I can decipher, she needed the code for the paper bag I had chosen. The other woman offered a suggestion that didn't work. My checker kept trying until after several attempts, she sorted it out.
She then began to scan the rest of my items, mumbling and gesturing in Czech. Not speaking to me, but clearly unhappy. Occasionally she'd shove at the papers that had let her down.
In my mind, I translated from a language I do not understand, but I think I understood the moment.
"This person wants a paper bag and they tell me I have to charge for it and if I'm supposed to charge you'd think they would at least give me the code on these damn papers," shoves papers, "but no, I have to guess and this goofy looking American is standing here, don't think I don't know you are an American. Just because you haven't said a word doesn't mean I can't smell it on you from a mile away. And of course the American wants a paper bag. Plastic bag, I know the code for that, but no she wants a paper bag and I don't know the code and I don't have the code here," shoves papers, "I have to scan all her stuff and I don't even care, I just am trying to make a living here and I have to charge for paper bags and what is the meaning of life anyway, but to be miserable, forced to charge for a paper bag and never really knowing the correct code."
Or, you know, I could be reading into things…just a teeny bit.
We concluded our transaction and I smiled and said "thank you." She looked at me like I was a developmentally latent child, and I walked away, a few Czech Crowns lighter, a bag of chips water and cookies in hand, and a story that felt like it needed to be told.
Tomorrow brings the most intense day of meetings, the whole reason my employer sent me to Prague. Once that is concluded, I can hardly wait to finally explore more of this beautiful city and learn more about the people and places of Czechia. I can't wait!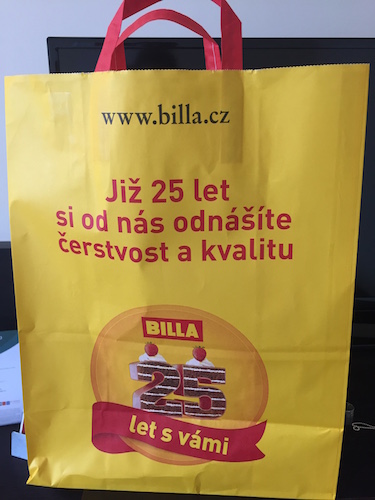 The Google translate app (using the camera, a very cool feature) tells me that this grocery bag says (roughly) "With 25 years, from us you take away freshness and quality." You can see how the last word really could be the word "quality." But beware of thinking you know something now, because you certainly do not. Your Czech is of no kvalitu.

Photo ©2016 Karen Fayeth, taken with an iPhone, the Camera+ app, amusement and jet lag. Subject to the Creative Commons license in the right column of this page.

On the way to work this morning, I listened to legendary San Francisco radio station KFOG. They've recently had a bit personnel shakeup and it turns out their new morning guy is former MTV VJ Matt Pinfield. I'm not totally thrilled with the change, but I will say this: he is able to pull pretty decent guests.
This morning it was Matt Nathanson and it was a good interview. They talked music and influences, and Pinfield asked what I thought was an intriguing question.
"What is the one song that changed your life?"
For Mr. Nathanson, it was "Closer to Fine" by the Indigo Girls. He said it made him want to play acoustic guitar and changed the course of his music. Pretty cool answer and song.
When they cut to commercial, I was left wondering what my answer would be. What is the one song that changed my life?
Well sheesh, that's hard question. Music is so integral to my life that it can't possibly be one song. There have been many songs that have changed my life and there are unwritten, un-thought of songs on the path ahead that will certainly change my life again.
As I drove and pondered, I was able to come up with a bunch. Here are just four of a much longer list.
Let's dig in:
1) It's 1991 and I've just gotten an undergraduate degree and about to start my MBA program. Right before the new semester began, my boyfriend broke up with me. I was quite into that particular boyfriend, pretty sure he was "the one," and the breakup hit me like a ton of bricks.
I wallowed deep into a lot of sad country music, but one song in particular was a constant companion.
"Are You Still Within The Sound of my Voice" by Glen Campbell
There was a place down on the Rio Grande where he and I used to go, so I would drive there, bring out a blanket and my boom box and find a place on the banks of the river. I would play that song over and over again while crying, sobbing, keening. I rose the level of that dusty ol' river with my salty tears.
Glen and that song got me through it. I can still hardly listen to that song, it's so etched into my memory and DNA. But that song helped me make the transition back to good. It made me stronger. It did, indeed, change my life.


2) It's 1994 and I'm living in Albuquerque, fresh out of college, gainfully employed and living that single girl life on my own. I'd lost a lot of weight and was feeling sassy and strong.
My musical tastes still ran toward country, but I was starting to listen to a lot of other music. In fact my musical education expanded a lot since there was a whole lot of music in the 90's that was changing the world.
I'd caught the end of a song on the radio that got my attention, but I wasn't sure what it was.
A few days later I was riding in an old Jeep CJ that was open to the wind with radio playing loud. That song came on, those now easily identifiable guitar chords, and I asked the driver to turn it up.
I was super late to the party on this song, but on that day, really hearing the song, my life changed.
"Smells Like Teen Spirit" by Nirvana
Oh muh lord. Of course we all know the impact of Nirvana now, but back then, it was unlike anything I'd ever heard. I just knew I needed more. A lot more.
I bought "Nevermind" on CD and played it over and over and over. I had never heard an artist express themselves like that. I sang along with angry lyrics while the music (and musician) spoke to me in ways I still don't understand.


3) It's 1997 and I've moved to the Bay Area and I'm spending all of my time in San Francisco's North Beach where my musical education took a turn toward the Blues.
There were a couple bars I knew how to get to and went to all on my own. A little girl with hayseeds in my hair, the employees and the musicians took me in. I became part of their family and they mine.
Blues music rolled in waves down Grant street back then and I'd start at the Savoy and work my way down. Grant & Green, Lost and Found, The Saloon.
Then there was a man named Willie who belonged to the street, but was still part of our family. More than once he protected me from the less kind aspects of city streets. He was a talented man with a bit of a drinking problem, but oh could he play that harp.
He'd tap his foot in time and play the blues. Then I'd go inside the bars and hear the musicians dive deep into history and play those same songs.
There was one that made me take notice, made me sit up. The beginning of what became a beautiful blues education. The door opened and I walked through.
"Matchbox" written by Blind Lemon Jefferson
On one night I heard four different musicians do the song, each putting their own fingerprint on it. This one song took a hold of me and never let go.


4) It's 2015 and I'm with the love of my life, the one who actually is the one, and we're attending a show at a small but awesomely funky venue in our new hometown. The act is Radney Foster and going to the show is like coming home.
I wrote a lot about why that night itself mattered right here on this little ol' blog.
But more than that, Radney's music was a core part of my college years and my life. A life I left when I moved to California. It was mostly the right decision, but damn I often feel like I left a huge piece of myself behind.
So many people here in the Bay Area. Crowded. Packed in. People who don't understand the emptiness you find in New Mexico. The wide open spaces. The ease.
A lot of people here who don't understand New Mexico, don't understand what matters to me, and sure as hell don't listen to country music.
And now here was Mr. Radney Foster standing on a stage in Northern California. There were even people other than me came to see the show. People who get it. It was a mind bender.
He did a lot of the familiar songs, and late in the show he introduced a new song. Told us that his wife grew up in Oakland. How he was at his in-law's house in the Oakland hills and watched a gorgeous Bay Area sunset. Then he told his wife "I'm going to be late for dinner," because he had to get down a song.
"California" by Radney Foster
It made me cry a little because it's a beautiful love ode to California, written by someone from West Texas. A desert rat like me who gets it, was there back in the day, and understands why California.
It's hard to explain to folks back home, but now I have the perfect musical explanation. In the following weeks I played it over and over again. This song let me know it's okay to have my heart in both New Mexico and California. This song brought peace. Healing.
Truly life changing.

——
Whew. Yeah. Okay. I could probably go on. This list expands and grows the more I think about it.
I bet you are thinking too. Running through the soundtrack of your life and remembering the songs that mattered. The songs that changed your life.
It's worth the journey. Feel free to share here or on Facebook. I'd love to know which songs changed your life.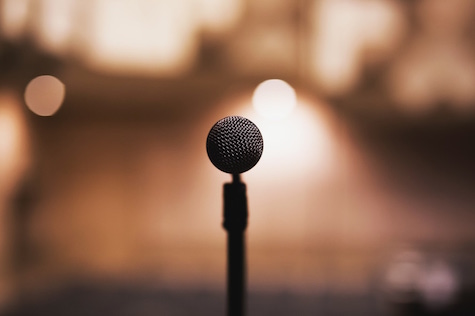 Image used royalty free and found here.

Recently, as I perused the pages of Facebook, I came across a Newscastic (read clickbaity) article with a New Mexico topic. I took the bait so you don't have to.
The title of the article is:
Pick A Side: 11 Famous ABQ Rivalries Since The Day You Were Born
They said to pick a side, so I did.
Herewith, the 11 so called rivalries (many of which came well after the day I was born, by the way) and my pick for each.


1) Comanche vs Candelaria


We can all agree not Montgomery, right? My preference always was and will always be Comanche, since it was quite close to the house where I grew up.
Sideline here, I looked up the house where I grew up on Google Street View. Wow, hardly recognize it. Brought a little tear to my eye.
Back in my day Comanche had way less traffic than Candelaria and made it worth taking, even with all of the stoplights. Who knows how it goes today? Maybe my ABQ folks can let me know.


2) Twisters vs Golden Pride


Have I been out of the state so long I don't know what Twisters is? Had to look it up. Established in 1998. Psh! No.
Golden Pride (est 1972) all the way.


3) Sadies vs El Pinto


Isn't the right answer first one then the other?
Okay, okay, look, I grew up in the days when Sadies was located in a bowling alley. That's the kind of clientele they drew. El Pinto was always nice, a little more upscale (and pricey).
So to me it's Sadies if you want casual and El Pinto if you want nice. Even with the lovely Sadies stand-alone restaurant, I stand by that rule of thumb.
Verdict: No pick, love 'em both in different ways


4) Rio Grande vs Alameda


Shrug. No opinion. I was a Northeast Heights girl. Didn't get down either very often. Probably Alameda, based on my limited memories.


5) The Shins vs Brokencyde


Who? I thought this was "rivalries since the day you were born."
Let's go with neither. How about Joe King Carrasco, who is not from ABQ but played the hell out of it back in my day. Yeah.


6) UNM vs New Mexico State


I believe my feelings are this matter are abundantly clear.

And when we win this game, we'll buy a keg of booze, and drink it to the Aggies til we wobble in our shoes.

Best. Fight song. Ever.


7) Eldorado vs La Cueva


Richie rich versus the really Richie rich. Who cares? Not me.
Del Norte for the win.


8) Sandia vs Rock Quarry


For skiing? Sandia. Oh Sandia and your bare dirt patches. Your hard icy spots. Your imperfect but nearby skiing, how I miss you.


9) La Cueva Skatepark vs Los Altos Skatepark


Hey! You children get off my lawn!


10) Scorpions vs Dukes


Those Dukes are comin' up swinging. No contest whatsoever. Love the Dukes. Likely because I am a huge fan of the sport of baseball.
While I love the sport of hockey and have nothing against the Scorpions, it just never seemed…right…to have hockey in the middle of the desert. (Yes, yes, I know about the Coyotes)
Side note, the Dukes used to have dollar dog and dollar draft days. Wow there are some games I can't remember but had fun.


11) Sandhill cranes vs Balloons


Stop it Newscastic, you're drunk. This is a ridiculous question. What, because they both fly?
Here's the answer, hot air balloons in the morning, sandhill cranes at sundown. Owl burgers all day long.
Solved.


Okay, ABQ folks, what are your picks?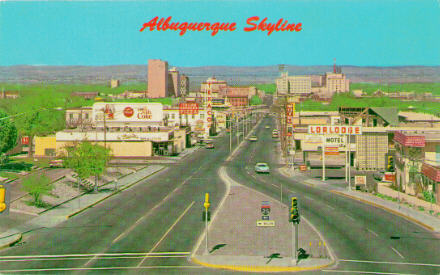 Image found here.

Since I am a native New Mexican, it seemed mandatory that I watch the television series "Breaking Bad," which is set mostly in Albuquerque.
I missed it during its first run on AMC but found all five seasons are available on Netflix.
The Good Man watched some of the pilot episode with me and found it just didn't work for him. Okay, fair enough. This meant I was on my own to get through it.
If you are part of a couple that shares a Netflix account, you know how hard it is when one of you wants to watch something and the other doesn't. You have to carve out time to watch when the other isn't in the mood to be watching TV.
I had to look for times when either The Good Man was off doing something else or I had to set up my iPad and watch it while sitting in the same room with The Good Man. Which, let's face it, seems kind of silly.
Breaking Bad is not the kind of show one can really binge watch. I found that after getting through a single episode I had to step away from the television and go out into the world and remind myself that nice things still exist.
So it ended up taking me a really long time to watch all 62 episodes, but finally a few weeks ago I did it. I summited the mountain. I reached the peak. I got through the final episode of Breaking Bad.
I have to admit, the last five or so episodes are pretty hard to watch. The whole story and its characters are unraveling and there is a lot of violence and ugly things happening. I found it hard to finish, but I prevailed.
And now that I am on the other side, I broke through, so to speak, what is my final analysis?
As a writer, this is genuinely some of the best writing I have ever experienced. The character development, the original ideas, the pacing, the language. All of it. Genuinely amazing and enviable. Easy to understand why the show won so many awards. And easy to see why it's been hard for Brian Cranston to find other projects to work on. He's said he wants projects where the writing is as good as Breaking Bad, which has to be a real challenge.
As a New Mexican, it was at times really hard to watch. I'm not blind, I know there is a lot of bad happening in my homestate. That said, a lot of dramatic license was taken for the sake of a good story. It's possible to live a nice life in Albuquerque without encountering meth. It really is.
I cringe when I see posts on social media where people say they moved to Albuquerque just because of the show. To each their own, I guess.
I did often have a chuckle when I saw familiar places in the show. The carwash that Walt and Skylar own? I lived about two blocks away from it. The dark restaurant with candles on the tables where Walt and Jesse would often meet? It's over on Gibson (closed now) and my boss and I used to go have lunch there when I worked for Sandia Labs. Saul's office? Used to frequent the liquor store in the same strip mall.
The list goes on.
However, seeing all of those locations in the show didn't really make me homesick. They seemed so out of place in the context of what was happening.
Anyhow, I guess in summary, I can say I have mixed feelings. The writing and acting are profoundly good. And I am glad I watched the show so that I at least understand all of the cultural references. I do kind of wish New Mexico could have gotten a better shake. It's a beautiful state with a lot to offer including a unique culture and way of life.
Nevermind. I take it back. It's awful. If you aren't already a resident, you don't want to live there. Seriously. (Much love to the 505!)
I am glad that New Mexico got its moment in the spotlight, and I think the story, writing and acting changed the game for television. Hard to believe something so culturally groundbreaking came from a deceptively simple story about a cancer stricken chemistry teacher and his ne'er do well former student cooking meth. It's a fine though challenging show.
And now the big question……
Do I start watching "Better Call Saul?"
Hmm.

______________

In other news, apparently the actor who played the DEA Agent known as Gomie is running for Bernalillo County Commissioner. Weird. He's a legit New Mexican though, so okay.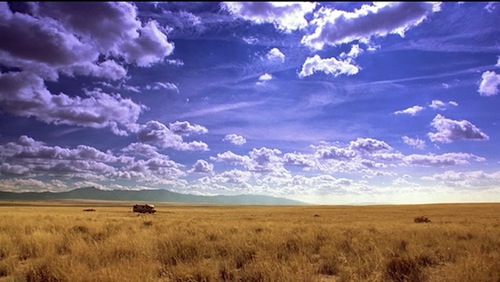 Image found here.