I'm a little late in getting this posted, but the sentiment is all the same. This list is an annual tradition here at Oh Fair New Mexico.
As I post this, I'm thinking about making a batch of biscochitos. Only, I couldn't find lard at the grocery yesterday. What the hell kind of place do I live that doesn't sell lard? Just gotta shake my head.
Anyhow, biscochitos or not, I wish happy holidays to you and yours.
Without further ado:

Top ten things I miss about Christmas in New Mexico (in no particular order):

Originally published December 11, 2007

1) An annual shopping trip to Old Town in Albuquerque. This was a longtime mom and me tradition. Every year I'd get to pick out my own ornament that would eventually be mine when I became an adult. I have every one of those ornaments stored in a Thom McAnn shoebox and they go on my tree every year. They are a glitter and glass history of my life. I remember buying each of them and it gives me a beautiful sense of continuity to have them on my tree.


2) Luminarias. I always was the one to make them for the family. Someone would drive me to an empty lot and I'd dig out two buckets worth of good New Mexico dirt, then I'd go home and fold down the tops on brown lunch bags. Each would get a candle inside and then at night I'd light them. It was my holiday job and I loved every folded bag and every bulk buy candle (and every small emergency when a bag caught on fire in the wind). I miss real luminarias.


3) The Bugg House, which, sadly, is no more. My sister lived over on Prospect and we'd go for a walk in the dark on Christmas Eve to take a look at the outstanding display of holiday spirit. On the way to Christmas shop at Winrock Mall, I'd take a detour to the Bugg house to take a look. No one does lights like the Buggs did.


4) Neighbors bringing over a plate of freshly made tamales as a Christmas gift. When there are three generations of Hispanic women in a kitchen with some masa and shredded pork, magic happens. Yum! I also miss that people would bring tamales to work in a battered Igloo cooler and sell them to coworkers. I was always good for a dozen or more.


5) A ristra makes a good Christmas gift. I've given. I've received. I love 'em. They'd become a moldy mess here, and that makes me sad, cuz I'd love to have one.


6) Biscochitos. My love for these is well documented.


7) Sixty-five degrees and warm on Christmas Day. Growin' up, I think one year there was actually snow on the ground for the 25th, but it was melted by the end of the day. Oh Fair New Mexico, how I love your weather.


8) Christmas Eve midnight Mass in Spanish with the overpowering scent of frankincense filling up the overly warm church. Pure torture for a small child, but oh how I'd belt out the carols. And when we came home after, we could pick one present and open it. Gah! The torture of choosing just one!


9) A New Mexico piñon, gappy, scrawny Christmas tree that cost $15 at the Flea Market and was cut from the top of a larger tree just that morning. Look, to my mind, it ain't a tree unless you are using a few low hanging ornaments to fill the obvious empty spots. These overly fluffy trees just ain't my bag. If you aren't turning the bad spot toward the wall, you paid too much for your tree.


10) Green chile stew for Christmas Eve dinner and posole for New Year's, both served with homemade tortillas. My mouth waters. It's weep worthy. I can taste the nice soft potatoes in the stew, the broth flavored just right. And posole to bring you luck with red chile flakes and soft hunks of pork. Yeah……


*sigh* Now I'm homesick.
Which is not to say I don't have happy holidays where I live now…but sometimes I feel melancholy. In a way, that's what the holidays are for, right? To remember.


Finally, in order to just really drive a homesick knife into my heart, I give you this, the beauty of Old Town Albuquerque: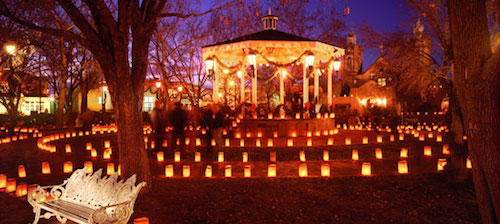 Image via Delta Skymag

Mother, mother ocean, after all the years I've found
My occupational hazard being (that) my occupation's just not around
I feel like I've drowned, gonna head uptown

–"A Pirate Looks at Forty" by Jimmy Buffet
Yeah, I might be taking a few liberties with a very fine Jimmy Buffet song that did not make a lot of sense to me when I was in my twenties and seems rather spot on now.
I find myself sneaking up rather quickly on the milestone age of forty-five. Or rather it's sneaking up on me. What a milestone, I'm not even sure what it means. There are ages old enough to vote, old enough to drink, and then it all kind of gets muddled after that.
At this point in my life, I'm in a place where I don't love my birthdays most years. For reasons that aren't clear to even me, this particular trip around the sun is a little rough on me. Or maybe they are all a little rough on me these days.
And so weirdly (or not so weirdly) enough I have been thinking about that Buffet song dating back to the jolly era of 1975. The song is about a man who laments the fact that he was born too late to be a pirate. Jack Sparrow kind of pirate, not Somalia kind of pirate.
The man in the lyrics looks at his life and wonders what might have been. I have a very rich internal life and while I love my life today, I do often think about the what-ifs.
Yo ho ho, the pirate life isn't quite the one for me, but I do have laments of being born too late. A hazard of the years going by, I suppose.
I'm not so unlike the main character in "Midnight in Paris" who wishes to live in the era where writers were valued and were paid quite well for their work. Where art wasn't as much of a business as it is today.
I recently read a biography of Zelda Fitzgerald and grew ever more green with envy over how Scott Fitzgerald could keep them in a very high life simply by writing and publishing a few short stories.
I'm not implying he didn't work hard at his craft. I've read some of his shorter works and of course "The Great Gatsby" and the man could write. But he also had a venue for those stories, popular magazines that were both willing and able to pay.
Oh to live a life where I could install myself in a Parisian pub with a bottle of Spanish red and write my words. Then know I might get many rejections, but when I get that "yes" that it really meant something on a large scale.
I was singing this sort of tune in my head over the weekend and because Fate is one hell of a comedian, I received an acceptance on an essay I had submitted to a very fine online publication. I am quite proud to contribute to this literary magazine, but the timing couldn't have been more humorous.
One of my coworkers recently had occasion to read one of my published short stories about a scuba diver (if you haven't read it, I'll direct you to the right column of this page). She is also a scuba diver and she liked the story very much.
"You are such a talented writer! Why do you do this job?" she asked, and laughed.
"Because that doesn't pay, and this does," I said and sighed.
Oh, it could. Maybe one day. With a lot of work and a lot of sweat and a lot of blood and a mountain of rejection letters under my feet.
But as I sidle up to age forty-five, it sometimes feels like my best years have passed.
I once knew a bluesman who could play a muddy, gorgeous telecaster like he was drinking water. He made it look easy. So easy people were always sure they could do it like he did, and when they wondered aloud to him why it was so hard, they would say, "You must have just been born talented."
He would reply, "Yeah, and at age twelve I picked up a guitar and played it every day until my fingers bled, and then every day since."
Talent is nothing without hard work. I am more than happy to do the work, and I actually do the work every day. I type my words until my wrist aches and my head hurts. Then I write some more.
There are many days I simply wish I had started writing seriously earlier in my life when energy and time were not an issue. Then again, what did a bubbleheaded girl like me have to write about?
Maybe I had to live a little before I could open a vein and write the words.
Oh well, this is my journey. Not anyone else's. Forty-five it is and forty-five it must be.
The dread leading up to the day started to wane in the final days. Resignation set in and now I suppose I'm okay. I tried on forty-five and it fit like a shiny new pair of fine leather shoes. A little tight and squeaky at first, but breaking in nicely.

If I'm going to overwork a metaphor, I should probably reuse a photo of a very favorite pair of well broken in boots

Image Copyright © 2010, Karen Fayeth, and subject to the Creative Commons license in the right column of this page.

And so I am back, for now, to blogging.
I'll be posting soon about the agony and ecstasy of the insidious little (gigantic) hack on my blog.
It's been quite a ride and isn't quite over. The good news for my readers is that I have had several scans done and it appears my blog isn't serving malware, so I have that going for me.
For today, I think I am unhacked. We'll see how long that lasts. (probably not for long, as my internet research has told me)
And so today on a Happy St. Patrick's Day, let's do a throwback Monday.
On this day of the wearin' of the green and the drinkin' of the green beer, many people from a variety of different backgrounds will claim their Irish heritage.
I will authenticate my own heritage by posting this photo of me and my 100% Irish grandmother: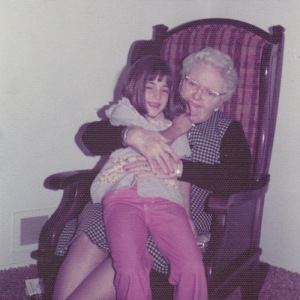 This day also matters as it is the day the first post landed here on Oh Fair New Mexico back in 2007.
Today I celebrate a lucky seven years of blogging.
I have to admit, with the recent hack-a-roni, I deeply considered giving up blogging. Or maybe taking a break. But I made a promise to myself in 2007 and I'd like to keep going.
If the hack-a-thon keeps up I may have to move to another forum, but for today, I'm here, I'm Irish and I'm blogging.
Now, despite my deep Irish roots, I was raised in the Great State of New Mexico. That means I am going to celebrate Éirinn go Brách by toddling over to my local Mexican restaurant and diving in on some mole.
Because why not?
Why not indeed.
Happy St. Patrick's Day to all of you Irish and all of you wanna be Irish. Today we're all from the Emerald Isle!
Sláinte!

Feliz Dia de los Muertos! On this day may you remember your loved ones who have passed on. Today I honor all four of my grandparents, my father and my best friend from high school.
May they walk in peace and enjoy a tasty pink cookie and some tequila on their journey.

My sugar skull looks a little more cranky than I had intended.
And yes, I slapped an Instagram filter on there. I don't care what that says about me.

Oh yes, this is one of my favorite times of the year. I love Day of the Dead and all the traditions that go with it.
I also love the art and I love making my own Day of the Dead art too. (may I never forget my New Mexico roots)
Since I haven't really had my crafting skills on much lately (work and life and no craft space in the new apartment) I was sort of jonesing for some day of the dead art.
All it took was a few office supplies and a really long and incredibly boring conference call.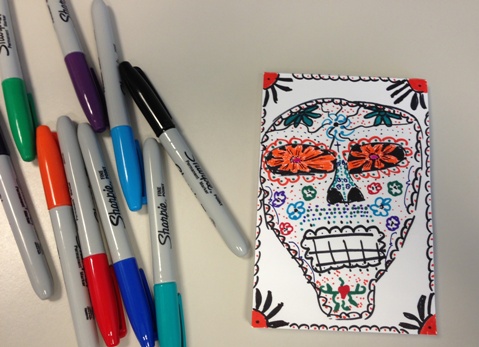 Much love and peace to all as they remember in their own way.
Happy Weekend to all!!
Photos and drawing Copyright 2012, Karen Fayeth, and subject to the Creative Commons license in the right column of this page. Photos taken with an iPhone5 and the Camera+ app.

So the good news is, I get to hire a new person to my team. We really need the help. Oh boy could we use the help.
And I think we've found the right person for the job (after quite a long recruiting process), oh joy!!
So as the paperwork goes through approvals and I wait, I was given the go ahead to start outfitting the cubicle and equipment for this new starter.
Yay!
Now, let's go back a bit in time. Cue the wavy lines as we go back over two years ago.
To the day when I started this job. I was fresh faced and full of optimism and enthusiasm and other words ending in m.
My new boss ushered me to my office. Hard walls! A window! A door!
Then he handed me a laptop. Ker. Thunk.
In my previous gig I had been blissfully using a sleek, speedy Mac and this…thing…that was placed into my hands was a Dell.
A Dell. *shriek!*
Not only a Dell, but an almost three year old Dell that was running, horror of horrors, Windows XP. In the year 2010.
I was told that:
1) The Company keeps laptops for three years. Three years exactly, no early upgrades. This machine wasn't quite three years old so tough luck kiddo.
2) Windows XP was the only authorized operating system at that time.
3) The Company does a big bulk purchase once a year and we get smoking hot discounts during that time. So even if the machine was older then three years, I couldn't get a new one until Buying Season.
So, I did what a new hire does. I made it work. It was the slowest, saddest, boat anchor of a machine I think I've ever known. I bitched incessantly as it locked up and had to be restarted again. And again. And again.
I waited long enough and was a good little girl and magically buying season arrived AND my machine's three years expired and I was finally able to order a new machine.
A brand spanking new Dell that ran…Windows XP.
Oh fine. It was faster and the keyboard didn't contain food and hair and skin particles from my predecessor (I so wish I was kidding about that), and the screen wasn't cracked.
So I was happy!
The piece of crap I had used was dutifully sent to recycling. I hope they crushed it.
About a year later, I had to replace someone who left my team to work in another team within the same organization. My boss told her to take her machine with her. And so she did.
When I hired someone, it was not the Buying Season and I had to dig up a boat anchor of a Dell to give him that would take a coffee and a smoke break when my employee asked it to do simple spreadsheet things.
But he was a new employee and fresh faced and full of optimism and enthusiasm and other words ending in m, and he endured. Buying Season finally came unto him and he bought a new spiffy machine, and by this time the IT organization had approved Windows 7 so he was FLYING. Pivot tables! Moving graphics on PowerPoint. Weeeee!
Which brings us back to now. I'm still using the machine that was purchased two and a half years ago. As cheap PC's are want to do, it has sloooooowed down considerably.
My PC will have a third birthday in about six months. The start of Buying Season is about nine months away.
I can make it last. Right?
At a recent group luncheon, one of my peers (who started right around the same time I did) talked about how he'd just hired a new person too. And how he'd ordered a new machine for them (we are currently in the buying season) and how he took the new machine for himself and gave his two year old machine to the new guy.
My eyes widened. "You can do that?"
"Of course," he said. "I got a crappy machine when I started here. It's a tradition."
Which got me to thinking. You see, as mentioned, it is the Buying Season now and I ordered a new machine for my new hire and this year The Company upgraded the standard from Dell to Lenovo and it's a pretty nice machine.
It was delivered on Monday and it's in the box under my desk right at this minute.
So. Do I break the chain and give New Employee a new machine?
Or do I scoop that damn thing up and give him my not that old and not that terrible machine?
I have a few weeks to decide just what kind of person I want to be.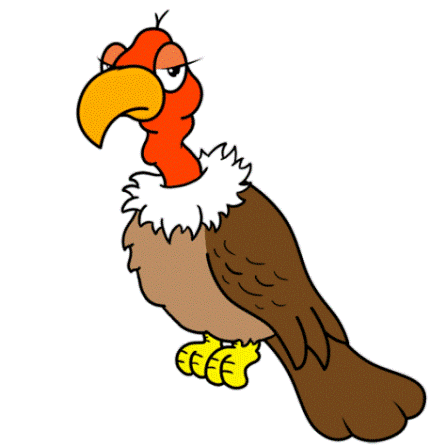 Cartoon vulture found on How To Draw Cartoons Online.