…that we find ourselves on the final day of the year 2017. I'm both a little surprised it is here already, and a little relieved too. It is as though I have been anxiously awaiting the arrival of a delayed guest.
So many people are saying, "Ugh! I can hardly wait for 2017 to be over!" and "Good riddance" and bon mots like that.
Sure, 2017 has been a trying year, but remember when we all bid 2016 goodbye with a gruff hacking noise and an emphatic *patooey*?
I keep reminding folks of that, of how everyone was eager to flush 2016. One very nice lady recently asked me to cease reminding. She didn't want to remember that narrative, I suppose. She was too content to be down in her hacks and patooeys and other rude noises regarding the year 2017.
Recently, the musician Taylor Swift was publicly and roundly lambasted for saying she had a good 2017. I mean, she won a pretty ugly court battle, released an album that sold over a million in one week and spun off several number one hits. I don't particularly care for Ms. Swift's style of music, but all in all, I'd say she had a pretty good year. But no one wants to hear it.
Celebrating what is good from 2017 doesn't fit the hack-patooey narrative. We must all be miserable! Blame the year! Blame the world!
I don't think that is quite fair. 2017 has certainly tried the patience of the most gentle of souls, but there is still good to be found through adversity. Not to get all quoty and stuff, but isn't it through fire that mettle is tested? Isn't that which doesn't kill us makes us stronger?
And don't we win by remembering the good even through dark skies?
There are a lot of horrible things to recount from the year. Fires, floods, earthquakes, famine, Congress, hunger, poverty and people treating their fellow humans horribly. I'm sure many a news source will remind us of all of this and more in bright Technicolor photos and videos.
But what if…and bear with me here…what if on the eve of the new year dawning, instead of remembering what was bad, we celebrate what was good? What worked for us in our own lives?
I mean, I'll start. In 2017 I had five short stories published. FIVE. This is the most success my writing has seen in any year. I was boggled as the acceptances rolled in. In 2016 guess how many of my stories were published? I won't make you wait, it was zero. I received zero acceptances of my work in 2016. And I kept on writing. Kept on hustling. And 2017 rewarded my hard work.
By the by, all five are linked in the right column of this page, in case you missed any of them.
In 2017 I completed one of the most intricate and challenging projects in my work life. It was a slog, and I had very little support and help from coworkers or direct management. But I did have a lot of expectations from senior leadership that I'd get it done. And on December 21 I did just that.
In 2017 I went to a photographer's retreat where many professional and experienced photographers looked at a portfolio of my work and congratulated me, gave me good and honest feedback, and began to treat me as one of their own. I went from dabbler to serious photographer in the span of twelve photographs. I was utterly terrified to present in front of that group, but I did it and it was incredibly inspiring. I'm working that much harder on my photography now because I took that chance.
In 2017 I celebrated nine years married (and twelve years total) to The Good Man. Nine years is both not that much and a whole lot. Every day that I wake up and he still loves me and I still love him is a victory.
In 2017 I accompanied my eighty-three year old mother on a tour of the Midwest to visit family. I was scared that something would happen, that I would break the Mom, that it would be a terrible trip, that all of my plans would go awry. Instead we had a fantastic and utterly memorable trip. I both grew closer to many of my cousins and felt so happy to have that time with my mom.
In 2017 I opened my eyes every day and got out of bed and went out in the world with the thought and the wish that today might be another good day in my life. And the vast majority of them were.
And so while it's unpopular to celebrate the year of 2017, I am going to swim against the tide and say Thank You 2017, for giving life, for the journey, for the trials and tribulations. I won't send you off with a hack-patooey, I will instead say, thank you for the lessons, the gifts, the challenges and for showing me that I am much tougher than I give myself credit for.
Thank you, 2017. Rest easy old friend. 2018 just rolled around the corner and will be here in a minute. I'm going to be all right.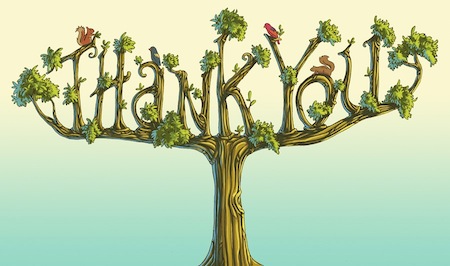 Fabulous image by tsugami on Deviant Art, which allows downloading of images. I believe in giving artists credit for their incredible work, and this image is deeply inspiring to me. Thank you, tsugami.

As a sort of minor and mildly entertaining footnote to Tuesday's Congressional election in Alabama, there was a CNN interview where the spokesperson for the Republican candidate made a spirited argument that Muslim politicians should not be allowed in Congress because they'd be required to swear on a Christian bible.
The CNN host went on to utterly decimate the spokesperson's assertion by letting him know that not only is it not required to swear on a bible, if you are swearing an oath of office, you can technically swear on anything.
Something about that pesky separation of church and state, I suppose.
Look, I'm not here to wade into political waters. What I am here for is to wade into this debate:
If you became an elected official, upon which book would you swear your oath of office?
As a lover of books, this question intrigues me. One might suggest that the book used for an oath of office would have some meaning, some gravity. Something that matters to you.
So where to start? I mean, what are the books that made me who I am today? That have, to me anyway, a sacred meaning. Something upon which an oath would really matter?
Okay, I've had a noodle on this, and decided that here would be my top five picks, in no particular order:

Lonesome Dove by Larry McMurtry



This is the book that made me want to be a writer. It's seminal to my creative life and had particular meaning for me years ago to read an author from the west write the west (and not some east coaster's idea of the west, I'm looking at you Cormac). This book is in my DNA and it's the perfect book upon which to swear, because Gus and Call do an awful lot of swearing in the story.

Red Sky at Morning by Richard Bradford



When I was a kid, my mom suggested I read this book and I am so glad she did. I've opined plenty on this book, and it's perfect for swearing an oath because this was the first book to make me feel like it was not only okay, but pretty damn cool, to be a New Mexican. Growing up in the 70's and 80's no one knew where or what New Mexico was, nor cared. Heisenberg putting us in the media spotlight was years away. This book is me and I am this book, I give you my oath on that.

Lamb: The Gospel According to Biff by Christopher Moore



The story of the Son of God, as told by his best friend Biff. It's historical and hysterical. This book will make you laugh right out loud as our man Biff pulls his somewhat clueless friend Jesus out of scrape after scrape. It's outright blasphemy which makes it the most logical choice to swear my oath of office.

Fear and Loathing in Las Vegas by Hunter S. Thompson


As noted before on this blog, Las Vegas is something well woven into the fabric of my life. I got my start in life there and spent an awful lot of time there as a kid. I have a much different view of Vegas than most. It's a strange sort of indescribable thing. This book is on my list because, uh, it's Hunter S. Thompson. What better FU to the whole swearing an oath to the government?

But mainly, it's because of this part:

"A little bit of this town goes a very long way. After five days in Vegas you feel like you've been here for five years. Some people say they like it — but then some people voted for Nixon, too. He would have made a perfect mayor for this town…" — Fear and Loathing in Las Vegas

C'mon! This is the perfect oath of office swearing in book.

Boys of Summer by Roger Kahn, or maybe Shoeless Joe by W.P. Kinsella, or possibly Ball Four by Jim Bouton, or, or, or… It's a long list.



The right choice for swearing in because baseball is my religion.
Okay, now that the book question is sorted, the next item to tackle is what music is going to be played at my swearing in? I'm going to assume I will be elected to a low-level office with no budgets for live acts. So, assume a bumpin' sound system. Who gets to warble under my swearing? Ooooh, that's a good one…..
If you have a mind to, holler at me here or on any of the social medias and tell me what book you want to swear your own oath on. I'd love to cuss and discuss.

———————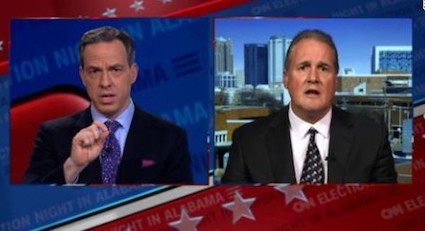 The exact moment where the one on the right realized his whole argument was just verbally punched to the ground

Story source.

So yeah, I'll just cut to the chase, I've been having a hard time lately. Moving, work, life, storms, general state of politics, hades-like heat in the Bay Area, all of it. Stress. Anxiety. Insomnia. It all just got on top of me, and stood on my neck.
Some days I'm stronger than others, but last week the final drop of strong independent woman inside of me got used up, and I broke. I had been in a prolonged email squabble with a really challenging coworker and I hit a wall. I totally collapsed into tears.
Sobbing, heaving, inconsolable tears. Not in front of the coworker, at least. But still. It was what I believe the kids these days call an ugly cry. Full on.
For a while I was so down, ragged and lost that I thought I might be losing that small tenuous grasp I have on sanity. I was actually pretty scared.
But through some tough love from The Good Man, some actual sleep (I swear lack of sleep would make the most calm person into a raving psychotic), and doing a much better job taking care of myself, I found my way back. Mostly.
I mean, it's still there at the edges, the crazy I mean. This is the absolutely busiest time of year at my job and things always go a little pear shaped in September anyway. Tempers are quick for everyone and feelings are a little raw.
This too shall pass, it always does. I mean, October 1 is only three weeks away. I can survive three weeks, right?
Today, this lovely Saturday afternoon, when I should have been doing work but just couldn't bring myself to sit in front of a computer, I instead sat on my back deck with camera in hand, trying to photograph hummingbirds. Not an easy thing, and I'm learning a lot about both the birds and who I am as a photographer.
I shared one I really liked on all the social medias.
Here is another: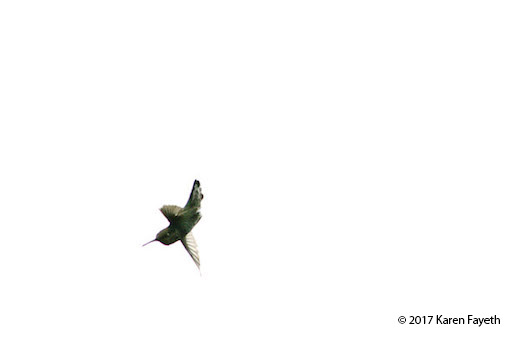 Today as I sat and watched and listened and kept my eyes open for the hummingbirds, another animal caught my eye: A Monarch butterfly.
A sure sign of pending Autumn, the monarch. They are special to me in so many ways, not the least of which is how closely tied they are to Dia de los Muertos in the Mexican culture.
I silently wished for the Monarch to land and let me get some photos.
Well, I got my wish, just not quite in the way I expected.
The butterfly flew in listlessly, bumped into a wall, ricocheted and then landed on the side of the deck.
As I got closer, snapping quickly with my telephoto, I soon realized the issue.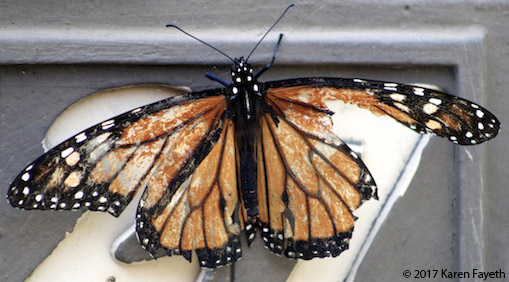 "We have an injured warrior out here," I texted to The Good Man.
I wondered what had happened to this beautiful animal. Did it go through a rough storm? Get batted at by a sporting cat? Fight for territory with another butterfly? Or was it just at the end of a good life?
What sort of hell had this little guy gone through, and how was it still flying?
After some Googling, I tried making some nectar and coaxing it into a box, but alas, no. It mustered up some of its last strength and flew off.
I was left sort of sad, wanting to give the injured insect a safe haven. Wishing I had just left it alone.
But as it flew off on one good wing, I couldn't help but admire its tenacity.
A tenacity I wish I could find. Or perhaps find a little more of.
May I (and you and we) find the strength to fly on our own battered wings. May my poor ragged butterfly inspire you as it did me.
I think, sometimes, it must be a bit odd living with me.
On Sunday afternoon, with many things troubling my mind, I went outside and took a nice walk. I also looked at my neighborhood and noticed the way the sunlight is shifting. A cool tinge to the breeze. And I noticed that college kids are starting to move back to this college town.
When I got home I was a bit tired, a little sweaty, and more centered in my mind.
"Oh!" I said, as The Good Man and I talked things over, "I brought something home."
His eyes lit up at the prospect. What could it be? Something freshly baked from our fabulous neighborhood shop? A pound of aromatic fresh ground coffee? A small fun tchotchke from one of the many nearby gifty shops?
Nope. What I brought home to my sweetheart was this: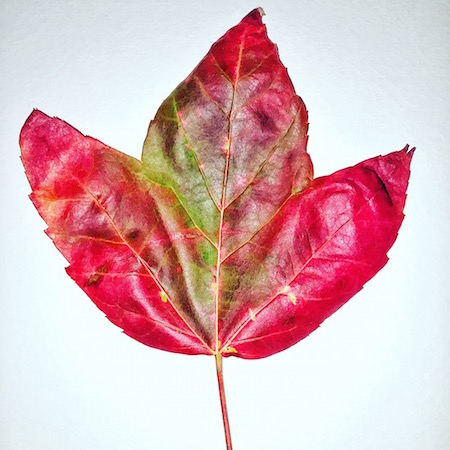 From a Red Maple tree

I brought my love a leaf.
More than a leaf, it was the perfect representation of how restless I was feeling. As summer begins to give way to fall. As youth gives way to middle age. As things are in motion and changing at my place of work.
I was stunned on my walk to notice that leaves are already changing. Trees are starting to turn the bright reds and yellow and oranges of fall. I'm sure our unseasonably cool late summer has been part of the reason, but I was startled to see the change. I was also comforted to know that the restless feelings inside me are in sync with nature.
It is both a green leaf and a red leaf at the same time. Both the joy of spring and the end of summer. Happy and sad. Birth and death.
Transition.
My theme song lately has been Sam Cooke, "A Change Is Gonna Come." I just recently found this song again through the whims of Pandora's algorithms. And as Pandora is want to do, it plays at least once a day during my work days. Occasionally, if the time is right and the office door is closed, I sing along.
It is a sad song. A lament. But also, it's inevitable that change has to happen. Like that leaf, there has to be some core that remains and stays in place to keep you grounded. With that grounding, then other things can change.
Lest you think I have any personal big changes planned, I do not. I consider most of my life to be my rock. But things around me are changing at a rapid clip, and I am feeling that happen.
Seasons are in transition. Things at work are changing fast, and actually have been changing for some time. And the nation is changing too. This election cycle has been nothing short of the lunchroom at an insane asylum. Come November, things are changing for all of us, no matter how the voting goes. Even the world is changing. Both for the good and for the bad.
I'm not always very good with a lot of change. Some people thrive. Me, I get a little worried. It's my way.
But on that sunny Sunday in Northern California, a pretty little leaf became the perfect metaphor for what's going on inside of me.
And The Good Man, he understands that sometimes I need to bring home a leaf to best explain everything that's on my mind.
___________________
Because I can, I ran my leaf photo through the Prism app, which I just adore. My favorite of the conversions was this one.
Thought I'd share it too: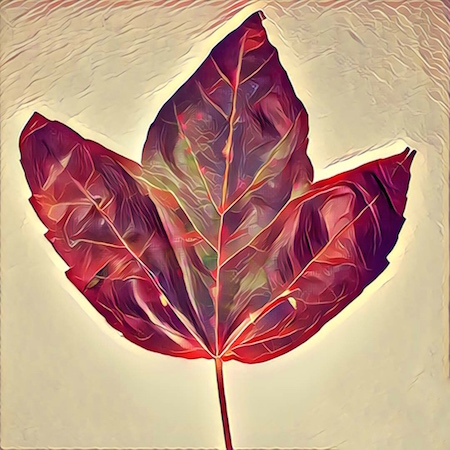 Same leaf, now artified

Leaf photos ©2016, Karen Fayeth, taken with an iPhone6, the Camera+ app, and the Prism app. Subject to the Creative Commons license in the right column of this page.

Do you remember the Sting song "Russians" from way back in 1985? An overly somber commentary on the state of the Cold War, Sting implored "I hope the Russians love their children too."
I have had occasion to listen to this song a few times over the past months. It keeps coming up in my consciousness. I do readily admit that in 2016 the song sounds almost quaint and old fashioned. I remember the first time I heard it in 1985 it felt deadly serious.
As a GenXer, the Cold War is certainly a part of my formative years. Growing up in New Mexico, I was acutely aware that "Oppenheimer's deadly toy" was largely created in Los Alamos. My dad was employed by Sandia Labs and he worked on nuclear weapons. Hell, my dad was one of those guys in the 1950's out on some Pacific island in the middle of nowhere setting off nuclear explosions just to see what would happen.
So the Cold War was a little more real to me than perhaps many of my classmates. I remember on the playground talking with some friends about this list that apparently the Soviets had. A list of the first places they would hit if the war began. We all agreed Los Alamos would be on the list and debated if Sandia was there too.
I remember saying to a friend that I'd rather be nearby if a nuke was dropped. I'd rather be vaporized than have to live with radiation poisoning. I was just a kid but I had worked out how I would get as close as possible to Kirtland Air Force Base to control my own destiny.
That was some heavy stuff for a little kid, but it was the reality of the world back then.
So when I learned in April of this year that I would be traveling to the Czech Republic, I was incredibly excited. I love international travel and Czech Republic is a really old and quite historic city. The Good Man calls it "deep Europe" and it sounded so dark and mysterious.
But I also pulled up short. Hesitatingly, I asked The Good Man, "Didn't…uh…Czechoslovakia used to be Communist?"
Then I took a look on Google, I searched "Iron Curtain" and found this map. There it is, Czech Republic behind that heavy line.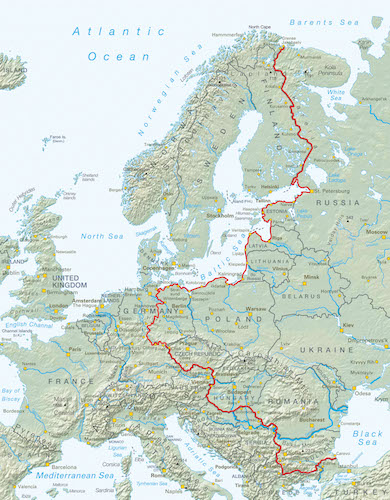 Map found here

I had a startling realization that I was preparing to travel to a communist country. This brought up an amazing amount of fear and almost guilt. Like I was betraying my country. Like I was letting down my father and all of those people he worked with back in the day. Or that I would surely find myself taken prisoner and subjected to intense KGB scrutiny simply for being an American in the wrong place.
Of course, all of that is patently ridiculous. The Czech people had taken back their country in 1989 and Americans visit Prague all the time. One of my coworkers had just been there and she loved it.
My weirdness was not helped when the guy who heads up the property team at work dropped a letter on my desk and told me to keep it with my laptop when I traveled. The letter assured that my employer owned the machine and that I was authorized to carry it.
I said, "This is my fourth international trip for our employer. I should admit I've never had a letter like this before."
He quickly replied, "That's because you've never traveled to a former Communist country before."
Oh.
Back in the day, I loved that movie "White Nights." What more could a movie do to pander to GenXer fears around the Cold War? Plus, I had enormous teenage tingly feelings for Gregory Hines (I can confess I actually got to meet him once and he was even more handsome in person, and also a true gentleman). Mikhail Baryshnikov was not exactly hard to look at either. But I'm wandering off topic…
That scene where Baryshnikov's character, a defector from Russia, realizes the airplane is going to make a crash landing in Siberia had a big impact on me. As he's tearing up his passport and flushing it down the toilet, I was terrified. When the inevitable straight out of central casting KGB agents arrived to harass our hero, I just knew that was EXACTLY how it really was. This was more documentary than fiction, right? <*smirk*>
It was with all of these thoughts and fears that I boarded a plane headed for the Czech Republic. Of course what I found when I landed was a beautiful country and very kind people.
My first foray into the center of the city of Prague was to attend a formal dinner at the historic Rudolfinum. One of my coworkers who knew her way around suggested we get off the Metro a couple stops early and walk about half a mile to the venue. Well of course, I was excited at this very idea. My first real exposure to the heart and soul of Prague.
I was immediately enchanted by the lumpy cobblestone streets and the very old buildings. We soon came across an odd building with four statues over the entrance depicting what appeared to be, to my eye anyway, communist era workers. The kind of thick neck and heavy features you'd find in a Diego Rivera painting.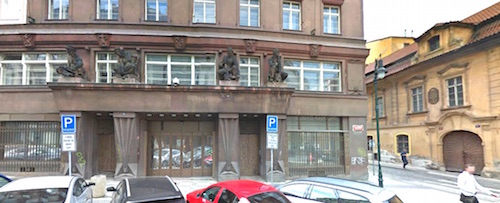 A very bad screen grab from Google maps because I didn't take a photo while there

I had kind of a "holy shit, look at that" moment and kept walking. There was a remnant of Soviet era Prague right there. Right there!
As we kept walking my eyes landed on souvenir shops with colorful marionettes, crystal shops, many pubs, restaurants and even a big ol' Burger King, and I knew that it was okay. I was not somewhere I wasn't supposed to be. I didn't need to rip up my passport and toss it into the murky blue waters of an airplane toilet.
No, rather, I was exactly where I needed to be. Instead of fear I felt proud that my ten New Mexico bred toes felt the pulse and music and life of one of deep Europe's most beautiful cities.
Now, in hindsight, of course I was being ridiculous. I mean, my brother has traveled right into the heart of Moscow, Americans are free to visit Cuba, and Dennis Rodman gets to visit his bestie in North Korea. It's a different world and a different view.
At the end of the day, it turned out that the Russians did (and do) love their children too.