This one goes out to all of us who found ourselves attending New Mexico State University back in 1989. Maybe it was 1990. Memory is funny.
This one is for the Ag College kids. I'm about to drop a memory on you. Come along with me.
I can't really recall what time of year it was, but it was sunny. That much I recall. Then again, it's sunny in Las Cruces an awful lot.
The band Foster & Lloyd were on the radio. Remember them? Back then we were all listening to Foster & Lloyd. A lot. And Dwight Yoakam. And the Mavericks. And more.
So along came the news that Foster & Lloyd were opening for a Los Lobos show at the Pan Am Center. Yeah, I wanted to go to that show real bad. Alas I was a broke college kid and couldn't afford tickets. I heard the ads on KGRT over and over and pined, but knew it wasn't meant to be.
So instead I popped my Faster and Llouder cassette tape into the boom box I carried in the car. Or maybe it was Verision of the Truth. Or maybe first one then the other. And I held my own car concerts as I rolled around Cruces.
Then something unbelievable happened. My best friend called, out of breath and excited, to tell me that Los Lobos had to cancel the show and Foster & Lloyd were going to do a free concert just outside of Corbett Center (the student union building at NMSU) in this little amphitheater area.
We gathered up all of our friends, an armful of blankets and made sure we went to that show. My best friend walked with confidence right to the front of the small stage area and staked out our place. Up close and personal. We sat, we listened, we sang, we were a bunch of kids feeling an awful lot like family on that day.
For a bunch of Ag College kids from NMSU (hands up now, "I believe in the Future of Farming…") having a national act come out and do a show FOR FREE was, well, that was about the coolest thing in the world.
That was a best-day-ever kind of a day. Back then anyway. Sitting here today I do have to admit that my wedding day is my best day ever, hands down. But back then to this New Mexico kid wearing dusty beat up goatskin ropers, that sunny Las Cruces day was really the best day ever.
My best friend and I slip into the Wayback Machine an awful lot when we get together, and that free concert is one we land on quite a bit. What I wouldn't give to have a real Wayback Machine and dial it to back to that day. I might never come back.
Toward the end of the show, Foster & Lloyd were really swinging. We were all riding a sonic high and at one point, Mr. Radney Foster wandered out into the audience and put a hand out to my best friend's little sister. He plucked her from our blanket and spun her around a little bit with the music.
My best friend and I were both elated and jealous as hell. In fact in the now twenty-five years hence, I know for sure that my best friend has never really gotten over it. Neither have I, if I am honest.
My best friend's little sister was and is a beauty. Gorgeous and sweet and funny as hell. She is pure awesome and I love her madly, so of course I can't be upset with her. Just jealous, I guess.
When we were in college, Little Sister was in high school and she'd find her way to Las Cruces and we'd take her out with us. When a cowboy would start to get a little too interested in her, my best friend would wander by and whisper "Um, just thought you should know…she's sixteen." That usually put an end to things.
So we were used to her getting a lot of the attention. On that day after Mr. Radney Foster twirled her under the bright New Mexico sky we laughed and hugged her and loved every second of that show.
It is a beautiful memory. Were you there too?
A few months ago I happened to stumble across Radney Foster's Facebook page and hit "like" so I could see what he was up to. I'd lost track of him after his Del Rio, TX 1959 album.
Then came the fateful day where he posted that he'd be playing a little venue called Freight & Salvage in mid-July. That's not too far from where this New Mexico kid is living these days.
Well, I hopped on those tickets so fast my credit card started smokin'.
And that live show happened just a week ago, July 15.
The Good Man had never heard of no Radney Foster until I showed him a bunch of YouTube clips in the days before the show. Then he was totally onboard. We stood at the front of the line when the doors opened and found second row seats in the general admission venue.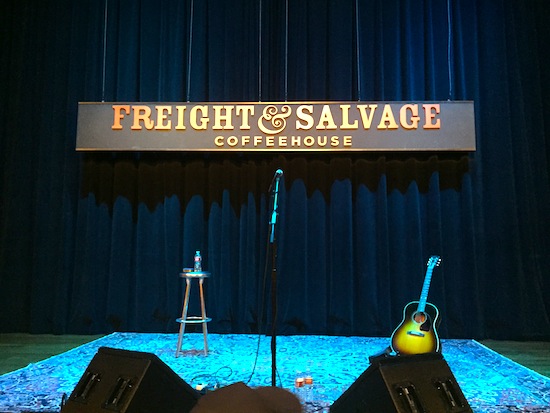 Photo Copyright ©2015 Karen Fayeth

It was just Mr. Foster and his acoustic guitar and he put on one hell of a show. Storytelling, songs, laughter. Man alive, it was really profound. It was like seeing a really dear old friend and picking up right where we left off twenty years ago.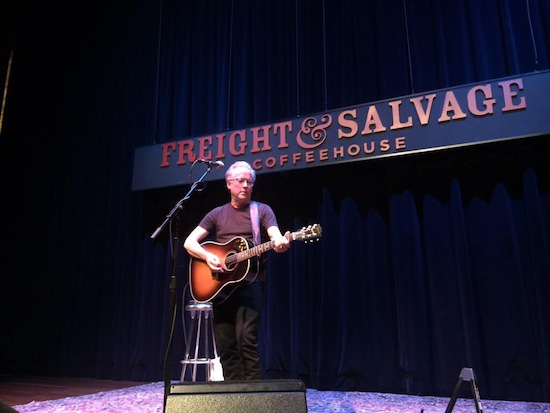 Photo found on @valisaschmidley Twitter stream because I was too gobsmacked to actually take a photo myself during the show.

I almost started crying when he hit the first notes of the first song. It felt so right.
And then…oh and then…
After the show, Mr. Foster came out to the front lobby to sign a few autographs and I jumped in line.
I practiced what I was going to say and when I got there, I let roll the story of that day, 1989 (or was it 1990?) in the grass outside Corbett Center in Las Cruces, New Mexico.
Given the sheer number of shows he has performed in the last 25 years, I was surprised that he actually remembered that one day. But he did.
"Oh yeah, we were rocking that day," he said.
"Yeah you were!" I replied.
Then I thanked him, I told him how much that free show meant to all us New Mexico college kids.
Then I reminded him about coming out into the crowd and dancing with my best friend's little sister. About how my best friend has never quite gotten over it.
Then I held out a copy of his new CD and said "Her name is Kate and you are going to sign this for her."
(The album is titled "Everything I Should Have Said" and it's awesome and you should pick one up. Here is the Amazon link and here is the RadneyFoster.com link ($3 cheaper!) Go on, click one of those links. You know you wanna)
And he did sign that CD. Oh boy did he ever.
Here's what it looks like. In case you can't read it, it says "Kate, You get the next dance."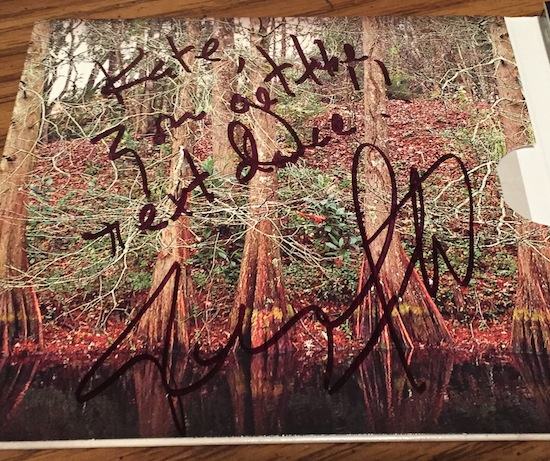 Photo Copyright ©2015 Karen Fayeth

C'mon! How awesome is Radney Foster? The correct answer is amazingly awesome!
I told him that he had just created some healing twenty-five years in the making and he laughed. Then I had that "hey, let's go grab a beer" moment and of course thought better of it. He's just the kind of musician you feel like you know well because he writes the kind of songs that feel personal.
Then I asked him to sign a CD for The Good Man and me, and he did.
I walked out of that venue smiling from ear to ear and remembering and laughing and just at peace with the world.
And so this entire post today and all of these stories are intended to bring all of my NMSU Ag College friends along with me into that Wayback Machine.
Were you there? Do you remember? Wanna reminisce?
This post is also to thank Mr. Radney Foster for helping create another amazing memory.
Whew. Today as I wrote this I listened to The Essential Foster & Lloyd album and it was almost hard to hear. So many memories both beautiful and sad captured in all of those songs.
Well, thanks for staying a while and reading all of these words. I'm serious about you grabbing one of those new albums. Get to clicking! And if you can catch Radney Foster live? Well even better.
____________

P.S. If you have ever wondered how a New Mexico girl could ever live in California, I suggest you obtain a copy of Mr. Foster's new album and listen to the song "California." (I believe it is also on YouTube) Then you will understand. According to the story, that song was inspired by a beautiful Bay Area sunset as viewed from the Oakland Hills. Saaaalute!

This morning at an hour not early enough to avoid crushing commute time travels, I navigated my old Jeep through some swirls and whorls of Bay Area traffic and found myself on Highway 80 approaching the Bay Bridge.
As I did, I was thinking about the planned upcoming visit from my best friend in the whole world, and how excited I am to see her. Been too long.
I was listening to a shuffle of whatever music is on my iPhone by way of calming my nerves when a real old song came on, one of my best pal's faves (a Waylon Jennings tune if you must know). As often happens to me in this crazy mixed up life of mine, what I saw with my eyes was the Bay Bridge but what I wished in my heart was that I was somewhere else.
Something about the springtime makes me miss New Mexico pretty ferociously. I let some memories in and found myself landing in a place called Lake Valley and the abandoned schoolhouse where we used to go to dance. That's a whole other highway then were I was in that moment.
All of this reminded me that I once wrote about Lake Valley so I went into the archives and pulled this post up from 2007. I had to edit it quite a bit because, well, my editing skills have improved a bit since then.
So here's a memory. Do click on that link to the Baxter Black piece if you get a chance. He says it better than I ever could.
Happy Dancin' Friday to you, wherever you are today.

—————-


When memories reach up and grab you

Originally published March 26, 2007

Lately I've been on quite a jag of reading the works of one noble New Mexico-born left handed cowboy poet named Baxter Black.
He's a good friend of my "adopted dad" (my best friend's father) and I had the chance to meet him face-to-face back in college. Of course, I've heard plenty of his stories over the years.
I was heartened to see that my local library carried a good selection of Bax's works. They make you smile, make you think and make you outright laugh yer bum off.
I just got done reading one of his collections of NPR material called "Horseshoes, Cowsocks and Duckfeet".
One selection from that book is called "Lake Valley" and man oh man, that almost made me weep with homesickness. It also made me smile to know that two people, some twenty-five years apart in age, have similar memories of the same place and similar events. That's the staying power of Lake Valley.
Back at NMSU I used to go to dancing at Lake Valley with my best friend. She's the one who turned me on to it. Her parents used to come along for the fun because they went to NMSU too, and they danced at Lake Valley (probably along with Bax).
I remember at the dance they used to charge a family rate of $20. My fill-in dad would gather up all us scraggly college kids, blonds, redheads, brunettes, short, tall, thin, stocky and all about the same age. He'd lead us to the door, point to our gang, tell 'em that was his family, throw 'em a twenty and we'd all get in.
You know, in our way, we were (and are) family. [insert my best wistful smile right here as I miss my best friend for like the hundredth time today, already]
The way Bax describes Lake Valley in his writing is just how I remember it. When I was dancing, it was with a band called The Rounders and they played the old songs. What a talented group, The Rounders. They even played at my best friend's wedding. Now THAT was a party.
At the end of this post is a photo I found online. It's how the schoolhouse used to look when it was still a school. Ok, imagine that, but with no desks and a lot more years on it. That's pretty much how I remember. See that riser there at the end? Where the teacher would sit? That's where the band would play. It was a long narrow room so we had to dance in a long oval. Like Bax said, as we danced, the floorboards would give under your feet and they weren't particularly even and a few nail heads were popped up, so you had to mind your feet. But oh it was a hell of a good time.
I've never felt quite so free, happy and in touch with the simple easy joys in life as I did dancing at Lake Valley. I miss the feeling of flying I'd get dancing a polka with my very tall and very dear friend Larry. I loved the camaraderie of wrapping arm around arm and doing the Schottische and Cotton Eyed Joe ("stepped in what?").
And, as Bax said, when the band took a break, we'd all migrate outside to cool off and dip into someone's ice chest for food, beverages and the telling of a few good stories.
We were all community then. We were bound by our heritage and our lives in New Mexico. Under that bright moonlight we were all inextricably connected, and it felt so right.
Ah the memories. If I let 'em, they'll take over my whole day.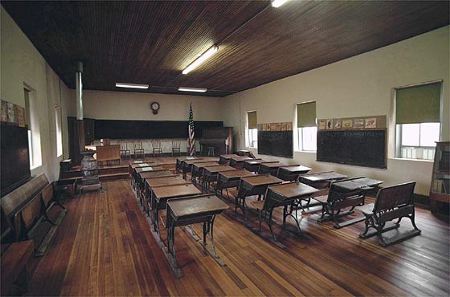 Image from Living Ghost Towns.

So there I am, Saturday morning, sleeping in a quiet bed in a quiet room at an undisclosed location somewhere near Radium Springs.
It's the first real quiet I've enjoyed in six months. That was the last time I visited Southern New Mexico.
And then, literally cutting through the early morning hours comes, this:

That's a lot of saw blades!

It's tree trimming time at the pecan farm next door to my best friend's place.
A piece of heavy farm equipment with six whirring saw blades cutting through hearty pecan wood sounds, well….just about as awful as you'd expect. Every once in a while they'd hit an especially green branch and the sound was the stuff of nightmares.
After the saw passed by, the trees looked like a line of military recruits with brand new flattops.

Evidently pecan trees will immediately put out new growth in the areas where they have been cut. Futher, pecan nuts flourish on new growth, so pecan farmers cut back the trees to boost production.
I gotta say, back in my formative years, I don't remember pecan farmers cutting back trees so much. But then again, we didn't have the robust demand for pecans from Asian markets that we see today.
From a 2011 WSJ article: "Five years ago, China bought hardly any pecans. In 2009, China bought one-quarter of the U.S. crop, and there's no sign demand is abating."
So farmers will do just about anything to boost production.
.
.
.
Hey, did you know that pecan trees are notorious water hogs? And right now, the drought in New Mexico is palpable.
Oh, but that's a different story for another day.

Photos Copyright 2012, Karen Fayeth and subject to the Creative Commons license in the far right column of this page. Top photo taken with my Canon Rebel, bottom photo taken with my iPhone4s and the Camera+ app.

Despite the fact that The Good Man and I actually moved two weeks ago, we didn't fully depart the old place until this past weekend.
That last mile is a sonofabitch.
I guess we just wanted to save the best for last? Or something. Basically, the last stuff to exit the old place was the stuff from deep in the dark recesses of storage under the house.
Let's be honest, this stuff it wasn't "our" stuff, it was my stuff. Lots and lots of boxes, some of which hadn't been opened since they made the 1,200 mile ride from Albuquerque to the Bay Area.
The goal this weekend was to open those deteriorating boxes, get rid of what I could, and what was left, repack into fresh boxes and move on.
This proved to be a more difficult task than I had expected.
There were some surprises in those ol' boxes. Especially the one I'd jauntily labeled "Karen's Childhood."
What a doozy that one was.
Sunday morning, there I sat on the cold floor of my now former garage, used my Buck knife to slice open the "childhood" box and dug around in there. I extracted a now almost fourteen year old gallon size Ziploc bag containing a bunch of papers and stuff I clearly didn't know what to do with when I left Albuquerque.
I unzipped the bag, pulled out the contents and went through it piece by piece. I turned over photos, old love notes, and a ticket stub.
I gasped and my eyes got a little watery from both joy and memory.
The Wayback Machine gobbled me whole.
Here's what I found:
The year was…um….yeah. 1990? Maybe 1989? Oh jumping jehosophat! I don't know. A long time ago when my skin was elastic and my pants were not.
It was Ag Week at NMSU. An annual celebration that was a week full of fun, games, and dancing for all us kids in and around the Ag College. It culminated in a big concert and dance at the Pan Am center on the last day of the week.
This was a special year. My best good friend excitedly told me that her Uncle Bax would be performing at that year's Ag Week. And by Uncle Bax, she meant Cowboy Poet and legendary New Mexican, Baxter Black.
That year there was another yahoolio on the bill with Bax. Some nobody named Vince Gill.
Yeah. That Vince Gill. Before anyone knew who he was.
Friday morning we were invited to come to the Ag Lobby to meet and greet. Bax was there holding court and signing autographs, and gave my best friend a huge hug when she walked up. We talked and laughed with Bax a while and then we went over to check out this Vince Gill character. He was wearing a pair of NMSU sweatpants, a three day old scruffy beard, and hair that hadn't been washed in a good long while.
He was nice enough. Looked totally exhausted. He signed a glossy black and white promo photo (I found that in the bag too) and we walked away wondering who that rube was.
He put on a hell of a show that night. And so did Uncle Bax.
Let's just say this, it was a hell of a party.
One for the history books. Sure would be fun to live that one again.
When the trash went out at the end of Sunday, the Bax and Vince ticket didn't go with it. It went back into the Ziploc bag, then into a new box.
Maybe in another fourteen years I'll slice open that box and discover it again.
And gasp.
And well up.
And remember.
Those were salad days, indeed.

As you read this, I'll be winging my way over California and Arizona and on my way to New Mexico.
Look up and wave hi if you see me coming by.
I'm headed back to Southern New Mexico for a purpose.
As I've told you, I take my job as co-madre very, very seriously. I love the two daughters of my best friend with such intensity that sometimes I forget I didn't carry them inside my own body.
They matter that much.
My baby girls, now 8 and 11, are part of their local 4-H and this year they took on the project of raising pigs. They worked very hard at this, including helping their dad clear an empty space in their yard and building the pig barn.
Every day they feed and medicate and care for those little oinkers. They text me photos. They tell me how cute they are. Those girls are in love with their little piggies.
This weekend is the final part of the process: an auction at the Southern New Mexico State Fair.
I never raised show animals myself, but most of my friends did. I know from experience that the auction can be really difficult.
Really difficult.
Especially the first time through.
As my friend said, "get ready for big crying."
And I am. I think.
The Good Man and I will join forces with my best friend and her husband and we'll hug those kids as hard as we can and try to make it better.
Because in the end, I'll probably be the one crying the hardest. It hurts when my little ones hurt.
This is the dilemma of a country kid. It's part of their 4-H training, learning to raise and care for animals, but knowing that these animals are also part of the food chain.
Most people don't look at a bag of groceries and understand where, exactly the food came from. People think beef just comes in patties like that. Eggs are created in foam containers. Milk is mixed up back in the stockroom.
My girls know better. My girls are savvy and strong. They know the land and how to create sustenance from it. They join the long line of proud agricultural New Mexicans.
And so they'll cry a little and grow up a little and learn a lot.
Or, hell, they might both grow up to be vegetarians after this experience. Who knows?
Wish me luck! I'm going in!
Photo by Gareth Weeks and used royalty free from stock.xchng.