A few days ago I posted the refreshed for 2018 Top Ten Things I Miss About Christmas In New Mexico, which has become something of an annual nostalgia trip for me.
As I was writing it, I thought to myself, you know….I've lived in the Bay Area for twenty years. Maybe it's time to write a top ten for my current home.
I mean, I am an ex-pat New Mexican and will always be a New Mexican, but I've lived in the Bay Area long enough to also call it home. I guess I'm lucky in that way, to call more than one place my home.
And so without further ado:
Top Ten Things I Love About Christmas In The Bay Area


1) San Francisco's buildings lit up like presents. Around Thanksgiving the buildings on and near the Embarcadero turn into glittering holiday presents and the Ferry Building lights up red and green.
My first Christmas living here, I'd taken a ferry over to Sausalito to buy presents. When I came back over on the ferry, just as the sun was setting, I saw those gift-wrapped buildings for the first time I couldn't stop staring. It's so beautiful and an annual tradition.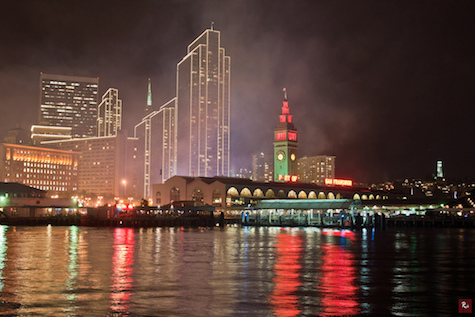 This was taken just after New Year's Eve fireworks last year, hence the smoke, but the view can't be beat. Image found here


2) And while we're talking about things down on the Embarcadero, how about the tradition of Palm trees wrapped in Christmas lights? Other than one sickly Palm tree doing its best to grow by the NMSU library, there aren't really a lot of Palm trees in New Mexico.
But there are plenty here and I love that they get in on the holiday fun. The Bay Area is hardly the only place to feature lit up holiday Palm trees, but it is the first place I ever saw the style and I've always loved it.
Here's an example of the Palm trees outside of AT&T park (there are 24 Palm trees to honor legendary #24, Willie Mays).
Image by Fuzzy Traveler and found on Flickr.

3) To stay on the theme of trees, the Bay Area hosts and awful lot of offbeat Christmas trees each year. I don't recall seeing a lot of weird trees back home in New Mexico, mostly normal trees decorated in the traditional way (which I love). But since living here in the Bay Area, I've seen a variety of trees including one decorated with only the heads ripped from dolls (weird), a tree decked out solely in Star Trek gear (nerdy), trees made of alternative materials like lab supplies, computer servers and routers, and then this one found at an architecture firm by internet friend, UPS driver extraordinaire, and longtime San Franciscan, Rafael Monterrosa.
Photo copyright Rafael Monterrosa (@rafael415 on Instagram), and used with permission. Give Rafael a follow, he is a fantastic photographer and posts photos from his travels all around the city of San Francisco. He's got a sharp photographic eye and knowledge of the City like no one else.


4) Okay, one last tree thing: Another fine Bay Area holiday tradition is tree lighting ceremonies. Usually happenig the weekend after Thanksgiving, every town has at least one. From the Union Square and Ghirardelli Square events in San Francisco, to Jack London Square in Oakland, to Christmas in the Park in San Jose, and lots of smaller neighborhoods and businesses in between, people love to come out to see trees light up for the first time of the season, drink hot chocolate, and get into the holiday mood.
Here's a photo from my little neighborhood's second annual tree lighting event this year: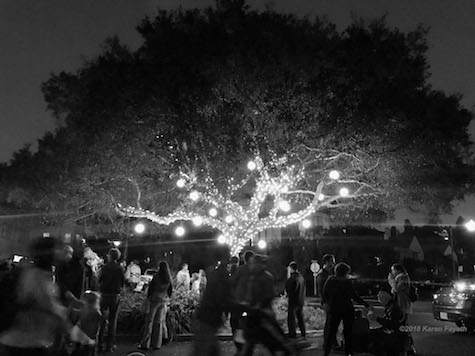 ©2018 Karen Fayeth

5) Now it's time to move on to the fantastic Bay Area food traditions at the holidays. Let's talk about Lumpia which can be found at just about every holiday potluck. Living in the Bay Area has opened me up to the traditions of so many cultures that I just never experienced back home in New Mexico.
I have been honored to know and work with so many amazing people from the Philippines, and they have lovingly introduced me to their food, most notably lumpia, which can roughly be described as a Philippino egg roll. More colloquially it's been called the food equivalent of crack, and I can't disagree.
Nothing more joyful than a huge pile of lumpia at the holiday party. No matter how many are in the pile, they will certainly ALL be gone within no time, and I will do my part to make them disappear. So freaking good.


6) Let's keep talking about holiday pot lucks because the Bay Area likes to eat, something I have always loved that about living here. In addition to lumpia, holiday eating in the Bay is an enormous cross section of diverse foods, all of them delicious.
This year my loaded down holiday plate included lumpia, pork buns, chow mein noodles, Italian seafood lasagna, samosas (delicious little savory pockets from Indian culture), German stollen, Hungarian floating island dessert, pecan pie (hello pecan producers in NM!), enchiladas, guacamole, ceviche (done in a Brazilian style), and much more.
I mean, come on! The amazing diversity of the Bay Area means the best of foods from around the world. What's not to love?


7) I'm not done talking about food either. Holiday season is also Dungeness crab season. Starting roughly in November (start dates depend on a lot of things), this is the time of year where the commercial crab season opens, and oh what a season.
For many Bay Area families, it's tradition to go down to the wharf or to certain places at the coast on Christmas morning to buy crab. Fresh caught that morning, and you can take it home and cook it yourself, or pick one out from the steaming vats.
As a single gal, I used to celebrate holidays with a dear friend, and she loved this tradition. She'd go out early in the morning to buy crab then put a huge stock pot in the middle of her dining room table to catch the shells and we'd dive in with hands and metal crab crackers. Some folks think eating crab is too much work, I say those people leave more crab for me and that's just fine. Delicious!

8) Going to the beach on Christmas day. One of the best Christmases I ever had was when I was all alone, a little depressed, and I made the excellent decision to pack up some leftover Chinese food, a blanket and a small radio and head to the beaches of Half Moon Bay for the day. It was a balmy 65 degrees and for many hours I had the beach all to myself. I read, I ate, I zoned out, I watched the waves, and I wasn't lonely for a minute.

9) The smell of eucalyptus and fog. Okay, fair enough, this is not just a holiday thing, but for some reason it stands out for me during the holiday season. The Bay Area is home to quite a few Eucalyptus trees, which are actually an invasive species, but are now just a part of life here.
The Bay Area geography means we have what is called a "marine layer", which is the reason for the iconic fog we experience. Roughly explained, when a warm Bay Area day meets the cool, cool Pacific Ocean, they crash into each other and create fog.
Add to that when a Eucalyptus tree gets warmed up, it releases its very aromatic oils.
So you have a warm tree giving off oils and by the afternoon a marine layer pushing ocean fog into the Bay Area. This creates a smell that is unique to the Bay Area all year round. Add in the moist damp air from the rainy season that starts around the holidays and you have something that will forever be etched in my mind. Even my sister recently commented on her memory of the Eucalyptus smell from her last visit.

10) To use a colloquialism from the internet, I truly love the way the Bay Area is so very extra at the holidays. Examples include the enormous real Gingerbread House at the Fairmont hotel, the entire Oakland Zoo covered in holiday lights, the huge Dickens fair, the full size skating rink constructed every year at the Embarcadero Plaza, real live reindeer at the Discovery Museum, the lighted boat parade with holiday lights from San Francisco's not one but two yacht clubs, and that's not even the beginning of a comprehensive list. There is always something to do, to try, to remember, and to make a tradition.
The Bay Area loves the holidays and I love everything about that.

_______________


Well that ended up being an awful lot of fun to write. Maybe posting this version right after my New Mexico version becomes my new holiday tradition.
Basically, I just love the holidays and all the food, smells, and trees, so I guess wherever in the world I live, I'll find something to love and write about at the holidays.
Thanks for coming along with me on this journey. Feel free to tell me what you love best about the holidays where you live either here or on any of the social media where we connect.
And to you and yours, wherever in the world you are, wishing a wonderful, joyful, and magic holiday season.

So there I am, Saturday morning, sleeping in a quiet bed in a quiet room at an undisclosed location somewhere near Radium Springs.
It's the first real quiet I've enjoyed in six months. That was the last time I visited Southern New Mexico.
And then, literally cutting through the early morning hours comes, this:

That's a lot of saw blades!

It's tree trimming time at the pecan farm next door to my best friend's place.
A piece of heavy farm equipment with six whirring saw blades cutting through hearty pecan wood sounds, well….just about as awful as you'd expect. Every once in a while they'd hit an especially green branch and the sound was the stuff of nightmares.
After the saw passed by, the trees looked like a line of military recruits with brand new flattops.

Evidently pecan trees will immediately put out new growth in the areas where they have been cut. Futher, pecan nuts flourish on new growth, so pecan farmers cut back the trees to boost production.
I gotta say, back in my formative years, I don't remember pecan farmers cutting back trees so much. But then again, we didn't have the robust demand for pecans from Asian markets that we see today.
From a 2011 WSJ article: "Five years ago, China bought hardly any pecans. In 2009, China bought one-quarter of the U.S. crop, and there's no sign demand is abating."
So farmers will do just about anything to boost production.
.
.
.
Hey, did you know that pecan trees are notorious water hogs? And right now, the drought in New Mexico is palpable.
Oh, but that's a different story for another day.

Photos Copyright 2012, Karen Fayeth and subject to the Creative Commons license in the far right column of this page. Top photo taken with my Canon Rebel, bottom photo taken with my iPhone4s and the Camera+ app.

In the wake of my most recent (and fabulous) visit to my home state of New Mexico, I find I'm getting my old crone on.
New Mexico has both grown and grown up over the last twenty years. I suppose change is inevitable.
But sometimes I still lament the way it used to be.
So here's a top of my mind list of how New Mexico used to be. This just happens to be what I'm thinking about on my first day back in California on a stormy Bay Area day.

Grumpy McGrumperson's List of "That was my New Mexico"

It rained in summer. It snowed in winter. The Rio Grande bulged with water in July. Farmers irrigated their land. Sure, it was still a desert, but water didn't cost $300 a cubic meter. Cotton plants grew tall. Pecans grew large. It worked. Now New Mexico is in the midst of a terrifying descent into serious drought and a mismanaged water conservancy.
If you went to the Balloon Fiesta, there was never, not for one moment, a thought that you'd just sit there and watch. You were expected to pitch in, even if you were a small child. "Safety" and "insurance" didn't ever come into mind. We just helped, because getting those hot air balloons off the ground was what we did in Albuquerque.
Breakfast burritos at the Balloon Fiesta were cheap, incredibly delicious, and you bought them out of a battered ice chest and didn't think twice about it. Same with tamales at Christmas.
Pinto beans were made with pork. No one ever wondered about or protested this fact. Ever.
If you ate a Biscochito, you didn't question if it was made from lard. OF COURSE it was made with lard. And no one thought that was weird, bad or worried that it would make them fat. Anything but lard was unfathomable.
Luminarias used a real candle. None of this electric hogwash.
If it said Hatch green chile, you knew it was actually from Hatch. It seemed strange to even question.
When you looked into a bucket of ice at a bar, and pulled out a bottle, it was beer. Just beer. None of these foofy malt-based sugared up drinks. Just beer. And decent beer. What's with the light, light, oh so lite you can breathe it like air. Just drink a damn beer! Or don't. (this comes straight from the events of this weekend. I grabbed what I thought was a beer. It wasn't. *sigh*)
While on a two lane highway, when someone passed the other direction, you gave 'em a wave. Be it whole hand, the pointer finger, two finger Boy Scout style or whatever acknowledgement you like, you did it. And the other driver waved and smiled back. (in some places this still happens, but I got an awful lot of unreturned waves this weekend.)
We didn't call a tortilla a wrap. It was a tortilla. They weren't made of spinich or tomato, and if mom made 'em from scratch they were thick and oh so very good.

There's more, I think, but that's enough of what's bothering me today.
I suppose time marches on whether I march in step or not. New Mexico can't stay the same forever and neither can I.
Must be the dark clouds I have, both mentally and meteorologically, that's got me all stirred up.
Wish I could find a way to send you some of this wet weather, my Fair New Mexico.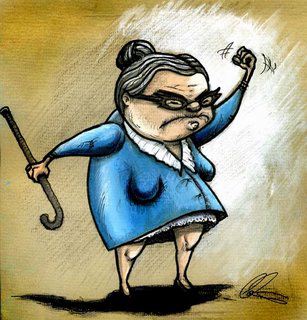 From the Monday Las Cruces Sun-News:
New Mexico's pecan industry posted its largest-ever production for a low-bearing year and raked in the most money – some $186.8 million – in the nation last year, according to a recent official report.
That's good news! That's very good news! For my farmer friends who haven't either sold their farm or converted to corn, pecans are an excellent way to keep the land and make good income. It's a proud New Mexico tradition.
In the past few years, China has developed a taste for pecans, so global demand is high, which also means the prices paid the highest ever.
So yes. I'm happy to hear this. A tip of the cap to the Mesilla Valley farmers.
But there's a little bit more to the story than just a fabulous year with a bumper crop.
Earlier this year, I was in Las Cruces and noted to my best friend and her husband that I was surprised to see so many farms around where they live were planting pecan trees. I'm enchanted by pecan groves with rows and rows of tree soldiers standing firm in very straight lines. I'm fascinated by the process of picking pecans using a machine that shakes the tree and a raker to pull all the ripe nuts out of the soil.
So I wasn't too upset to see new pecan groves going in. That's when my best friend's husband gave me a little insight.
The word is: Water.
Southern New Mexico land owners are fighting with their local water district and the state for irrigation rights. My friend used to be able to order up water and flood his acre with regularity. Now he has to wait and sometimes isn't allowed to get water. To top it off, his costs for irrigating have nearly tripled.
But, he told me, there's a loop hole. If you have pecans on your land, you have better access to water rights due to a court case and adjudication between the New Mexico Pecan Growers Associationand the Elephant Butte Irrigation District. So everybody and their brother are rushing to plant even a few pecan trees so that they can continue to irrigate their land. There was a rush on pecan saplings, in fact, they actually ran out in many stores.
But this is a convoluted story…because pecan trees are water hogs. By encouraging people to plant more pecans, they are using up ever more of the already precious resource.
So we've got all of these people with pecans on their land. Even a few trees can produce a lot of pecans. It's pretty easy to pick your own pecans and sell them in town (mostly to the Salopek operation) and pick up a few extra dollars. Plus you still irrigate your land. All in all, that's a pretty good deal.
So again…I'm happy about the fact that the Mesilla Valley had a banner year and that farmers are making money on pecan and people are still able to access water for irrigation.
But I'm worried.
Here's an older post in my ongoing musings about Southern New Mexico and water.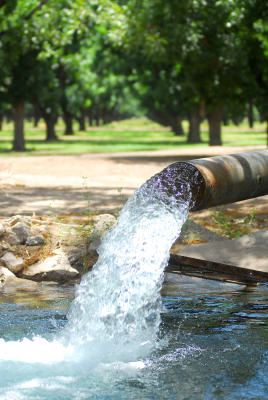 Photo Credit: Robin Zielinski/Sun-News

You know, I'm really very spoiled. Terribly so, and I must work to not let it all go to my head.
But, I must also say…I deserve a little spoiling now and again…
Like, say, around the celebrations of my birth? Yes. Always a good time to spoil me rotten, and my wonderful mom-in-law held nothing back.
In fact, Sunday was a darn good day in my life.
The day started with the opening of Localvision 2010, a photography exhibition. I was invited to add a photo to the event, and was totally geeked out by the first real gallery showing of my photography.
The Good Man and his mom went along with me to be my entourage for the fun.
It was really heady to see my framed print on the wall and to see people looking at it and talking about their impressions of the image. It pretty much made we want to go hide in the bathroom for the duration. But I held strong.
After the gallery opening, we went to my mom-in-law's place for dinner.
And oh what a dinner.
For appetizers, there was guacamole (yum!) and Italian salami, and olive and feta cheese and oh my!
I was already starting to fill up.
But then, oh then…….
That amazing cook made me chopped chicken livers. Fresh! From scratch! I saw the actual raw livers before the magic began!
Oh my heavenly days! My love of da liver is well documented.
A whole bowl of homemade liver-y delight! All for me me me me!
Whooooo! I get dizzy just thinking about it. It was the best chopped liver ever in my history.
I almost wept. I really did. It was a brown lump of heaven on a cracker.
If loving cooked chopped organ meat is wrong, I don't want to be right.
As I surrounded the bowl, my husband had to remind me that I could take some home, I wasn't required to eat it all there. Seriously, I was afraid someone would take it away from me!
But there was more!
Succulent chicken for dinner with the most delicate and tasty potatoes on the side.
And then….
Oh then….
Homemade baklava for dessert.
For me! Me me me me me!
Ok, I shared the baklava with The Good Man since he'll eat it (and not liver).
But damn!
I loved my multicultural dinner (Mexican, Greek, Italian, Jewish, etc). I felt so incredibly spoiled and it was one of the best birthday presents EVER!
Whoo.
Today I might need to take a walk and burn a calorie or two. I may have overindulged just a skosh.
And that baklava in my 'fridge. It calls to me. Sings to me. Beckons me to come and sample of the tasty goodness inside.
I. Can't. Resist.
The chicken liver is already gone. I couldn't resist it so much I had it for breakfast, lunch and dinner and every snack in between.
*burp*
Feliz Cumpleaños para me!