It's funny the things that stick with you. The seemingly forgettable details or moments that you look back on with fondness.
This past weekend, I returned home to New Mexico after a far too long two-year personal drought. Life, work, whatever, gets in the way (no excuse is good enough).
The occasion of my return was the high school graduation of my oldest goddaughter. At almost 19 she is no longer that curly-haired blonde toddler who captured our hearts. She is a smart, sassy, funny, talented and gorgeous woman and I'm a bit weepy right now just typing that. I'm so proud of her.
I have been working too many hours and it's fair to say I dragged my ragged self onto a plane, glad to go home. Sometimes I feel like I wander a little too far away from New Mexico. I forget the foundation of my soul and going home never fails to readjust my mind, my very DNA. It gets me back to remembering who I am and what matters.
Plus I eat good when I'm there, and green chile itself will help anyone get right.
Each time I go home, I'm overwhelmed at all of the things that have changed since the last time I was there. El Paso is growing fast. The area around Las Cruces too. More cars, more buildings, more people. It's crazy.
So then I start to seek the familiar. What hasn't changed. What is there that I remember so I can have a touchstone. A "hey, there that particular thing is, just where I left it."
The feedlots in Vado, for example. I was pleased to find them there, cows huddled under the water misters. The inevitable cow scent on the breeze.
The Organ Mountains. Craggy, uneven, and absolutely gorgeous. I see those mountains that once watched over my college education and smile, glad to say hello again.
So today at work when I was homesick, missing my best friend and the peace of her back patio, I started going through the photos on my phone to help me with the pain.
Did I find photographs of vast mountain landscapes? Did I see the faces of my loved ones? Did I have a whimsical photo of a cow?
No I did not.
All of those sorts of photos are on my actual camera. Weirdly, I took very few photos with my phone on this trip.
So I will share with you the two photos I did take. Memories I'm carrying in my pocket to remind me of home. This gives you an awful lot of insight into my muddled mind:
First, a photo of my goddog. I may have taken one or two photos of him in the past.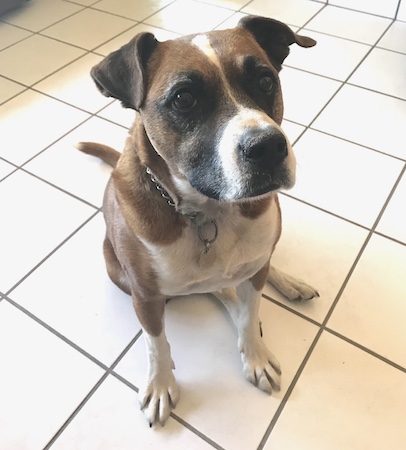 The gray hair around his eyes and in his muzzle makes my heart hurt, just a little

The second will take a little more explanation.
You see, to get back to Las Cruces, I have to fly into El Paso and while that's not my town, over the years I've even grown a bit fond of that crazy place.
When I stumble off the airplane and into the terminal I find that nothing much has changed. Then my heart softens a little when I see the genuinely godawful carpet in ELP's main terminal. Seriously, it's so bad, it makes me sentimental.
Nothing says "welcome home" like lizard carpet. Apparently, I was so overcome I had to take a photo.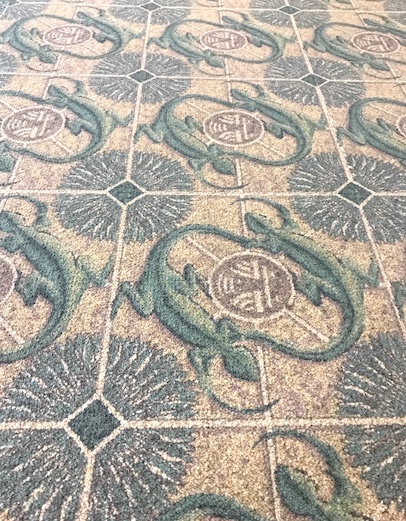 Not conducive to overcoming a hangover

And now I'm glad I did, I just found out today that the infamous ELP carpet is due to be replaced, like this month! Yipes.
That means next time, I won't be greeted at the door by the funky lizards. And as my goddog isn't getting any younger, one day I'll roll up to my best friend's house and won't get to experience his side-angled lope and velvety soft ears.
That's too much to consider. Right now, I will rest easy knowing that hideous lizard carpet and beautiful brown dog eyes remain just where I left them. I feel my connection to home, which makes sitting in this dull gray office just a tiny bit easier to take.

Both photos ©2018 Karen Fayeth, taken using the Camera+ app on an iPhone. Don't steal 'em. Thanks!

On Saturday the sun shone down so brightly on the Bay Area that it was too hard to stay inside. Roaming and marauding were the order of the day.
Yes, I know as a Californian I am supposed to feel Very Guilty about these sunny winter days we are having. I get it.
But instead of guilt, The Good Man and I went outside and basked in the sun. We decided to wander not our own neighborhood but the one just one city over.
It's a really fun and funky block of shops and restaurants.
They day started with some chilaquilas that were rated as acceptable to me. You see, I grade Mexican food on a very tight scale. Sadly, most Californian Mexican food fails.
Once we were full to overfilled with good eats, we moved on to a really awesome bookstore that I had never been to before.
I do love bookstores. Especially local bookstores with both new and used books on the shelves. You really get a feel for a town by what is stocked on those used shelves.
As I often do in a bookstore, I wandered over to the art section. I am looking for a used copy of a particular Henri Toulouse-Lautrec book. Hope springs eternal.
This particular art book section was more eclectic than I usually find, which was great. A lot of things I hadn't seen before.
While perusing, I found one very small section of books under the heading of "Wild, Wacky and Wonderful."
Boy, this small collection lived up to the billing.
There were just five titles. I can't quite remember them all. One was Toilets of the World. I recall that. Quite an interesting tome, may I add. One was the Pipe Handbook. One was the Diary of a Sword Swallower or something like that. I can't seem to recall the other two.
As I browsed I kept walking back to that section and laughing. It was *too* perfect. Just too.
So then I decided to take an iPhone photo so I could remember what five titles were there. But how to snap a photo without incurring the wrath of the storeowners? They are sick, I'm sure, of people finding something in their store then buying it on Amazon. Snap click is a means to that end.
My intentions were good but I didn't want to be a pain in that charming store.
Then I remembered, oh yes, that you can use the volume buttons on the iPhone to fire the shutter. I decided that I could hold the camera at about waist level and take a surreptitious snap.
I went over to the side of an aisle and thought, "Ok, I better give this a try to make sure I know how it works."
I pushed the button and then loudly echoing through the store was the shutter sound that iPhone so helpfully adds to camera app.
You see, I always, always, always have the sound off on my phone. Always. I mean seriously, always.
Except on Friday afternoon when I was expecting (and didn't want to miss) a call from my boss. After the call I then forgot to switch sound back off.
The shutter sound caused three people around me to snap their heads up and give me "grrrr" eyes.
Busted. Flat busted.
So there you go. I have no photo of the crazy fun titles, only my hazy memory.
And this piece of photographic art of the wrong shelves. *sigh*
Enjoy.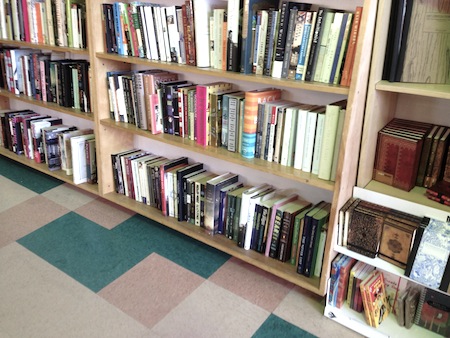 Copyright © 2014 Karen Fayeth

Photo Copyright © 2014, Karen Fayeth, and subject to the Creative Commons License in the right column of this page. Taken with an iPhone5, the onboard camera app, and not a lot of guile.

Yesterday, as I blathered on and wrote a blog post and then decided I wanted to nab a selfie that
1) didn't make me look like an old hag
and
2) showed off a rare day when my hair was rockin' (sadly, it was a one day only event) I found myself contorting, head tilting, and generally being weird.
And that was before I had the camera turned upon myself.
At the end of the day, I'm pretty happy with the selfie that I captured yesterday. Respectable enough. It took a lot of work to get that one decent photo, however.
In snapping my own self, I remembered a tutorial I put together a few years back. I still use all of these tips and tricks. Even when The Good Man grumbles at me while self photographing. (he's not a fan of the selfie)
So hey, I figured I would share again. Here it is, for your fabulous selfie-know-how edumacation.
Enjoy.
______________________________
Your Mobile Phone Camera And You
Originally posted December 21, 2011
Ok, look. Facebook finally got me. Like a hungry, persistent mountain lion, it pounced on me, grabbed me by the throat and took me down.
Anyhow.
As I've been spending more time in the cavernous Facebook labyrinth, and seeing a lot of pages and a lot of faces, I'm starting to notice a trend.
Remember the infamous MySpace pose? That's the self-photo taken with the camera above you, eyes looking up but chin down. Sometimes called the Princess Diana pose. Yeah, I think we've all seen plenty of that pose.
But that's so over now.
The pose I'm seeing a lot of these days is the in-the-car self-photo.
Yup. Hold the phone way out to one side and snap a shot of yourself in the driver's seat.
Post it.
Magic.
Look, I fully understand the need to look good in our Facebook profile. An old boyfriend or girlfriend from college might show up or something. None of us wants to look all haggity.
Believe me, I get it.
So what's with the in-the-car profile photo and how can we make it better?
I will now dig into my deep and (not so) closely held secrets of the art of photography and perform a public service.
Ya wanna know why you like that photo of yourself in the car?
Two words: Natural light.
We ALL look better in natural light. When you are in your car, good ol' fashioned sun comes pouring in through all the windows. Real sunlight makes you look hot.
I'm not kidding.
So assuming you want to have a nice photo of yourself on your Facebook page without your steering wheel in the background, and assuming you are all alone or too shy to ask for help, and assuming you want or need some advice on self portraiture…..


Here's Karen Fayeth's tips for a smoking hot profile self-photo:


Either get outside or if you have a nice sunny spot in your house filled with natural light, go there.
Next, what would be a nice background? How about a wall with a fun pattern or a wood fence with character? Sit down and lean back against it. Sit up straight! No slouchy here because we'll all see it.
Make sure the sun isn't shining directly in your face. That will make you squinty. Then make sure the sun isn't directly behind you. That will make you halo-y and a dark shadow. It works best if it's a sunny day but you are in shadow, or the sun isn't directly on you. An overcast day is even better. That diffused light is majorly hot.
Hold your phone camera out at about eye level and a little off center. If you hold it above your eyes, you'll get that eyes-up MySpace look. If you hold it below, now you are looking down and no one likes a double chin in their photo.
Seriously, no one.
Keep your chin up but not too high. Keep it at normal level as if you are looking straight forward.
Keep your elbow slightly bent. Don't straight arm it or you will see your arm in the photo. Here's an example.
Relax your face. Don't force the smile. Try thinking about something that makes you laugh or smile naturally. Think about that time your buddy slipped and cartwheeled on the ice. Or think about how much your love your kid/spouse/dog/whatever. Something that tickles your funnybone and makes your eyes twinkle.
Look into the lens. Don't look at the screen. Don't look off to the side. Don't look up. Don't look down. Locate the actual camera lens on your phone and then look that lens square in its little lens eye and snap the shot.
And then another. And another and another and another and another.
Don't be shy about taking A LOT of photos. You are looking for one good one among the many that make you go "uh, no". It's every photographer's little secret. Take lots of shots.
Wait! Don't just upload that one photo you like right from your mobile phone to your Facebook page!!!
Pause.
Look at it on a bigger screen. Download it or email it to yourself and look on a regular monitor.
Check out the photo and crop it down if you want. Look in the background ALL AROUND you in the photo to be sure there isn't something weird going on back there. (be especially alert for dogs pooping, kids barfing, etc. Check out This is Photobomb for a sense of what I'm putting down here. That site is totally not safe for work.)
Then, if you are happy with the photo, go ahead and make it your profile photo.
And wait for the compliments to roll in.
Oh, and one last piece of advise: Fer chrissakes, no duckface!
No photos in the mirror either.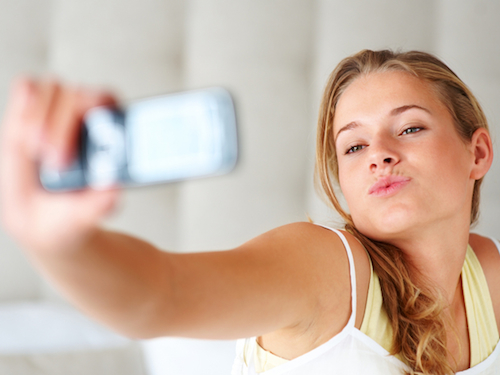 Sooo many things wrong with this technique. Good light though!

Image found all over the web. If it's yours I'll gladly take it down or give credit, at your request. Thanks! I found it here.

It's been two months now at the new gig and I'm really getting into it. The job, the management and the culture are all really in my wheelhouse. Even though I'm crazy busy and working hard, I really do like the job.
So I guess at sixty days into this gig I am making plans to hang around a while. When I went through new hire orientation, they talked up their employee activities program and mentioned that there are a lot of strong clubs here at the company. It seems most employees participate in at least one club. It's not required, people just want to be involved.
Cool!
I took a look at the list of clubs and the one that jumped out at me was the photography group. Rock on! I haven't been shooting much lately and I certainly need a kick in the butt. I belong to a photographer's salon group where once a month we meet and critique images, but I felt like this new group would really expand my horizons.
I dropped an email to the co-presidents of the group, two female coworkers, who were listed on the webpage and told them I'd like to be part of the group. They answered pretty quickly and said they were actually the last year's co-presidents (the webpage is out of date) and handed me off to the new leadership. In closing, one of the women said, "I'm so glad another woman is joining the group. It's mostly men right now. They are all nice but it's all men!"
Oh. Well ok! My photography teacher and mentor has spoken about this. She has been a professional photographer for a long time and has dealt with the male dominated world of photography for years. I'm unsure why it's still so heavily male dominated, but fair enough. I know my work can stack up.
I got an invite to the online user group and to the meeting coming up next week. I also got access to the club's site where members upload their photos. Each month there is a theme and a contest to pick a winner.
Whooo doggies, the photos on that page are really good but they are all very technical. I don't feel a lot of emotion in the photos. Then I recalled that I work with mostly engineers and scientists. Yeah. These are the kind of folks who will sniffily say they only shoot in manual and can calculate the exposure triangle in their heads.
I have taken other photography courses, including a class from a well-known and well-respected landscape photographer. That guy wasn't too uptight about the stuff, but several of the men in the class were. One guy challenged me on the spot to calculate the exposure triangle for a particular photo and I said, "Nope. I don't need to. I shoot in Aperture mode and am happy there." He looked like he had bad gas and walked away from me.
Look, I know *how* to calculate the exposure triangle. I just choose not to.
So we'll see how this group thang goes. I decided I should put together a quick portfolio of photos to show the rest of the group what I'm about.
What do you think?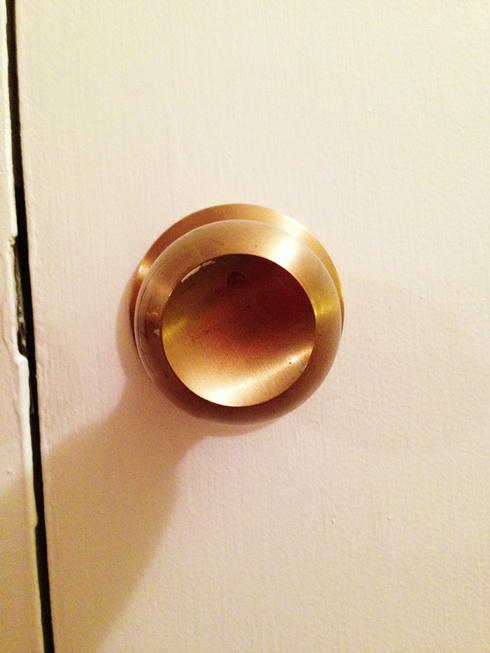 "Knob" — I feel this piece speaks to the inaccessibility of the world and the challenges of just getting past closed doors. Should you walk away or bang on the door demanding to be heard? That is for you to decide.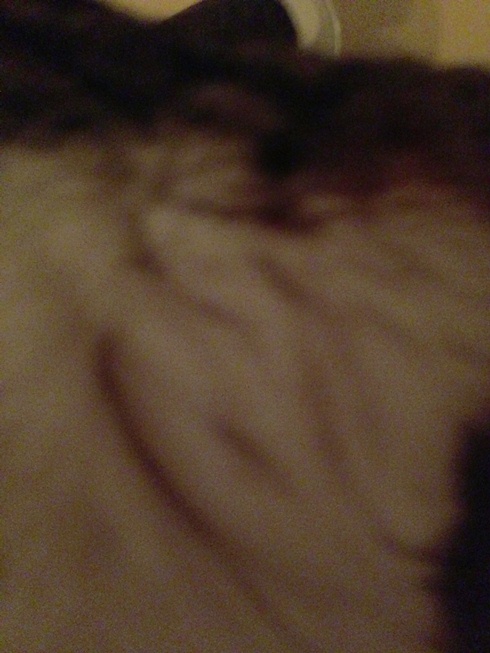 "Elusive" — This is a study in hiding behind false coverings, like the fur that covers a Cranky Feline. And the need to hide behind artificiality and illusion. The grain reminds us of the blurry nature that life presents and the need to have better lighting.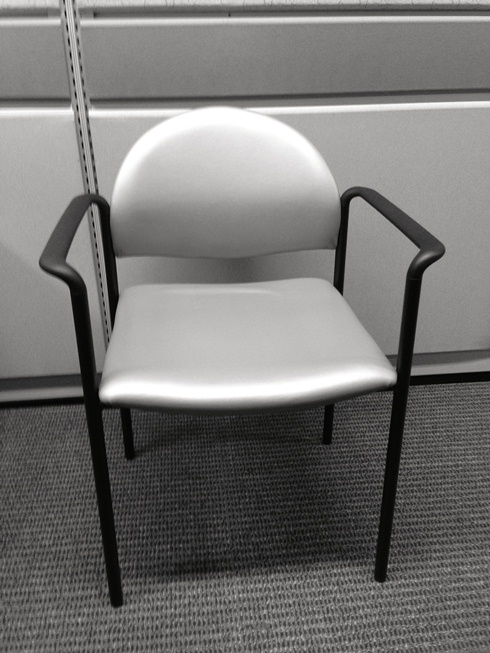 "Have A Seat" — The black and white really captures the moodiness that comes with the decision of whether or not to have a seat. The push-pull of subverting yourself to the will of powers greater than you or maybe standing up to fight instead. This thought provoking piece required meticulous set up and lighting.


I think I am a shoo-in for high praises and honor from this new club. I can hardly wait to reel in all my accolades!

All photos Copyright 2013, Karen Fayeth, and subject to the Creative Commons in the right column of this page. (why would you steal these masterpieces anyway?). All three taken with an iPhone5 and the Camera+ app.


Ok, I have another totally hot photo gadget product review to share. I was not compensated in any way for this. In fact I paid these good people for the right to be one of the first to try this out.
It is no secret that I love photography. That much is clear if you've been hanging around this blog for a while.
While I was trained to take photos using a DSLR, I have become more and more enamored of taking photos with my iPhone. I think that Flickr reports the number one camera used by its members is the iPhone.
It's great to have an always ready to use camera that also makes great shots. So to that end I am also enamored of many of the gadgets out there to help make iPhone photos that much more cool.
There are a lot of little lenses out there, most come in a package of one fisheye, one wide angle and one macro lens. The form factor on these isn't always great. I have a set that sort of sticks on with a gummy ring and the lens is a magnet to the sticky ring. Ugh. A *nightmare* if I'm outside where it is dusty (hello? New Mexico?). Plus the ring is pretty tiny and hard to use. There are some that are a kind of jelly stick on lenses that are in one piece but offer up the same sort of issues.
Along came the Olloclip and I loved it. The clip slipped onto the phone and voila, the three lenses were all attached and it was good to go. The Olloclip is pretty spendy at $70. The wide angle and macro lenses were great but to be honest, I don't really like the look of fisheye photos so that lens never got used.
But the Olloclip and I got along great. I used the wide and the macro quite a bit on my iPhone4s. Photography life was fabulous.
Until I got an iPhone5. Then the Olloclip didn't fit anymore. I was not really in the mood to blow another $70 so I figured I'd make do with what I already had in my kit (i.e. the sticky lenses, ugh).
Then I heard some rumors on Twitter about a company working on a lens kit that was like a clip or a clamp which meant it could be used on any make or model of phone, regardless of size, shape and thickness and if I desired could even be used on a thin point and shoot.
Well sign me up! Only…the product, called Mobi-Lens, wasn't available yet.
Images could be found on the company's Kickstarter page. I had not yet taken a foray into the world of funding a Kickstarter, so I thought I'd give it a chance. For just $40 I was able to choose a red clip that came with wide angle and macro. The fisheye lens is a separate clip so no need to order that.
So here we go, the cost is more reasonable, I don't have an extra fisheye lens lying around I will never use, and this clip will work on generations to come of whatever phone I choose to have.
Yes, please!
The Good Man warned me that one of people's biggest complaints about Kickstarter is that even if the project gets funded, oftentimes investors never see results from their investment. The product or project just never comes to fruition.
I read the Kickstarter page carefully and I watched the videos and I felt like these were decent people who had a great idea. They already had some finished test product and they just needed money to go into production.
SO…yes…I took a gamble with forty of my hard earned dollars. This was back in October.
A few weeks ago, my gamble paid off when this little beauty arrived: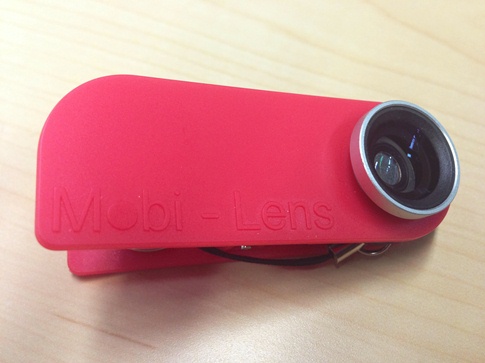 It's so pretty! It's red! It has really nice glass lenses!
It is very easy to use and I've only begun experimenting with it.
So far I think this is the best macro cell phone lens of all the brands I've tried (and I've tried a lot!).
Here is a test shot of my work keyboard: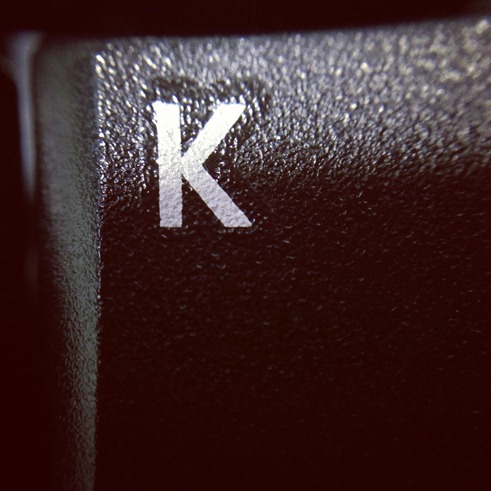 Pretty great!
I have much left to explore with my little Mobi-Lens but so far I am totally hooked and totally in love. I am happy with my lens and I hope this company continues to blossom.
They gave me an awesome lens and made me a believer in the power of a good project on Kickstarter. Win!

———————-

Image of Mobi-Lens Copyright 2013, Karen Fayeth and taken with an iPhone5 and the Camera+ app.
Image of keyboard K Copyright 2013 Karen Fayeth and taken with an iPhone5, the Camera+ app and the macro Mobi-Lens.
Both are subject to the Creative Commons license found in the right column of this page.