Last month I found myself in Chicago attending a writer's conference. The event was sponsored by a large publishing house and I went to learn more about the publishing industry. Boy did I.
Part of the weekend also had us working on some writing exercises. We were given a topic and told to write about it for ten minutes.
I'm pretty good at these off the cuff wind sprints, so I was sailing along nicely creating the words and feeling all of those blocks melt away.
That was until we got to the prompt: "What's the one thing you won't write about?"
Ugh. Well. The snarky voice in my head kicked in, saying things like "well if it's something I won't write about, why would I write about it here? In this uncomfortable chair. With 500 of my closest friends in attendance?"
Bah.
Then I started thinking, what really IS the one thing I won't write about?
I know what it is, but I'm still not ready to write about it.
It's grief. My overwhelming grief is the one thing I just can't write about. Not yet.
Both December and January ushered in tremendous losses for me, one after the other, and though I'm told I have to "just grieve" and "get it out" and "go through the stages" I find myself a bit at sea. There are times it shows up inappropriately and I cry so hard I wonder how I will ever stop crying.
When I do finally stop, I become near catatonic for the rest of the day.
There are times I know it's sneaking up on me and instead of trying to head it off, I am able to find a way to hide in the bathroom or outside or in my car and let it happen. A little.
And sometimes I simply have to tell the freight train that no, it doesn't get to run me over today. When I head it off, push it down, it only means the grief builds up a bigger head of steam for the next time.
It is a demon and I am wrestling with it. And no, I'm not ready to write about the details. It's too tender, too fresh, too painful.
One might argue that since writing is my thing, I should be writing about it. I should be writing it all out furiously and fast and working through all of those darn steps, up and down the ladder until I'm free.
As if one can ever really be free of grief. Actually, that's part of the problem. This fresh and overpowering grief has ripped the lids off of the many other losses I have experienced so I get to go through all of that again. As if it's new and present and today.
So yeah, letting it all out, that's probably what I should be doing.
But I can't. Not yet.
And it remains the one thing I won't write about.
But I will write about it. Someday.
Maybe this post is just one small step in the right direction.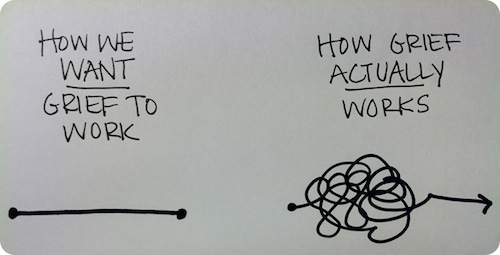 Image found here.

I don't know what to write I don't know what to write I don't know what to write.
Yes, that's a good old-fashioned trick now isn't it?
What to write about when there is nothing to write about?
Oh, sure, there are an infinite number of things to write about, but all of those fabulous ideas seem to be on the wing. None are alighting on my brain and fingers and soul and pouring ideas into me so I can flow them out onto the keyboard.
Maybe it is because I am too content? Don't they say really great art comes from pain?
I am just off of a very long and much needed holiday break from work. I have just had lunch. I slept really well last night.
My hair even looks great today.
I'm not kidding. Gaze upon those locks lying in the place I asked them nicely to lay.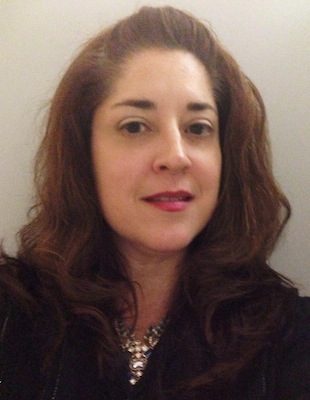 Let's not chat about what I had to do to get a good selfie while at work.
I work in an "open plan" office. Yeah. Just…don't ask.


Wow. I mean, things are kind of going my way which is GREAT for me but terrible for me the artist.
The only thing grinding my gears today is that I want to write a beautiful, meaningful, magical post.
I want to say some words that I read later and think, "I wrote that?" and then go, "Yeeaaah, I WROTE THAT!"
That is so cool. I love that feeling. It's a dopamine rush like no other.
But alas what I have so far today is a lot of words about making words and none of those words transcending the screen and taking flight.
Poop.
Yes. I said poop. And I am not sorry.
Ok, over 250 words into this thing and I need to save it before this goes into the mental rubbish bin and I shrug my shoulders and give up and eat another cookie.
Oh, did I forget to mention cookies? Yeah, I have those today too.
I mean can this day GET any better? Not by much, honestly.
So shall I write words of joy and sing songs of happy?
It seems readers like so much better to read tales of woe and pain and hubris and pathos.
Went and got all Greek on ya there, didn't I?
So maybe I break the mold today. Separate from the pack. Do something different.
Something that means something to me today.
Hello. Welcome to Tuesday, the Fourteenth of January.
I am in an exceptionally good mood today, and being happy makes for uninteresting reading, but for a very knockout day.
I feel so good I want to share it. May your Tuesday be as awesome as possible as well.
Break from the pack and REALLY enjoy your day. Do it just to spite the haters, the grumblers and the cranky pants of this world.
I dare you.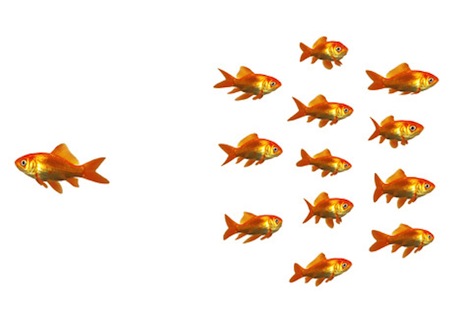 Image of me, by me, Copyright Me, 2014. Don't go mucking around with my photo of me, damn it! Taken with an iPhone5, the Camera+ App and loads of vanity. But look at that hair!
Goldfish image found here.

I find myself with a rare few hours this afternoon where my calendar does NOT have somebody's name and silly meeting title plopped across wide spans of my time.
I mean an afternoon with no meetings is pretty damn rare. I'm almost scared. Like "did we all get the afternoon off and I didn't know about it?"
So I figured I'd make good use of some found time and tip tap away at a post for my little ol' blog.
Of course, when I actually have some time and some room to stretch my word wings, I have zero, zip, zilch, nada things to say.
Probably not surprising given that my last post was about my walnut bladder.
I went to my trusted fall back method of using a random word generator to spark ideas.
The word that was presented to me was: Mulberry
As in pop goes the weasel? Hmm. So I went to Google to see what I could links might give me interest in writing a couple words.
First I sifted through the voluminous links about Mulberry, the British leather accessory company. Boring.
Then I read the Wikipedia page about the plant. *yawn*
Then at the end of the Wiki entry, I saw this sentence:
Vincent van Gogh featured the mulberry tree in some of his paintings, notably "Mulberry Tree."
What's this, then? A Van Gogh mulberry? Now that's interesting. I would not call myself a scholar of Van Gogh's work, but I have done some poking about. Read some books. Have even seen one of his works live and in person at New York's MOMA (I cried because I was so profoundly affected).
So today my lack of creativity and reliance on a tried and true prodding method caused me to discover a new (to me) painting by a favorite artist.
That's not so bad, now is it? One might say both inspired and inspiring.
Here's the painting. It touches me deeply in ways I can't quite describe. And that's the beauty of art.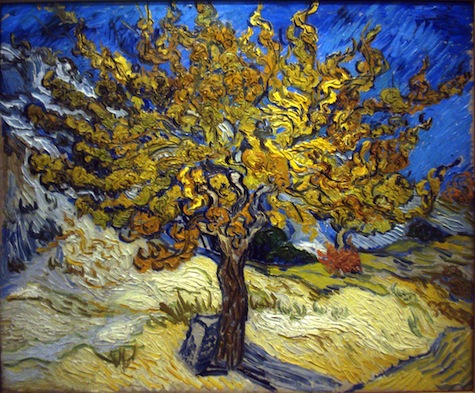 The Mulberry Tree by Vincent Van Gogh

Image used under a Creative Commons license from Wikimedia.

This past weekend was something like a "what weekend?" as I worked my tail feathers off both days. About 1/3 of the tail feather workout was due to my job. Yes, I get to work for free on behalf of my employer, even on my days off. The joys of being a salaried employee.
The other 2/3 was working on my own sideline creative stuff. I did about 25 story submissions, I edited a photo that I will be showing later this week (that takes such a long time…a little burn here, a little dodge there), and I wrote a story for the first round of the NYC Midnight Flash Fiction contest.
The contest works this way: They give you a location, a genre and an object. All three have to be there in the story. This can be both liberating and constraining, depending on what you get. My draw for this first round was romance/haunted house/marshmallows. Not bad, not great.
Sunday around noon I found myself starting at that cursed curser blinking at me and I tried to find a story idea that was scary and lovey and marshmallowy all at the same time. A challenge. I was writing words but they weren't coming easily. My iMac sits on a table near a window, and something caught the corner of my eye as I labored. I looked out the window. Seems on that sunny creatively frustrating Sunday I had an auspicious little visitor.
I grabbed my camera, put on the longest lens I own, popped the screen out of the window and started clicking away.
I'm so glad I did.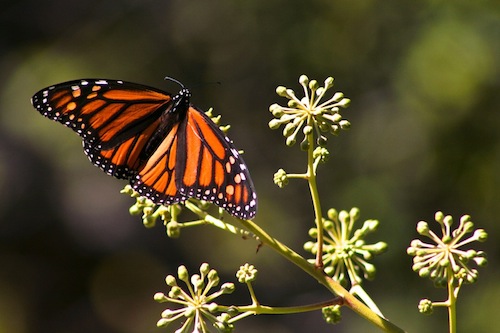 Photo copyright 2013, Karen Fayeth

This gorgeous lone Monarch Butterfly was just hanging out in the warm sun, using the ol' proboscis to gather some pollen and doing its butterfly thing. As I watched, a couple bees were highly displeased at the presence of the butterfly and kept strafing him (I say him correctly, I looked up Monarch butterflies online and the dots around the wings signify a male. edit: Upon further Googling, I think this is actually a female).
These bees were executing deep aggressive fly bys that only caused the butterfly to flap his wings a bit but stay put. Man those bees were persistent. And I kept snapping away. I have some awesome action shots that I'm still editing.
After a while, the butterfly flew off and I downloaded and looked through my photos, very pleased with the results.
Then I sat back in my chair and I smiled. After the visit from Mr. Butterfly, I felt totally motivated and completely creative. I turned back to my story and banged out about 1,300 words in one sitting. Then set it aside and let it percolate while The Good Man and I went to local street fair.
When we came back I edited the beejeezus out of the story, got it to 999 words (the limit is 1,000) and submitted it about 45 minutes before the deadline. Man oh man hitting send on that story sure felt good.
I owe my creative surge to a visit from a pretty orange butterfly on the first day of Autumn.

Photo copyright 2013, Karen Fayeth, and subject to the Creative Commons license in the right column of this page. Taken with a Canon Rebel, edited lightly in Elements.

Earlier this week I received the results of a competition I had entered, and for which I held out great hope. It was related to my writing and even an honorable mention would have been a huge step forward for me.
While entering I knew it was a long shot, but I really believed I had a chance.
Predictably, when the results were announced I was nowhere in the list, and yes, this got me a little down.
That's the trouble, sometimes, with having hope. A burgeoning flower bud of belief can so easily get ravaged by insatiable locusts (over dramatic metaphor alert!!!).
When one is a rather sensitive artist type, it's hard not to feel steamrolled at such times. Then again, what separates the doers from the dilettantes is tenacity.
So after feeling mopey for several days I am starting to rally. In defeat my resolve becomes just that much stronger.
For almost two years I have been using a really wonderful service that forces me to submit writing to literary journals every quarter. They are strict taskmasters and they keep me focused.
Once every three months I send out about thirty submissions, of which most of them are rejected. This means piles and piles of both email and snail mail arrive at my door just to say "you are not a good fit."
Amazing how something like two hundred rejections can really make a girl immune to the woes. It's like a pair of ill-fitting shoes. At first it hurts, then it makes a really painful blister, then finally a callus forms. The thin skin has toughened to endure the scraping.
Like that.
This morning I was thinking back to about seven years ago, back before The Good Man and I had married, and he was living in San Francisco's North Beach. A really cool new art store had opened on Columbus Ave. near his place and I was just beginning my foray into the visual arts. Visual arts were a big departure from writing, which had dominated my creative juices for so long.
I loved everything about the art store and bought quite a few supplies there. One day they had posters up announcing an auction. Customers were invited to submit art works and the store would display them and then at the end of the month, the store auctioned them off for charity.
Great! I was on board. I created an item to give to the auction and when The Good Man turned in my piece for me, he was asked to put a starting bid. Because he loves me and encourages my work, he put the amount of $50 as a starting price instead of starting at zero as most other artists were doing.
Later, when we walked into the store to see my stuff on display, my piece was at the very, very back of the store among the tools and shelves where they stretch canvas. My work was clearly more amateur than the rest of the offerings and it stood out as the only one using the photographic medium, but ok. It was on display which was a huge rush.
When the auction was finished, they called to ask me to come pick up my work. The rather arrogant and sniffly clerk informed me bluntly that my piece was the ONLY one that hadn't sold (meanwhile, he gave us a flyer so we could attend his exhibit of butt ugly paintings at a local small gallery).
I was, of course, embarrassed beyond belief, humiliated and totally crushed. Being judged by a more experienced (and in my mind, more talented) artist just about did me in.
Just thinking about it still gives me shudders of embarrassment. This morning in the wake of my recent defeat I thought again about this experience. I recalled today that among all the donated pieces, my work was the only one that listed a starting bid.
All others put in a starting bid of $0, and they all sold. Snotty clerk said they didn't have a lot of bids and bidders. All of this means that at the end of the auction, someone could have thrown $5 at a piece of artwork and would have won.
Today I understand that instead of being sheepish about that whole thing, I should be proud. I may not have sold my work but I valued my art enough to put a price on it.
Which is stronger? Valuing my own work and not selling it at that auction, or giving it away for free, thus saying the value of my work is nothing?
I know which one I choose. Today I have straightened my spine and I feel a little better.
In defeat, my mettle is being tempered, and that only makes me stronger.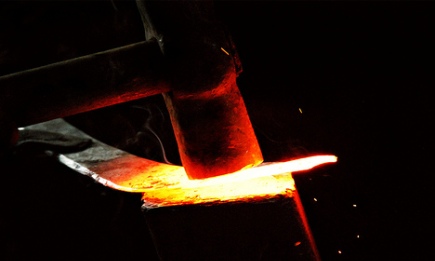 Image from ScienceGuide.nl.