It was just a week ago yesterday that I found myself in the world class city of Prague with a personal day on my hands.
The work part of the trip had been both busy and exhausting. My coworkers all left for home that morning but I had a tourist Friday ahead of me. The challenge: To see as many of the must-see Prague sights as possible in one day.
Now just eight days later, it seems almost like a dream.
A week ago it was very real. So real I had a fair bit of anxiety and no idea what lay ahead. The Good Man managed to talk me down from nine timezones away and with a deep breath, I screwed up my courage and headed out of the hotel room.
As luck would have it, there happened to be a Metro station right under the hotel.
So this is where my journey began: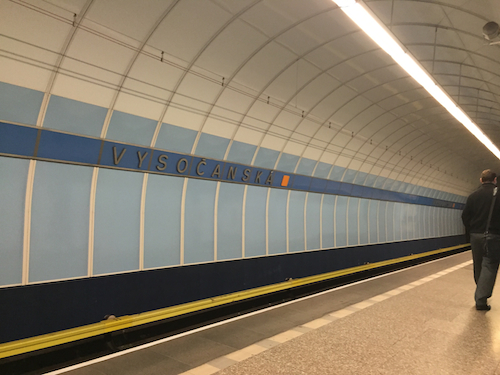 A simple suburban Metro station that would take me *everywhere*

The hotel where I stayed is in the suburbs of Prague, but the Metro is so damn good it was a less than fifteen minute ride and I emerged at the bottom of Wenceslaus Square.
I had done some reading before arriving in Prague and I knew a bit about Wenceslaus Square.
Well, I knew three things:
Thing 1) The square is dominated by a statue of King Wenceslaus. As in "Good King Weceslaus blah blah, on the feast Stephen, nuh nuh nuh nuh nuh nuh nuh, deep and crisp and even…"
What the hell is that song even about, anyway? Wait, let's hold that question for another time.
On that day, I knew that Saint Wenceslaus is considered the patron saint of the Czech Republic.
So I walked uphill and gawked at the shops and restaurants and soon found myself in the shadow of the Good King and his steed.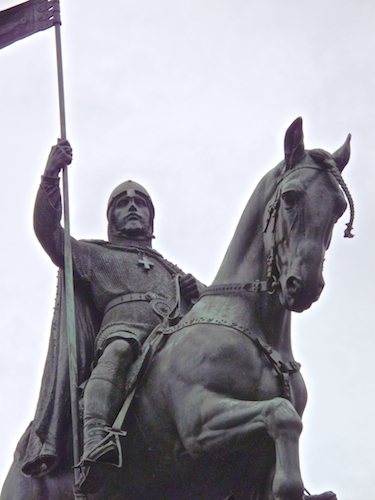 That there is a gooood king

Thing 2) Wenceslaus Square is incredibly historic, considered the very heart of the city of Prague, and it is a World Heritage Site because it was on that very square in 1989 that the Velvet Revolution happened.
What is the Velvet Revolution, you say? I'm so glad you asked.
The Velvet Revolution is when the then Czechoslovakia decided it had had just about enough (MORE than enough) and threw off Communist rule. They then became their own self-managed country with a parliament.
This is a very, very big deal. It utterly changed the course of the Czech people. For the better.
I have a coworker who grew up in Prague. She left as a teenager in 1984. She said, "We had to leave. We had so much despair. We believed it would never change."
It would eventually change, but it would take a few more years.
So I stood on this square, a lost little girl from New Mexico, and thought about how much happened right where my feet stood. How these people took back their own destiny.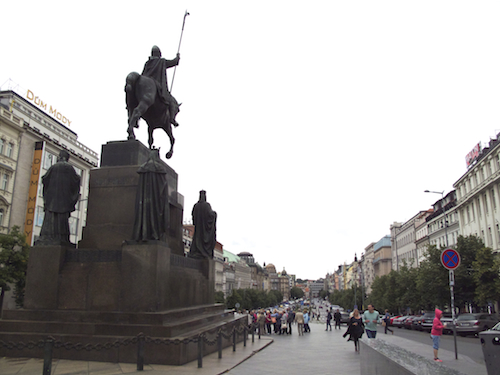 See where all those tourists are? History happened there.

Thing 3) At the top of Wenceslaus Square, behind the statue and in front of the museum something particularly sad and historic happened.
In 1968, a student named Jan Palach protested the invasion and eventual fall of Czechoslovakia by the Soviet Union during what was called the Prague Spring. He did so by committing suicide by self-immolation.
"…Palach did not set himself on fire to protest against the Soviet occupation, but did so to protest against the 'demoralization' of Czechoslovak citizens caused by the occupation." – from a doctor who treated Palach (wiki)
I think that sense of demoralization and despair runs strong through the history of the Czech people. In my experience, they are a very laid back and easy going people, but there is that sadness underneath. Well, maybe not sadness, just…world weary.
I wanted to find the small marker of Palach's history that is embedded in the brickwork in front of the museum. I have to say I was greatly moved. There were flowers at the site, meaning people still remember and still care about what he did.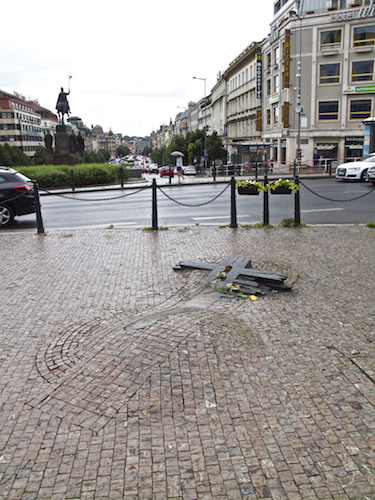 This is a simple but powerful marker

Well, that was a bit of a dark start to my day of exploration, but it also really touched me.
From there, I hopped back on the Metro and made my way to Old Town Square. The mood and attitude in the Old Town area could not have been more different.
The Old Town Square is beautiful, but incredibly overrun by tourists. Okay, sure, I was also a tourist, but you get what I mean.
Along with tourists there were an awful lot of flim-flam men (and women), grifters and pickpockets. At one point I stopped to look at maps on my phone to see if I was heading the right direction, and saw no less than three people make a move toward me.
San Francisco is a tourist town and I'm fairly used to this sort of untoward behavior, so each person got my patented City Stink Eye. The one that lets people know I am not to be trifled with.
They soon backed up, but that kind of predatory behavior was pretty rampant in the Old Town area. I was waving off sellers, beggars and all around questionable sorts left and right. I also kept a firm grip on my bag as I heard from several places that the pickpocketing is quite bad.
The main reason to be in Old Town, apart from admiring the amazing architecture, was to see the Astronomical Clock located at the Old Town Hall building.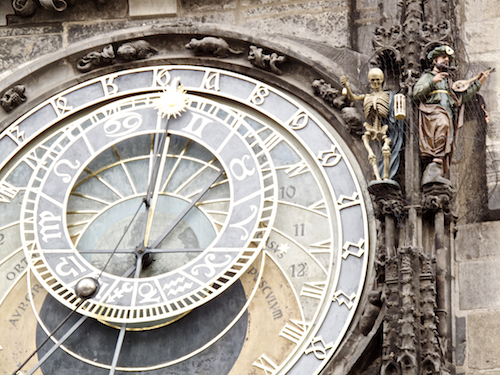 Of course my favorite part was the skeleton

This clock was installed in 1410. Um, what? 14 freaking 10? Wow.
As luck would have it, I was there at about twenty minutes to the top of the hour, so I waited with all of the many tourists, in the rain I might add, to watch the clock's mechanics at the top of the hour. A skeleton rings a bell, the animated figures come to life, and above the clock statues of the twelve apostles zip by and look out the windows.
It was very quaint and lovely, and I'm glad I saw it. Not much more to say than that. More than a Clark Griswald shrug, less than rapturous delight.
After taking some photos of the beautiful buildings on the square, I then made my way onward to the Charles Bridge.
The most famous of the bridges across the Vltava River, the Charles Bridge began construction in 1357.
You know how sometimes Europeans give Americans a wry smile when we talk about our deep history? Yeah, this is why. In 1357 they were building bridges that would safely transport my tired little toes across the same river some 659 years later. America wasn't even a twinkle in the eye of Columbus in 1357.
The stroll across the bridge was certainly lively. Lots of people, lots of selfie sticks (ugh), quite a few pickpockets and an awful lot of Catholic statues. Like, a LOT of Catholic statues.
Felt like I needed to go to confession when I got to the other side, ba-dum, tish!
It was hard to pick just one photo from my walk across the river, but let's go with this one: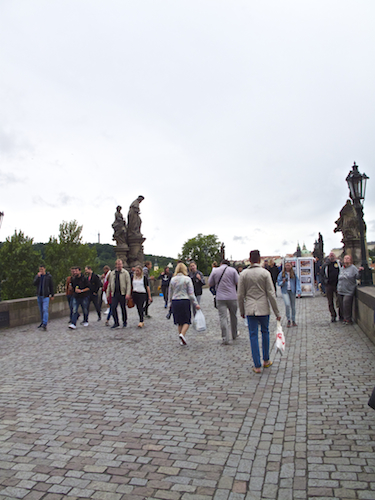 The walk across the bridge was quite pleasing especially since the rain had moved on and a bright blue Czech sky emerged. Quite lovely.
The part of Prague on the other side of the bridge is known as Lesser Quarter, which I find quite a rude name. There was nothing lesser about this side of the bridge in my opinion. It is much quieter, calmer and less busy. It suited me just fine.
At this point, my legs, feet and bladder asked nicely if we could stop, so I landed at a coffee shop.
Over a lovely icy coffee, I tweeted exactly how I felt in that moment on that day.

As my legs relaxed, I listened to a group of four Czech students argue and debate and I watched life happen outside the glass door. I felt enormously contented. It's those moments I will remember long after I've come back to my regular life. It's those moments I wait for on each international trip I take. It's what makes all of those long and ugly plane miles worth it.
Yeah. Seriously, may I never forget how good I felt in that moment.
Now fortified, I moved on to my last stop of the day, St Nicholas Church.
The guidebook I pondered over coffee told me that it was a beautiful example of a baroque church. I do like to see some of the old and over the top churches in Europe, so I was game.
The guidebook also mentioned the bell tower at the church. How it had been used by the communists to keep an eye on the American Embassy nearby, and that it offered some of the best views in all of Prague.
Impulse overtook me and I smacked down 90 koruna for a ticket and began climbing the stairs.
What in the utter hell was I thinking? One, my legs were already tired, two I'm in okay shape but stair climbing is tough, and three my asthma was like "hey, what's up?"
But I kept climbing the spiral stairs and narrow ladders until it got more and more exhausting and claustrophobia inducing (and I don't often struggle with claustrophobia).
At more than one point I had to remind myself that I managed to get myself into this situation and had to figure out how to get myself out.
My bullish determination kicked in and I made a promise I would make it all the way to the top.
Along the way I found the watchmen's quarters, a sparse room with a small bed, rough wood table and open brickwork fireplace.
When there were windows, I looked out then kept climbing. Finally, I could smell the fresh air of outside and found myself at a narrow deck that encircled the tower. There was a guide there and she told me to go outside (I didn't understand what the signs meant and had hesitated).
Wow. Truly. Wow. I was stunned at seeing all of Prague laid out before me.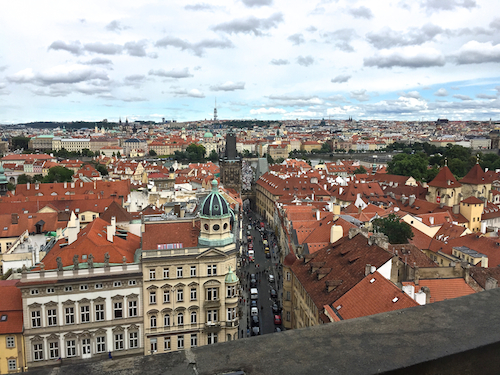 The sky stippled with clouds and the sun began its slow descent toward the end of the day and there I stood taking it all in.
And hey, I wasn't even at the top of the tower yet. After taking quite a few photos with both of my cameras, I kept climbing. The very, very top of the tower, at the end of 215 steps, was less interesting. It was low ceilinged, cramped, stuffy and the windows were small.
So I went back down to the narrow deck and took another spin.
With that, I declared myself done for the day. Ready to head back to the hotel.
I came down all 215 steps a lot faster than I went up and made myself dizzy. Wobbly on my pins, I chose instead to stop for some dinner and I'm glad I did. I found a funny little restaurant where they treated me nice and I ate something they called Slovak gnocchi, which a short Google search later assured me is actually a thing.
A very delicious thing.
I wanted to have a nice Czech beer alongside, but worried a beer would drop me right to the ground so I opted for something milder.
After eating my fill, I set out back across the Charles Bridge. The mood on the bridge had changed. I crossed east to west at about 2:45pm and came back west to east at close to 6:00pm. There were more people out and the Friday revelry had begun. It was funny how quickly the mood had shifted.
On the way back, I made sure I touched the two lucky spots on the bridge, once with my left hand for my husband, the southpaw, once with my right hand for me.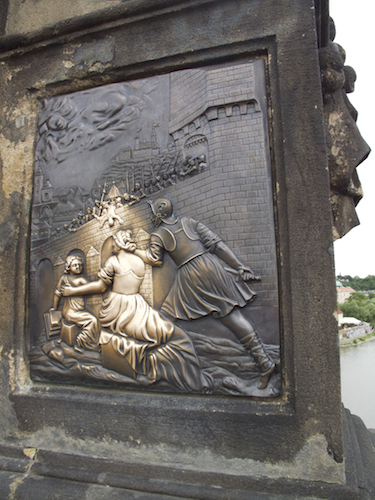 One of the two lucky spots, though a bit grim. So this priest was thrown in the water…

A nice twilight stroll and I soon found myself back at a Metro station waiting to head back to the hotel and the end of my stay in Prague.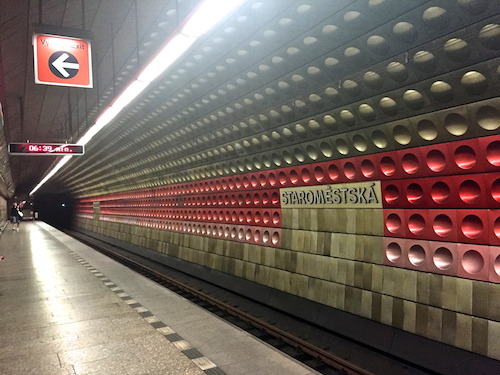 There are quite a few more things I wish I could have found time to see while in Prague. The Apple Museum, the castle, and the art gallery, to name but a few, but I was grateful to have one full free day to see the best of what Prague had to offer.
Prague is a gorgeous, easy and fun city. I loved every minute of my time there and wonder if someday I will ever find my way back.
I suppose I can dream.
Meanwhile, at a week later I think my legs have finally recovered. Seriously, 215 stairs? C'mon!
And to the good people of Prague, I say děkuji for treating me so very well.

All photos ©Copyright 2016, Karen Fayeth, and subject to the Creative Commons license in the right column of this page. Taken with either a Canon G10 or an iPhone6.

Over past few years of my life I have been fortunate enough to engage in some international travel. I have truly visited some of the great cities of the world.
Traveling outside of the borders of the United States has made me a better person in many ways, not the least of which is that I have come to appreciate my own country more by not being in it for a few days at a time.
I recall spending Fourth of July in England, gazing over the Thames while pondering that the Fourth of July is about so much more than hot dogs and sparklers. It really made the summer holiday mean something to me.
The other thing that international travel has done is give me a front row seat on gaining perspective of just how large this big blue marble really is. Gigantic. And how people are different and yet people are the same.
One aspect that I have experienced on each of my overseas trips has been a small moment of humanity, a connection, finding a shared place with another person even as I feel the dislocation of being in another country.
It happened in Dublin, and is such a fond memory. It also happened in Amsterdam, and I guess it's taken a little while for the beauty of the interaction to sink in.
Let me tell the tale:
I arrived in Amsterdam on Sunday at about 7:30am. Schiphol airport was quiet and calm in the early morning hours.
My fellow passengers and I came off our flight from Newark and walked into the airport, quickly cleared customs and stood by the baggage return waiting.
And waiting.
You see, in Europe, things don't always move on the timescale that Americans are used to. It's just how it is.
I hadn't slept in something like eighteen hours and I was wobbly on my pins, but resolved. Finally after the eternity of a half hour, the bags started rolling through the baggage return. Hooray!
People scurried to get their luggage and wandered off into the Amsterdam day. I kept watching bags go by that were not mine.
Finally the flow of luggage slowed to a trickle and I knew, I just knew. My bag didn't make it.
I had a very tight transfer time in Newark, less than an hour, and I had flat out ran to get between gates and onto the plane, so I was just certain my bag didn't make it as fast as I had.
Shoot. That was the word foremost in my mind. Only not the word with the two o's in the middle. The other word. I just kept saying that word over and over and over.
I looked around and saw I wasn't alone. There were about eight of us standing there with no luggage.
We all looked at each other, shrugged and walked in unison over to the United Baggage customer service desk.
I was toward the back of the line so I struck up a conversation with a dude standing in line with a guitar slung over his shoulder.
He told me that he and his wife had come from Cleveland and that they were in Amsterdam to see their son, who is in a band, play a show. They were going to follow him on a couple tour stops.
Then he pointed to his guitar and said, "I'm going to try to do a little busking while I am here. The quality of the people I've seen busking in Amsterdam is pretty low, so I know I can do better than that."
I spent too many years in the company of musicians to do anything other than laugh and agree. And I said, "That's cool. When I get some Euros, if I see you playing, I will throw some your way." He laughed and said thanks.
About that time the United customer service person said that the baggage handlers had failed to look in the "basement" of the plane, and our bags should be along directly. Lo and behold, my stuff showed up. I whipped it off the baggage return and stumbled my way out into the beautiful Amsterdam morning.
And then I settled into my little Amsterdam life, walking the canals, eating stroopwafels, visiting the Van Gogh museum, and work. Oh yeah, this was not a vacation but a work trip, and the work meetings were two full days (day and night) and massively intense.
On Tuesday evening, I stumbled out of the offices with my brain dead and my body exhausted. We had been through an intense day and were on a short one-hour break before meeting back at the offices to go to dinner.
I strolled along the Singel, which is the center of Amsterdam. I was so tired and concentrating on not turning my ankles on the cobblestones near the flower market. My hotel was only a few blocks from there.
As I walked, feeling out of my mind and brain dead, I heard someone playing guitar and singing. I remembered the guy I had met at the airport and wondered what had become of him.
As I rounded a curve, I saw a man in shorts and a porkpie hat busking at the end of an alleyway and in front of a closed store. He was putting a lot of gusto into the song, "Santeria" and had his backed turned to me.
I walked past and looked. Sure enough, it was my fellow passenger.
I pulled out my wallet and looked to see what I had to give. I found a five Euro bill, then walked up and said, "I promised I'd give you some Euros" and dropped the bill into his guitar case.
He looked puzzled and said, "Thanks. Are you an American?"
He didn't recognize me, so I said, "We've met. Remember at baggage claim in Sunday?"
His eyes went wide, "Heeey! How cool is this?" He pointed out his wife who was shopping one of the stores a bit down the path. He told me he had seen his son play the night before and that he and his wife were off to Brussels in the morning for his son's next show.
We chatted for a few moments, then I said, "I just had to stop and I'm so sorry for interrupting your song, that is rude of me."
"No, no! Here, let me give you something! Here, take one of our CDs."
So I did, and I thanked him and headed off with a smile on my face and a little more bounce in my step.
I get that Amsterdam is a small city and that the flower market is a popular place to be, but that one moment of humanity made this great big gigantic overwhelming world seem just a little bit smaller.
That felt pretty good to a little tired American girl wandering the canals of Amsterdam.
With a cheers from San Francisco to the fine city of Cleveland.
Here's the band if you are inclined to check them out: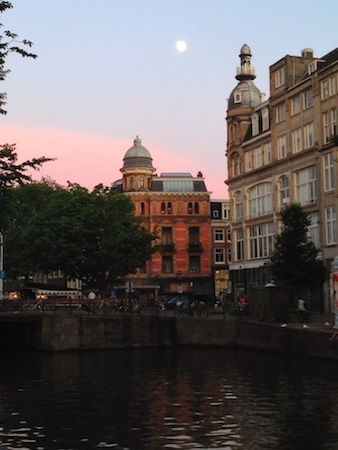 Copyright © 2014 Karen Fayeth

I took this photo later that same night with a couple of Dutch beers under my belt and a song in my heart. I call this one "Amsterdam Moon" for the The Mavericks song of the same name.

Photo Copyright © 2014, Karen Fayeth, and subject to the Creative Commons license in the right column of this page. Taken with an iPhone5 and the Camera+ app. Post processed with Snapseed.

Now that I have been a member of the photography club at my place of employment for just over a year, and have been attending meetings and listening hard, I think I maybe kind of sort of have earned a teeny tiny bit of respect.
Because this month, both of my submissions for the monthly photo contest made the cut. BOTH!
The rules each month are that you get to submit two photos. We review and critique all the photos in our monthly meetings and then there is an anonymous voting app we use. When votes are tallied, the top four vote getters are published internally at the company.
So yeah baby! I have had one of my photos make the cut before, but never both. It is a little unprecedented. Woo hoo!
The theme this month was double exposure and my two prize winning photos are below for your perusal.
The first one feels really special to me. I took both of the photos in the image while I was in Dublin. It was at the end of my one lone day of tourist time after an intense week of work, and I had walked for miles. I was exhausted and it was raining like it only can in Ireland.
Tired and soaked to the bone, I was bound and determined to find this sculpture of Oscar Wilde. This was after I had stood in a very long line (in the pouring rain, a nice lady shared her umbrella) at Trinity College to see the Book of Kells. That exhibit was exhausting in itself. Way too many people jostling around.
The park where Oscar resides is about half a mile from Trinity college and I wasn't sure I was going to make it. It was driving rain and windy and I was so tired that a nice warm cab looked like a good idea. I stopped to rest twice on the short journey, but forced myself to keep going and once I arrived at the park I was glad I did.
The small, lush, green Merrion Square park was silent as I stood there getting drenched looking at this remarkable statue of Oscar Wilde. A small tour group came by and the tour guide said the artist sourced these incredible and colorful stones from all around the world. It is a beautiful statue and so unique as it reclines on a rock.
When it came time to figure out something to use for double exposure, I thought of this statue and of the very old books I had seen at the Trinity College library (I had watched a video about the method used to bound the tomes and was endlessly fascinated).
Using some tools I had learned in a recent photography class about overlay for textures, I fiddled around in Photoshop and came up with this:
Title: Author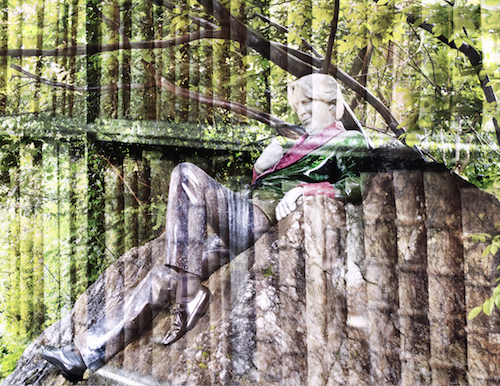 Photograph Copyright © 2014, Karen Fayeth


I was unsure if the photographers in the club would find the image too discordant. It's almost jarring, but I love it. It's hard to photograph a statue and have it be anything more interesting than a photograph of a statue. This to me brings depth and texture to the photo and I am so happy with the results.
The other photo I submitted was something I had been visualizing for quite some time.
As I continue to hear all of the news reports about the drought here in California, I was pleasantly surprised that the lack of rain didn't halt the springtime explosion of California wildflowers. I am mildly obsessed with California Poppies (the state flower) and I love the yellows, reds and purples of other flowers growing in medians, between sidewalk cracks and at the edges of yards.
I picked several of the flowers and shot them using a technique I learned from photography master Harold Davis. Then I took a free stock image of textural dry and cracked ground and combined it with my flower photo. When I look at it, I think of many things I could (and should) go back and tweak, but so far this photo is garnering nice attention.
Title: Drought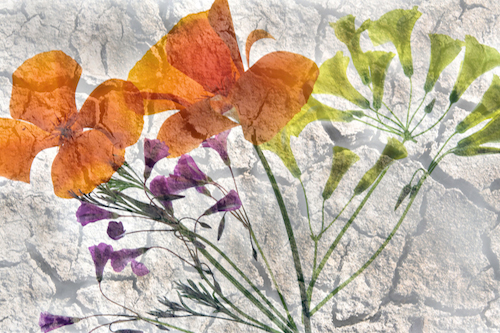 Photograph Copyright © 2014, Karen Fayeth

When submitting both of these photos, I wasn't sure how my surly team of scientists would respond. Both of these photos are kind of arty, but they also show I have some Photoshop chops, and I think they liked that. They had a lot of questions for me on technique since I used a different approach for each photo.
Also, I think the club as a whole struggled with the idea of double exposure. It's too messy for their orderly minds. I had a film camera in high school that I liked for making double exposures. It can either look weird or really cool. Doing a double exposure in Photoshop gives me more control over how the two photos overlap and how the double exposure looks, and I like it.
Anyhow, thought I'd share my winning photos with you.
Next up, travel to Amsterdam. Wonder what treasures I can find to photograph there?
Both images, Copyright © 2014, Karen Fayeth. Shot with a Canon G10 and combined in Photoshop. Stock image of dry ground from Free Stock Textures.

My weekend, told in a few words with iPhone photos to illustrate.
On Friday, The Good Man and I did an early dash away from work and drove up to Napa.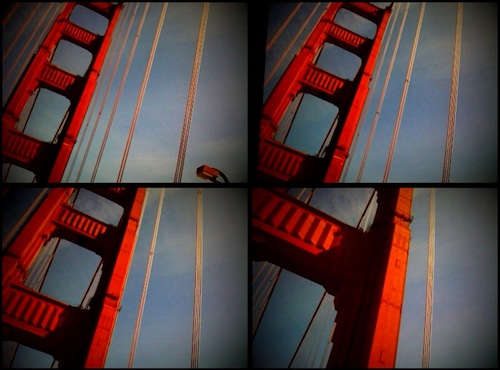 We checked into our B&B and went outside to sit on their peaceful back patio to decompress after a crazy week. And to partake of the B&B's delicious French press coffee.
Only, we weren't alone.

This creature doesn't belong to the B&B. No one is really sure where it came from. Creepy Stalker Chicken seemed to think we were going to feed her. She was especially targeted The Good Man who is used to being shaken down for kibble by The Feline. Apparently we were unable to escape hungry domesticated animals for the weekend.
Which kind of made us hungry. After a fantastic (non-poultry) dinner and a good night's sleep, we headed out the next day to do what it is most people do while visiting Napa.


A lot.
Oh, and at one winery, we still weren't alone.


Apparently Creepy Stalker Chickens were the weekend theme. This one was wearing chicken pants.
But no matter. There was still this…


And then more


And a WHOLE lot more


"Heeeeeey, schhhicken, scccchhhhicken, ssssssshicken…"
Then on Saturday night, we headed out to take in some live music at The Uptown Theater. An acoustic Roseanne Cash show (with Shawn Mullins as the opening act).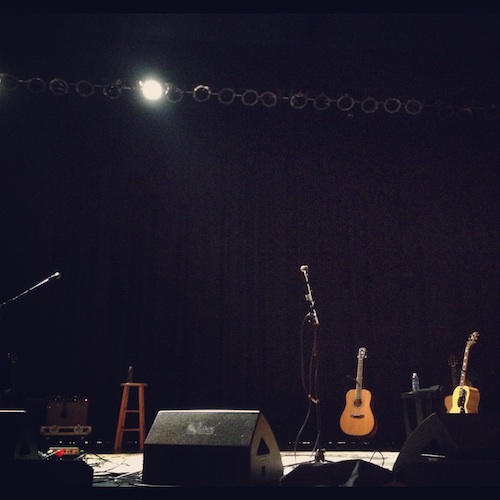 It was *awesome*.
We slept good that night. Had a kick butt breakfast.
Then sadly it was Sunday and time to head back home.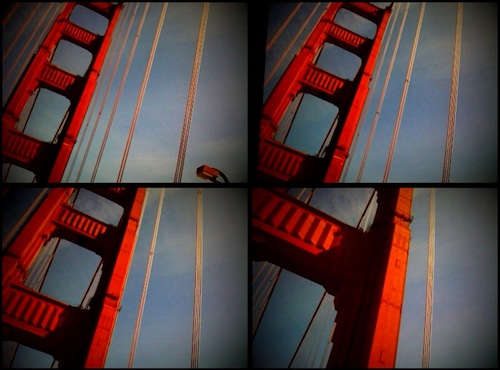 With a whoooole lotta wine in the trunk of the car.


It's medicinal. Really.

All photos Copyright 2010 or 2012, Karen Fayeth, and subject to the Creative Commons license in the far right column of this page. All taken with an iPhone 4s and the Camera+ up, except for the Golden Gate Bridge photo which was taken with the QuadCamera app.


I never get tired of photographing one of the most photographed places in the world.
Photo taken Saturday on our way to wine tasting gulping sipping in Napa.
What a glorious sunny day!
Photo Copyright 2012, Karen Fayeth, and subject to the Creative Commons license in the far right corner of this page. Taken with an iPhone4s and the Camera+ app.