And here we find ourselves again on the eve of the Holiday of Big Eats. Of all the holidays each annual cycle brings, Thanksgiving and Halloween rank up there as my favorites. Mainly cuz of the snacking aspect so central to them both.
I do love a good day of eatin'.
So at this year's Thanksgiving fest as I nosh and nom, I have many things to be thankful for.
I'll start with gratitude for each and every reader of this blog. You may not be many in numbers, but you are huge in providing motivation. I love reading comments both here and on Facebook and each comment just spurs me on.
Thanks also for putting up with my most recent and quite maudlin post. I was in a pretty dark place that day. Writing the words out on the page always help me exorcise those demons. It is my greatest therapy.
I cried through just about every word of that post (a little awkward at work, so I had to stop and finish it up at home) but getting it all out really helped.
I've been a bit MIA since that post as I've been dealing with a lot of stuff. Work got really weird last week and of course I am already weird, so when weird is doubled down, it's not really a good thing.
The good news is that I am off work this week. I have to admit I didn't know how much I needed a vacation. Needed it so much. Yesterday I slept in to a reasonable hour, something like 7:30, and got up and started doing stuff around the house. Then I felt nauseous and had vertigo. So I did the only logical thing: I went back to bed. For the whole afternoon.
Turns out my body was saying "Lay it down sister, we need rest." I have been running full throttle for a long while and when I let off the gas, I needed to actually rest. So as much as I hated to lose a whole day of vacation, it was totally worth it.
Today I'm full of the usual quantities of both piss and vinegar, so it's game on. Look out world, I'm back! And grateful to feel good again.
So I'm thankful for my job, the ability to take paid vacation days, and for rest. All of these together make me a better Karen.
I might also mention here how thankful I am for The Good Man who puts up with my special brand of crazy including chronic rantings and frequent bad moods. He is the cream in my coffee, the salt in my stew, and he makes me a better person every day. Thanks for being you.
Also, looping back to my dark post from last week, I am thankful for the magic of veterinary medicine. The Feline is back up on her paws. She still has a chronic and quite terminal condition, but with some medication, some subcutaneous fluids and some love, she's almost back to her usual zippy almost 15-year-old self. Who knows how long we have left, but we have her feeling ok today. And I am very grateful.
And finally on this by no means all-inclusive list, I am thankful for my best friend who, earlier this year came to my home bearing bags of green chile that she had stowed in her suitcase. Yesterday I discovered them in my freezer and realized that two of those bags were chopped chile, just perfect for making a green chile stew.
As the chiles and cumin and potatoes roiled and boiled, I was thankful that I am a New Mexican, grateful for the mouthwatering food, and thankful that my New Mexican by way of Texas best friend in the whole wide world cares enough to share her chile stash. That's love.
Most of all on this sunny and warm California Wednesday, I'm just happy to be alive, to be loved, and to have my place here on my little blog where I can be weird or depressed or lame or just simply be me, and that's ok.
Happy Day of Gobble Gobble to you all! May you have a wonderful holiday, wherever in this big ol' world you may be.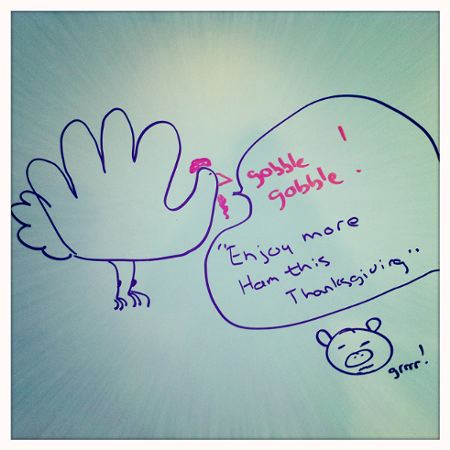 Had to post this image, it's tradition.

Photo and doodle Copyright 2010, Karen Fayeth, and subject to the Creative Commons license in the right column of this page. Photo taken with an iPhone 4 using the Hipstamatic app.

It's late September and to a New Mexican's heart that means green chile! And lots of it. The smell of roasting peppers mixed with the wood smoke from piñon logs burning in fireplaces across the state means Autumn.
And it means heartache for a displaced New Mexican like me.
So imagine my delight to be strolling in my local Whole Foods grocery and see this:

While I was happy, this paltry display also made me very, very sad.
So, what, I am supposed to pick up a *handful* of green chile and take it home? Sure, I know how to roast my own, but c'mon here people.
I want to see big burlap bags and big burly men behind a got-dang flame thrower.
I mean, the flame thrower is part of the whole experience! In Fall one goes from the whooosh of the burner in a hot air balloon in the morning to the blast of a flamethrower outside a grocery store in the afternoon.
The abuse of propane in all forms is built into the DNA of a New Mexican.
That's where I come from! These are my people!

Photo of the puny display of green chile is Copyright 2013, Karen Fayeth, and subject to the Creative Commons license in the right column of this page. Taken with an iPhone5, the Camera+ app, and sadness in my heart.

And so as I was perusing my Facebook timeline this morning, idly reading posts while breakfast was consumed, I came across a post from Chile Monster, a good group of folks that I follow.
Contained in their post was a link to an article about a woman who had moved to New Mexico and her first experience dining at Albuquerque restaurant Little Anita's. She details how over time she learned to love green chile, and now living in Colorado, she found another location of Little Anita's where she could get her fix.
In the comment section of that article was the following quote:

I have the greatest disdain for it. Green "chili" is disgusting gruel. Chile verde is supposed to be made from tomatillos.

— Diego Raya

When I read that, I actually jumped a little as though I'd been touched by a live electrical current.
Then I said aloud to my phone in the quiet dark of my living room, "Whaaat the f*****k?"
It was at this point that I laughed. This had to be a joke. The Good Man wearies of me raging against tomatillos. In California, green salsa and green enchilada sauce are made solely with tomatillos and thus I avoid them at all costs. Occasionally there are some jalapenos thrown in. All heat and no flavor.
That is, as the internets would say, weak sauce.
Why anyone would prefer tomatillos over green chile is a mystery to me. There is actually room in the world for them both. I believe true chile verde has both, but I won't quibble with the adamant commenter.
In the aftermath of reading the quote, I went through many of the stages of grief. I was disbelieving. I was angry. I was sad. Then I accepted that one Mr. Diego Raya is entitled to his opinion. And also his utter lack of taste buds.
Then I realized, let Mr. Raya have his silly green tomatoes. Piles and piles of 'em. Let him have the entire watery crop.
Eat, Mr. Raya, eat! Enjoy every last one.
Just leaves that much more green chile for me and my people.
Move along Mr. Raya. Nothing to see here.
O Fair New Mexico, we love, we love you so…

Image Copyright 2008, Karen Fayeth.

Yes I'm blue.
Heck yeah I am! A blue ribbon winner, that is.
Long time readers might remember last year when I brought New Mexico cooking to my local county fair. I whipped up a batch of biscochitos, the New Mexico State Cookie, and they were awarded the blue ribbon.
This year, I decided to bring New Mexico back to the fair by entering a special "Culinary Arts" competition.
The event? Enchiladas.
Aw, yeah.
I love making my version of enchiladas with marinated chicken and Hatch green chiles. So I signed up.
Today, I was quite nervous as the judges sampled my offering and wrote notes and counted points.
And then they awarded me first place!! Whoooooo!
How I beat the guy who made his own mole sauce, I'll never know.
But what I do know is this. Anyone who wants me to whip up a batch? It's gonna cost you, cuz I've got a double blue ribbon winning kitchen.
Oh Fair New Mexico…boo yah!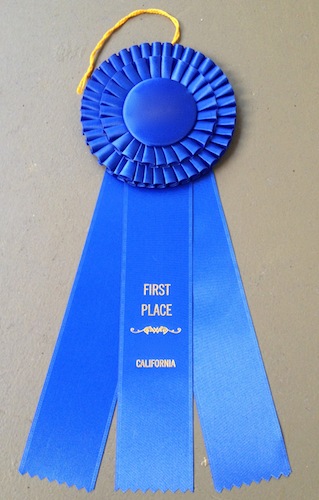 Photo by Karen Fayeth and taken with an iPhone4s, and subject to the Creative Commons license in the right column of this page.


Imagine my joyful surprise when I heard about a new restaurant that opened recently in San Francisco.
Called the Green Chile Kitchen, it proclaims to "…serve New Mexican inspired food focusing on the distinctive flavors and traditions of this unique region."
Wait. What?
"We use Bueno chile in all our dishes, which has been owned and operated by the Baca family since 1951."
Hold on. I know (and have eaten of the) Bueno chile.
Can it be? Is it so?
Is there actually true New Mexican cooking near enough to me to make it matter?
So you know what happened next. I made The Good Man take me there (he's better at navigating San Francisco and the part of town where this is located is really unfamiliar to me).
The verdict?
Well. It's ok, I guess. So-so on the "I'm from there and know better" scale.
I chose the usual first dish I try at a restaurant to see if it passes muster: a plate of green chile chicken enchiladas.
Here's how the plate looked.

Not bad, right? Pretty enough.
First thing I noticed was they used green chile pieces but not any sauce on the enchiladas. Hmm. I'm used to a plate dowsed in sauce and melted cheese. But the cook does say this is more Santa Fe style, so ok. I went along with it.
The enchiladas are made how I like, sort of stacked style, but even though I ordered the hot chile, I have to say the whole plate lacked that zing I like (and crave).
They could use a lot more cumino along with a heavy dose of both garlic and onions.
And this is just me, but I like refrieds more than whole beans with enchiladas. Also, I'm pretty sure they didn't cook the beans with fatback which is a sin against nature my home state, if you ask me.
So I'd give this whole meal about a B, maybe a B+. Far better than anything else I can get around here. No where near as good as Nopalitos.
.
.
Oh, and you can see in the top corner of the photo, I tried the Green Chile Cafe's horchata. I consider myself an aficionado. This version was pretty bland, I thought. They seriously need to cut loose with the cinnamon shaker. If we go back I wouldn't order it again. Four bucks it too much to pay for GOOD horchata, much less disappointment in a glass.